This post may contain affiliate links. Please read our privacy policy.
I spend a slightly stupid amount of time thinking about what I want to cook. Clearly this is an occupational hazard and/or led me to do what I do for a living and/or speaks to a slightly obessional personality. Whatever. Or whatevs, as the kids say, and Jack tell me I am never allowed to say.
(Here is another word I learned mid 2018, from Jack, and upon repeating it, you know, so I could get the hang of it, was told in no uncertain terms that this word was NOT to be used by me ever, that it would just not go over well: "Suss." This is a word that you apparently use to describe a person who is sketchy or suspicious (hence: suss). But I am not allowed to use it. Because I am old).
Anyway, I had been making green goddess dressing for a little spate, using it for a dip and a salad dressing….but not really much else. And then when I was thinking about fried green tomatoes (and who doesn't think about fried green tomatoes), it occurred to me that FGT paired up with GGD would be pretty OMG.
Jack would kill me right now.
Fried Green Tomatoes with Green Goddess Dressing: The best creamy and super herby dressing drizzled on crunchy-tender and tangy tomatoes.

Tweet This
It lived up to expectations. It slayed expectations. Creamy and super herby dressing draped over these crunchy-tender and tangy tomatoes, it just WORKED.
And then my fried green tomato fantasies continued. Fried Green Tomatoes with Pineapple Mint Jalapeno Salsa were the result of this next level of dreamy musing (coming soon, or just sub in the salsa for the green goddess dressing, and you get the gist). A whole different thing from the GGD (I am starting to annoy myself), sweet-tart and slightly spicy and bright.
What to Serve with Fried Green Tomatoes:
Clearly I am going to have a very busy summer.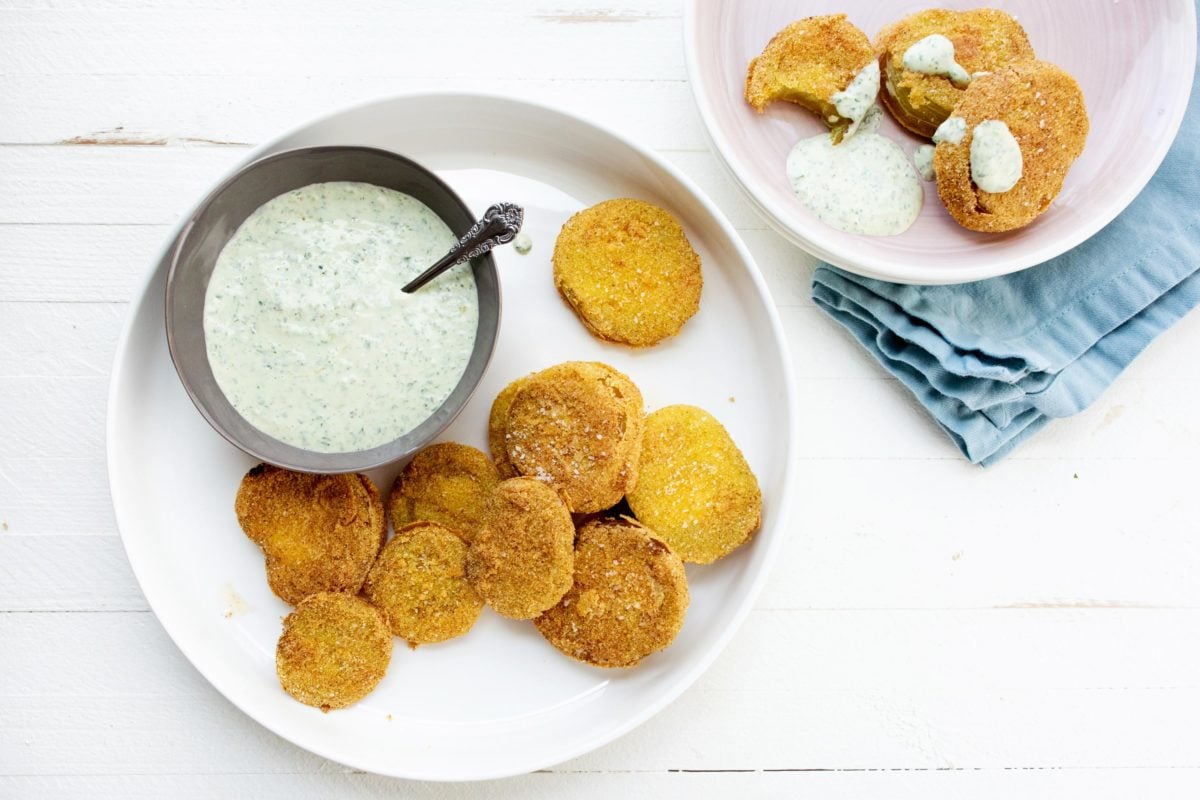 Like this recipe? Pin it to your favorite board on Pinterest.

Pin This
Fried Green Tomatoes with Green Goddess Dressing
This is one of the best things I've eaten in a while.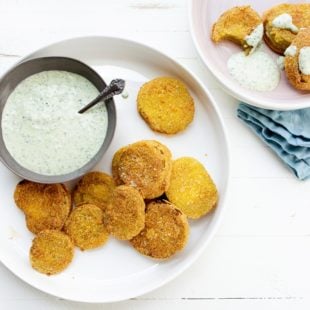 Ingredients
4

firm green tomatoes

1

cup

finely ground cornmeal

1

teaspoon

kosher salt

½

teaspoon

cayenne pepper

2

eggs

Vegetable or canola oil for frying

1

cup

Green Goddess Dressing
Instructions
Slice the tomatoes crosswise into 1/2-inch slices.

In a shallow bowl, combine the cornmeal, salt and cayenne pepper. In another shallow bowl beat the eggs. Line a surface or large plate with paper towels. Dip each tomato slices into the eggs, lift to allow excess egg to drip off, then place them in the cornmeal mixture, and turn to so that they are coated with the crumbs. Place on a wire rack as they are finished.

Fill a large skillet with oil to a depth of about 1/4-inch. Heat over medium high heat until barely shimmering. Add the tomatoes in a single layer, without crowding them (you will probably need to do this in batches).   Fry them for about two minutes until they are golden on the bottom, then flip them and fry for another 2 minutes, until the other side is golden. Transfer the tomatoes to the paper towel lined plate or surface. Repeat until all of the tomatoes are cooked.

Serve the tomatoes as hot as you can, with the dressing on the side for drizzling over. Oh my lordy, is this good.
Notes
What to Serve with Fried Green Tomatoes:
Nutrition
Calories:
213.18
kcal
,
Carbohydrates:
35.55
g
,
Protein:
8.18
g
,
Fat:
4.72
g
,
Saturated Fat:
1.15
g
,
Cholesterol:
81.84
mg
,
Sodium:
630.27
mg
,
Potassium:
409.27
mg
,
Fiber:
5.16
g
,
Sugar:
5.65
g
,
Vitamin A:
1012.48
IU
,
Vitamin C:
28.78
mg
,
Calcium:
28.31
mg
,
Iron:
2.2
mg
Nutrition information is automatically calculated, so should only be used as an approximation.
Like this? Leave a comment below!