Fried Halibut Sandwich
A fried fish sandwich dripping with tartar sauce is one of the great pleasures of summer, and very easy to make at home.
Pan Fried Fish Sandwich
You don't need to deep fry your fish to get a terrific fried fish sandwich. I love a puffy deep-fried fish beer battered sandwich, with a tempura like coating, but I'm not doing that at home. It's a rare occasion when I can justify heating up more than 1/2-inch of oil in a pan, and even that is an unusual moment in my kitchen.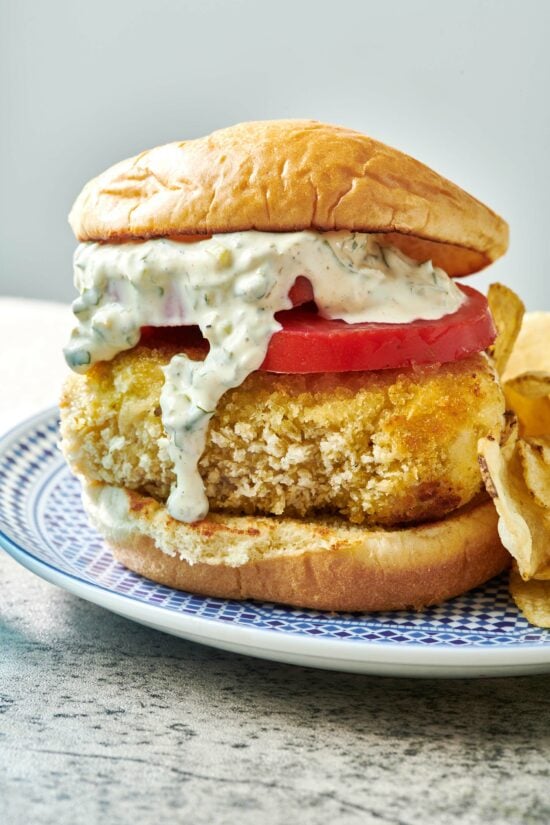 Those kind of fried fish and seafood moments are reserved for vacations, where professionals with deep fryers are working their magic. We spent many a summer vacation on Cape cod, often in Welfleet, where food like this reigns supreme.
If you go to Cape Cod, you have to eat at a place called Moby Dick's. You wait on line (sometimes for quite a while, but don't let that dissuade you at all, please), place your order go to a table and wait. The broiled fish and seafood are amazing, the lobsters incredible, but you must not skip the fried fish and seafood platters. I can't pass over the mixed fried seafood — sometimes we order other things, and get a one or two of those platters for the table. (My nickname may be "the table").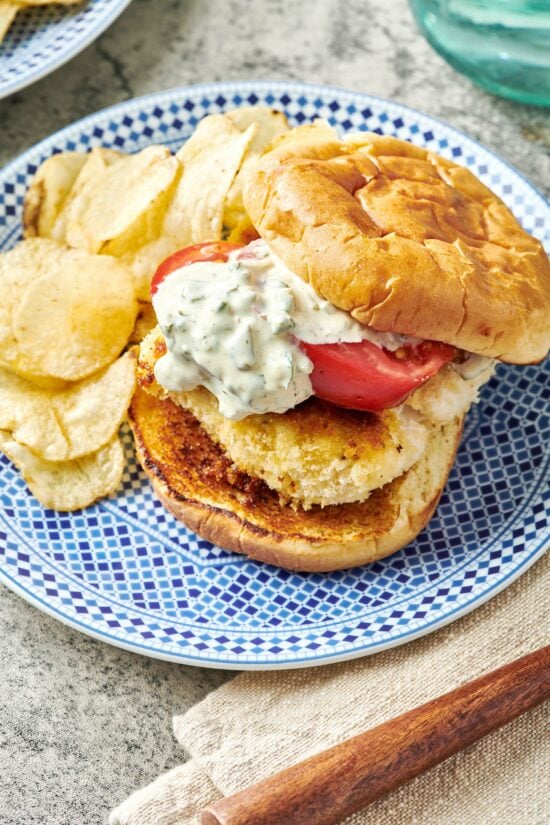 SO, these sandwiches are pan fried but you won't feel cheated at all. And they are exactly the amount of frying I want to do in my home kitchen, especially when it's hot.
What to Serve with Fried Fish Sandwiches
You'll want to plan this out so that the sandwiches are served hot or warm if possible. In a perfect world, these will be eaten outside, with slices of perfectly ripe tomatoes, a pile of coleslaw, and maybe a bigger pile of potato chips.
Get some good potato rolls or other rolls of your choice to host your beautiful crispy fish.  Also try some other sauces on this sandwich, like this Sriracha Mayo Sauce or Chipotle Mayo.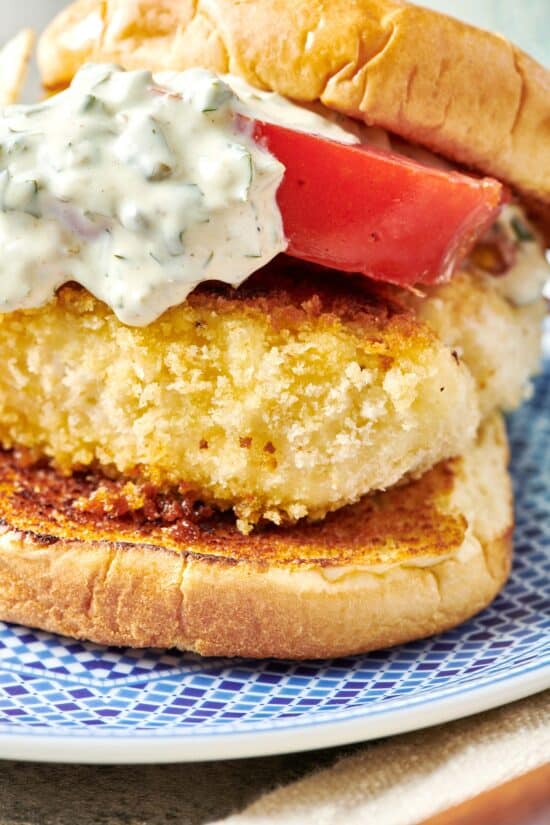 Fried Fish Sandwich: A fried fish sandwich dripping with tartar sauce is one of the great pleasures of summer, and very easy to make at home.

Tweet This
What Kind of Fish to Use in a Fried Fish Sandwich
You can use any firm fleshed, flaky, thick white fish filet for these sandwiches. Halibut, scrob, cod, haddock and scrod are some good choices. On a side note, I am simply incapable of thinking of, reading or saying the word halibut without saying "just for the halibut" (think "just for the hell of it"). I need help, I'm not kidding.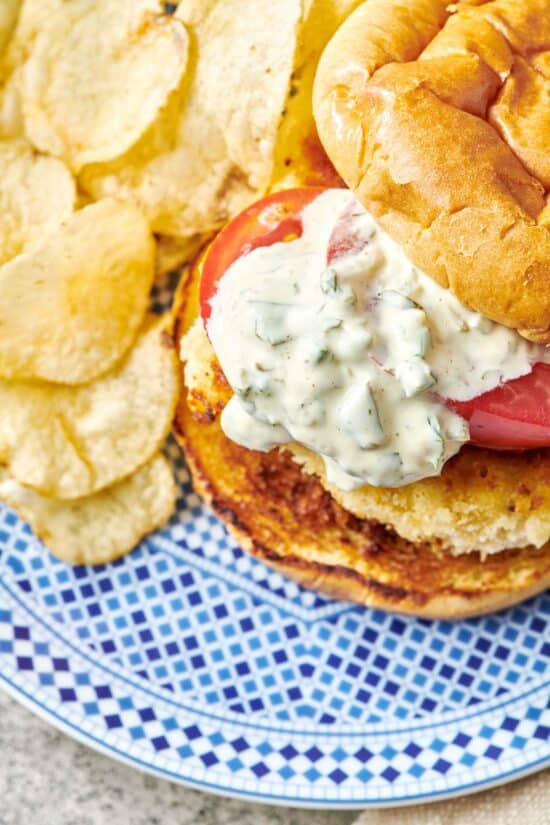 Alaskan Halibut is worth seeking out, if possible. It's sweet and delicate, with white, firm flaky flesh. It keeps it shape really nicely even as you flip it in the pan.
Homemade Tartar Sauce for Fish Sandwiches
You could certainly just go out and buy yourself some prepared tartar sauce if you were in a hurry, but a homemade tartar sauce is always head and shoulders above what you would find in a jar. If you don't have cornichons, you can substitute jarred relish. This tartar sauce is bright with lemon juice and scallions, and fragrant with basil. It's great with any and all kinds of seafood.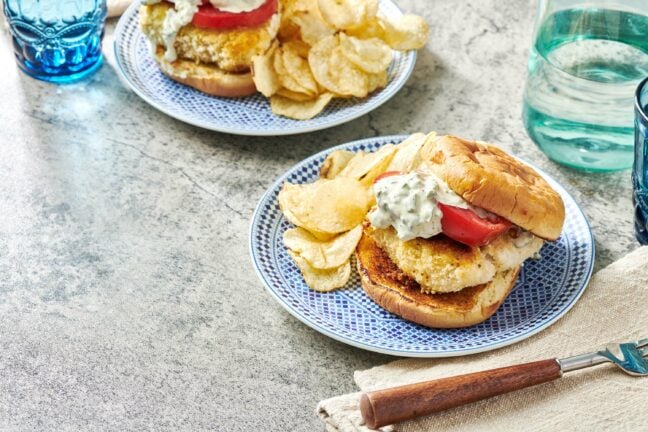 Other Fish Recipes:
What Goes with Fried Fish Sandwiches:
Like this recipe? Pin it to your favorite board on Pinterest.

Pin This
Fried Fish Sandwich
A fried fish sandwich dripping with tartar sauce is one of the great pleasures of summer, and very easy to make at home.
Ingredients
For the Lemon Basil Tartar Sauce
½

cup

mayonnaise

Juice of ½ lemon

2

tablespoons

minced cornichons

baby pickles

2

tablespoons

minced scallions

1

tablespoon

capers

drained and rinsed, then minced

2

teaspoons

coarse Dijon or Creole mustard

1

tablespoon

minced basil

1

tablespoon

chopped fresh parsley

Kosher salt

Freshly ground black pepper
For the Halibut Fried Fish Sandwiches
¾

cup

all-purpose flour

1

large egg

½

cup

milk

½

teaspoon

hot sauce

1

cup

panko bread crumbs

4

6-ounce pieces halibut

Vegetable or canola oil for pan frying the fish

4

potato or other rolls

Several pieces of leaf or romaine lettuce

torn to fit size of the rolls

1

ripe tomato

sliced

Lemon wedges

for serving
Directions
Preheat the oven to broil.

Make the Tartar Sauce. In a small bowl mix together the mayonnaise, lemon juice, cornichons, scallions, capers, mustard, basil, parsley, and ½ teaspoon salt and ¼ teaspoon freshly ground black pepper. Have all of the sandwich rolls and toppings ready to go so that when the fish is cooked you can assemble the sandwiches right away.

In a shallow wide bowl mix the flour with ½ teaspoon salt and ½ teaspoon freshly ground black pepper. In another shallow wide bowl beat the egg with the milk and the hot sauce. Place the panko bread crumbs in a third shallow wide bowl.

Heat enough oil to come up ¼-inch high in a large skillet over medium high heat. While the oil is heating, dredge each piece of fish first in the flour, shaking off any excess, then in the milk mixture, allowing any excess to drip back into the bowl, then finally dredge the fish in the bread crumbs. Fry the fish in the oil for about 4 minutes on each side until the fish is golden brown and cooked through. Remove with a slotted spatula and place on a paper towel lined plate or surface to drain for a minute.

While the fish is cooking, broil the buns cut side up for just a minute until lightly browned. Place a piece of cooked fish on the bottom half of each roll, and top with a spoonful of the tartar sauce. Top with the lettuce and tomato, and then top with the second half of the roll. Serve immediately, with the lemon wedges.
Nutrition Information
Calories:
665
kcal
|
Carbohydrates:
56
g
|
Protein:
47
g
|
Fat:
28
g
|
Saturated Fat:
5
g
|
Cholesterol:
139
mg
|
Sodium:
801
mg
|
Potassium:
923
mg
|
Fiber:
3
g
|
Sugar:
9
g
|
Vitamin A:
652
IU
|
Vitamin C:
8
mg
|
Calcium:
237
mg
|
Iron:
4
mg
The nutrition values are provided as an estimate. It is not intended as a substitute for the advice of a qualified healthcare professional.
Made this recipe? Post a photo of your delicious creation on Instagram with our hashtag #dinnersolved