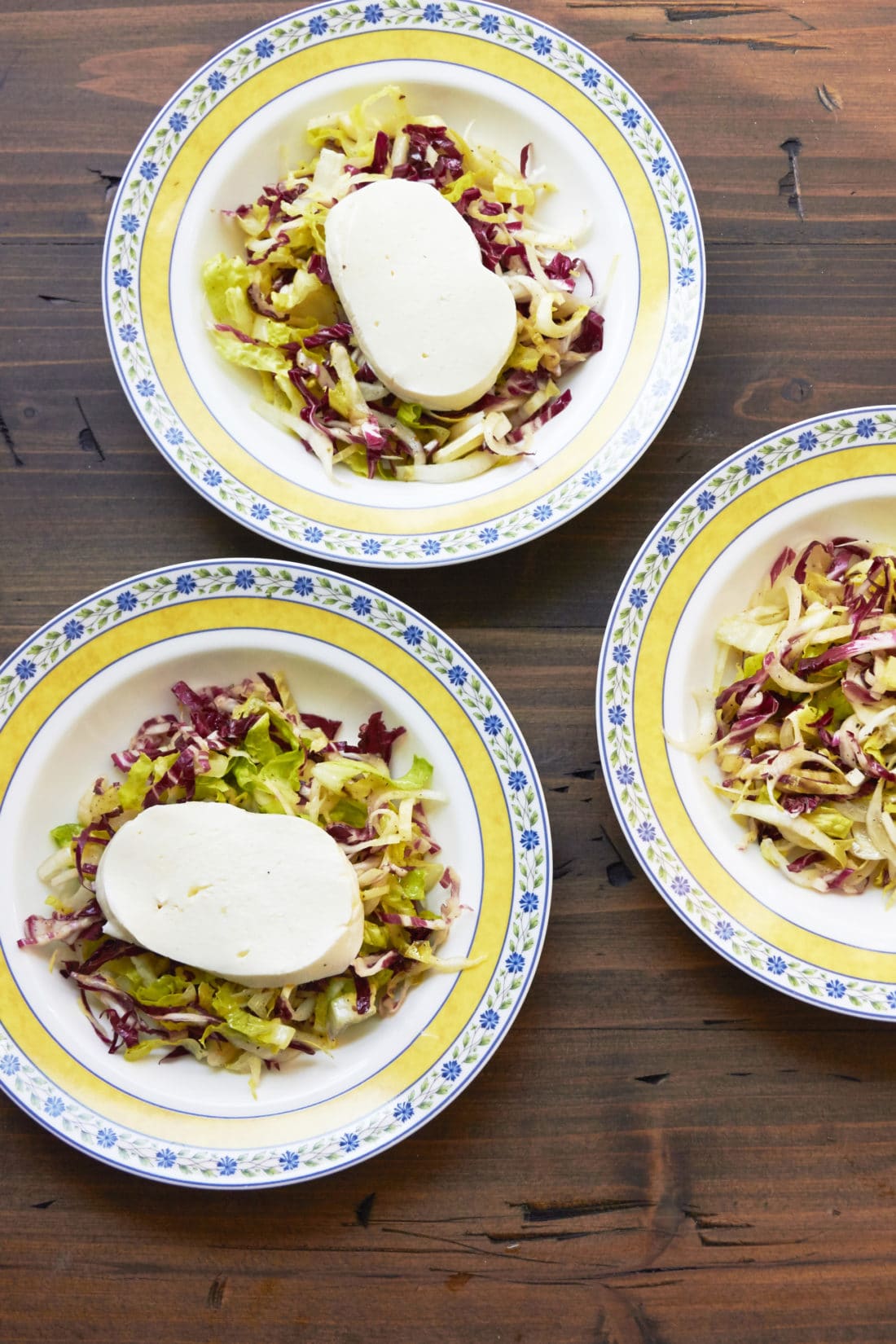 I originally made this salad or us to eat while watching the last episode of a season of Downton Abbey. But it was delicious and so I have made it since…. and then I just took some new photos because it's also quite pretty and I have been on a radicchio bender (oh, that just sounds weird…..actually, it just is weird).
SO….now you will read the following which I wrote a number of years back in the context of the framework it was written (or feel free to skip ahead to the recipe if you were not a Downton Abbey freak like I was — no hard feelings, I promise).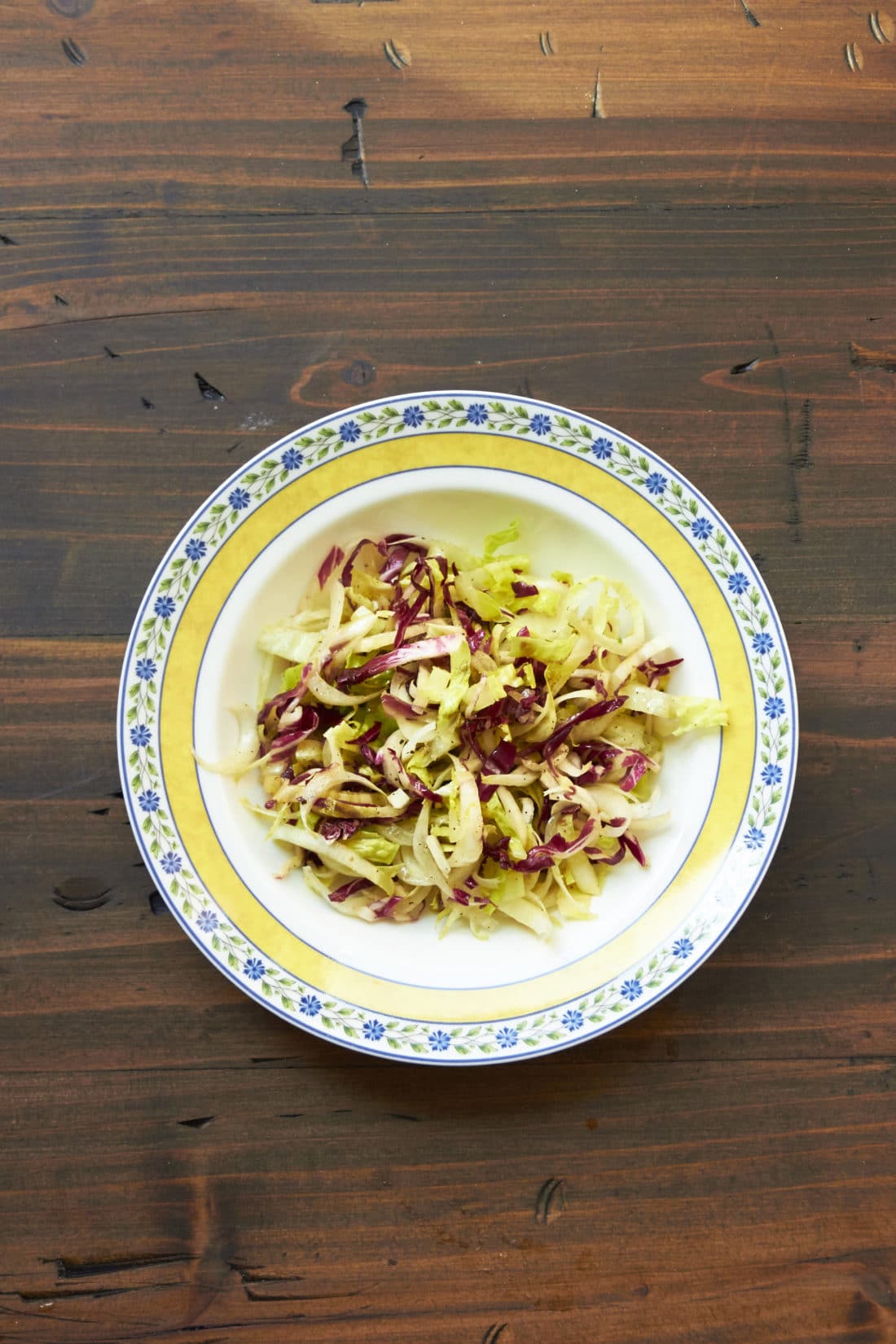 Is tonight really the last episode of the season for Downton Abbey? Did everyone realize this but me? I am already a little bereft. Even though it will be a two-hour episode I can't quite imagine how they will wrap up all of the dangling plot lines. And too many cliff hangers are hard to take.
Mary's love looks like its getting a second wind (does she spend any actual time with her child, by the way? Just wondering.), Edith will head for Switzerland for a prolonged vaca with Rosamond (eg, gestation and childbirth), Robert is off to America to deal with a family mess concerning Cora's brother (in those days would it have been a tiny thought that maybe Cora should go herself? No.). Rose is hell bent on marrying Jack Ross to screw her mother, Tom has a bit of a spark with a local girl.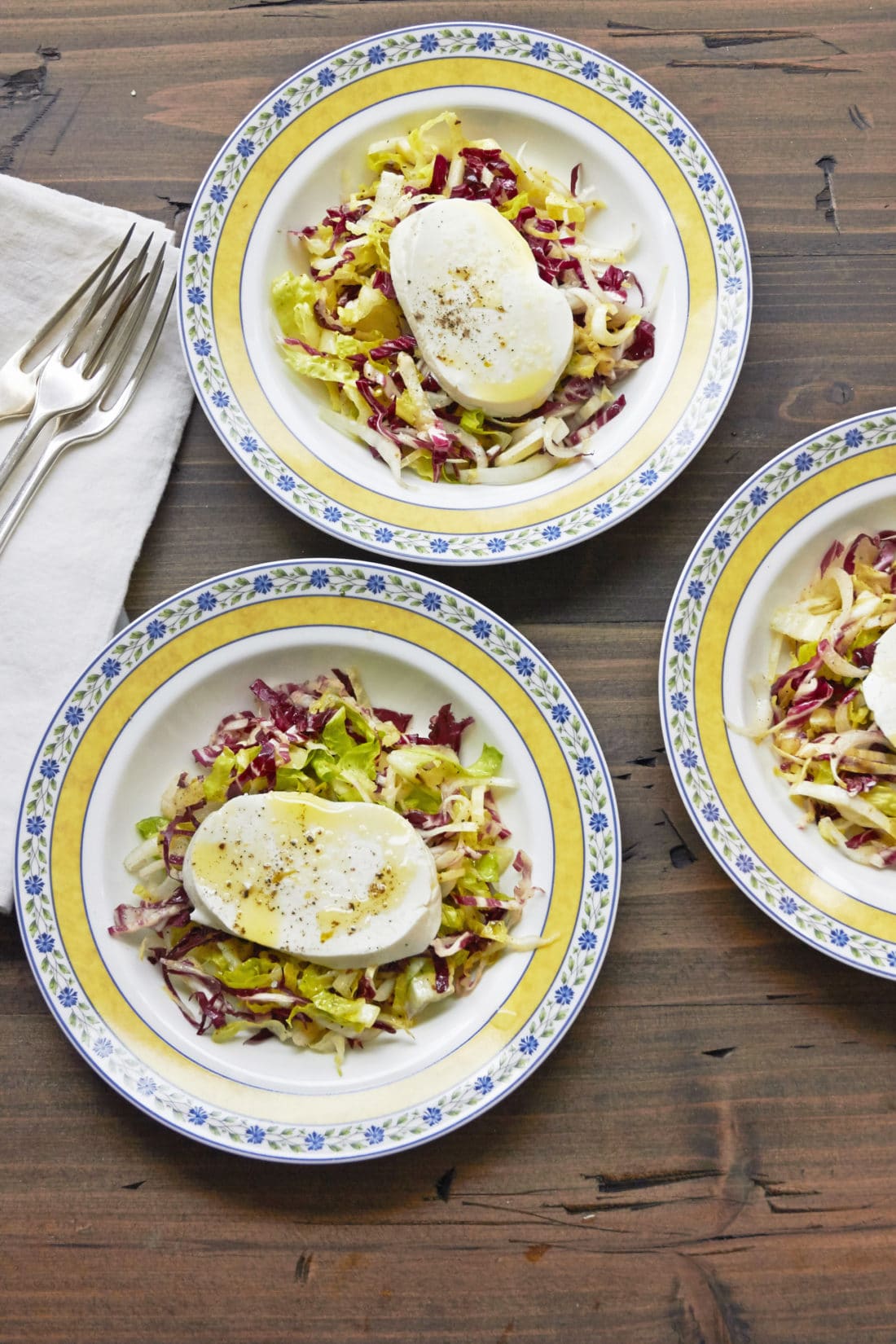 And the biggest story, in my mind: Gillingham and that very bad man Green end up back at Downton, and now, despite Green's obliviousness, too many people know. Including Bates. Especially Bates. And suddenly, Green has a terrible accident.
What to prepare to accompany such a momentous episode? I'm still not sure what I'm doing for main course will be, but I know what the salad will be. Most of the time the salads my kids lean towards involve mild lettuces, romaine being the house favorite. I buy multiple packages of hearts of romaine every week.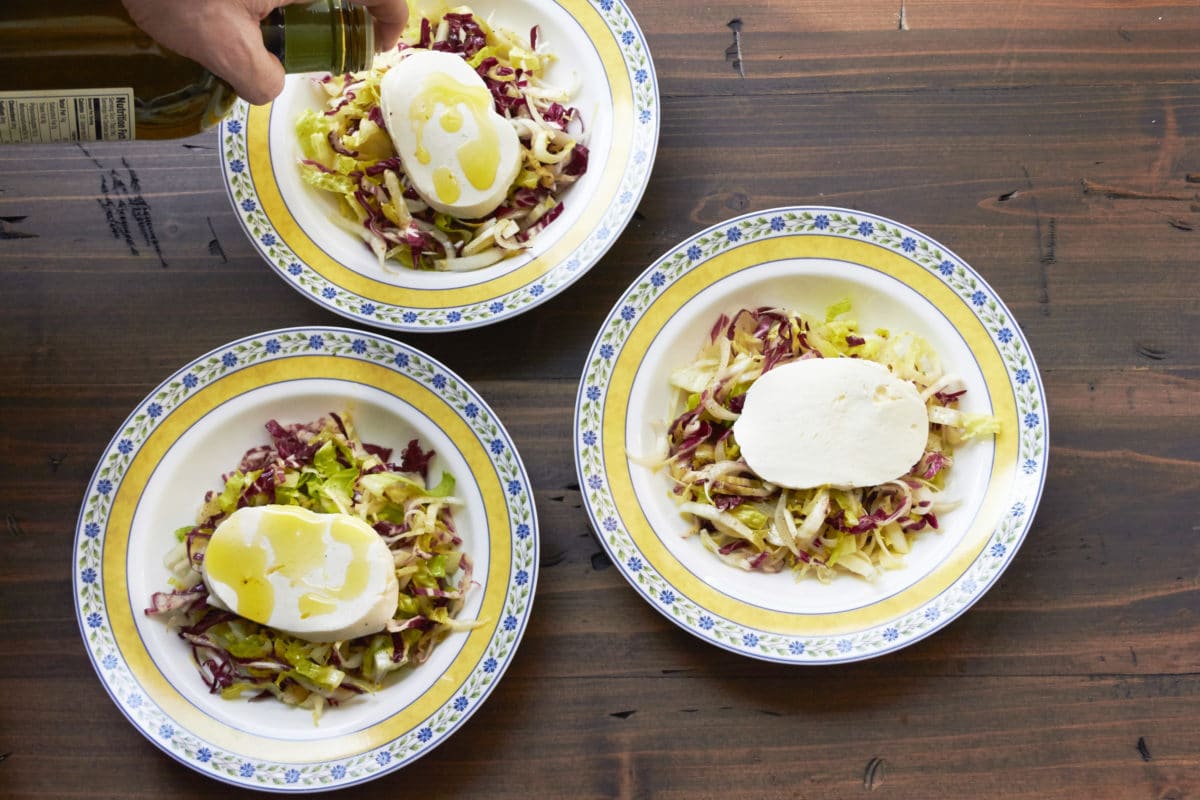 But this weekend one of my favorite co-chefs, Chris Styler, and I were going for a slightly ambitious meal, and I wanted a salad that didn't fade into the background. And on top of that they were bringing a huge ball of incredibly fresh mozzarella from a favorite Italian specialty store, and it deserved a worthy salad backdrop.
Endive and Radicchio Salad with Fresh Mozzarella is a salad that doesn't fade into the background. Plus, it was a hit with my kids.

Tweet This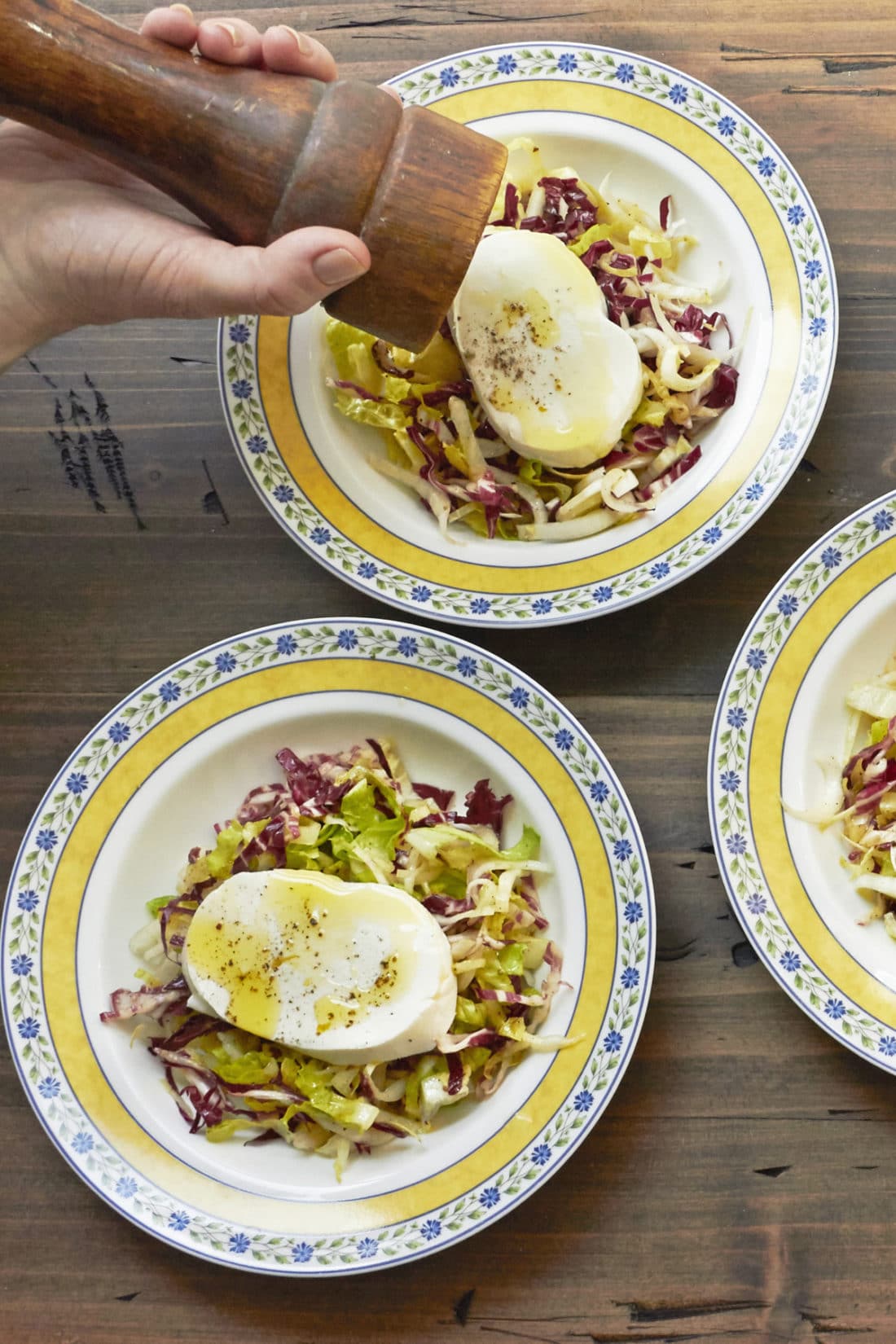 To my delight—and I'll say it, my surprise—my kids LOVED this Endive and Radicchio Salad with Fresh Mozzarella. Had second plates of it. I had that sensation of not wanting to eat anything else ever again. Which is why I am making it again for tonight's Downton Abbey viewing.
Do you hear the silence? It's me refraining from making a comment about bitter lettuces to commemorate the bitterness of ending another Downton season.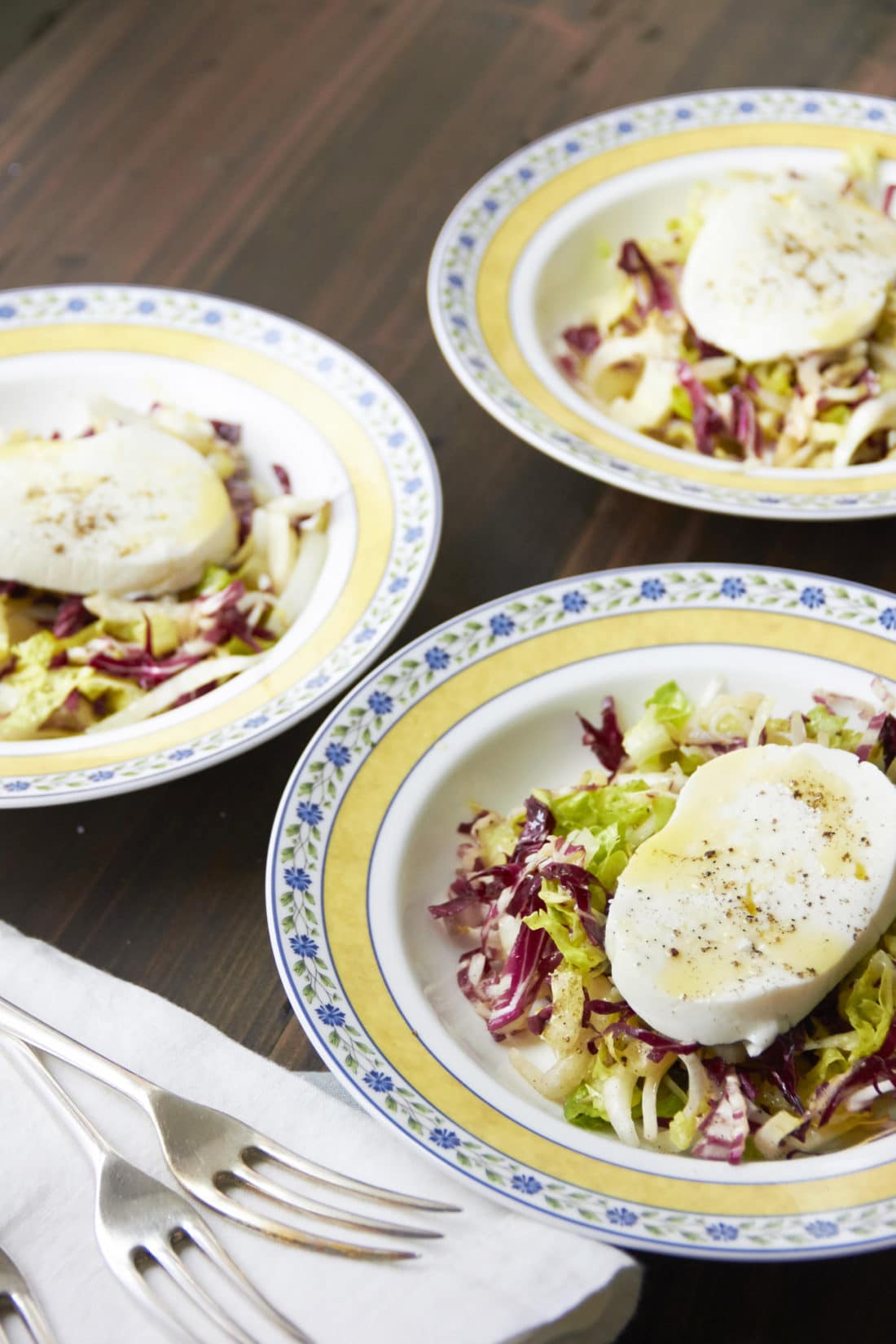 More Vegetarian Salad Recipes:
Like this recipe? Pin it to your favorite board on Pinterest.

Pin This
Endive and Radicchio Salad with Fresh Mozzarella
It never ceases to please me how simple can be so pretty
Ingredients
Directions
Roughly chop the radicchio, endive and romaine.  Place in a serving bowl and toss with the ¼ cup olive oil, lemon juice, and salt and pepper. 

Divide the lettuces onto salad plates, place a slice of mozzarella on each plate, drizzle the cheese with a little more olive oil, and season with a bit more salt and pepper.
Nutrition Information
Calories:
167.77
kcal
|
Carbohydrates:
8.77
g
|
Protein:
3.51
g
|
Fat:
14.38
g
|
Saturated Fat:
2.18
g
|
Cholesterol:
1.19
mg
|
Sodium:
61.53
mg
|
Potassium:
776.28
mg
|
Fiber:
7.57
g
|
Sugar:
1.01
g
|
Vitamin A:
7336.32
IU
|
Vitamin C:
17.21
mg
|
Calcium:
133.9
mg
|
Iron:
2.22
mg
The nutrition values are provided as an estimate. It is not intended as a substitute for the advice of a qualified healthcare professional.
Made this recipe? Post a photo of your delicious creation on Instagram with our hashtag #dinnersolved