Meal Inspired by Downton Abbey
NOTE: During several seasons of Downton Abbey, when it originally aired,I decided to cook dinners to eat while watching the show that somehow felt kind of Downton Abbey-ish to me. No claims to authenticity, truly, but a fun little project.
Though the ladies of Downton look like they subsist for the most part on tea and good manners, we do know that there is food and lots of it being served at the Abbey. Lord Grantham looks like he is the type to enjoy a roast meat or two with regularity.
Pork loins are one of the most brilliant solutions to dinnertime in the world. They are inexpensive, readily available, take well to almost any flavorings, and are quick and easy to prepare.
Brining Pork Loins
If you have time to brine the pork loins you will be rewarded with very flavorful and moist meat, though don't brine these little tenderloins for too long—too much time in the brine bath will compromise the texture and make them too salty.
In a large sized container add 1/2 cup salt, 1/4 cup brown sugar, and 2 tablespoons peppercorns. Add 1 cup of boiling or very hot water, and stir until the salt and sugar are mostly dissolved. Add another 4 or 5 cups of very cold water, maybe a few ice cubes. Place the pork loins in the brine, adding more water if necessary so that the pork is completely submerged, and refrigerate for 2 to 6 hours, but not longer.
Searing Pork Tenderloin Evenly
If your tenderloins are kind of flat—and even if they are nicely round—it can be hard to get a good sear on all of the sides. IF they keep tipping to the already browned sides, then lean them up against the side to get the un-seared part on contact with the hot bottom of the pan.
Cooking Pork Safely Without Drying it Out
Don't overcook your pork! This gets said time and time again, but it is really the difference between an awesome dinner, and sawing your way through slabs of meat. Note the pinkish tone of the inside of these juicy slices — this is not only ok, it's good! Meat continues to cook after it comes away from the heat, particularly larger cuts of meat like roasts.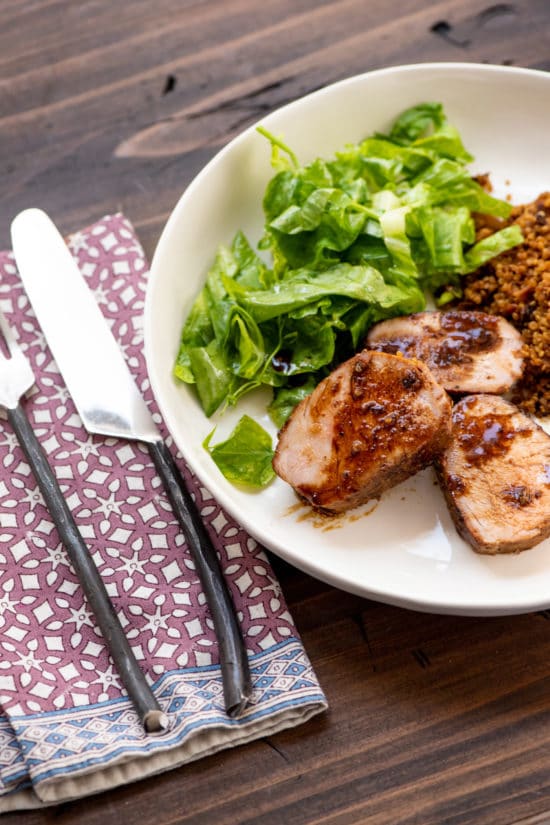 You'll want to cook the pork until it hits an internal temperature of 140°F (use a meat thermometer), take it off the heat (in this case out of the oven) and let it sit. The temperature will climb for another 5 degrees or so, and it will be cooked through, but not dry. A hint of pinkness in the center means it's done properly, not undercooked.
What to Serve with Dijon and Honey Pork Tenderloins
On the plate is a simple quinoa dish and a green leaf salad, but I have also served these with slivered and sautéed brussels sprouts, with even more mustard seeds, because I cannot get enough of those tangy, crunchy little pops of flavor. I also want to serve this up with Spoonbread Corn Pudding and Roasted Winter Vegetables with Sriracha Honey Glaze.
More Pork Recipes to Try: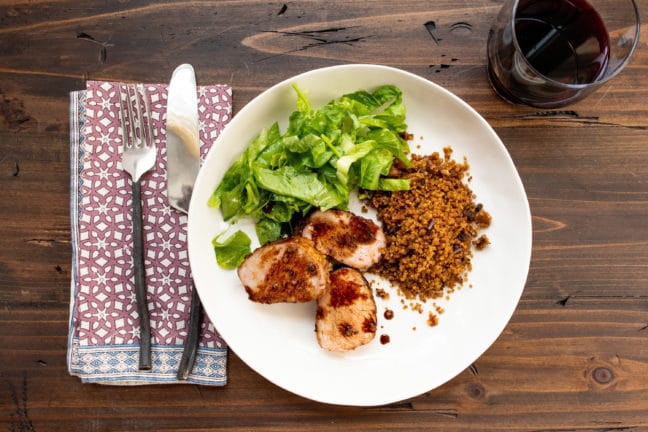 Like this recipe? Pin it to your favorite board on Pinterest.

Pin This
Dijon and Honey Pork Tenderloins
A small handful of ingredients turns inexpensive pork loins into a terrifically flavorful main course.
Total Time:
2
hours
45
minutes
Ingredients
1

tablespoon

plus 2 teaspoons extra-virgin olive oil

¼

cup

coarse Dijon mustard

3

tablespoons

honey

3

cloves

garlic

minced

2 to 3

small boneless pork tenderloins

2 1/2 to 3 pounds total

Kosher salt and freshly ground pepper to taste
Directions
If you have time, make the brine (see Note on the right side) and place the tenderloins in a container, add the brine to cover (you can also use a sturdy gallon-sized zippertop bag), and brine the tenderloins for 2 to 8 hours.

Mix together 1 tablespoon of the olive oil, Dijon mustard, honey, garlic, salt (if you are brining the pork, skip the salt) and pepper until well blended. Smear the pork all over with the mixture to coat; at this point you can cover the pork and refrigerate it for up to a day.

Preheat the oven to 375°F.  Heat a large oven proof skillet, preferably cast iron, over medium high heat, and add the remaining 2 teaspoons of olive oil.  Place the tenderloins in the hot pan (save the marinade left behind to use for roasting).  Brown for 2 minutes on all sides, turning so that the entire outside gets nicely seared, about 10 minutes in total. 

Transfer the pan to the oven, spoon the rest of the marinade over the tenderloins and roast until an instant-read thermometer inserted into the center of the pork loins registers 140°F degrees, which could take anywhere from 15 to 30 minutes depending on the thickness of the pork loins. Let rest for 10 to 15 minutes before slicing.
Nutrition Information
Calories:
250.42
kcal
|
Carbohydrates:
7.28
g
|
Protein:
35.56
g
|
Fat:
8.07
g
|
Saturated Fat:
2.27
g
|
Cholesterol:
110.56
mg
|
Sodium:
177.31
mg
|
Potassium:
683.73
mg
|
Fiber:
0.26
g
|
Sugar:
6.55
g
|
Vitamin C:
0.47
mg
|
Calcium:
16.76
mg
|
Iron:
1.8
mg
The nutrition values are provided as an estimate. It is not intended as a substitute for the advice of a qualified healthcare professional.
Made this recipe? Post a photo of your delicious creation on Instagram with our hashtag #dinnersolved