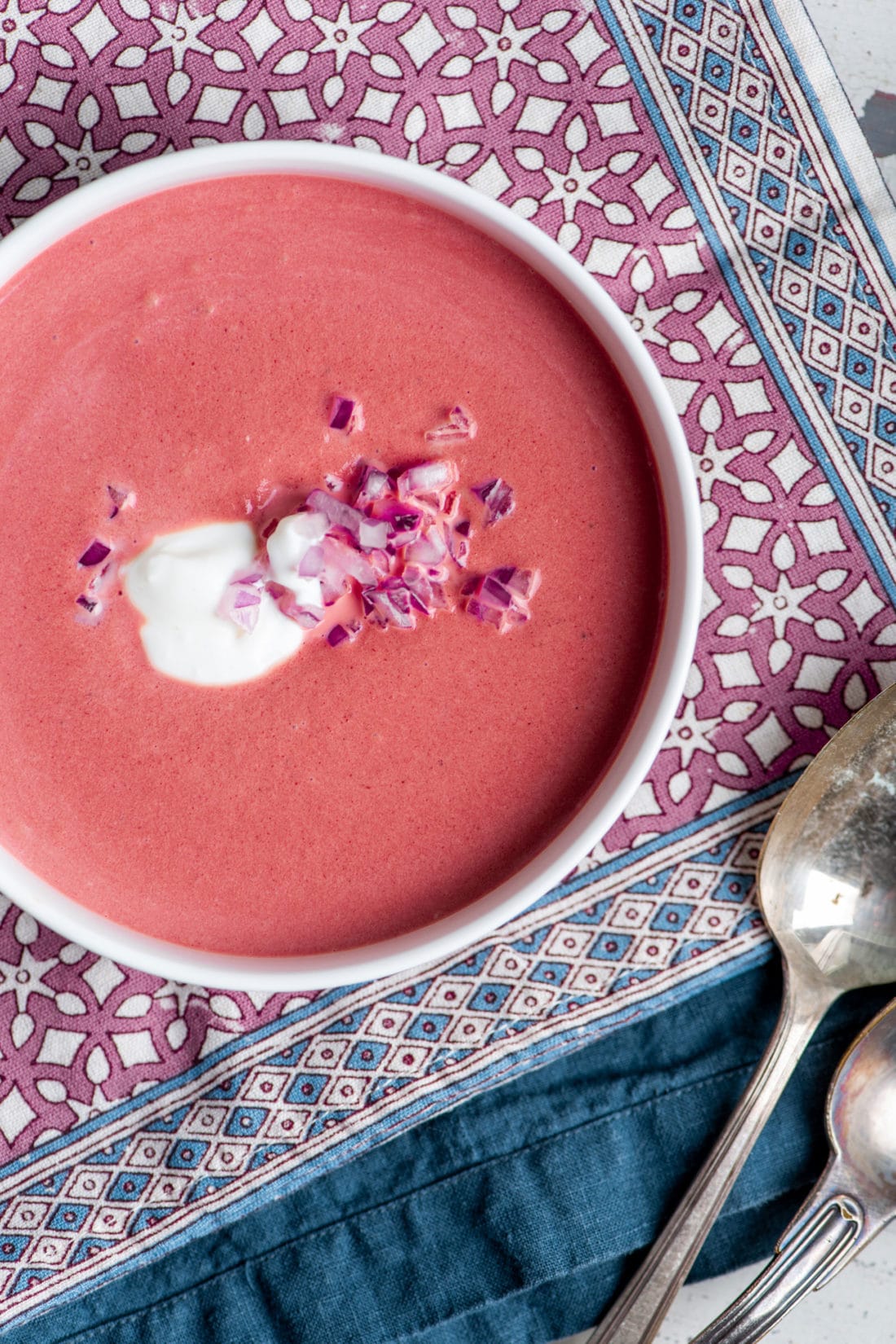 Beets must rank pretty high on the list of vegetables that people have strong feelings about. Few people are completely neutral about beets. They either like/love them…or, um, don't like/love them at all. Or just think they don't like. Because maybe there was a negative beet experience at some point. Hey, I still can't drink gin because of a bad moment in the very late 80s.
But you're reading this, so I'm thinking—in the "like" category? Maybe even the love category? I am in the love category.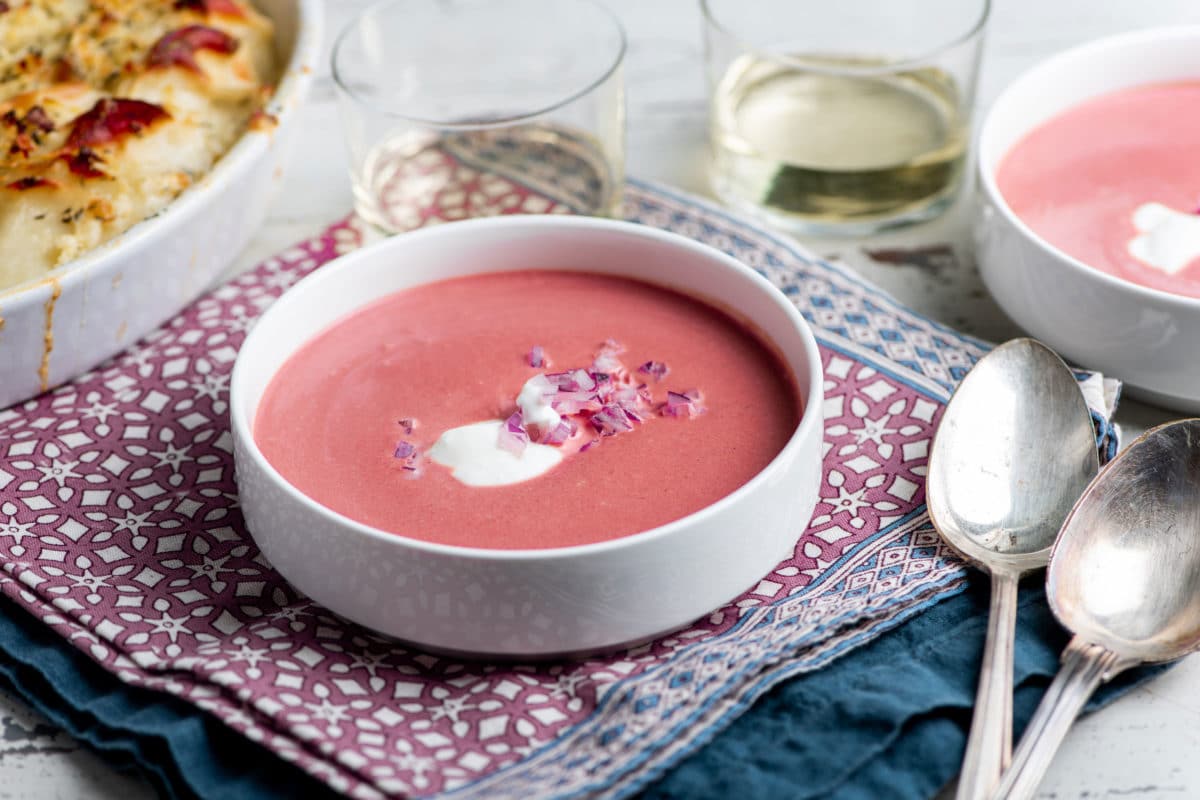 The rest of my family is squarely not in the love category. Other than my mom, who doesn't live with us, so her love of beets is not relevant to my day to day life…..which my family's non-love of beets is.
ANYWAY, this soup. Beets and soup have a long and deep relationship, and it seems like the linchpin of this relationship may stem from borscht. Borscht is a soup, originally from the Ukraine and Russia, classically made from beets. It often has a sour note to it, sometimes from certain greens, sometimes from vinegar. It may be served hot or cold. Yogurt is often blended in, sometimes sour cream—often in copious amounts, so those who go the sour cream route may not be the very same people who have to think about their waistlines or their cholesterol.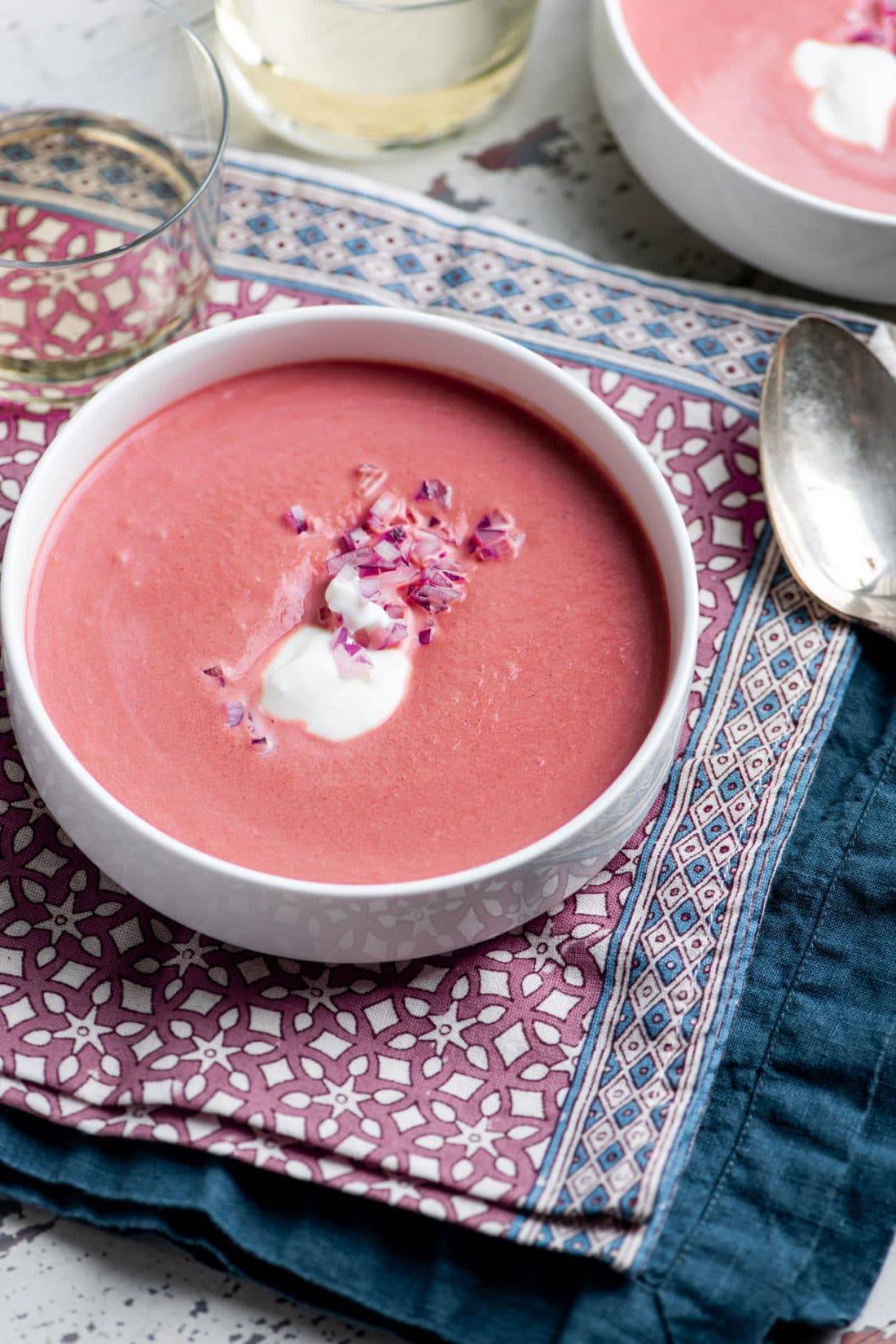 This isn't borscht. But it is a beet soup, and it borrows some of the elements of traditional borscht. A touch of lemon adds a bit of tartness…which is of course mediated by the sweet beets and countering touch of honey. It turned red beets pink and creamy with a little cream. Substitute vegetable broth for a vegetarian soup.
This is also finished with a bit of sour cream (sometimes I thin the sour cream out with a little milk if I want to swirl it in, fancy pants style, vs. a sturdy plunky dollop), or you can use yogurt or crème fraiche. Anything creamy hanging out in your fridge. And then something else for a little textural contrast if you feel like it—I went for some finely chopped red onions. Chopped dill and minced cucumbers would also be nice, but I like was in a red on red mood. As happens. You can serve this hot or cold, against in the borscht tradition.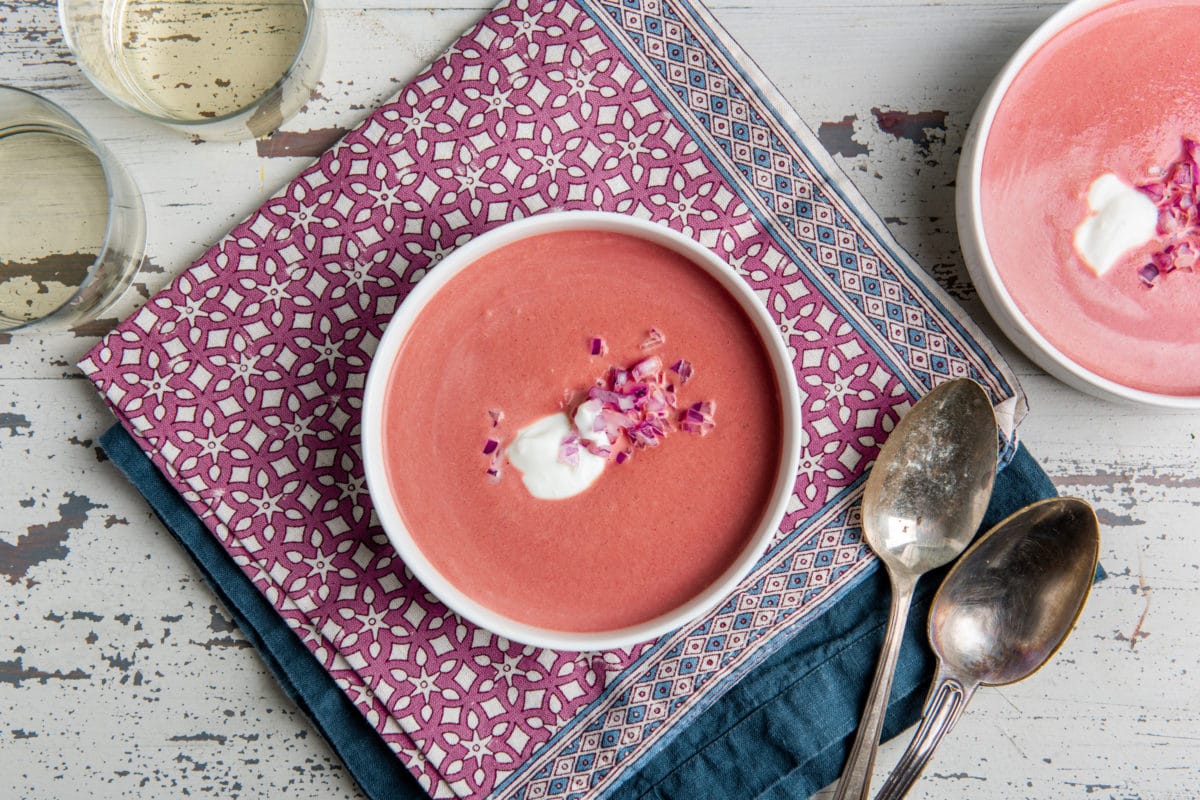 This borscht-inspired soup is creamy and pretty and very simple to make.

Tweet This
Roasting beets concentrates the flavors and makes the texture smooth and silky. Make sure to roast them until a knife really glides right in so they puree easily. There have been times when my beets weren't quite soft enough, but then after cubing them I just let them simmer in the broth for a while longer, until they were very soft. You can use pre-cooked beets if you prefer, but make sure they are of a good quality.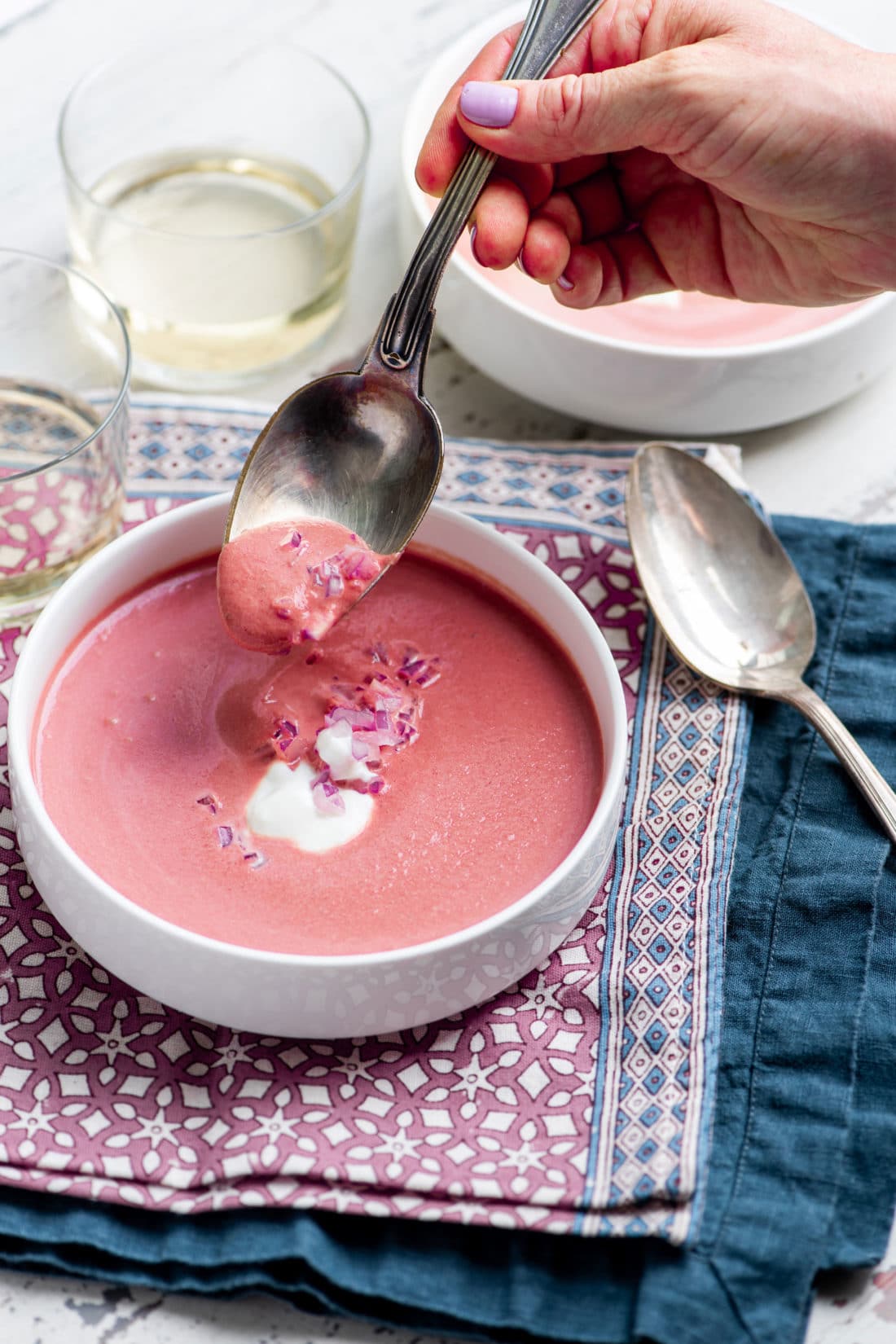 More Beet Recipes:
Also read: How to Cook Beets.
Like this recipe? Pin it to your favorite board on Pinterest.

Pin This
Creamy Roasted Beet Soup
This borscht-inspired soup is creamy and pretty and very simple to make.
Total Time:
1
hour
5
minutes
Ingredients
2

tablespoons

unsalted butter

1

cup

chopped red onion

1 ½

pounds

about 4 large beets

roasted until very tender, peeled and cut into cubes

4

cups

less-sodium chicken or vegetable broth

1

tablespoon

lemon juice

1

tablespoon

honey

1

teaspoon

fresh thyme leaves

or 1/2 teaspoon dried, try and use fresh

Kosher salt and freshly ground pepper

to taste

½

cup

heavy cream

Minced red onion and sour cream

to serve
Directions
In a large pot over medium heat, melt the butter. Sauté the onions for about 5 minutes until tender but not browned.

At this point if you have an immersion blender, continue to make the soup in the pot. Add beets, broth, lemon juice, honey, thyme, salt and pepper. If you need to simmer the mixture until the beets soften a bit more, go ahead and do that. When the beets are very tender stick the blender in and blend away until smooth. If you want to continue with a food processor or blender, great – scrape the onions into a the machine of your choice, then add the beets, 1 cup of the broth, juice, honey, thyme and salt and pepper and puree until smooth. Return the mixture to the pot and add the rest of the broth.

Either way, after the mixture is back in the pot, you add the cream and heat over medium-low heat until the whole thing is hot. Or if you would like to serve it cold, just stir in the cream and chill the soup for a few hours.

Serve the soup in mugs or bowls with the chopped onion and sour cream.
Nutrition Information
Calories:
297.02
kcal
|
Carbohydrates:
28.37
g
|
Protein:
8.62
g
|
Fat:
18.45
g
|
Saturated Fat:
10.94
g
|
Cholesterol:
55.81
mg
|
Sodium:
217.44
mg
|
Potassium:
836.49
mg
|
Fiber:
5.51
g
|
Sugar:
17.95
g
|
Vitamin A:
692.14
IU
|
Vitamin C:
13.55
mg
|
Calcium:
65.19
mg
|
Iron:
2.03
mg
The nutrition values are provided as an estimate. It is not intended as a substitute for the advice of a qualified healthcare professional.
Made this recipe? Post a photo of your delicious creation on Instagram with our hashtag #dinnersolved