This smoothie bowl is one of my favorite breakfast choices in a long time. We found it completely refreshing and clean and rejuvenating. Exactly how you want to start your day.
The jarred beets are a little bit of the secret. First of all, the color of this is breathtaking. As you can see. If you have any doubt that you eat with your eyes, this bowl might change that thinking.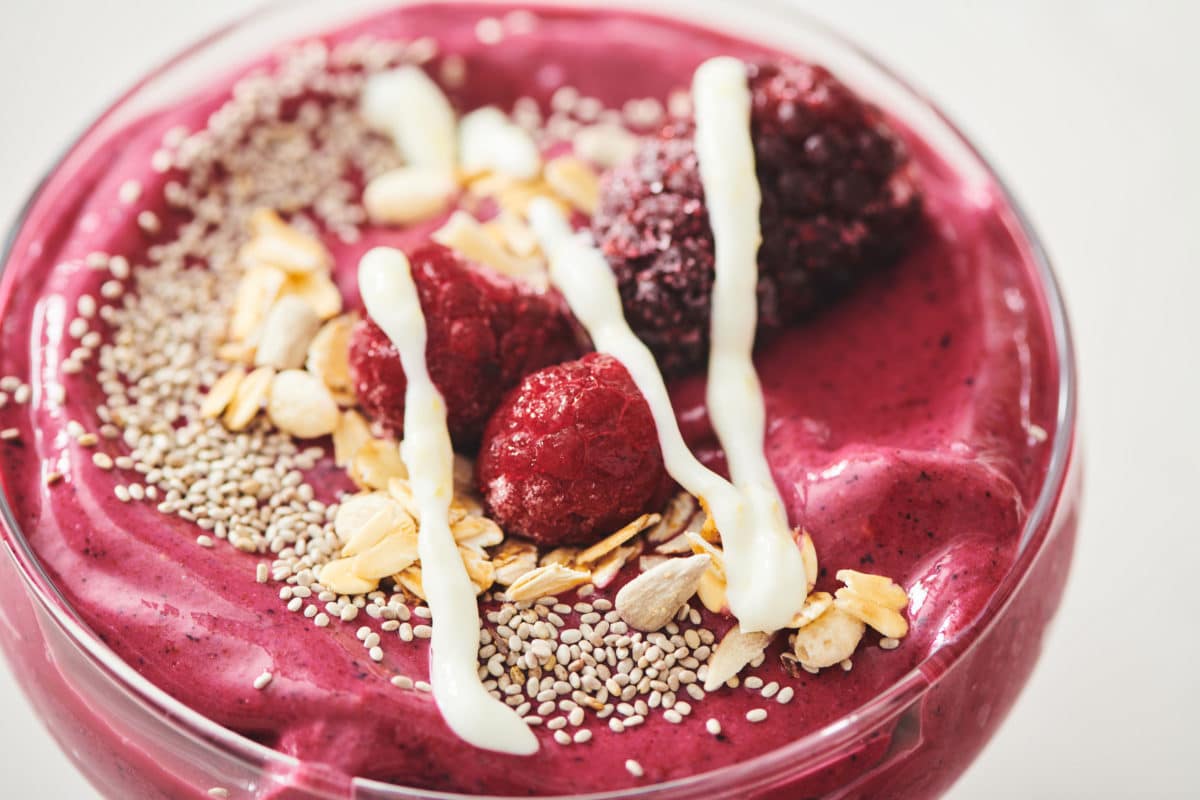 Beets are naturally sweet, and the fact that the beets are pickled adds acidity to the bowls, and acidity is always nice in pretty much every recipe you can think of.   Think about what a squeeze of lemon juice does to a smoothie or a cobbler or a pie—it brightens the flavor considerably.
But in this case I used Aunt Nellie's Pickled beets and—facts being facts—the odds that I would have cooked, peeled and pickled some beets myself to add to a smoothie would have been slim to none.
I'm so pleased to be partnering with Aunt Nellie's on this post—and when they asked me to think of what kind of recipe I wanted to create I jumped at the thought of brunch, because I've been thinking about smoothie bowls of late, and thought that anchoring one with their addicting beets would be a good move. And it was—a really good move.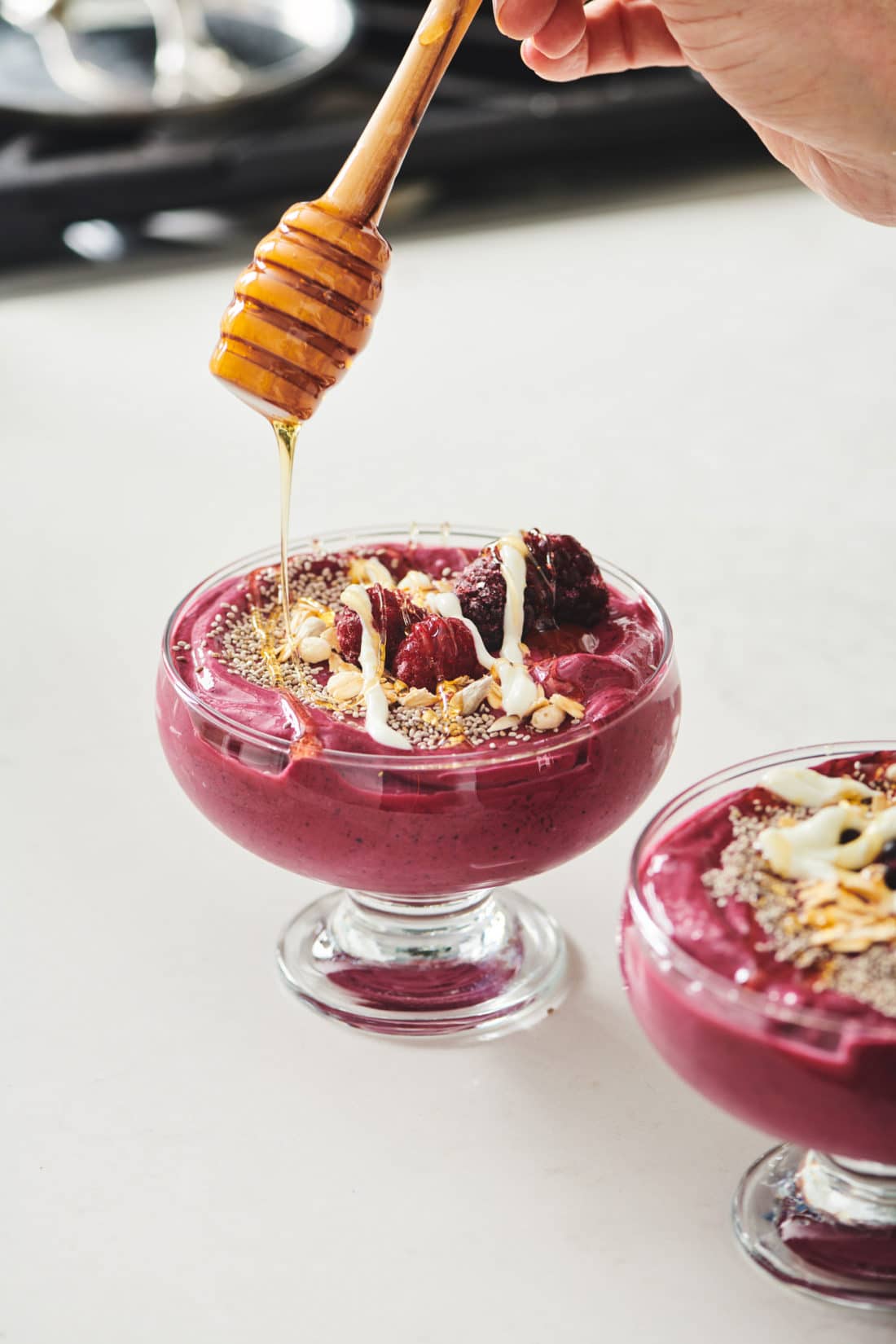 And they also added a lovely nutritional pop to the smoothie bowl. Beets are antioxidant-rich, and provide vitamins (like Vitamin A, C and Folate), minerals (like Calcium, Iron, Magnesium, Phosphorus, and Potassium) and fiber.
And if you need another reason to get excited about beets, here's a good one: Aunt Nellie's is giving away a Family Pack of their great products PLUS a $900 VISA gift card. You could make an awful lot of smoothies with that cash. Click here to enter the sweepstakes, and please let me know if you win! #ANBeetWeek
This Beet Berry Smoothie Bowl recipe is refreshing, clean, and rejuvenating. This healthy and easy breakfast is exactly how you want to start your day.

Tweet This
How to Make a Smoothie Bowl
Back to the smoothies—just pop everything into a blender.
And blend away, making sure to pulse everything and then let the machine run until the mixture is smooth. Scrape down the sides and give it a final blend. The mixture will be nice and thick.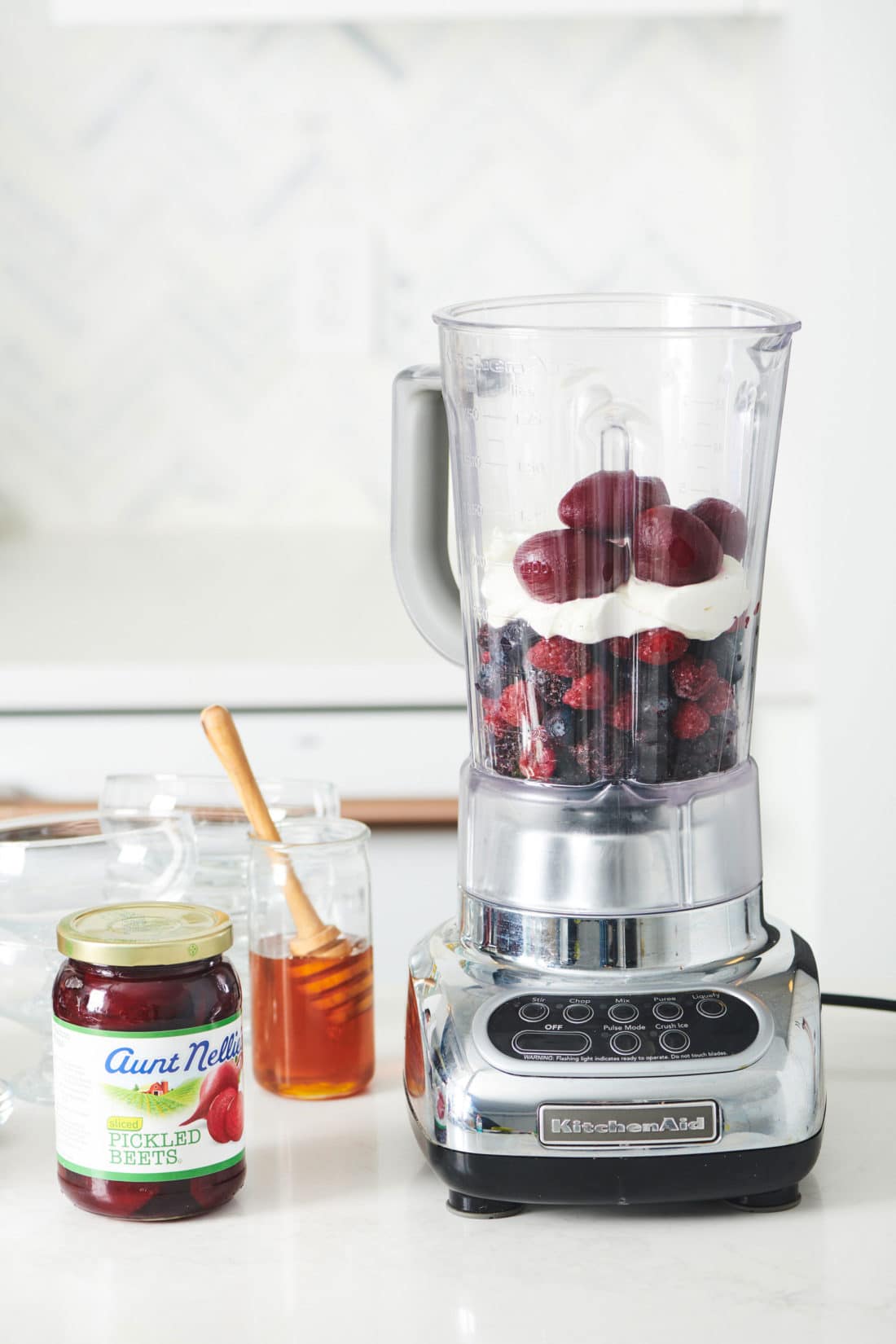 Pour it into bowls—glass bowls are perfect as they will show off the gorgeous color on all sides.
Top the smoothie bowls with anything you like, from chia seeds.
To granola or muesli.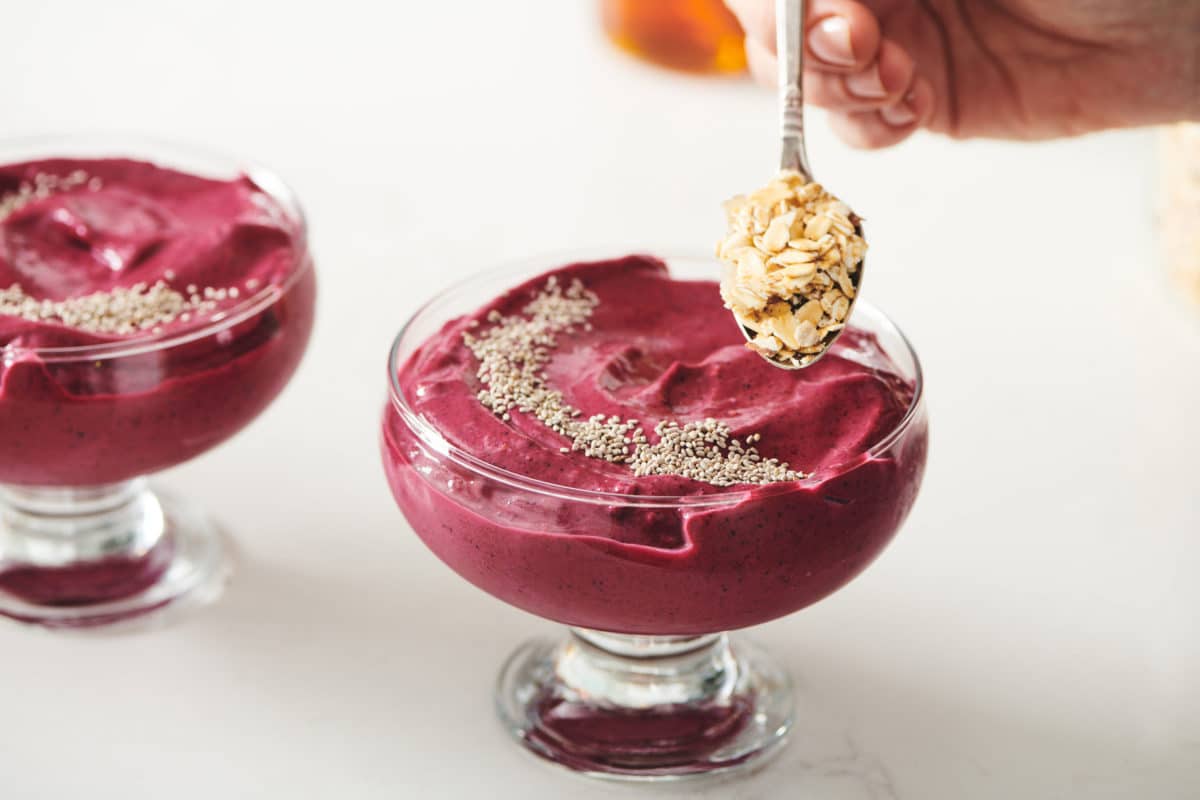 Additional berries.
And a little drizzle of some lemony yogurt.
And then a bit of honey.
If you let the berries thaw halfway, this would be a terrific smoothie to drink with a straw.
If you want to make just two smoothie bowls (and btw, these are generous sized bowls, you could also serve them in smaller portions), just make half the recipe, but for the whole recipe you do want to do this in two batches, and not overfill that blender.
For more beet recipes from Aunt Nellie's click here!
More Beet Recipes:
Also Read: How to Cook Beets
Like this recipe? Pin it to your favorite board on Pinterest.

Pin This
Beet Berry Smoothie Bowl
Refreshing, clean, and rejuvenating.
Ingredients
2 ½

cups

plain whole milk Greek yogurt

divided

2

teaspoons

fresh lemon juice

½

teaspoon

finely grated teaspoon lemon zest

1

jar

Aunt Nellie's Baby Whole Pickled Beets

about 4 ounces, drained

6

cups

frozen mixed berries

plus more for topping the smoothie bowl

4

tablespoons

honey

or to taste, plus more for drizzling
Optional Toppings
4

tablespoons

chia seeds

½

cup

granola or muesli

4

tablespoons

cacao nibs

½

cup

lightly crushed nuts of your choice
Directions
In zipper top bag, place 1/2 cup of the yogurt, plus the lemon juice and zest. Seal the bag and mush it all around until blended. Set aside.

In a blender combine 1 cup of the remaining yogurt with half of the beets, half of the berries and 2 tablespoons honey. Pulse until well mixed, using the plunger or a dowel of some sort to periodically press the mixture down so it can get fully blended, then process until smooth.  Scrape down the sides and process again. Pour or scoop into two bowls (the mixture will be thick).

Repeat with the remaining yogurt, beets, berries and 2 tablespoons honey, and pour it into two more bowls.

Top as desired with the chia seeds, granola or muesli, cacao nibs, additional berries, and/or nuts. Snip a tiny corner off of the baggie with the lemon yogurt in it, and drizzle it over the smoothie bowl, along with a bit of additional honey. Eat while cold!
Nutrition Information
Calories:
542.54
kcal
|
Carbohydrates:
73.5
g
|
Protein:
21.85
g
|
Fat:
21.24
g
|
Saturated Fat:
4.65
g
|
Cholesterol:
6.25
mg
|
Sodium:
112.32
mg
|
Potassium:
570.15
mg
|
Fiber:
14.27
g
|
Sugar:
45.76
g
|
Vitamin A:
106.95
IU
|
Vitamin C:
8.27
mg
|
Calcium:
261.79
mg
|
Iron:
3.36
mg
The nutrition values are provided as an estimate. It is not intended as a substitute for the advice of a qualified healthcare professional.
Made this recipe? Post a photo of your delicious creation on Instagram with our hashtag #dinnersolved