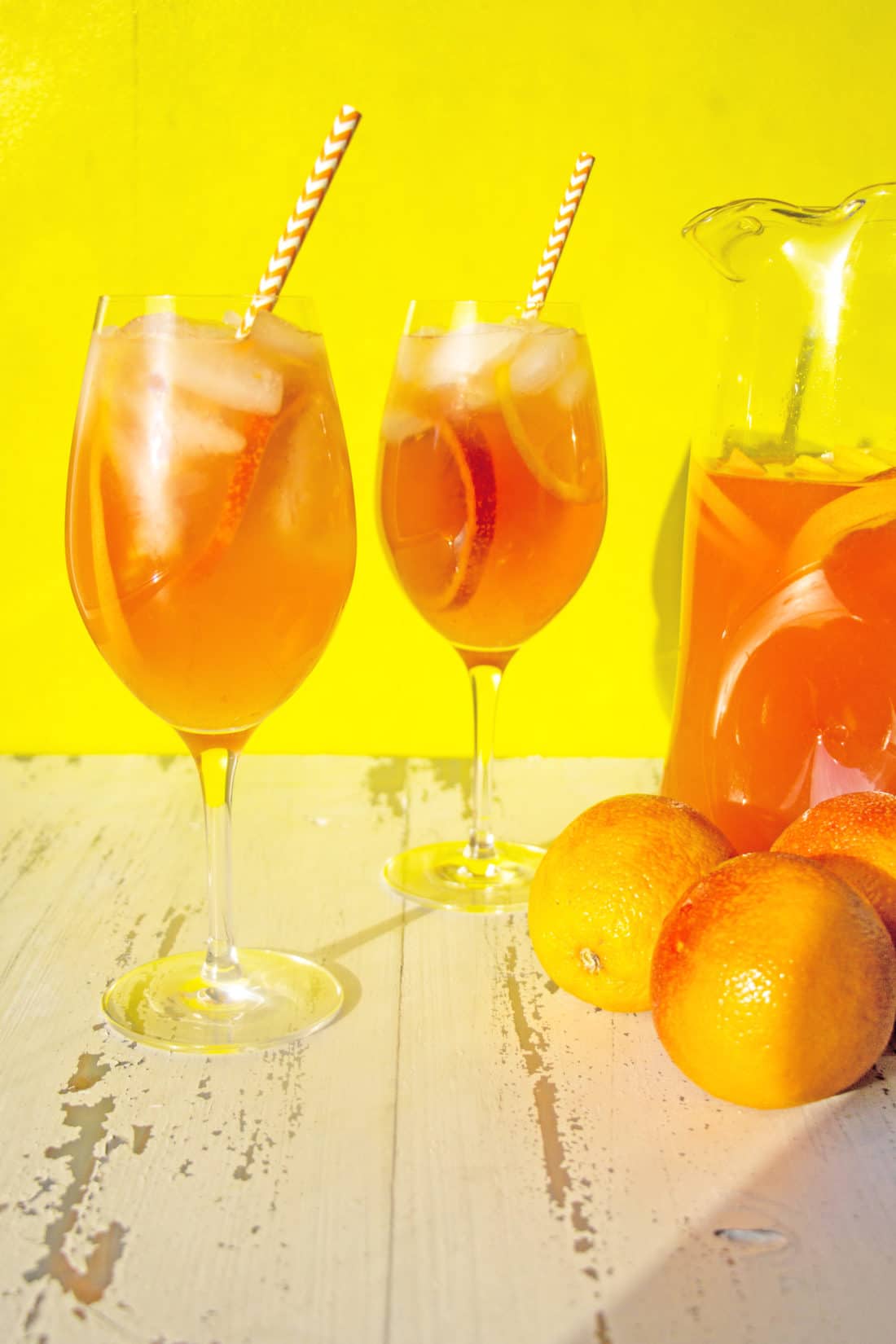 Damn, damn, damn, this is pretty. This is a white wine winter sangria, because the fruit is citrus, available year round, and certainly in the colder months. There will be time for those berry and stone fruit drinks soon enough.
Best White Wine for Sangria
A fair question to start with is, what is the best white wine to make sangria? I happen to like dry white wines, mostly French or Italian. I think the best white wines for sangria are Pinot Grigio, Sauvingon Blanc, a dry Reisling, or Vinho Verde. Steer clear of those oaky, butter California whites, like Chardonnays, which have a lot of sweetness to them, and can be cloying in combination with the fruit and added sugar. Having said that, if that's the kind of white wine you like it could work here – it's just not my cup of tea, so I haven't tried it. If you do, let me know?
Cointreau, Triple Sec or Grand Marnier Plus Campari
This orange sangria gets even more citrusy and more colorful by a combination of orange liqueur and Campari. Use whatever orange liqueur you have on hand, swuch as Cointreau, Triple Sec or Grand Marnier, they all work equally well.Campari is a bright red bitters type of aperitif, and it add a nicely undercurrent of bitter-sweet brightness to the drink.
When I was a lass in my 20s there was a great dumpy, divey Spanish restaurant in the meat packing district of New York City, and my gang used to go there for a festive and somewhat cheap meal of paella and pitchers of sangria. Alas, no longer there. The memories are slightly hazy, but I surely do remember it being a lot of fun. They served a white wine sangria served there that was pretty easy to drink, and that's what inspired this recipe.
Pitcher Sangria
While you can order sangria by the glass in most places that serve it, you can also usually order it by the pitcher, and in my mind (and my memory) it is one of the best pitcher group drinks around. I'm certainly not making sangria by the glass – sangria is for sharing in a group.
When you order it by the pitcher (or by the glass) in a restaurant, it is often loaded with ice. The ice of course keep the drink cold, but also dilutes the drink a bit, and obviously makes it more economical for the restaurant. I like to serve it in a pitcher with no ice. That means more sangria in the pitcher, and less need for constant refills. Then place a big bucket of ice right next to the pitcher for people to use to fill their glass before pouring in the sangria.
Bright, and delicious, the prettiest orange, this refreshing cocktail is perfect year round.

Tweet This
Orange Juice and Fresh Citrus in Sangria
If you can squeeze or even buy fresh orange juice for this, it makes a big difference. White wine and fresh orange juice are a lovely combination. If I am really thinking ahead, I might make some orange juice ice cubes, which look cool floating around in the drink, and will flavor and not overly dilute the sangria as they melt. Sangria is a drink meant to be drank (not gulped, but also not slowly sipped – this is not a glass of scotch) so it shouldn't be super strong. Ice cubes can be your friend in this case.
Also, you'll see that another option is to top off the glasses (or the pitcher) of sangria with some sparking water. This will add more fizziness (the orange soda also adds a nice bit of effervescence) and also tone down the alcohol. Offering a bottle of sparkling water with the sangria allows people to decide how strong they want it to be.
Finally, don't even think about skipping the slices of fresh citrus fruit. If you can, mix up all kinds of oranges: Blood oranges, Cara Cara, Satsumas, Valencias, Maybe some Meyer lemons along with regular lemons (limes would also be nice). That's the wow factor. Next time I might add frozen strawberries to help keep the drink cold and add pops of red.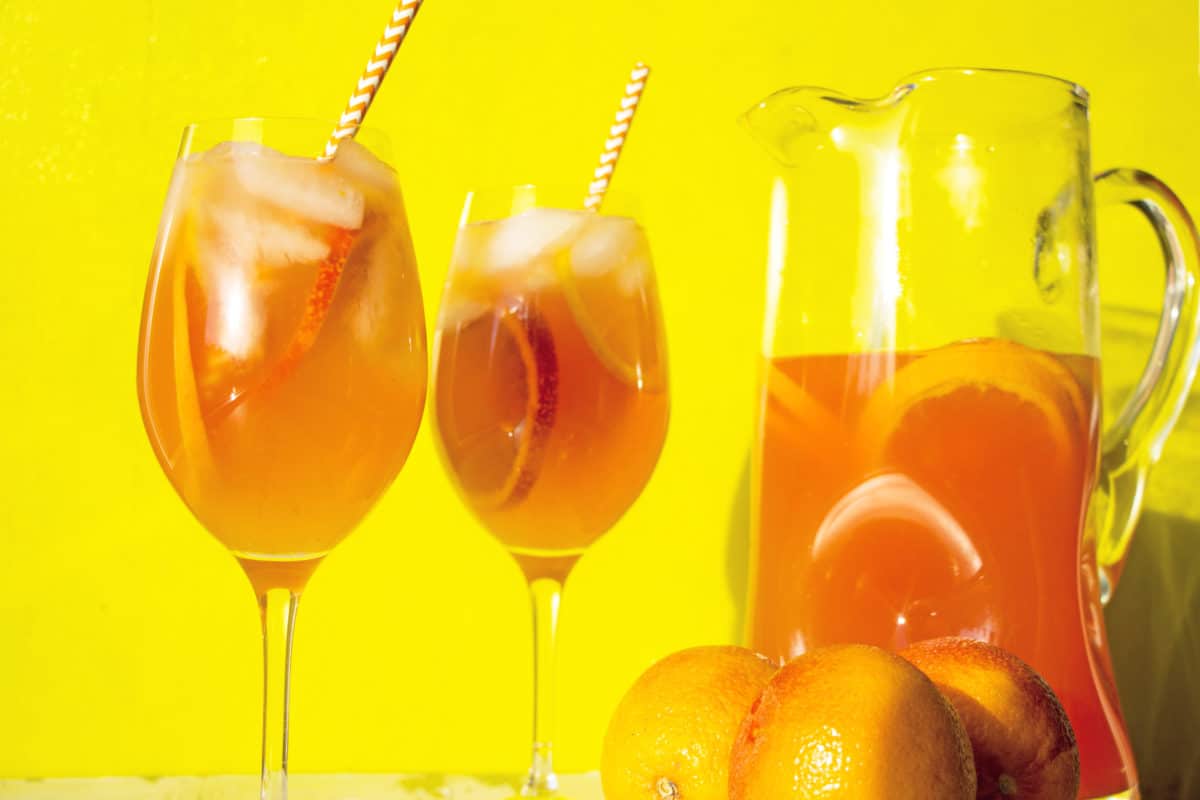 Other Pitcher Cocktail Recipes:
Like this recipe? Pin it to your favorite board on Pinterest.

Pin This
Orange White Wine Campari Sangria
Bright, and delicious, the prettiest orange, this refreshing cocktail is perfect year round.
Total Time:
2
hours
15
minutes
Ingredients
2

bottles dry white wine

1

can orange sparkling fruit soda

such as Pellegrino

1

cup

fresh orange juice

¼

cup

Campari

¼

cup

Cointreau

Triple Sec or Grand Marnier

4

oranges

preferably different types, sliced

1

lemon

sliced

Ice cubes

lots
Directions
Get a large pitcher, preferably at least 2 1/2 quarts (10 cups) – you can also divide the amounts and make this in two pitchers.

Pour in the wine, sparkling orange soda, Campari and Triple Sec. Add the sliced oranges and lemons and give the mixture a stir. Refrigerate for at least a few hours, until well chilled. Serve in big wine glasses (orth glasses of your choice) over ice.
Nutrition Information
Calories:
150
kcal
|
Carbohydrates:
15
g
|
Protein:
1
g
|
Fat:
1
g
|
Saturated Fat:
1
g
|
Sodium:
9
mg
|
Potassium:
190
mg
|
Fiber:
1
g
|
Sugar:
10
g
|
Vitamin A:
120
IU
|
Vitamin C:
33
mg
|
Calcium:
29
mg
|
Iron:
1
mg
The nutrition values are provided as an estimate. It is not intended as a substitute for the advice of a qualified healthcare professional.
Made this recipe? Post a photo of your delicious creation on Instagram with our hashtag #dinnersolved