This post may contain affiliate links. Please read our privacy policy.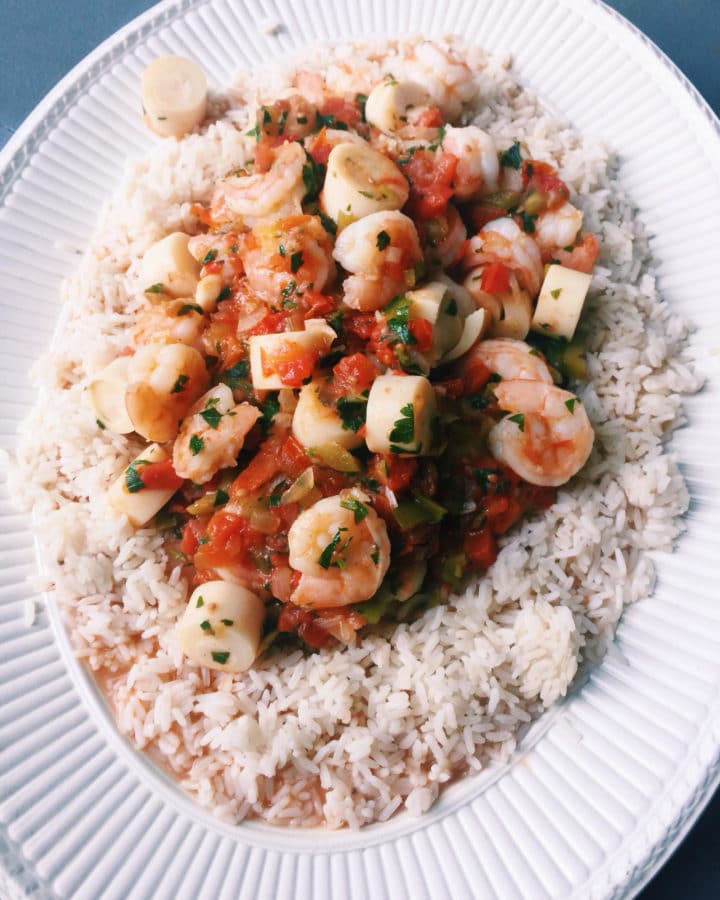 I got to visit Brazil 20 years ago, in the company of my very dear friend Christopher Idone. Christopher wrote a wonderful cookbook called Brazil: A Cook's Tour, which I edited, published in 1995. (Somehow Christopher, an admired veteran food writer, ended up with yours truly, a pretty junior food editor at the time. A very classic case of "and the rest was history").
After the book came out, we traveled through Sao Paulo, Rio, and Bahia.  All of the recipes that we had poured over on the pages of the manuscript were suddenly all there in 3-D real life. Dishes red with dende oil, crunchy with manioc flour, aromatic with coconut milk. Rich Feijoadas, creamy Tutu a Mineira, hot and cheesy Pao de Queijo.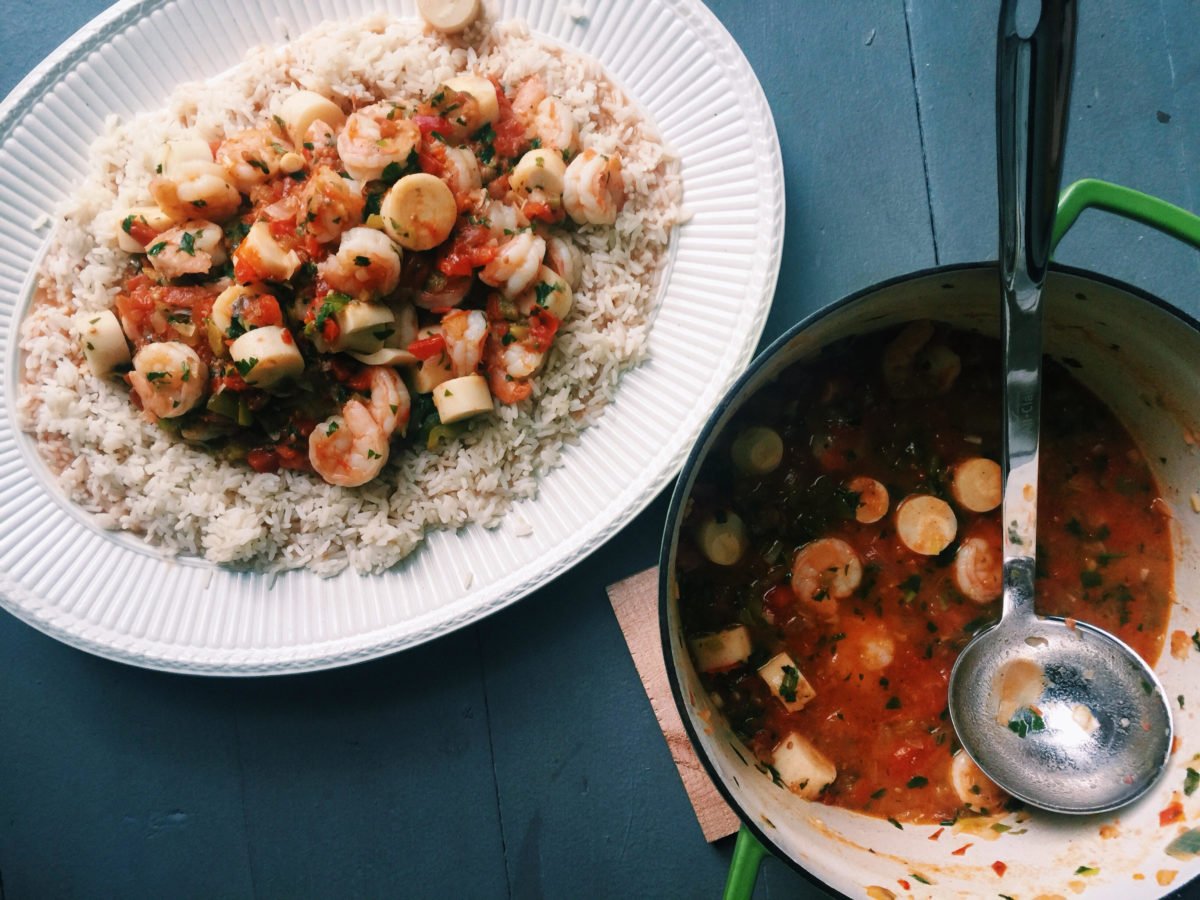 Brazilian Cuisine
The combined cultures of Indian, African, and European (predominantly Portuguese) over the past centuries are visible in the different types of ingredients, techniques, and dishes Brazil.  And in later years an influx of other immigrants have continued to enrich the culture and the food with new influences. You can find hints of Japanese, Arab, Lebanese, North American and Chinese flavors in the food.
Casserole of Shrimp and Hearts of Palm (Camarões com Palmito): A brothy, flavorful Brazilian one-pot dish.

Tweet This
Casserole of Shrimp and Hearts of Palm (Camarões com Palmito)
One of the dishes I wanted to eat over and over was the Camarões com Palmito, or Casserole of Shrimp and Hearts of palm. We finally this encountered this casserole in the city of Rio de Janeiro.  Two of the most appealing foods ever nestled together in a tomato-tinged brothy one-pot dish, fragrant with scallions and cilantro and parsley.
Christopher and I continued to cook and eat together for 20 more years after our trip to Brazil.  We fantasized abut going back for the 2016 Olympics, knowing that because of his health it was not in the cards.  When he died several years ago he left this world having introduced a whole lot of people Brazilian cuisine.
This recipe is adapted from his classic book, Brazil: A Cook's Tour. (Sorry, Christopher, I love you, but I didn't make my own shrimp stock).
More Shrimp Recipes:
Like this recipe? Pin it to your favorite board on Pinterest.

Pin This
Casserole of Shrimp and Hearts of Palm (Camarões com Palmito)
A tomato-tinged brothy Brazilian one-pot dish, fragrant with scallions and cilantro and parsley.
Ingredients
3

tablespoons

all-purpose flour

¼

cup

extra-virgin olive oil

2

onions

chopped

1

green bell pepper

cored, seeded and chopped

1

teaspoon

minced garlic

10

large ripe plum tomatoes

roughly chopped (juices reserved)

1

cup

chicken broth

½

cup

chopped fresh parsley

divided

4

scallions

white and most of the green, trimmed and chopped, divided

2

pounds

extra large or jumbo shrimp

peeled and deveined

2

14-ounce cans hearts of palm

drained and cut into 1-inch pieces

Salt and freshly ground pepper

to taste

¼

cup

chopped fresh cilantro

Hot cooked white rice

to serve, about 6 cups
Instructions
Heat a large heavy stockpot or Dutch oven, over medium heat. When the pan is hot, add the flour, and stir until the flour turns starts to turn light beige, about 2 minutes. Turn the flour out of the pan onto a plate.

In the same pot, heat the oil over medium heat. Add the onions and sauté until slightly softened about 4 minutes. Add the bell pepper and garlic and sauté until the vegetables are all tender, about 4 more minutes. Add the tomatoes and their juices, partially cover, and bring to a simmer. Adjust the heat so that the tomatoes keep at a simmer, and cook for another 10 minutes, partially covered, stirring occasionally, until the tomatoes are soft and soupy.

Add the broth and return the mixture to a simmer. Stir in half of the parsley and half of the scallions.

Add the shrimp and hearts of palm to the pot with the tomato broth mixture, season with salt and pepper and stir. Sprinkle the flour very gradually over the cooking shrimp and tomatoes, stirring constantly, until all of the flour is incorporated. Cook, stirring occasionally, until the mixture is thickened and the shrimp are almost cooked through, about 4 minutes.

Stir in the remaining parsley and scallions, and the cilantro and cook for 1 more minute. Serve over white rice.
Notes
How Long to Pickle Brussels Sprouts
This pretty jar of pickled Brussels sprouts is actually a double batch, made in a quart jar. After 2 days they were delicately pickled and ready to eat, and after 10 they were fantastic. These are a refrigerator pickle, not a pressure sealed one, which means they won't last forever. I think around 14 days Is probably their final shelf life, though I tend to push the envelope.  And because next time I make these I will probably make them in an even  bigger batch.
Nutrition
Calories:
331
kcal
,
Carbohydrates:
35
g
,
Protein:
28
g
,
Fat:
9
g
,
Saturated Fat:
1
g
,
Cholesterol:
286
mg
,
Sodium:
1011
mg
,
Potassium:
2193
mg
,
Fiber:
3
g
,
Sugar:
21
g
,
Vitamin A:
1178
IU
,
Vitamin C:
46
mg
,
Calcium:
209
mg
,
Iron:
5
mg
Nutrition information is automatically calculated, so should only be used as an approximation.
Like this? Leave a comment below!