A question that is often asked of cooks, food writers and people whose lives revolve around their kitchens: what is your favorite ingredient?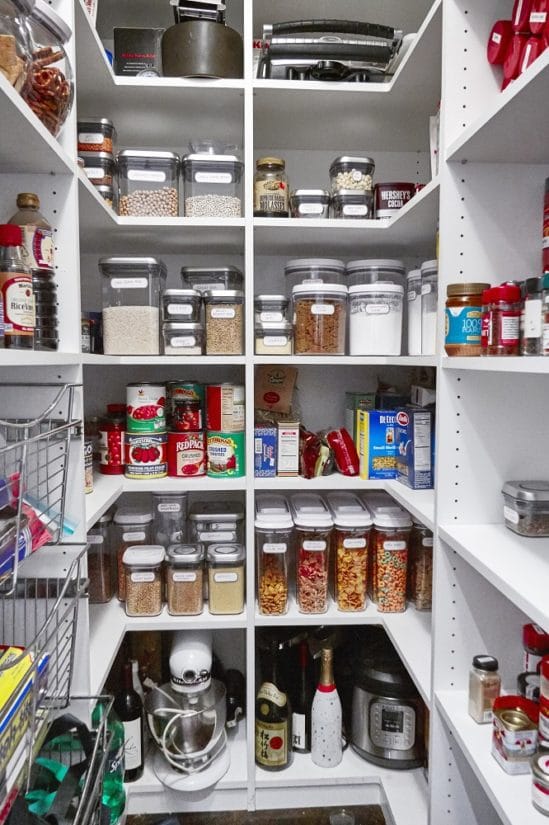 My answer is pretty much always a combo of two, olive oil and salt. But that is just the beginning. Here are some of the everyday pantry staples that make cooking a pleasure, food delicious, and weeknight meals easy. Plus some ideas for how to put them to good use.
---
1. Olive Oil, Pure and/or Extra Virgin Olive Oil
In a perfect world, you'll have both kinds on hand, more if you are interested in a variety of levels of flavor. For most savory food, except for Asian food, this is the kind of oil to use. Weeknight meals at their simplest could be a piece of chicken, meat, or fish pan seared or sautéed in olive oil, seasoned with salt and pepper.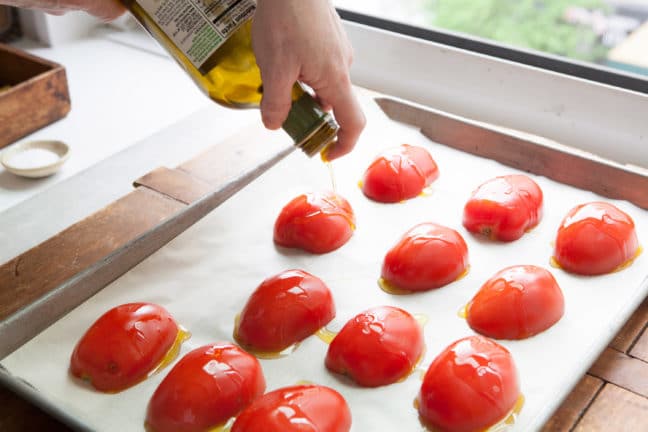 You can use pure olive oil for cooking, saving the more pricey extra-virgin for uncooked dishes, like salad dressings or drizzling over tomatoes and the like. There are tons of brands out there, and you should play around since some have a much more pronounced flavor, some are fruitier than others, and so on, and find ones that you really like.
Also, there are some good quality extra virgin olive oil available in large bottles at the supermarket that won't break the bank, inexpensive enough to cook with, if you're only buying one kind.
2. Kosher Salt
If there is one seasoning you always need to have on hand, it's salt.
Almost every recipe, whether savory or sweet, calls for salt to bump up the flavor. Kosher salt has a much larger grain size than common table salt, and no additives, which can make salt taste sharp or harsh. You may also prefer sea salt, which sometimes has an even coarser texture; You should avoid salt that is too coarse, or you'll be crunching chunks which is not so pleasant.
You also may want to experiment with some other fancy salts, like Fleur de Sel, Maldon Sea Salt, or some of the Hawaiian varieties, but make sure to save those for sprinkling on at the end of a dish. They are expensive, so you'll want to use them sparingly, and their subtle flavors will get lost if you use them in cooking.
3. Dijon Mustard
A little bit in everything from salad dressing to dips to tuna fish to macaroni and cheese turns to pan sauces things from blah to not blah very quickly. Even if your family is not a mustard family, when used as an ingredient in various dishes it elevates the flavor much like salt or pepper or soy sauce.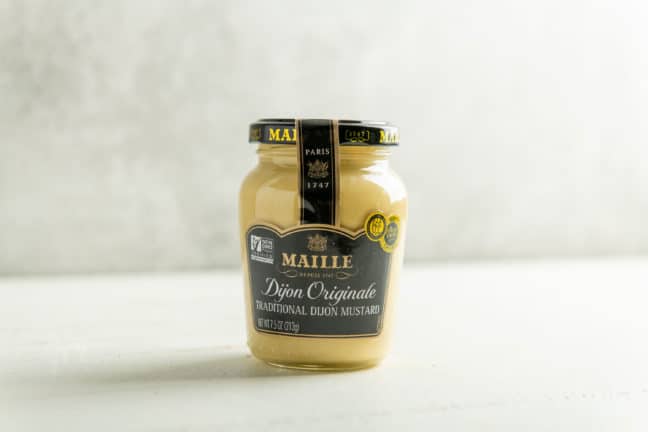 You can use smooth or coarse ground, or if you fall in love, buy both so you can vary things up.
Mustard is made from the seeds of a mustard plant, and the seeds can be used whole, ground, cracked, or smushed. The seeds are then mixed with water, salt, lemon juice and maybe other liquids and seasonings to create a paste. Dijon mustard also includes wine or vinegar or both for that identifiable tang, and is the mustard I most use in cooking.
4. Soy Sauce
Indispensable in all things Asian, (and kids on the whole seem to really like the basic flavors of Asian food), but also interesting as an ingredient in recipes that aren't particularly Asian in tone. It can be used in cooking, and as a condiment. It's is a traditional ingredient in East and Southeast Asian cuisines, but it can add a pop of flavor and a rich saltiness to all kinds of dishes if used sparingly.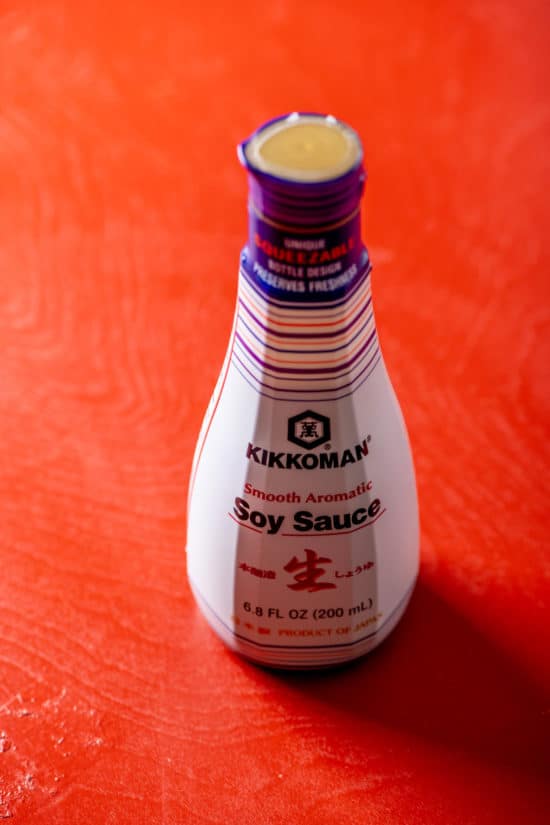 I use less-sodium soy sauce on a regular basis, because you still get the rich flavor, but with less salt. You can dilute regular soy sauce to cut back on the salt, using a 2/3 soy sauce to 1/3 water ratio.
5. Chipotle Peppers in Adobo Sauce
Yes, these are somewhat spicy, but as with many flavorings, when used judiciously they just add a warm undercurrent of smoky heat to all kinds of dishes; chilis, stews and soups, bean dishes, sauces, potato salads, barbecue sauces, dips…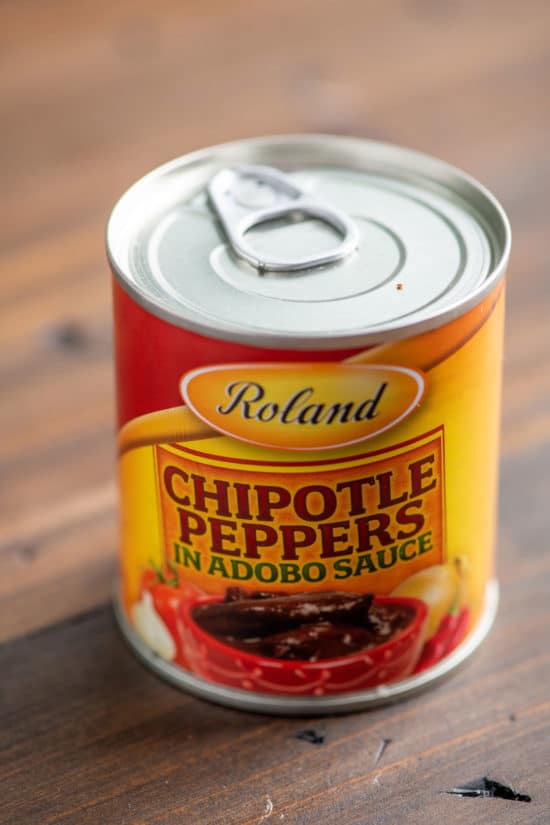 Chipotles in adobo sauce are smoked jalapeno peppers which have been stewed in a sauce with tomatoes, garlic, vinegar, salt, and various spices such as cumin, oregano and paprika. Imagine doing all that yourself!
Now imagine pureeing a little 7-ounce can of the peppers and sauce, transferring it to a plastic container, then tucking it into the fridge and scooping out teaspoons whenever you need it.
This condiment will last for a couple of months, and you will use it again and again, until it's all gone, and you do it again. It lasts for weeks upon weeks, and you will fall in love with its smoky, sultry taste. To summarize: a little bit of puree = nice flavor, not so much heat; a lot of puree = a lot of flavor AND heat.
6. Canned Tomatoes
These are available in many varieties, whole (in puree or juice), crushed (in puree of juice), pureed, sauce, diced, and more. You can buy them whole and cut them up yourself, or go for the pre-pureed/diced/crushed versions to save time. Sometimes you can find crushed tomato in puree vs. juice, which makes for a thicker sauce.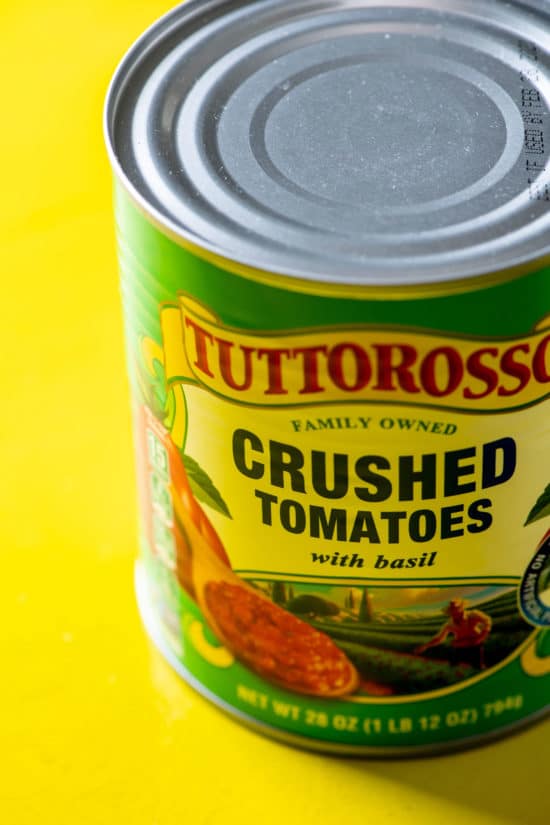 You may have heard about San Marzano tomatoes, which are from Italy, and extremely flavorful because of the unique soil and environment they are grown in. They are pretty fantastic, and so are other tomatoes, which are grown in nearby regions (but can't be called San Marzano because they aren't grown in that exact region). If you have a good Italian market around, ask the folks there which kind you should buy.
San Marzanos are more expensive than your everyday canned tomato, but worth the splurge when you are making something for a special occasion. They usually come whole, though, so you have to do any crushing or dicing or pureeing yourself.
Add canned tomatoes to soups, beans, stews, pot roasts, rice dishes, and chili.
7. Dried Pasta
This is sort of a "no, duh" thing to include, but it is in fact one of those life-saving items to always, always (one more time, always) have in the house. If you have a box of pasta, you will almost definitely be able to get dinner on the table from whatever you have in the fridge or in your pantry. And pasta also = casseroles, macaroni and cheese, skillet meals, and so forth. When you find a brand you love, and it goes on sale, this is another great item to stock up on. The pantry life of pasta is years long.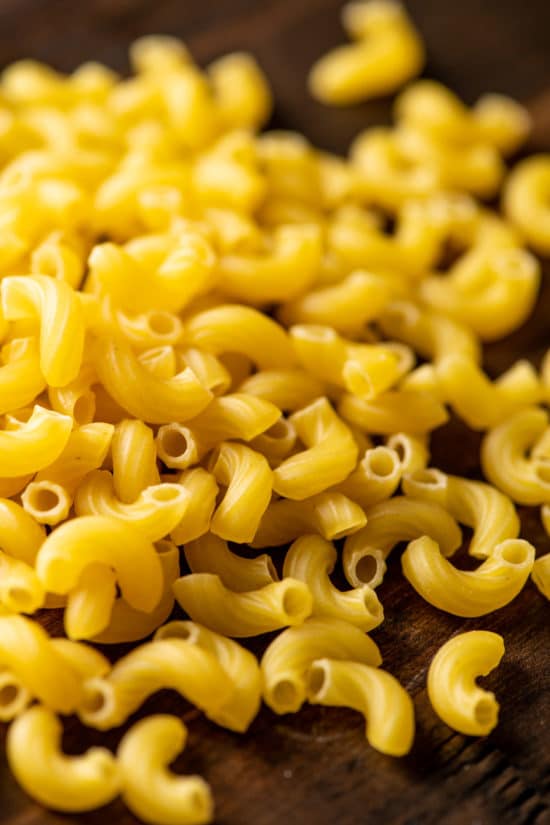 Think about different shapes for different dish. Small pastas for soups and stews, long skinny pasta for thin sauces, chunky pastas for thick and meaty sauces. If you have kids, let them help pick different shapes—you can freshen up a favorite recipe quickly and easily just by changing the shape of the pasta. Also, give whole grain pasta a try; it's certainly a simple way to get more whole grains into your world.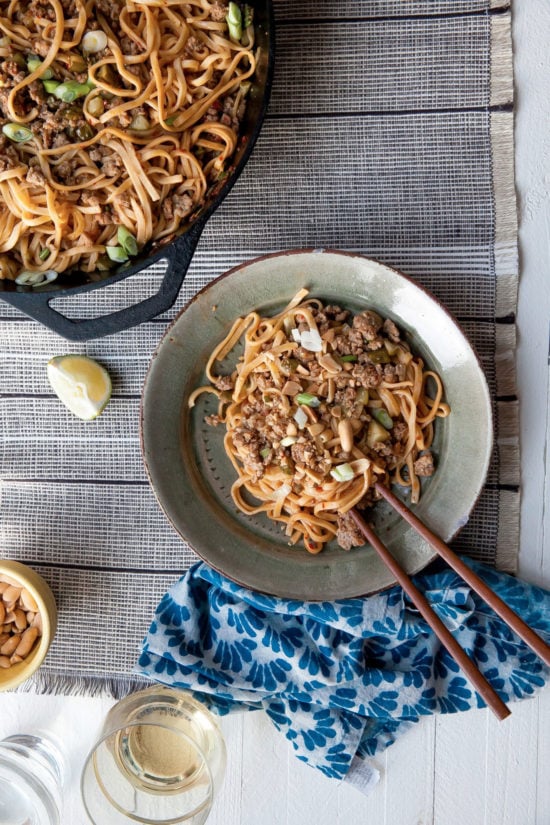 If you like to cook Asian food, make a stop in a local Chinatown or Asian specialty market, or at least stroll down the Asian aisle in your supermarket to see what different pastas are available. Wheat-based Asian noodles have a different consistency than most Italian noodles, often more delicate, and you'll also find noodles made from rice flour, bean curd (cellophane noodles), or buckwheat flour (called soba). Follow the cooking directions on the package (and also look for quick easy recipes on the packages, too).
8. Canned Beans
Here is a low fat, vegetarian protein that stores for years, can be used in so many different ways and cuisines, and is very economical on top of all that. Dried beans also last for a long time, and are even cheaper, but in most cases you do have to plan ahead to soak and cook them before using them in recipes, so they are less of a last-minute help.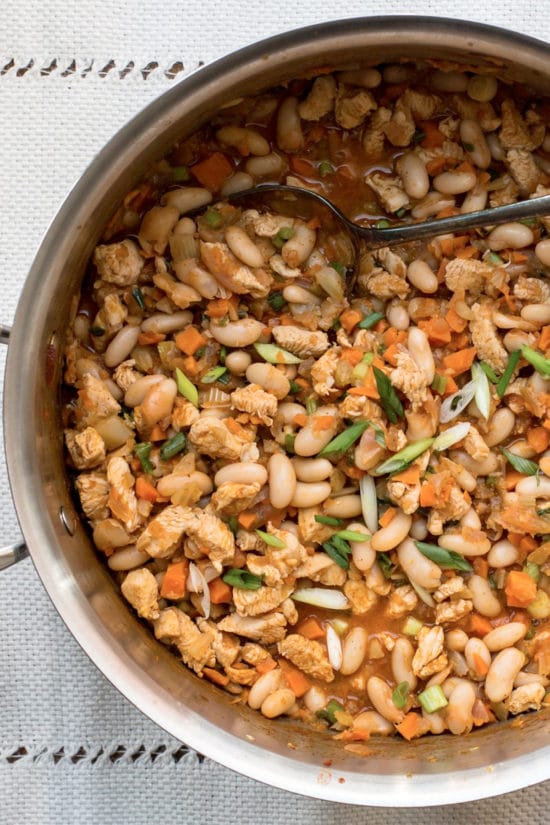 Some beans to consider:
• Garbanzo beans (chick peas): great for salads, soups, stews, curries, or pureed in dips and spreads. Often used in Indian and Mediterranean dishes.
• Black beans: Used in many Mexican and Cuban dishes, chilies, soups, stews, and often the star of black beans and rice.
• Kidney beans: often found in Southern and Mexican preparations. Great in soups and chilis.
• Cannellini beans: Found in Italian dishes, soups, stews, side dishes, lovely with meats.
• Navy beans: a white bean, good in baked bean dishes, soups, stews.
• Pinto beans: These get their name for its mottled skin (compared to a pinto horse). These are actually the most common bean in the United States and northern Mexico, eaten frequently in soups, burritos, as the bean featured in refried beans. Also popular served with rice, or used in chilis.
9. Canned broth (or bouillon cubes or stock paste)
5-4-3-2-1-dinner. Stretch leftover brisket into a soup by simmering it with barley in some broth. Chop up every vegetable in the house and simmer them with some rice in a pot of broth until it turns into soup. Sauté some rice and cubes of pork or chicken in oil, pour in chicken broth instead of water, and create a simple stovetop skillet meal.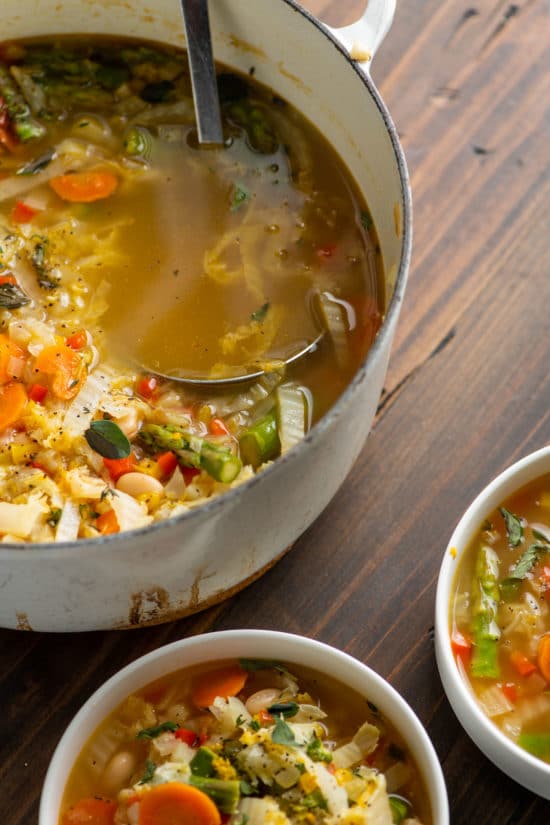 You can use broth in place of water in most savory cooking, and get results with more flavor and interest. Even steaming vegetables over broth infuses them with extra flavor.
Canned or boxed broths are great, and have a substantial shelf life. A box of bouillon cubes is also good to have on hand in a pinch, and there are also some stock pastes that keep in the refrigerator for months, which can be diluted with water into broth, and take up very little space.
You may want to keep an assortment of beef, chicken, and vegetable stocks around for different purposes. Go for the lower sodium if possible, since many of these broths and stocks do pack a salt wallop.
10. Rice
Long grain, short grain, Jasmine, Arborio, brown and white, this is a fabulous pantry staple to have around. You can add anything to a pot of rice to turn it into a meal. Chopped leftovers, fresh vegetables, canned beans, even leftover soup. Top rice with chili, or beef stew, sprinkle it with cheese and add some salsa.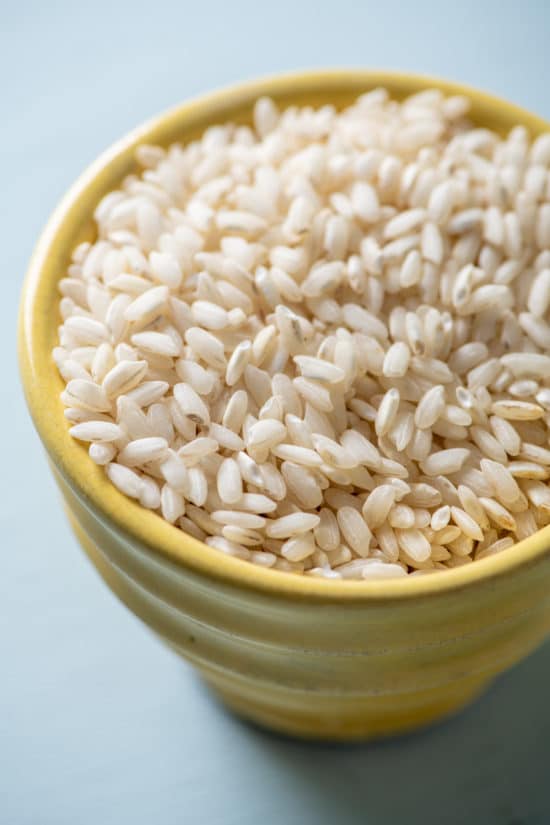 Different rices have different characteristics, and brown rice takes longer to cook than what but has more nutritional value because it is less processed.