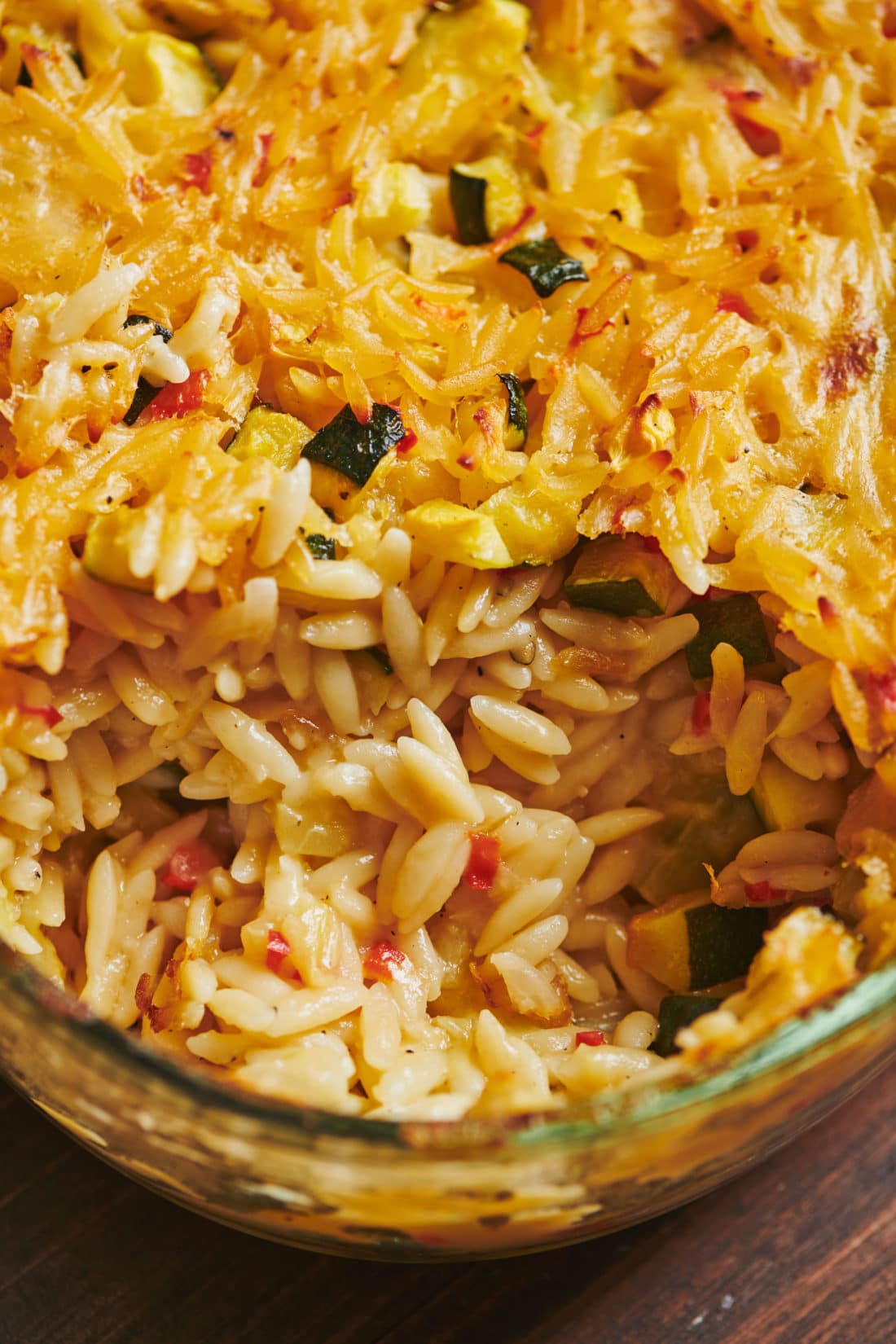 You like cheese, right? I'm guessing you do, because you are looking at this recipe.
I love cheese and cannot bear to throw away the smallest chunk, so every once in a while I realize the my refrigerator is filled with about 14 kinds of cheese bits and pieces, none of them attractive enough to serve, none of them big enough to make anything with on their own. And at that moment, it's either macaroni and cheese time, or time to come up with something new.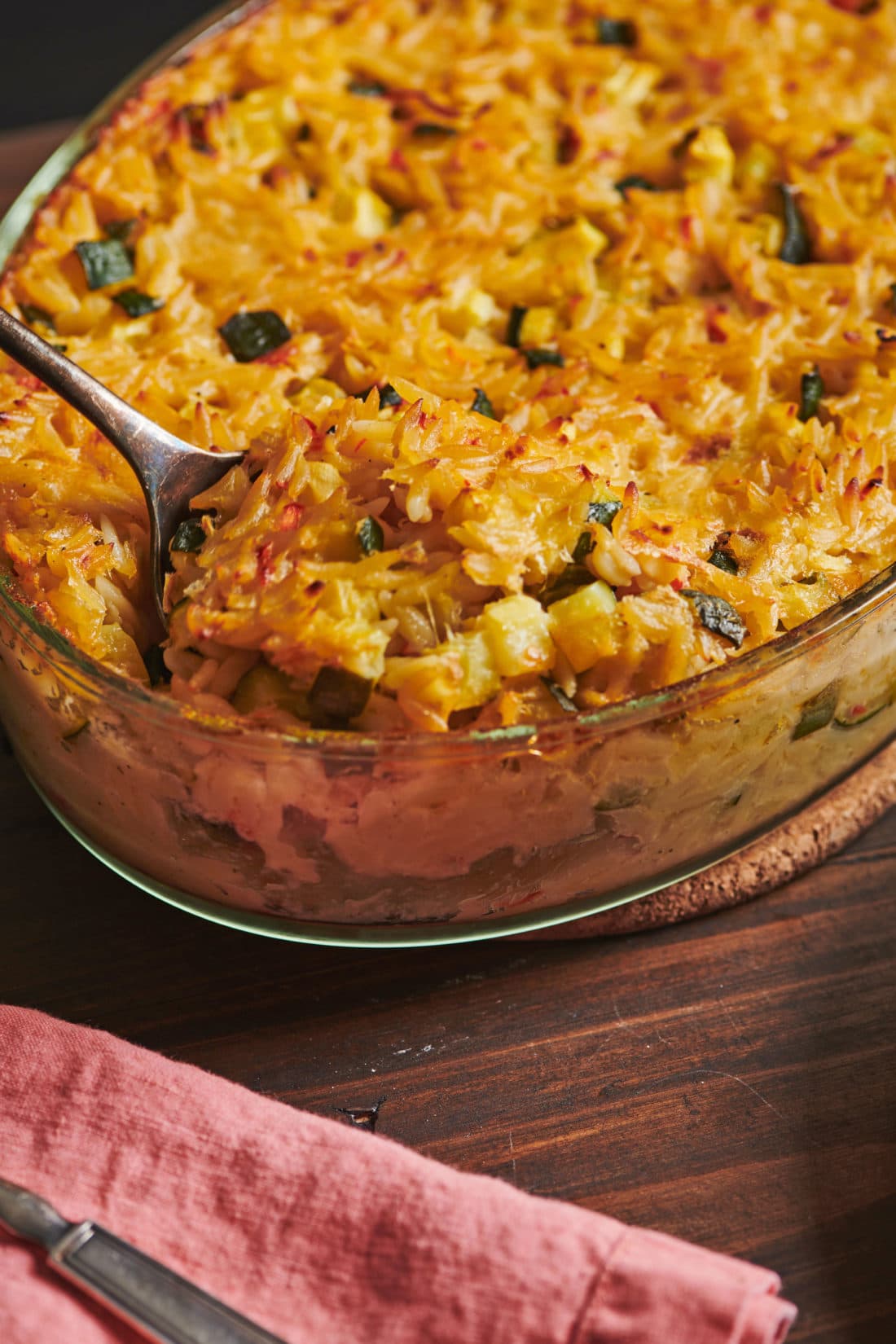 Using Leftover Cheese
This was this month's Cheese Something New, the cheese-spiration, if you will.  It an updated version of a casserole I made a while back, certainly at the time with different cheeses.  Which is the whole point of this recipe, and others of its ilk. 
It's a stupendous way to use up any cheese left over from a cheese platter, and a reason to never even consider throwing away even the smallest piece of cheese ever again.  You can use one cheese to make this, or two or three or eight.  You can use stronger cheeses, milder cheese, softer cheese, and harder cheeses.
Could you use less cheese in this very cheesy casserole? I guess. #notfullyunderstandingthequestion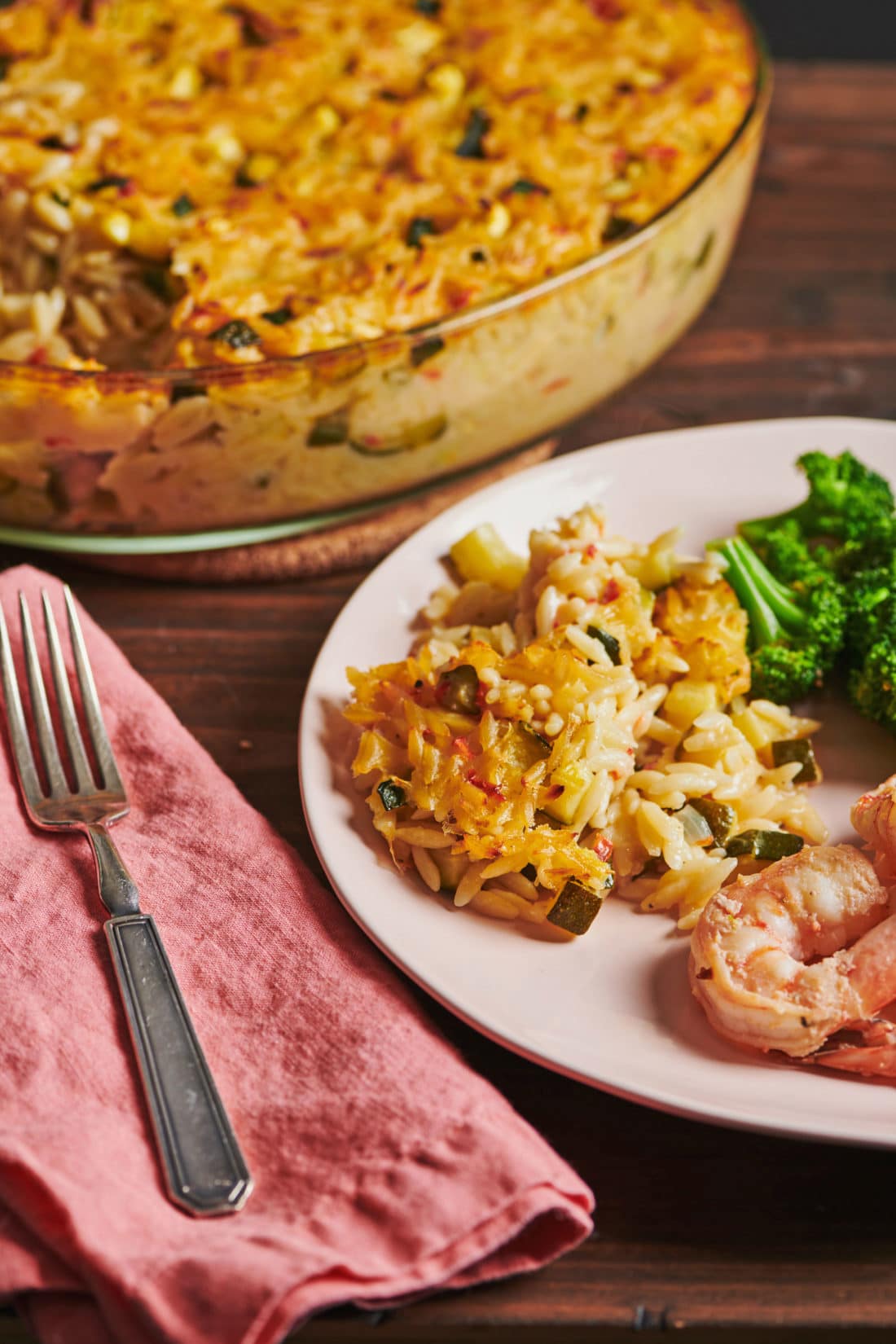 How to Cook Orzo Casserole
You begin by sautéing some aromatics, in this case onions and garlic, but you could also use leeks, shallots, scallions, whatever you have going on in your kitchen.  Then some vegetables go on.
And I used zucchini in this, because that was the vegetable I had on hand, but chopped broccoli or cauliflower would also be great.  The red pepper adds additional color and a bit more texture (and also provides some additional peace of mind, because vegetables are a good thing, what with all the cheese and all).
Then the orzo is stirred into the mixture, coated with the oil and vegetables, and in goes the broth. it starts to cook on the stove, then is turned into a pan and finishes in the oven, which is a very nice thing if you are also making additional dishes that need more of your concentration and burner space.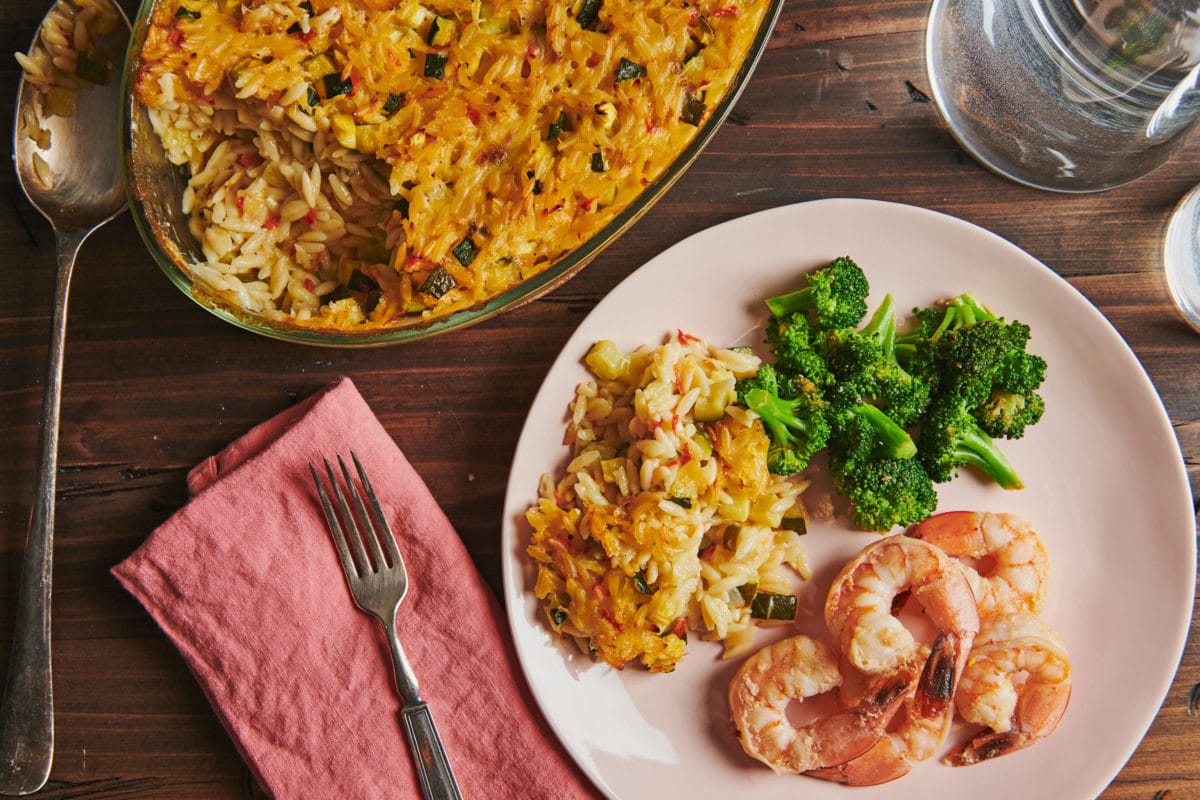 And, caveat emptor, as with any dish you make in the throes of a cheese purification, it will never be replicated exactly the same way again. You have to just get very zen about this, no matter how much in love you are with what you are eating. It's like snowflakes, or sunsets – each one is unique, and you must learn to appreciate, and then say good-bye (cheese makes me very deep sometimes). #cheesedeep.
A small-pasta take on macaroni and cheese, with some vegetables built in for peace of color and texture.

Tweet This
I think you could finish this on the stove risotto-like, but baking it in the oven gives the top a lovely crust, which is pretty to look at and a nice textural contrast.
Other Orzo Side Dish Recipes:
Like this recipe? Pin it to your favorite board on Pinterest.

Pin This
Very Cheesy Orzo Casserole
Never throw away small pieces of leftover cheese again.
Ingredients
1

tablespoon

olive oil

1

finely chopped onion

1

teaspoon

finely minced garlic

3

zucchini or summer squash

diced (about 3 cups)

1

pound

dried orzo

1

teaspoon

kosher or coarse salt

½

teaspoon

freshly ground black pepper

4

cups

chicken broth

preferably low-sodium

2

cups

shredded cheese of your choice

such as Gruyere, cheddar, Manchego, gouda, or a mixture

1

bell pepper or 4 cherry chili peppers

seeded and finely diced (about 1/2 cup)
Directions
Preheat the oven to 400°F. Lightly oil a shallow 2-quart baking dish or spray it with nonstick cooking spray.

In a large pot heat the olive oil over medium high heat. Add the onion, garlic, and squash and sauté for 2 minutes until the vegetables start to soften.

Add the orzo, salt and pepper and stir until the orzo is well coated with the oil, about 1 minute. Add the broth and bring to a simmer. Reduce the heat to medium. Simmer, covered, stirring occasionally, for about 8 minutes until the orzo is fairly tender and most of the liquid is absorbed. Stir in the cheese and peppers, and turn into the prepared pan.

Bake for 20 minutes until the mixture is bubbly around the edges and golden brown on top. Serve hot or warm.

Nutrition Information
Calories:
339
kcal
|
Carbohydrates:
48
g
|
Protein:
15
g
|
Fat:
9
g
|
Saturated Fat:
4
g
|
Cholesterol:
22
mg
|
Sodium:
907
mg
|
Potassium:
485
mg
|
Fiber:
3
g
|
Sugar:
5
g
|
Vitamin A:
802
IU
|
Vitamin C:
42
mg
|
Calcium:
175
mg
|
Iron:
1
mg
The nutrition values are provided as an estimate. It is not intended as a substitute for the advice of a qualified healthcare professional.
Made this recipe? Post a photo of your delicious creation on Instagram with our hashtag #dinnersolved