This post may contain affiliate links. Please read our privacy policy.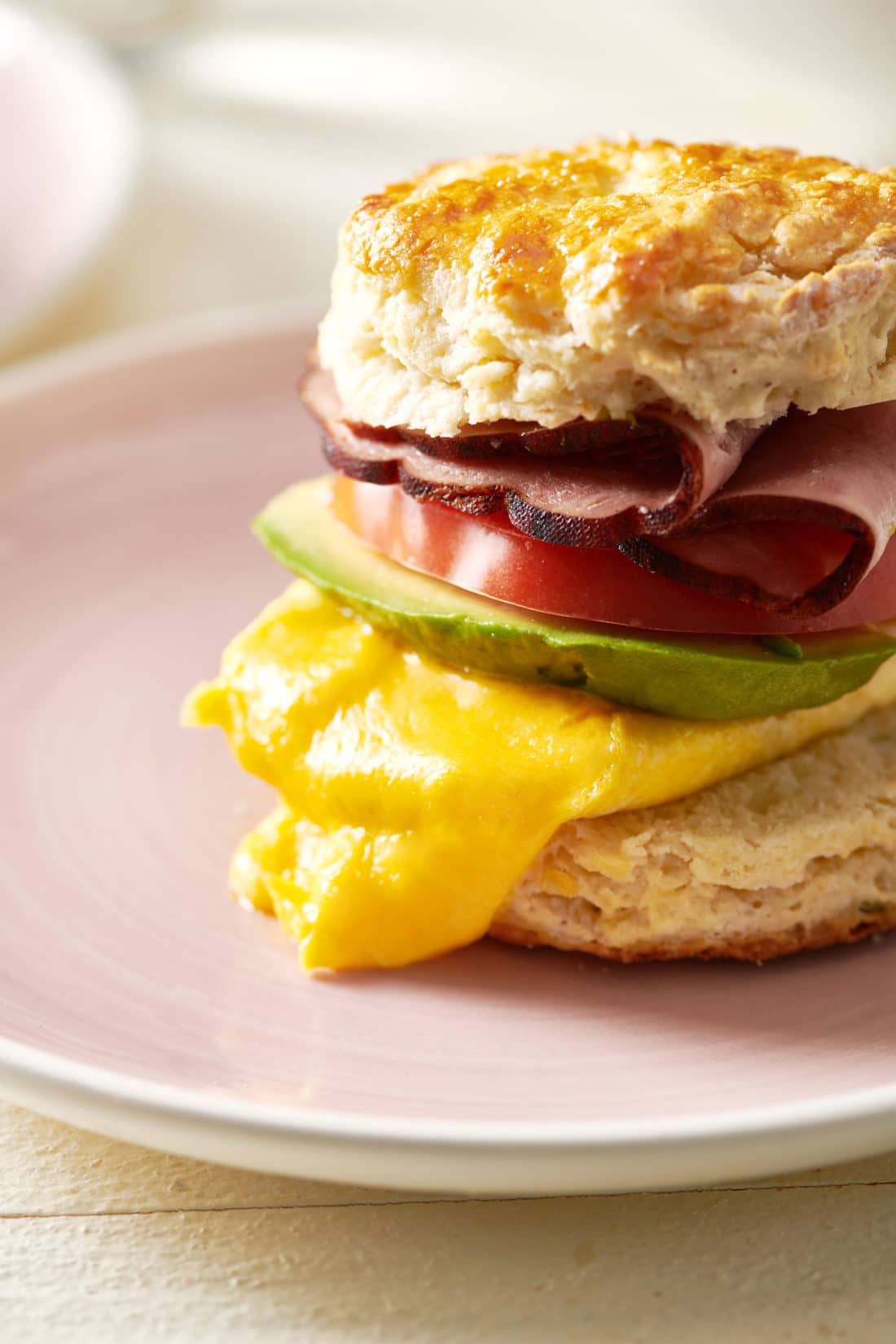 This post is sponsored by Cooper® Cheese and includes tracking links. For more information about tracking links and how to opt out, please visit All About Do Not Track (https://allaboutdnt.com/) prior to clicking any links found in this post.
One only has to watch a few commercials for breakfast sandwiches to realize that……
a) they are a pretty important part of the American breakfast scene
b) you really, really, really want one, pretty much right now.
So, what makes a perfect breakfast sandwich?
Biscuits for Breakfast Sandwiches
There are a number of good and also very subjective answers. I'm willing to head in a number of directions when it comes to a breakfast sandwich, but there is something about a breakfast sandwich built on a biscuit that is hard to beat. And if that biscuit is homemade…..gosh. In this case, scallion (or green onion) buttermilk biscuits are what happening, because I was feeling it…and by the way, there's a biscuit shortcut suggestion just below.
But while the bread choice is yours to make, and the toppings are very personal, there are two things at the center of every great breakfast sandwich. Eggs, and cheese. And while there are a lot of cheese options, when it comes to a comfort food breakfast sandwich, I lean into a slice of something very melty but flavorful over and over again.
Cheese for Breakfast Sandwiches
Cooper® Sharp is just the cheese you are looking for in a sandwich like this, or any time you want a cheese that melts into velvet and nudges your taste buds all at the same time. Amazingly, this Northeast favorite was created by an ex-banker (I.C. Cooper) in 1893 (probably one of the first people to jettison a big career to pursue a love of food!).
Cooper® Sharp is made with milk and hand-selected aged cheese. No unpronounceable ingredients allowed, which is reassuring. And if you've thought that a cheese that melts like a dream has to be kind of ….less than flavorful, think again. It's called Cooper® Sharp for a reason. Think of it when you are hankering for grilled cheese, mac and cheese, cheeseburgers, nachos, queso, etc., but also for things like Chef's Salad or a ham and cheese sandwich.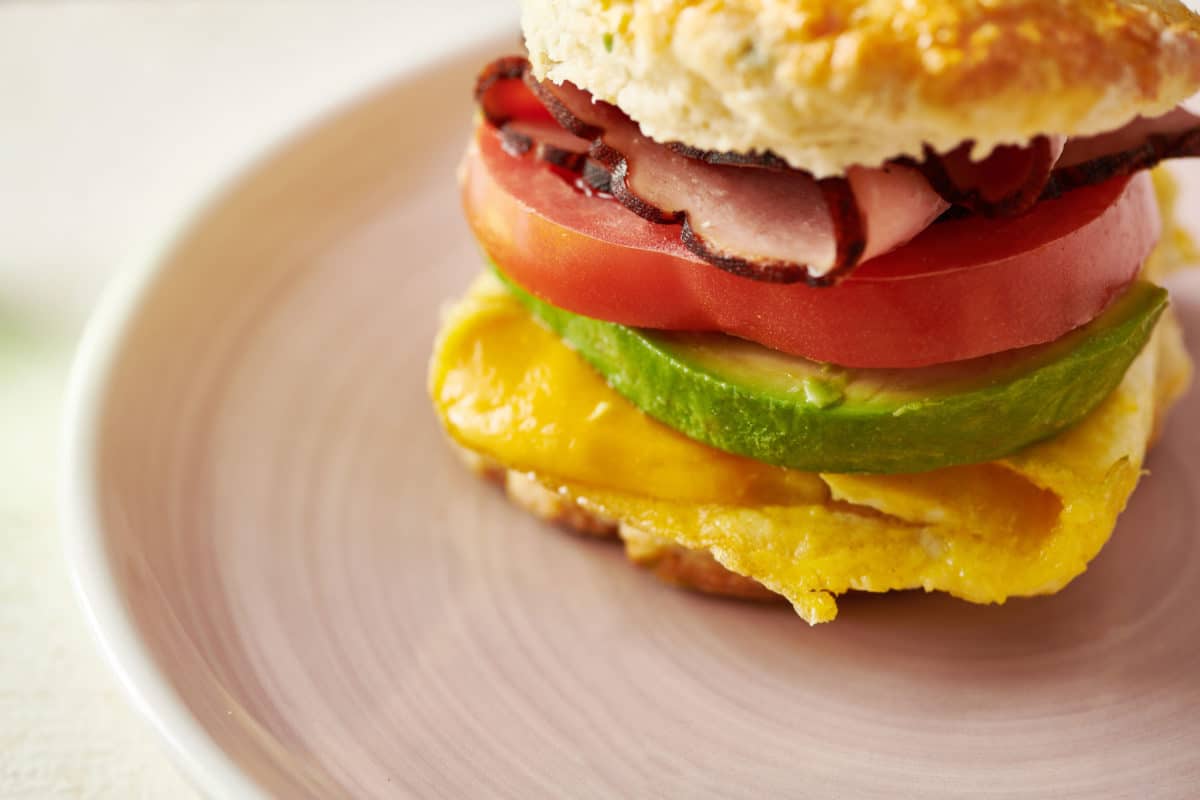 Tips for Perfect, Tender Biscuits
Make sure the ingredients are cold
Handle the dough as little as possible
Bake at a high (400°F or higher) temperature
Make sure you are cutting circles with a sharp biscuit or cookie cutter
The dueling options of hot sauce or honey to finish this sandwich might seem a bit odd, but really this sandwich has a nice balance of salty and sweet and savory going on, so choose your own adventure. Or use both! Or if you are a hot honey fan, as I am, then you get the best of both worlds in one.
Biscuit Shortcut
If you want to skip the biscuit making part, and go for premade or biscuits made from refrigerated dough, that's really fine. Since there is so much happening what with the eggs and the cheese and all of the other fillings you can leave the homemade biscuit making for another time if you like.
Also think about pulling together a breakfast buffet for overnight guests!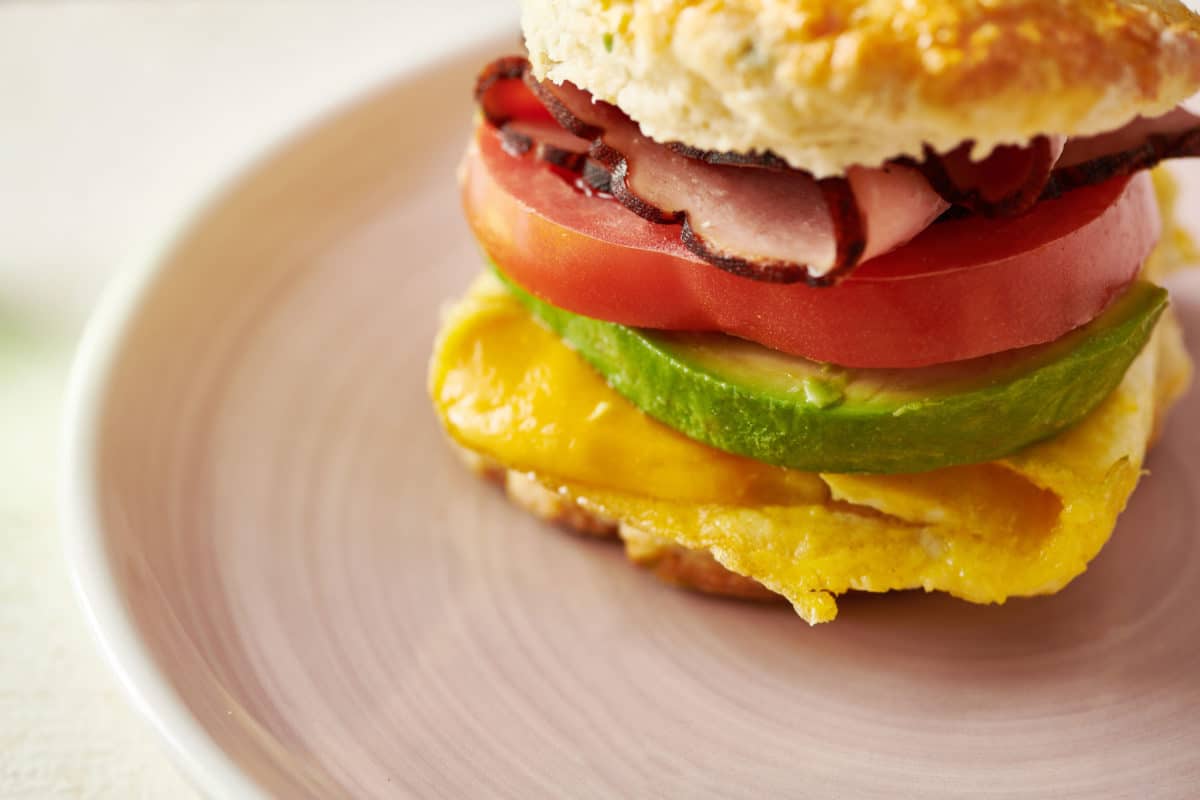 Other Breakfast Recipes: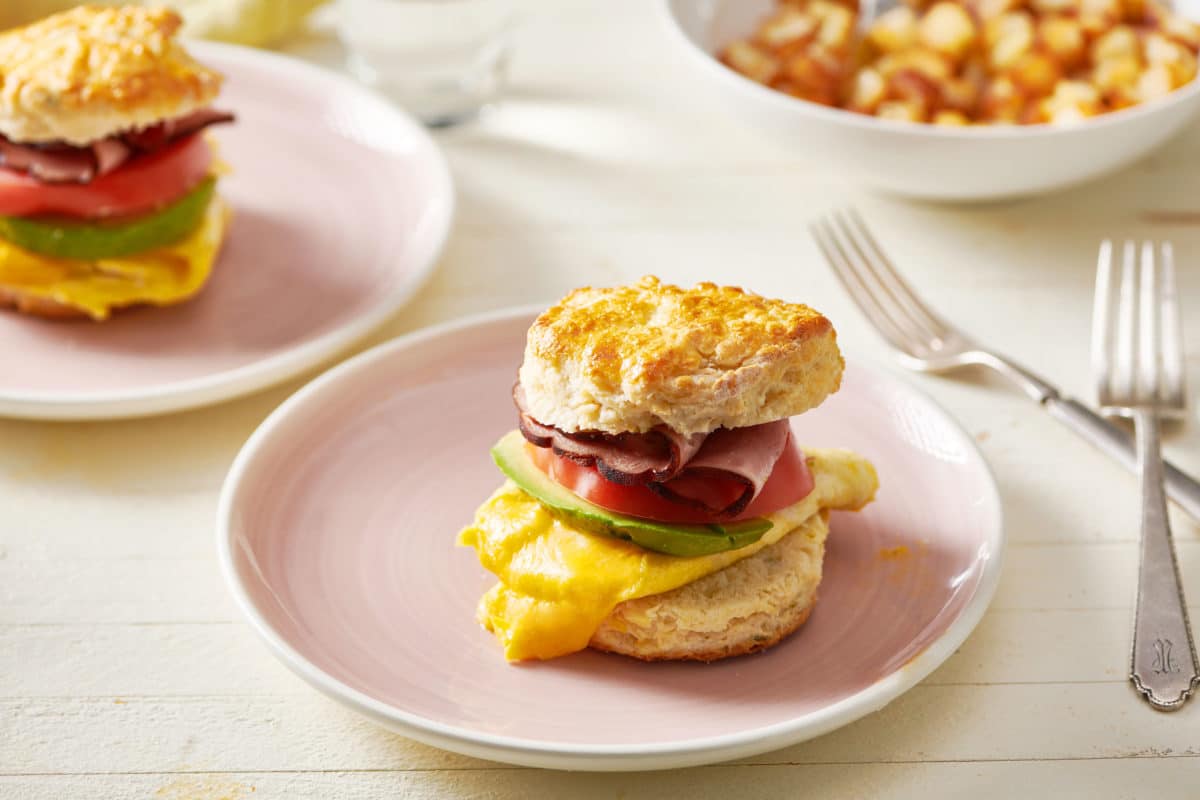 Like this recipe? Pin it to your favorite board on Pinterest.

Pin This
Best Biscuit Breakfast Sandwich
There are two things at the center of every great breakfast sandwich: eggs, and melty, flavorful cheese.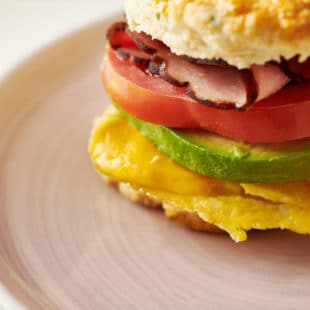 Ingredients
For the Biscuits:
2

cups

all-purpose flour

, plus more for pressing out the dough and dipping the biscuit cutter

1

tablespoon

baking powder

2

teaspoons

sugar

½

teaspoon

kosher salt

½

cup

(1 stick) chilled unsalted butter

, cut into ½-inch cubes

3

tablespoons

minced scallions (green onions)

, white and green parts

¾

cup

cold buttermilk

, plus a couple tablespoons more if needed

1

large egg

, beaten, for brushing
For the Sandwiches:
1

tablespoon

unsalted butter

, divided

8

large eggs

Kosher salt and freshly ground pepper

to taste

4

¼-inch thick slices Cooper® Sharp Yellow Pasteurized Process American Cheese

4

thin slices ham

4

slices

tomato

(optional)

Slice

avocado

(optional)

Honey or hot sauce or hot honey

to serve
Instructions
Make the biscuits (if using premade biscuits, move to Step 7: Preheat the oven to 450°F. Lightly butter a baking sheet or line it with parchment.

In a large mixing bowl, combine the 2 cups flour, baking powder, sugar, and salt. Add the butter and cut it in with a pastry blender, or use your fingers to rub the butter into the flour mixture, working quickly so the butter stays cold. Stop when you have a texture that is a combo of pea sized pieces of butter, and a somewhat sandy texture. You can also do this by pulsing the butter into the flour mixture in a food processor.

Add the scallions and the buttermilk to the mixture and stir just until it comes together into a shaggy, sticky dough, but do not overmix. If the dough is too dry, add another tablespoon or two of buttermilk so the mixture comes together; do that 1 tablespoon at a time. Remember: you can always add more, but you can't remove any.

Lightly flour a clean work surface and place about 1/4 cup of flour in a small bowl big enough to accommodate the 3-inch biscuit cutter.

Turn and turn the dough onto the work surface. Press it together just until it forms a ball, handling the dough lightly. Pat it into a rough square or circle, about ¾-inch thick. Cut dough circles with a 3-inch biscuit or cookie cutter, making the circles as close together as possible to use as much of the dough in this first round of cutting. Do not twist the cutter as you press in or pull out, which will seal the layers of the dough and hinder them from rising to their fullest. You will get at least 4 biscuits from the dough, but you can gather up the scraps and gently press them into another small ¾-inch-thick shape and cut another biscuit or two from the remaining dough.

Place the biscuits on the prepared baking sheet and brush the tops with the beaten egg. Place the baking sheet in the oven and bake for about 15 minutes until the biscuits are golden brown. Transfer to a wire rack to cool for a few minutes.

While the biscuits are cooling (or if you bought premade ones), make the eggs. In a small bowl lightly beat the eggs with the salt and pepper. Heat a pan over medium heat and melt 1 ½ teaspoons of butter. Pour in half of the eggs and let cook until the bottom starts to set. Use a spatula to lift up the edges of the eggs and let the uncooked eggs run underneath. When the bottom is almost cooked, but the top is still slightly wet, place 2 of the slices of Cooper® cheese in the middle of the eggs. Let the eggs cook for another minute, then fold the sides of the eggs over the middle, so that it takes on an oblong omelet shape. Slide the omelet out of the pan onto a cutting board and cut in half, so that each half is about the right side to be placed on a biscuit. Repeat with the rest of the eggs and the cheese.

Assemble the sandwiches: Cut 4 warm or cooled biscuits in half horizontally. Place the ¼ of the cheese/egg omelet on the bottom of each biscuit, tucking any pieces in so that it sits neatly(ish) on the biscuit. Place the ham on top of the eggs, add any other desired toppings, and give it all a squirt of Sriracha or other hot sauce, or honey or both and cover with the top of the biscuit.

Serve the sandwich warm.
Notes
Tips for Perfect, Tender Biscuits
Make sure the ingredients are cold
Handle the dough as little as possible
Bake at a high (400°F or higher) temperature
Make sure you are cutting circles with a sharp biscuit or cookie cutter
Nutrition
Calories:
641
kcal
,
Carbohydrates:
32
g
,
Protein:
25
g
,
Fat:
46
g
,
Saturated Fat:
25
g
,
Cholesterol:
471
mg
,
Sodium:
1005
mg
,
Potassium:
678
mg
,
Fiber:
1
g
,
Sugar:
6
g
,
Vitamin A:
1874
IU
,
Vitamin C:
5
mg
,
Calcium:
474
mg
,
Iron:
4
mg
Nutrition information is automatically calculated, so should only be used as an approximation.
Like this? Leave a comment below!