When I first made this salad, it was a week before my family was going to South Africa. My mother was taking us (and my sister's family), a trip born of a "life is short, let's not put off things we are dying to do" moment that we all experienced after my father died a little over a year prior. Carpe freaking diem.
And here's what I wrote:
We're all completely excited. I have done next to nothing thus far in terms of preparation. My sister, however, has packed practice bags to make sure she knows how much she can bring and stick to the weight limits of the small planes we'll fly in. She and her family have made power point presentations for each country we are visiting and quizzed each other on the various gross national products of each locale.
And she has looked up the high and low temperatures for each destination, and shared them with us so we can prepare accordingly.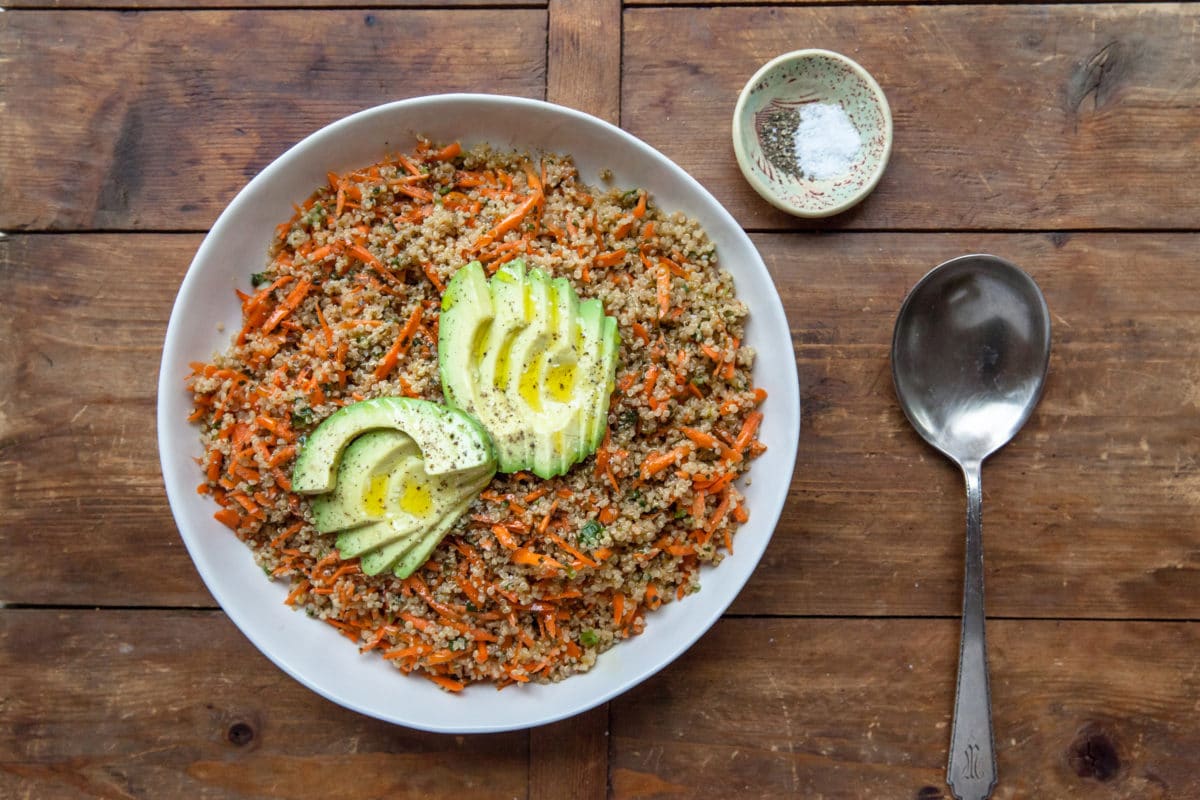 I love her. But I also kind of hate her a little right now.
So here's what I do before a big trip: Cook down my refrigerator and freezer! I take a somewhat unholy pleasure in trying to use up everything remotely perishable in my house, and leaving behind an almost empty fridge and pared down freezer.
Watch out carrots! I see you scallions! Don't think you're going to waste, fresh mint!
A combination of earthy grains and fresh vegetables and a sweet-savory dressing.

Tweet This
This week takes my leftover game to new heights. I did a substantial grocery run today (pork loin, ground chicken, chicken breasts), and the fridge is pretty full, but if I can get through the next 7 days without another real supermarket run, I will have accomplished my little self-set goal.
The tricky part is that I also have several people coming to dinner over the course of this week. The goal: to make dinners that don't have people leaving thinking, "Wow, she must have been desperate to use up that arugula…."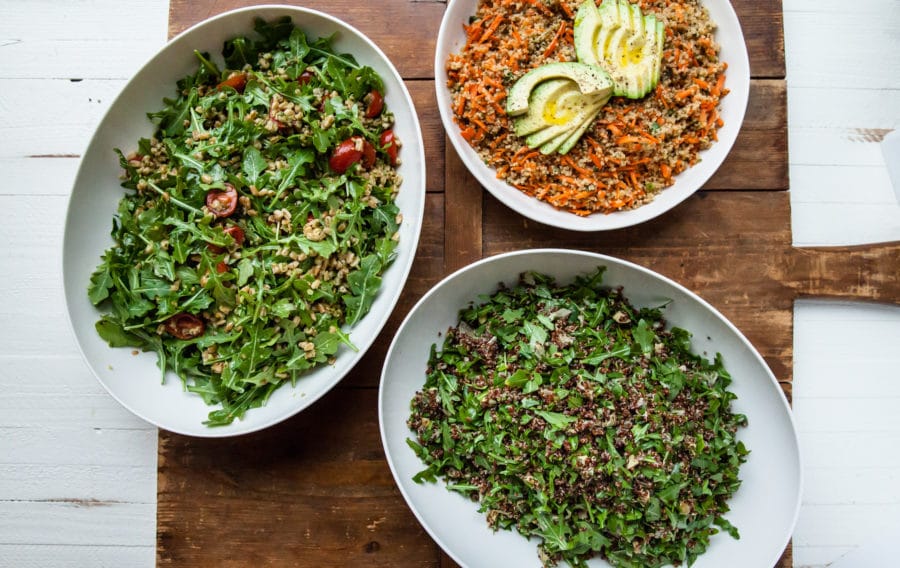 (Now where is that prescription for malaria pills….)
As with almost every grain salad, you should feel free to throw in what you have in the fridge – maybe some small-diced zucchini, or other fresh herbs, or chopped tomatoes.
I have made this salad many times since, and it just works – it works with any menu, it's portable, it's a crowd pleaser, and yes, it has avocado, which is never a bad thing.
For more on cooking quinoa, click here.
Other Healthy Grain Salad Recipes:
Like this recipe? Pin it to your favorite board on Pinterest.

Pin This
Sesame-Honey Quinoa and Carrot Salad with Sliced Avocado
A very nice thing to happen to a bowl of quinoa.
Ingredients
3

tablespoons

olive oil

divided

5

scallions

minced

1 ½

cups

water

¾

cup

quinoa

rinsed

2

tablespoons

rice vinegar

1

tablespoon

honey

1

tablespoon

sesame oil

1

tablespoon

soy sauce

3

tablespoons

chopped fresh mint

Coarse salt and freshly ground pepper to taste

1 ½

cups

grated carrots

1 to 2

avocados

halved and thinly sliced
Directions
In a medium sized saucepan heat 2 tablespoons of the olive oil over medium heat. Add the scallions and sauté for 2 to 3 minutes until tender. Add the water, turn the heat to medium high, and bring to a boil. Add the quinoa and return to a boil. Reduce the heat to medium low, cover, and simmer until the water is absorbed, 10 to 14 minutes. Remove from the heat and let sit, covered, for 5 minutes.  Uncover, fluff with a fork, and let come to room temperature.

Meanwhile, in a blender or a food processor puree the rice vinegar, honey, sesame oil, remaining tablespoon olive oil, soy sauce, mint, salt and pepper. Set aside.

Place the cooled quinoa in a bowl, and add the carrots and the dressing and toss to thoroughly combine. Turn it into a shallow serving bowl and arrange the avocado attractively on the top. An extra drizzle of olive oil and a bit more salt and pepper is nice.
Nutrition Information
Calories:
184.33
kcal
|
Carbohydrates:
17.79
g
|
Protein:
3.43
g
|
Fat:
11.74
g
|
Saturated Fat:
1.64
g
|
Sodium:
149.22
mg
|
Potassium:
324.52
mg
|
Fiber:
3.82
g
|
Sugar:
3.67
g
|
Vitamin A:
4200.55
IU
|
Vitamin C:
5.93
mg
|
Calcium:
29.79
mg
|
Iron:
1.23
mg
The nutrition values are provided as an estimate. It is not intended as a substitute for the advice of a qualified healthcare professional.
Made this recipe? Post a photo of your delicious creation on Instagram with our hashtag #dinnersolved