Rosemary Orange Cod Fillets
This was easy, pretty and my kids liked it. Trifecta.
Serving Size: 4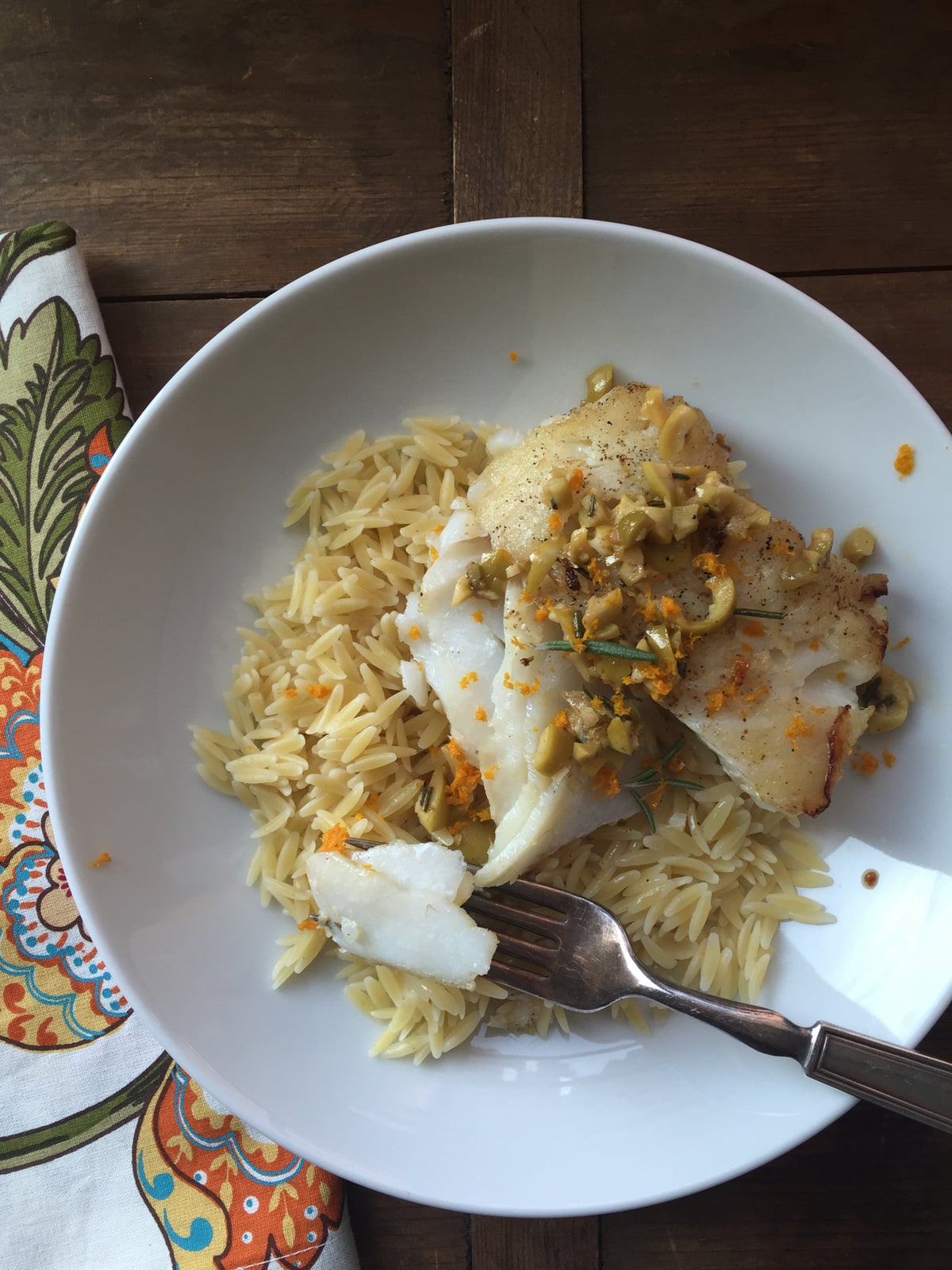 This was easy, pretty and my kids liked it.  Trifecta.  So, since we all love a meal where we all walk away a winner, I never second guess too much when that happens.  My boys love olives.  Gary does not like black olives in dishes (though because we all do, sometimes he has to suffer through), but he's fine with green. 
A full disclosure moment, which are always my favorite moments.  Fish fillets are freaking hard to flip without making them look less than beautiful.  Helpful items are: a nonstick pan (which I only sometimes remember), a wide spatula, not moving the fish too much while it is cooking, and a sure hand.  Having said that, seriously look at the photo.  This was taken by yours truly in yours truly's kitchen, and these were the prettiest ones – the rest tasted every bit as delicious, but camera worthy they were not.  This should not stand in the way of you and this recipe, or you and fish, or you and anything.
Serve over a pile of quinoa or rice, or maybe mashed potatoes.
Rosemary Orange Cod Fillets
Print
2 tablespoons olive oil

4 (6 to 8 ounce) filets cod

1 teaspoon minced garlic

1 teaspoon minced fresh rosemary

3 tablespoons chopped green olives

½ cup dry white wine (see Note)

½ cup fresh orange juice
1. In a large skillet over medium-high heat, heat the olive oil. Place the filets in the pan and sear on both sides for about 4 minutes per side, until browned and almost cooked through. Remove the fish to a plate and leave the remaining oil in the pan.
2. Add the garlic, rosemary, and olives and sauté over medium heat for 1 minute, until you can smell the garlic and the rosemary. Turn the heat to medium high and add the white wine. Allow it to simmer got about 1 minute, until it is about halfway reduced, then add the orange juice and bring to a gentle simmer. Return the fish to the pan, and simmer for 2 to 3 minutes until warmed and fully cooked through. Serve the fish and the sauce hot, over the starch of your choice.
Note:
I always call for dry white wine in recipes, mostly because I'm not a huge fan of oaky, buttery whites. If you are, and if that's the wine you have on hand, then by all means use it.