Lentils and Carrots with Dried Apricots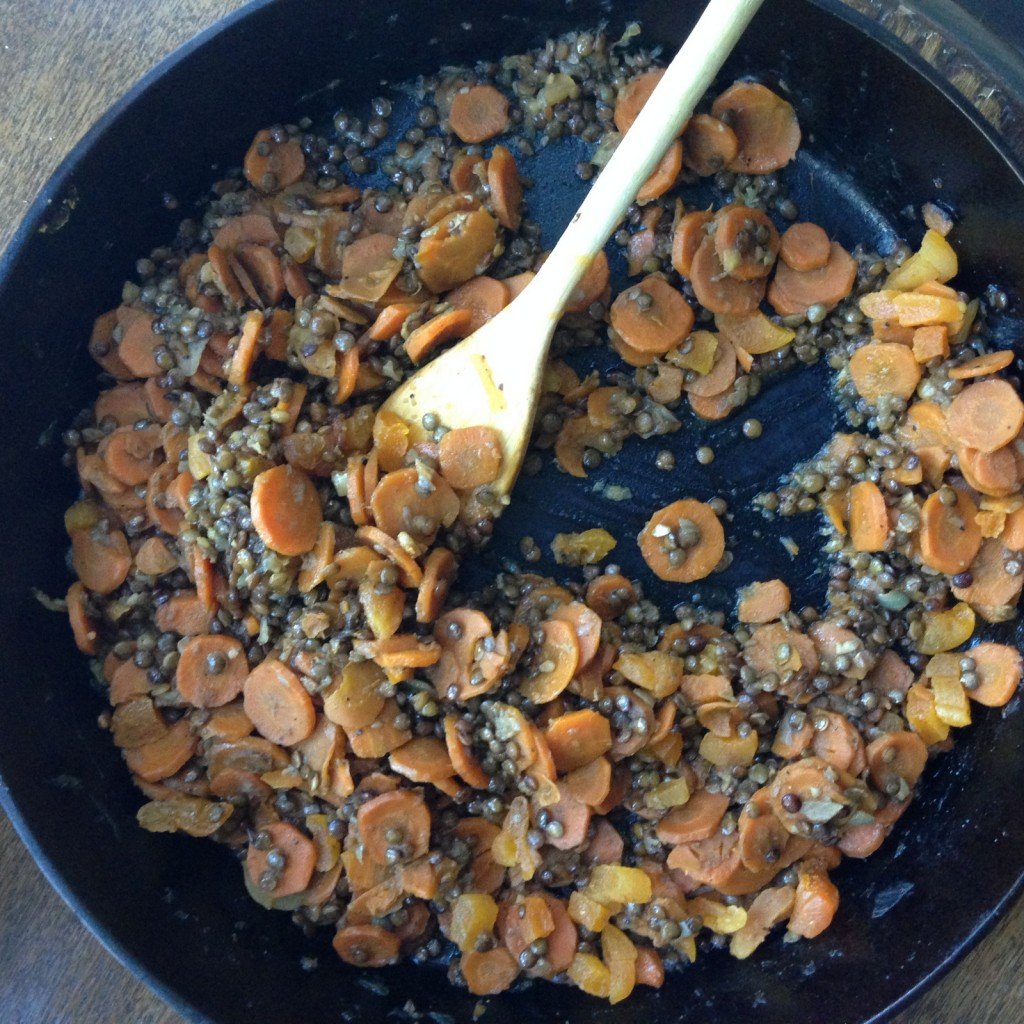 I have mentioned here and again that I have quite a number of vegetarians in my world, so that while I am not a vegetarian myself, I am always seeking out ideas for meatless food. My mom recently had surgery (she's just fine, thank you very much), and when someone I love is under the weather my knee-jerk reaction is to grab a skillet.  I would clearly make a lousy doctor, but I do make a good recovery cook.  So several meat free recipes were concocted this weekend, and the name of the game was comfort food.
When the word meatless comes up, the need for a source of protein is not far behind.  Bean, beans, beans.  Thankfully they are plentiful, cheap, and so wildly varied.  One of my go-to beans is lentils, often starring in a soup, but here sharing the spotlight with some carrots and dried fruit.  You can serve with plain yogurt, or a little drizzle of good olive oil at the end is also a very nice thing.
This will be making a encore appearance on Thanksgiving.
Lentils and Carrots with Dried Apricots
Print
1 tablespoon olive oil

1 medium onion, chopped

2 garlic cloves, minced

1 pound carrots, peeled and thinly sliced

1 teaspoon ground coriander

1/2 teaspoon coarse or kosher salt

Freshly ground pepper to taste

1/2 cup lentils, preferably small Italian or French ones

2 1/2 cups vegetable broth

3/4 cup diced dried apricots

Plain Greek yogurt to serve (optional)
1. Heat the olive oil in a large saucepan over medium heat. Add the onion and garlic, and saute until soft, about 5 minutes.
2. Add the carrots, ground coriander, salt and pepper and sauté for one minute until the carrots are nicely coated with the seasoned oil.
3. Add the lentils and vegetable broth, and bring to a simmer,  Continue to simmer, stirring occasionally and leaving the pan partially covered, for about 20 minutes until the lentils are tender, and the liquid is pretty much absorbed (if towards the end the mixture looks dry, add a bit more broth or water).
4. Add the apricots, taste for seasoning, and cook for 1 minute more, until the apricots soften a bit.  Serve, hot, warm, or at room temperature.  Dollop on a bit of yogurt if desired.