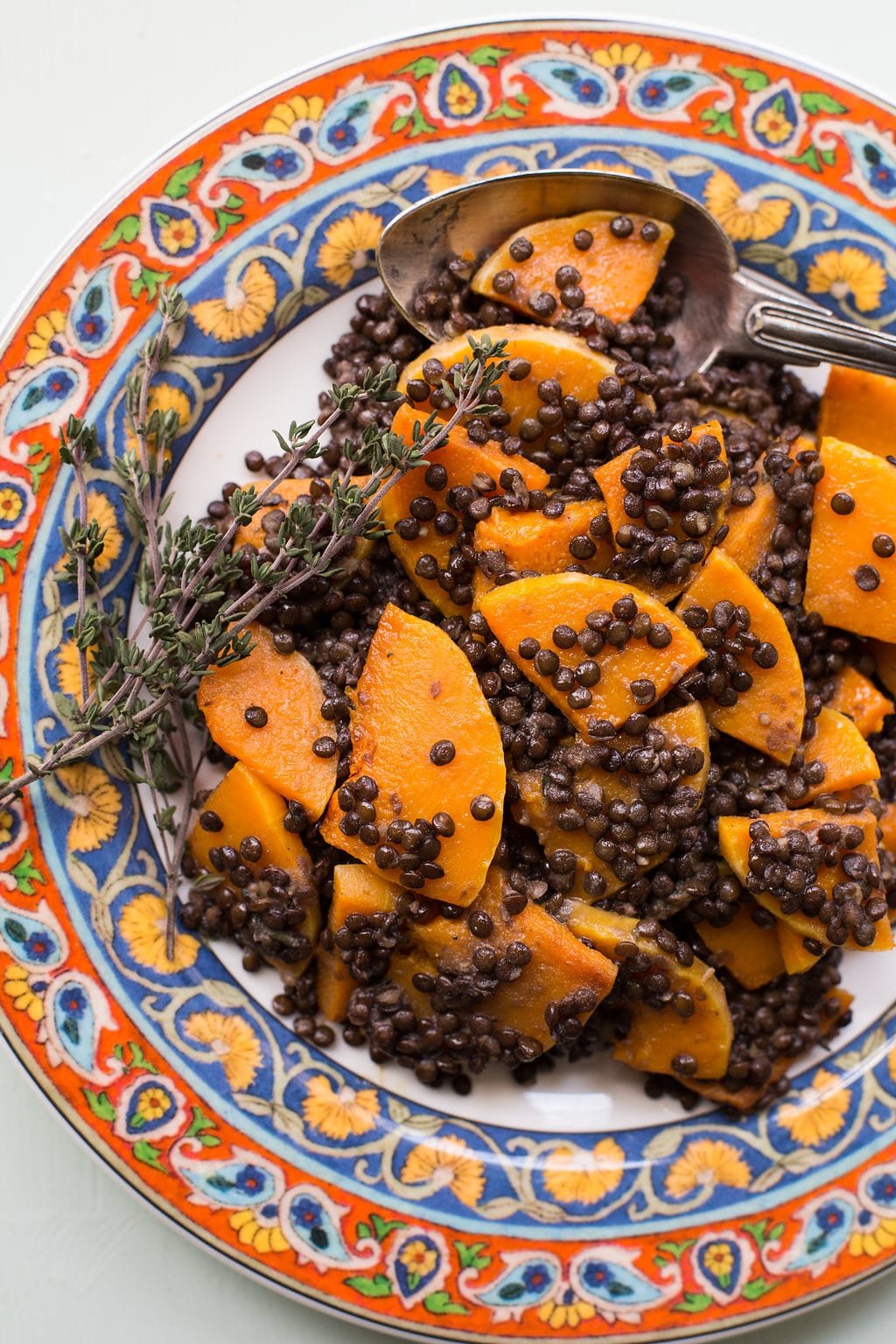 I'm always about flavor. And I like things to look pretty. But sometimes I want a side dish that make people stop, and stare.
Black lentils have so much drama to them, especially when they are paired when anything that is contrasting in color…which is pretty much anything you can think of, that isn't black as well.
Substitutions for a Vegetarian Lentil Dish
If you prefer to cook the lentils in chicken or vegetable broth you will have a more flavorful dish all around. If you use vegetarian broth and skip the anchovies you will have a vegetarian dish, but if that is not of consequence to you and yours, do keep the anchovies no matter what liquid you pick, as they bring depth and umami and a something-something to the dressing.
Black lentils and bright orange squash provide dramatic color contrast.

Tweet This
Butternut squash is the squash to use, because it's the easiest to peel and slice. But you could also use acorn squash, and even keep the skin on the slices. Cooked acorn squash skin is a bit chewy but edible, so go for it.
If you make this, you will have the hard choice of what kind of dish to serve it on. You could go for a white, or pale neutral plate, and let the dish speak for itself. Or you could go for a solid plate of a strong contrasting color, like a yellow. Or you could pick a plate with some crazy visual appeal of its own, which is what I did here. These are highly pleasurable decisions.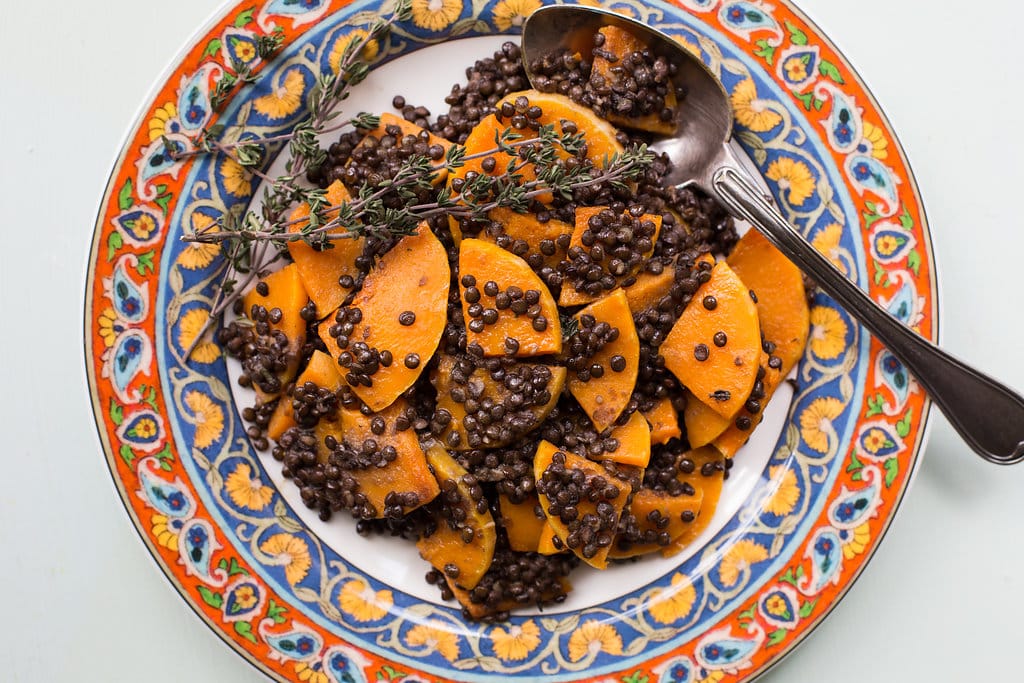 More Butternut Squash Recipes:
Like this recipe? Pin it to your favorite board on Pinterest.

Pin This
Black Lentil and Butternut Squash with Provencal Vinaigrette
Black lentils and bright orange squash provide dramatic color contrast.
Ingredients
2

tablespoons

olive oil

divided

Kosher salt and freshly ground pepper

to taste

2

cups

black lentils

3

tablespoons

rice vinegar

1

teaspoon

Sriracha sauce

or to taste

2

anchovies

rinsed and mashed to a paste with a fork

2

teaspoons

minced fresh thyme leaves

2

teaspoons

Dijon mustard

Fresh thyme sprigs

to garnish, optional
Directions
Preheat the oven to 400°F. Bring a large pot of salted water to a boil.

Peel the butternut squash well (this often take a couple of passes with a vegetable peeler to get to the bright orange flesh), then trim the top and bottom off. Cut the squash in half vertically and use a large spoon to scoop out the seeds and stringy bits. Slice the squash into slices about two inches in each direction, and ¼-inch thick.

Place the squash on a rimmed baking sheet and toss it with 1 tablespoon of the olive oil. Season with salt and pepper and spread it out on the baking sheet so that it is mostly in a single layer. Roast the squash for about 20 minutes until tender, and perhaps slightly browned in a spot or two.

While the squash is roasting, add the lentils to the boiling water or broth. Return to a boil, then adjust the heat so that the liquid is at a simmer, and simmer uncovered for about 20 to 25 minutes until the lentils are tender but not mushy. Drain and spread out on a platter or baking sheet to cool slightly.

While the squash and lentils are cooking, in a small container add the remaining tablespoon olive oil, rice vinegar, Sriracha, anchovy paste, thyme, Dijon mustard, and salt and pepper to taste. Cover and shake to blend well.

When the lentils and squash have finished cooking, let them cool to warm or room temperature. Place them in a bowl, and drizzle the dressing over. Gently toss so that they are well coated, and transfer to a serving platter. Garnish with the thyme sprigs if desired and serve warm or at room temperature.
Nutrition Information
Calories:
228.92
kcal
|
Carbohydrates:
36.16
g
|
Protein:
13.23
g
|
Fat:
4.1
g
|
Saturated Fat:
0.52
g
|
Cholesterol:
0.6
mg
|
Sodium:
35.43
mg
|
Potassium:
330
mg
|
Fiber:
11.99
g
|
Sugar:
2.08
g
|
Vitamin A:
9989.38
IU
|
Vitamin C:
22.96
mg
|
Calcium:
78.5
mg
|
Iron:
4.56
mg
The nutrition values are provided as an estimate. It is not intended as a substitute for the advice of a qualified healthcare professional.
Made this recipe? Post a photo of your delicious creation on Instagram with our hashtag #dinnersolved