Growing up, I remember a jar of garlic oil in the fridge pretty much all the time. A recycled Bonne Maman jam jar, to be exact, filled with a richly golden oil, with either chopped garlic of whole garlic cloves settled on the bottom. My mom seemingly made it in whatever way caught her fancy at the moment, but it featured heavily in our salad dressings (I think if I try hard enough I can still taste the vinaigrette of my elementary school years, and not just in a Proustian memory way).
I don't know how long she kept the oil before starting a new batch. And I don't know if she just kept adding to the old batch as the volume diminished. And I think for food safety's sake, I don't think I want to know. These were the halcyon days of my youth, as we ate raw cookie dough and pinched bits of raw hamburger meat with abandon, never knowing how close we were skating to the edge.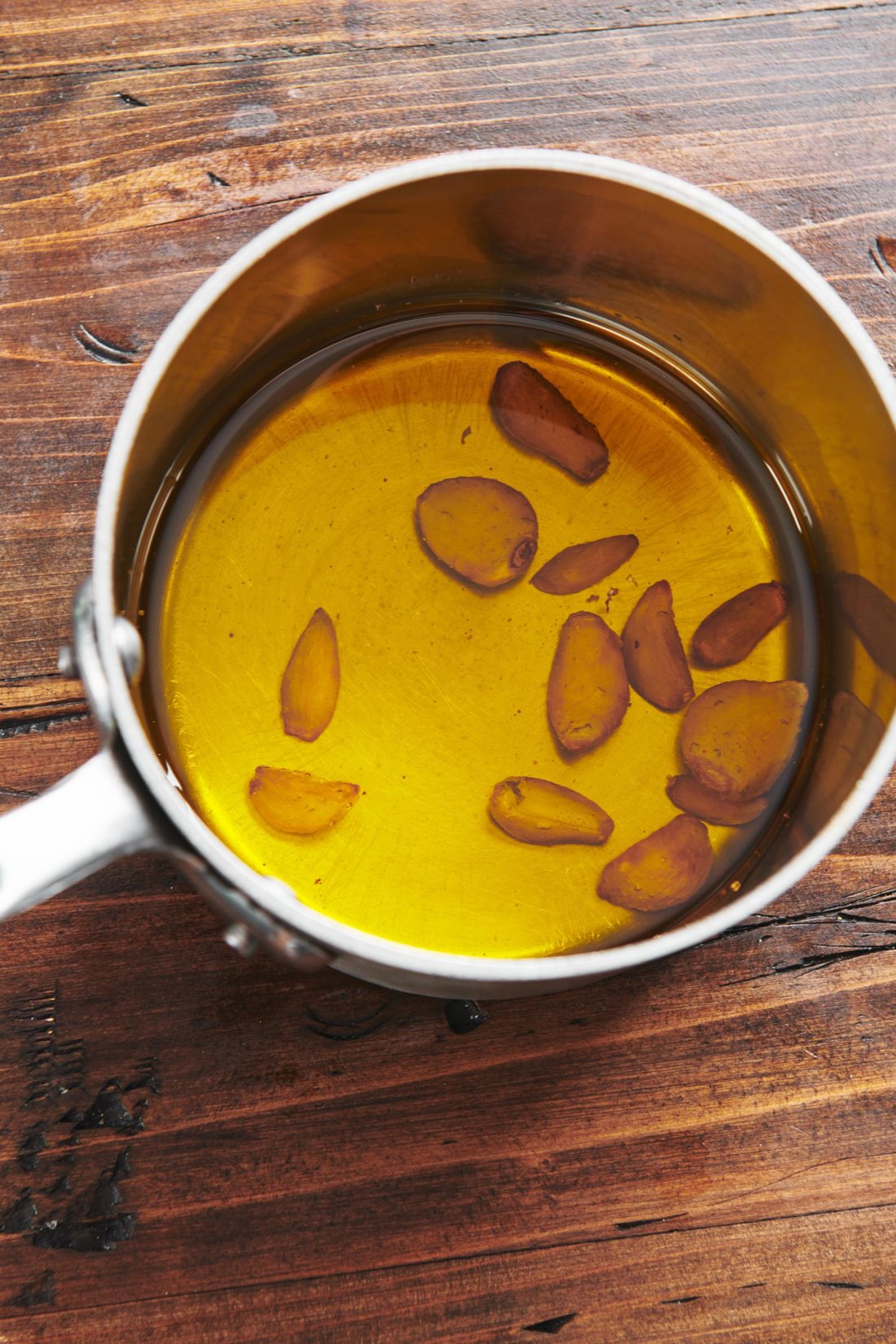 Homemade Garlic Oil
Having a jar of garlic oil in the fridge means that making something delicious is always within reach. And the mere act of making garlic oil means that your house will smell like an Italian trattoria for a bit of time, and for those of us who love garlic, this is never a bad thing.
There are a number of good ways to make garlic oil, but this is my favorite method. The reason I like it so much is because it yields two dividends. Garlic oil (check), and also poached softened lightly browned garlic cloves, also known as garlic confit, which are immensely useful in their own right.
How to Make Garlic Oil
The method couldn't be simpler. You simply place some peeled garlic cloves in a pot, and cover them with olive oil , and heat over low heat until the cloves are tender and more muted in favor, and the oil has taken on the flavor of the garlic. This will probably take between 15 and 25 minutes, depending on how big the cloves are, and the heat of the oil.
Try not to let the oil come to a full simmer – higher heat will cause the garlic to brown too much and too quickly, which can impart a bitter taste.
How to Make Garlic Oil: This easy garlic oil recipe will quickly transform your recipes into something special, and is great to keep on hand.

Tweet This
How to Store Garlic Oil
Once you have you garlic oil you can transfer the whole thing, cloves and all, to a glass container, seal it, and store it in the fridge. You can also strain out the garlic cloves and use them within a few days, and keep the oil for two weeks in a separate glass container. Plastic is also ok – but glass won't absorb the garlic odor as much, so you have a better chance of reusing that container for something non-garlicky in the future.
How Long Will Garlic Oil Last?
That's the big question. A spin around the internet left me very confused. The short answer is that I don't know, and what I do is not necessarily what you should do. So, this is what I do. If I strain out the garlic cloves, and then put them in a smaller container with enough olive oil just to cover them, I would store them in the fridge and use them within 2 or 3 days. The strained oil I would use for up to two weeks, making 100% sure to keep it sealed in the fridge.
You can use the soft garlic on bruschetta or crostini; just use a fork to mash the soft mellow garlickiness right onto the toast.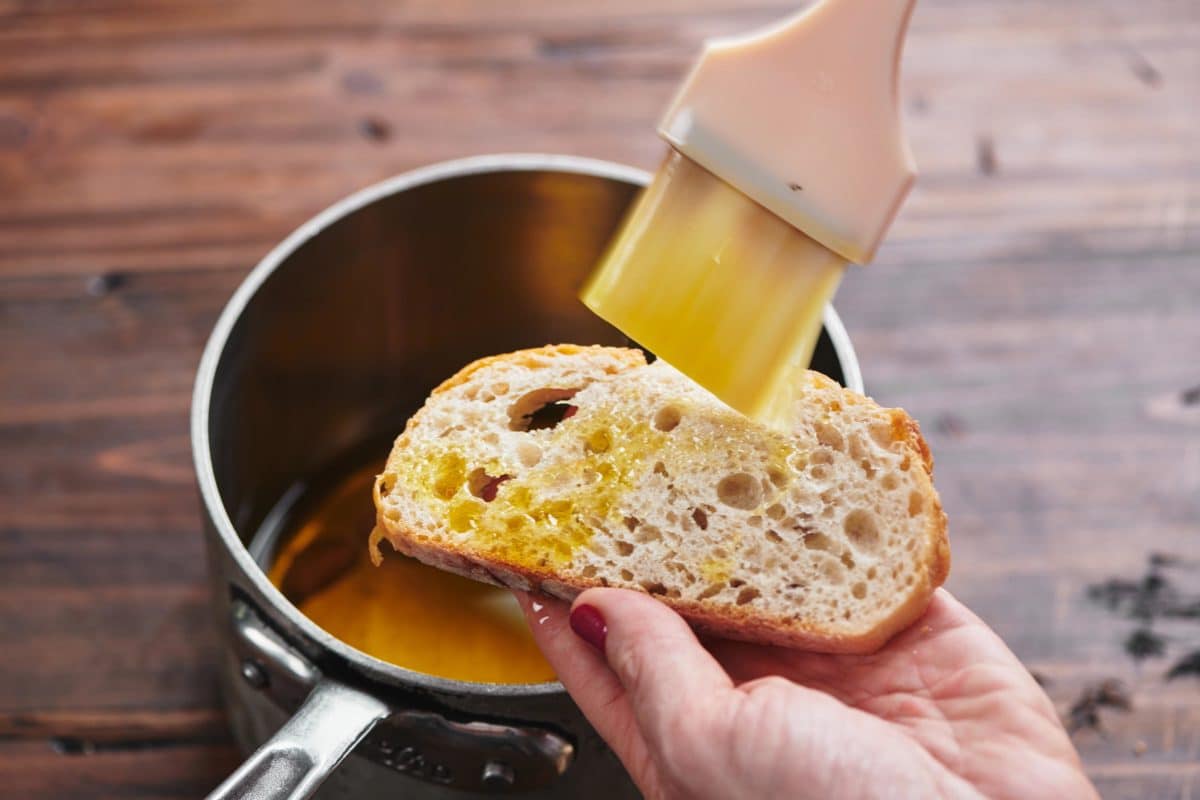 Ways to Use Garlic Oil
Brush on bread to make bruschetta or crostini
Mash into mashed potatoes
Toss with baby new potatoes or cubed new potatoes before roasting
Use in dressings and vinaigrettes
Make mayonnaise or aioli with it
Use in pestos
Drizzle over everything: a bowl of soup, anything grilled, roasted vegetables, wherever a little silkiness and a hint of garlic would be warranted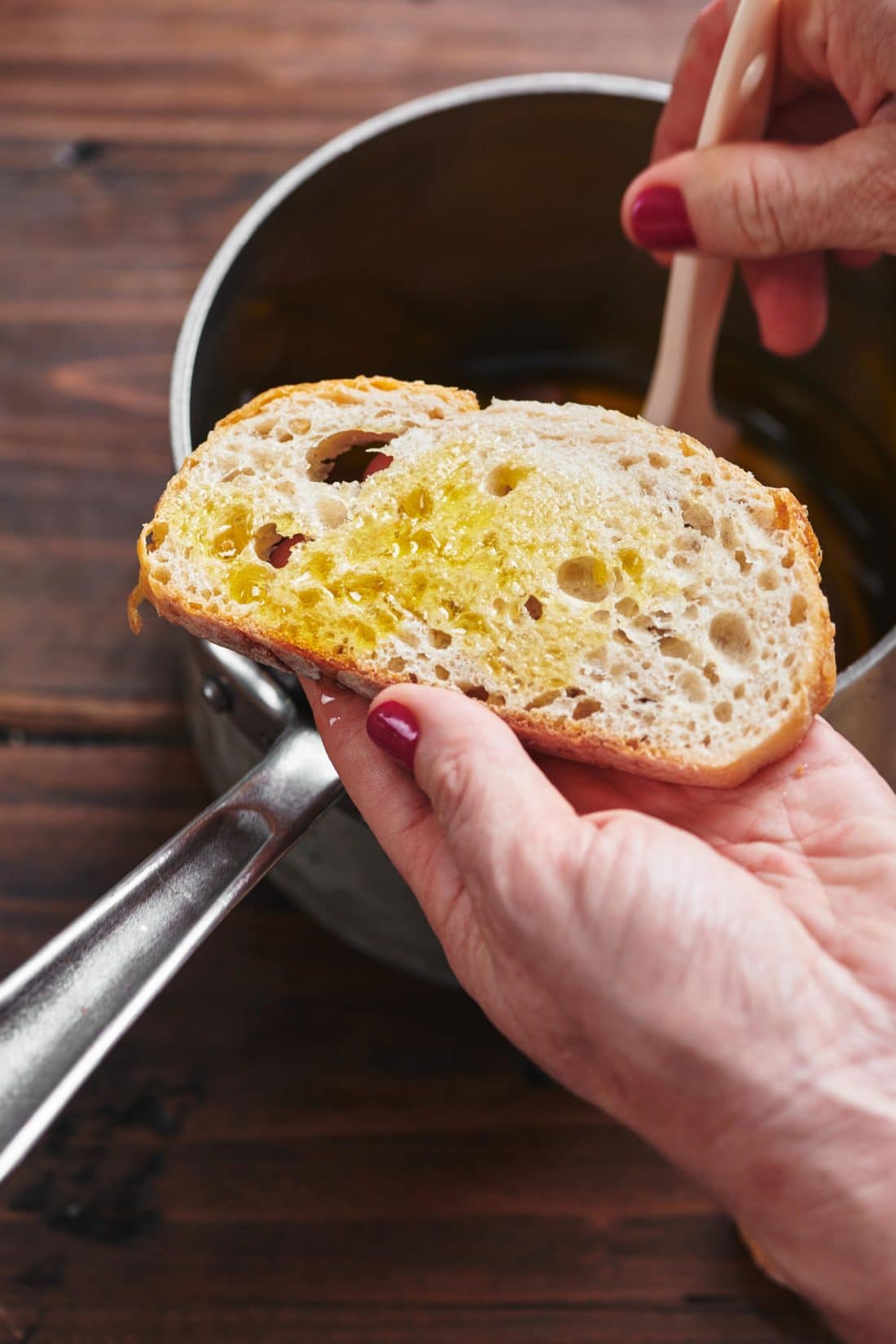 Other Garlic Recipes:
Like this recipe? Pin it to your favorite board on Pinterest.

Pin This
How to Make Garlic Oil
This easy garlic oil recipe will quickly transform your recipes into something special, and is great to keep on hand.
Directions
Place the oil and the garlic in a medium pot. Cook over low heat low for 20 minutes until the garlic is soft and golden brown. Do not allow the garlic to overbrown, or it will become bitter.

Allow to cool, strain out the garlic cloves, and use the oil in the recipe of your choice. The garlic oil will keep well sealed in the fridge for up to two weeks. The garlic cloves should be refrigerated and used within a few days.
Nutrition Information
Calories:
13
kcal
|
Carbohydrates:
1
g
|
Protein:
1
g
|
Fat:
1
g
|
Saturated Fat:
1
g
|
Sodium:
1
mg
|
Potassium:
3
mg
|
Fiber:
1
g
|
Sugar:
1
g
|
Vitamin C:
1
mg
|
Calcium:
1
mg
|
Iron:
1
mg
The nutrition values are provided as an estimate. It is not intended as a substitute for the advice of a qualified healthcare professional.
Made this recipe? Post a photo of your delicious creation on Instagram with our hashtag #dinnersolved