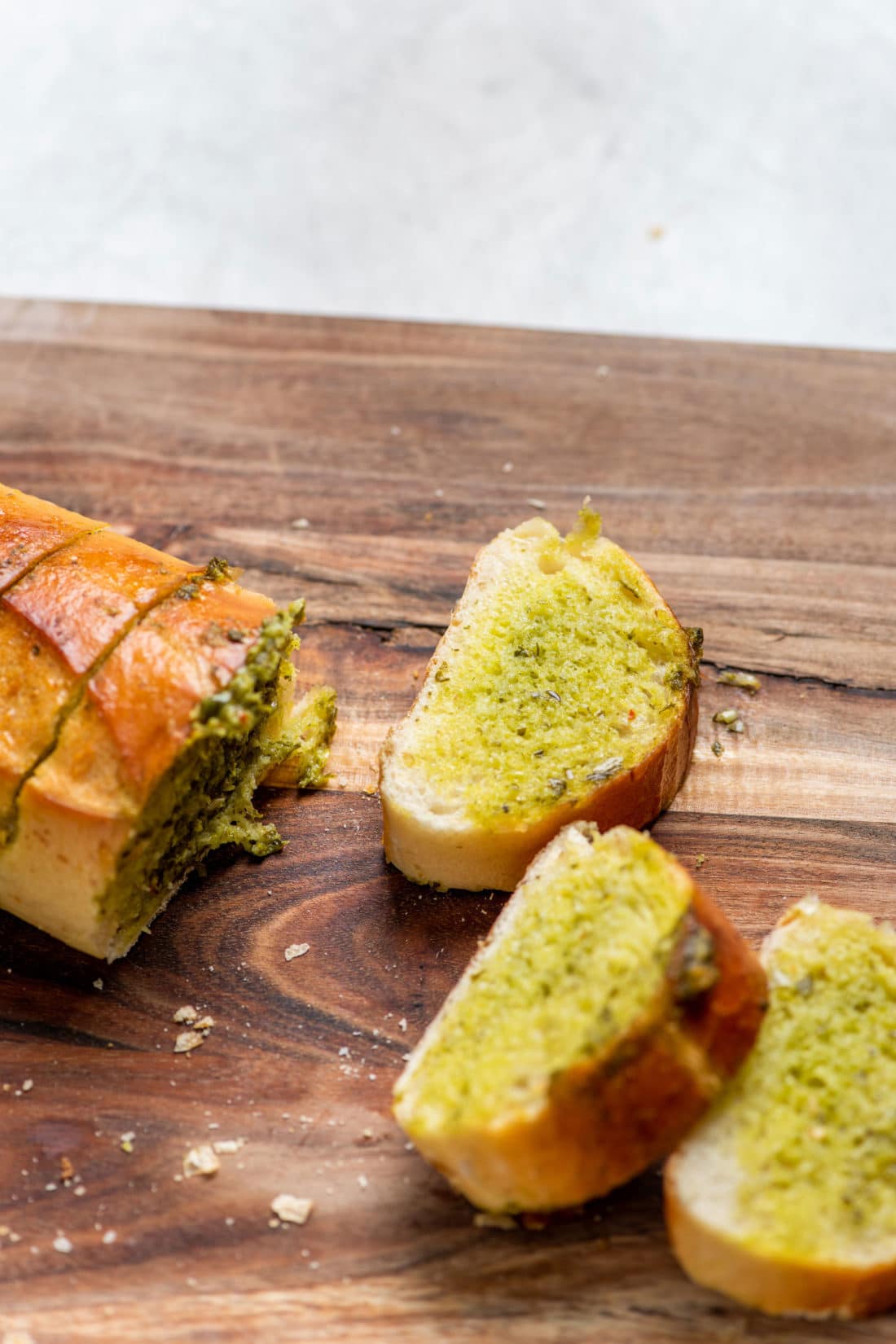 When I was in college an English professor tried to explain the literary term "hobby horse" to our class. The definition was basically to be a bit obsessive about a topic…. I can't remember what 18th or 19th century tome he was decoding and deconstructing, but I labored over the concept, not really being able to understand it. The metaphor just wouldn't sink into the old gray cells. (I also may or may not have read the whole book—your guess is as good as mine).
But now I get it! Because I have one! My developing hobby horse is creative takes on garlic bread. And I'm just getting started. I made a ramp chimichurri one and then I made a version that turned a little dabble into a slightly consuming passion— the Roasted Tomato and Garlic Bread loaf.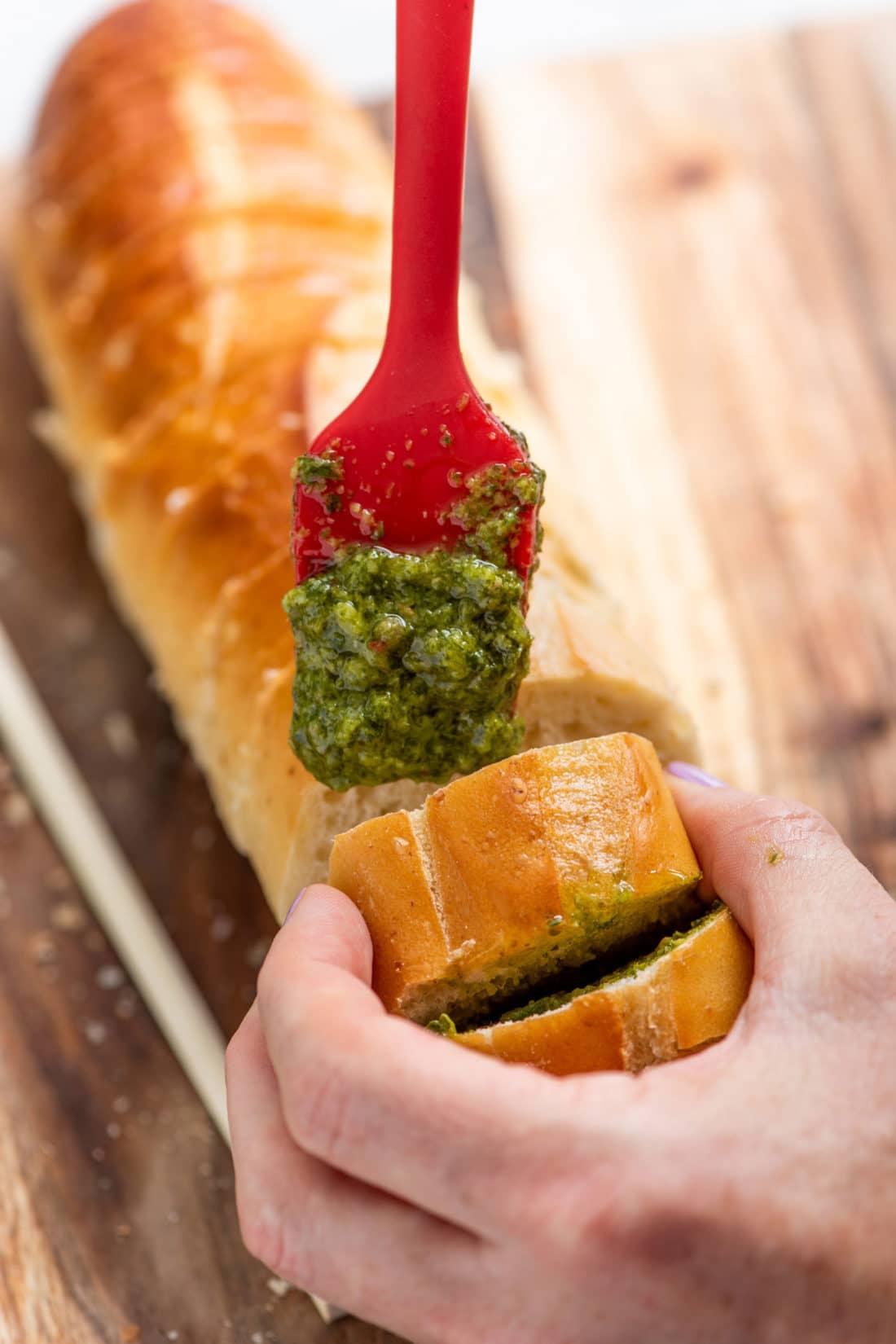 Salsa Verde Garlic Bread: Herby and scalliony salsa verde in sliced baguette—a delicious and cheerfully green take on garlic bread.

Tweet This
During photo shoot days, after we take the photos (nectarine crisp just out of the oven, the crisp with a scoop coming out, the crisp with ice cream melting on it—we want you to get hungry, people) it gets eaten. Eaten by the photographer, by my kitchen right hand, Mandy, by my family, by random neighbors and strangers who know that it's photo shoot day, and the pickings will be fine (I actually order boxes of to-go containers from a restaurant supply store for the express purpose of disseminating food to whomever is in the market for it).
On this particular day Cheyenne Cohen, a talented photographer whose work peppers this blog (including the photos in this very post) ate a piece of this bread, then another, then another, and at some point cheerfully and unapologetically announced that she had eaten almost the whole loaf. There was not an ounce of regret in her statement.
Which got me thinking—how many other fantastic condiments and spreads and sauces and what not were just waiting to become some version of garlic bread (and perhaps the garlic part was optional)? A lot, methinks.
And so now I know what a hobby horse is, and I have a hobby horse, and my latest ride on said hobby horse horse resulted in this green and herby garlic bread.
A little hack for cutting the baguette into 1/2-inch or so slices without cutting all the way though the bread is to use chopsticks as a guide and a block. Place one chopsticks one each side of the bread, right up against the base. Cut the bread into slices, and stop when the knife hits the chopsticks.
And now, stay tuned. By definition hobby horses become obsessive. Giddy up.
This would be great with everything from a pasta with clam sauce, to Salmon Corn Chowder to Chili Rubbed Flank Steak with Corn, Tomato and Avocado Salad. Really, in the same way that garlic bread just goes with everything, so would this.
More Garlic Bread Recipes:
Like this recipe? Pin it to your favorite board on Pinterest.

Pin This
Salsa Verde Garlic Bread
Slathering herby and scalliony salsa verde between pieces of baguette – a delicious and cheerfully green take on garlic bread.
Directions
Preheat the oven to 400°. If you've made the salsa verde already, either stir in the minced garlic, or pulse it into the salsa verde in a food processor. If you're making the salsa verde from scratch, then when you place the parsley, scallions, thyme, capers and lemon juice and zest into a food processor, also add the garlic and pulse until chopped and well combined, then finish the recipe.

Cut the baguette into 1/2-inch or so slices, but don't cut all the way though the bread; the goal is for the slices to remain attached at the bottom. See above for details about using chopsticks along the sides of the bread to prevent slicing all the way down.

Use a brush to smear the salsa verde in between the slices, making sure to brush some of the salsa on both sides of each slice. Place the baguette on a large piece of foil, and pull the foil up around the sides of the bread, but not over the top – you want the top to be able to brown.

Bake for about 20 minutes until the bread is hot and the top is lightly browned and crusty. Serve hot.
Nutrition Information
Calories:
98.52
kcal
|
Carbohydrates:
17.52
g
|
Protein:
2.77
g
|
Fat:
1.54
g
|
Saturated Fat:
0.27
g
|
Sodium:
394.74
mg
|
Potassium:
91.72
mg
|
Fiber:
0.84
g
|
Sugar:
2.03
g
|
Vitamin A:
176.56
IU
|
Vitamin C:
1.19
mg
|
Calcium:
24.38
mg
|
Iron:
0.92
mg
The nutrition values are provided as an estimate. It is not intended as a substitute for the advice of a qualified healthcare professional.
Made this recipe? Post a photo of your delicious creation on Instagram with our hashtag #dinnersolved