As I write this I'm sitting in a rental house in Cape House, surrounded by in-laws, and our cute (epileptic) dog who couldn't be left at home. The house is lovely, the weather is phenomenal, and the fact that none of the outlets work for more than 10 minutes at a time has yet to become aggravating.
I'm sure we are going to have our fair share of burgers and hot dogs over the course of this week, given the fact that when everyone gets here this afternoon we will be a household of 14 people, possibly more, depending on various cousin-schedules. I can guarantee that there will be neither filet mignons or complicated fare for most meals. We're dealing in volume here, people.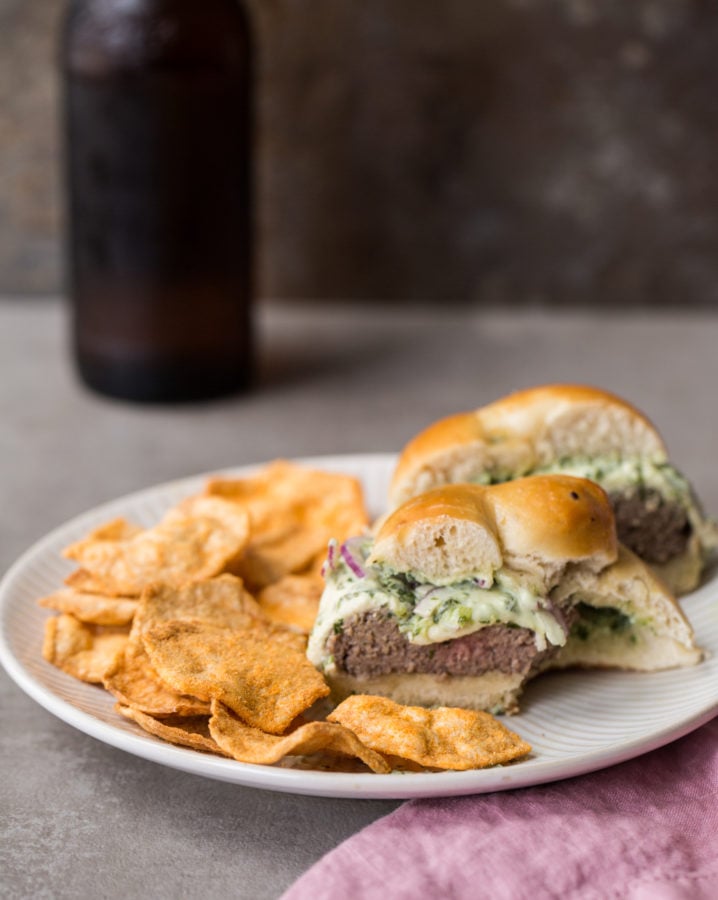 We have already made one trip to the price club, and three to the supermarket, and we have been here for just about 18 hours yet. We're staying for 7 days, which in many ways is just right, but in other ways simply not enough time to set up the house and get in the groove and start to relax before the winding down and packing up needs to begin.
And this very thought is annoying, not the reality of it, so much, as the fact that I'm even having it. Jack is entering his Senior year of high school next year, and Charlie becoming a Freshman ("I Have Two Kids In High School" —I need to practice that sentence aloud). So I've been thinking muchly about time, the passage of it, and how to enjoy smaller moments. How to not always feel propelled into the next moment, the next activity, the next plan. And I suck at this.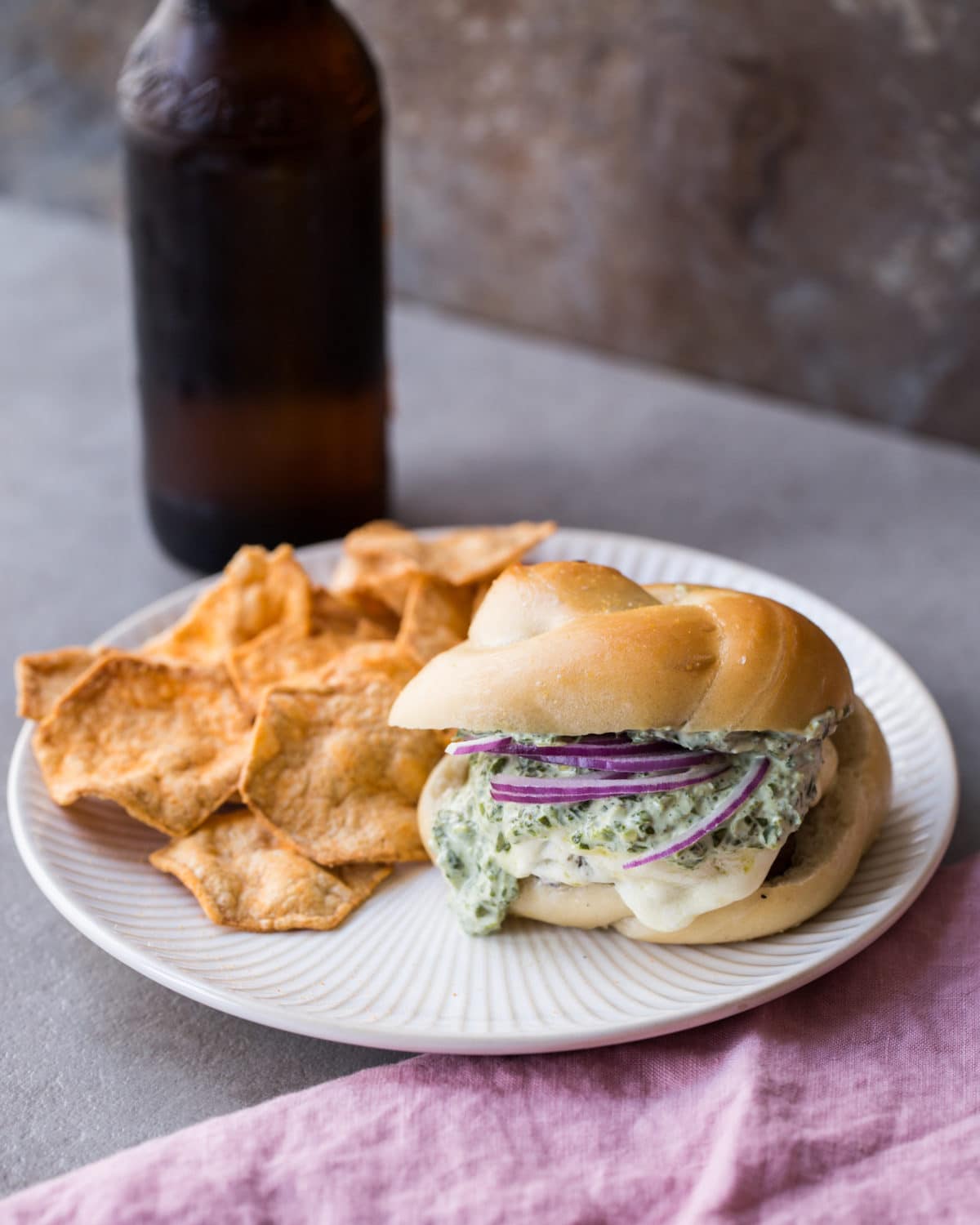 This week I am going to try and not make every meal my responsibility, not hover over the kids counting their time on electronic devices and criticizing, do as little laundry as possible, and take a few naps. And read. And eat at least one lobster. Or lobstah as most of the people in the house call it.
But there's no question that I will spend some significant time on front of the grill, which is a place I like to be. Especially if there is a glass of rosé in my hand, and the weather is fine.
A versatile herb sauce tops decadent burgers, but you can also use it many other ways!

Tweet This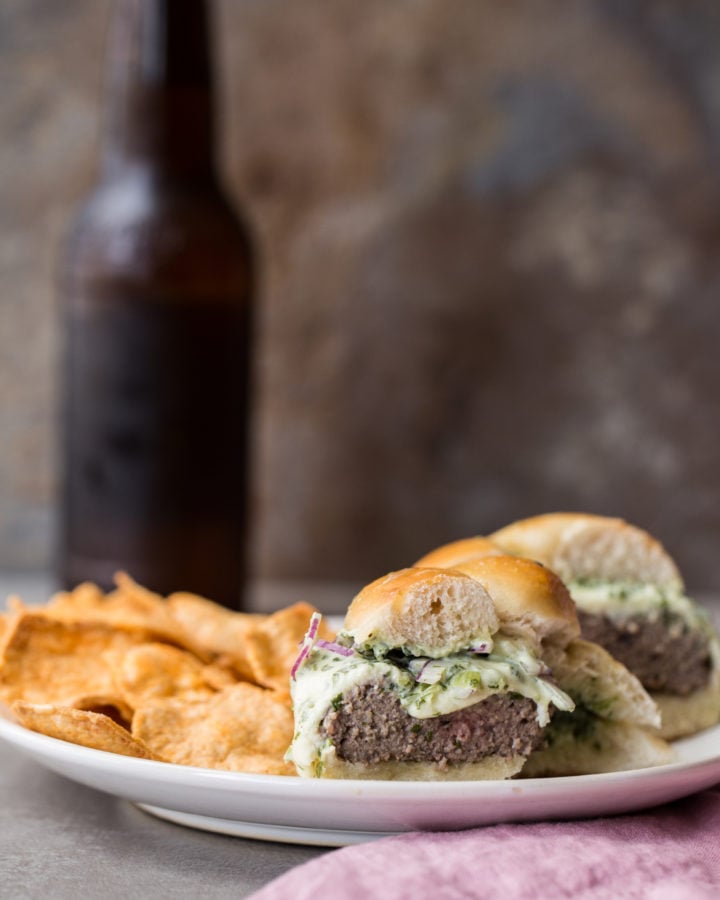 We did buy industrial size bottles of ketchup, mustard and relish (really, who the hell goes through a 28-ounce bottle of relish in the time it takes to justify the fridge space?), and they will be called into service repeatedly.
But shortly I will hit the market for the 4th time and pick up the ingredients for this herb sauce, which I have been using on everything – to dip asparagus and potatoes in, as a spread on sandwiches, and also a topping for these decadent burgers. If you don't want to use all basil, you can mix it up with some other fresh herbs, like oregano or thyme or marjoram, if you have those on hand.
Let the vacationing begin. And let me know what time it makes sense to have the first glass of rosé.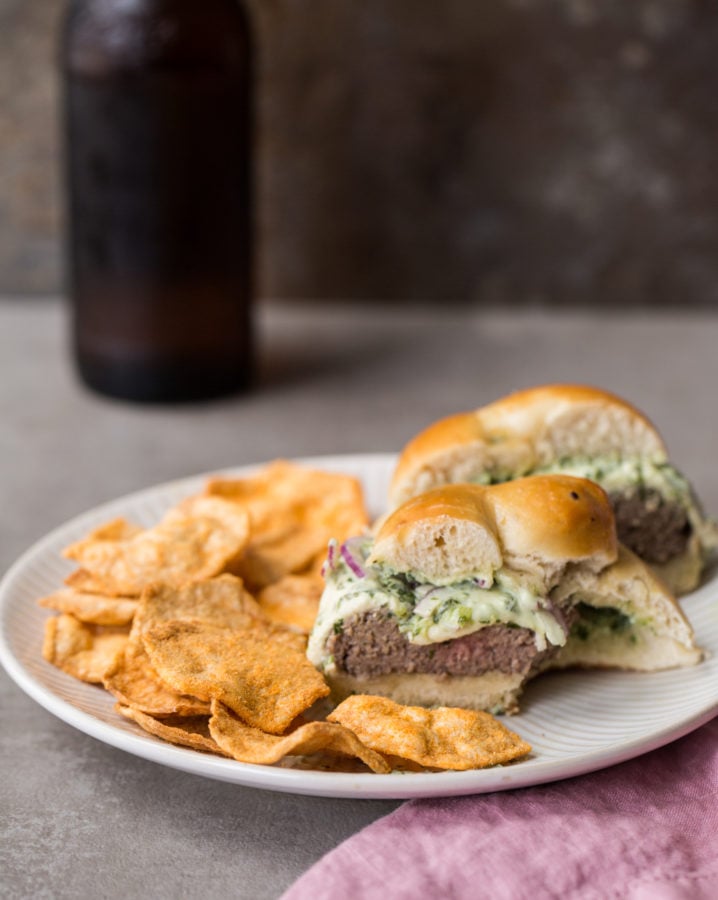 Other Great Burger Recipes:
Like this recipe? Pin it to your favorite board on Pinterest.

Pin This
Grilled Cheeseburgers with Herb Sauce
When ketchup and mustard aren't quite enough.
Ingredients
2

pounds

ground chuck

80/20

Kosher salt and freshly ground pepper

to taste

3

cups

arugula

3

scallions

trimmed and roughly chopped (white and green parts)

½

cup

fresh basil leaves

½

cup

mayonnaise

¾

cup

sour cream

2

teaspoons

fresh lemon juice

½

teaspoon

Worcestershire sauce

optional

½

cup

shredded fresh mozzarella

½

cup

shredded cheddar

4

hamburger buns

Slivered red onion

optional
Directions
Preheat the grill to medium high.

Place the arugula, scallions, basil, and salt and pepper in a

food processor

or

blender

and pulse to chop, then run the machine to chop finely.

In a medium bowl combine the mayonnaise, sour cream, lemon juice and Worcestershire sauce, if using. Turn the arugula mixture into the bowl and stir well to combine. Taste and adjust the seasonings.

Place the meat in a bowl and add salt and pepper. Use your hands to lightly but thoroughly mix the seasonings into the meat. Divide the beef into 4 even portions, and use your hands to form even, round patties, about 3/4-inch thick. Use your fingers to press a small indentation into the middle of each patty.

Make the burgers: Place the patties on the grill and cook for 3 to 4 minutes on each side, until they are cooked to your liking. During the past minute of cooking sprinkle the cheese over the burgers, distributing them evenly. Also place the buns on the grill and let them toast lightly, if desired.

Place a cheese covered patty on the bottom of each bun, and slather the of top of each bun with the sauce. Sprinkle over the onions, if desired. Place the bun top over the burger and serve.
Nutrition Information
Calories:
538
kcal
|
Carbohydrates:
13
g
|
Protein:
26
g
|
Fat:
42
g
|
Saturated Fat:
15
g
|
Cholesterol:
111
mg
|
Sodium:
384
mg
|
Potassium:
421
mg
|
Fiber:
1
g
|
Sugar:
3
g
|
Vitamin A:
563
IU
|
Vitamin C:
3
mg
|
Calcium:
185
mg
|
Iron:
3
mg
The nutrition values are provided as an estimate. It is not intended as a substitute for the advice of a qualified healthcare professional.
Made this recipe? Post a photo of your delicious creation on Instagram with our hashtag #dinnersolved