It is not enjoyable to take advantage of another culture's holiday to explore some new recipes?  It is.  And is St. Patrick's Day not right around the corner?  It is.   (A true Irishman might say 'tis, but that's not going to work for me).
Irish Scones
Moist, biscuit-ey Irish scones, lashed with rich butter and a few slices of Irish smoked salmon are just the ticket. A wonderful way to start the day on St. Patrick's Day, or settle into for a tea time snack. And perfect the other 364 days of the year, too!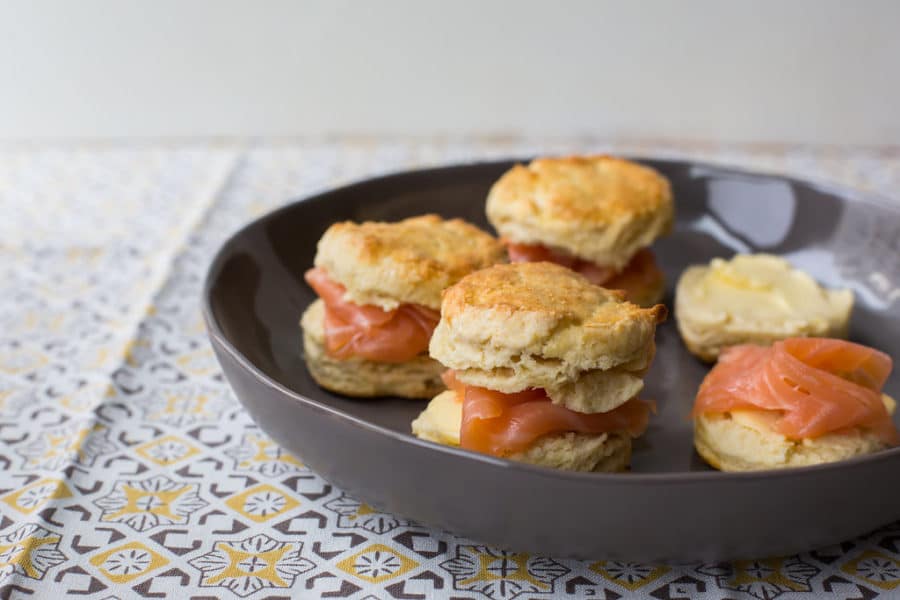 Buy great butter for this.  European-style butter has a slightly higher butterfat content that everyday supermarket butter. When it is one of the few star ingredients, it makes a big difference.  If you're sticking close to the theme, look for good Irish butter.
Cutting Butter into Flour for Scones
What does it mean to cut the butter into the flour mixture?  The butter is added cold, in small pieces. Then it needs to be incorporated into the dry ingredients so that it is well distributed throughout, but still maintains a pebbly texture.  This is so when the scones bake the bits of cold butter will melt into the dough. The end result is the creation of flaky tiny pockets of air which keeps the texture light.
Blending the butter in with a pastry cutter, two butter knives, or quick rubbing movements with your fingers allows this to happen. Creaming the butter into the dough would create a denser scone.
And, as with biscuits, and really any quick bread, the less you handle the dough the better.  Over mixing or kneading the dough will activate the proteins in the flour, making the resulting baked goods a bit tough.  The dough might seem a bit sticky – that's right. Just make sure the work surface is well dusted with flour. Then work quickly and nimbly. Also make sure to lightly dust the top of the dough so that when you pat it out for cutting into circles your fingers won't stick to the dough.
The scones are not too sweet, as their intended filling is smoked, salty fish. If you are wishing for sweeter scones to slather with butter and jam, you might add another tablespoon or two of sugar. 
More Smoked Salmon Recipes:
Irish Scones with Smoked Salmon
Flaky pastries layered with good butter and excellent salmon – breakfast, snack, teatime, yes please.
Ingredients
3

cups

all-purpose flour

plus more for patting out the dough

2

tablespoons

sugar

1

tablespoon

baking powder

1

teaspoon

kosher salt

¾

cup

(1 ½ sticks) chilled unsalted butter

cut into pieces

1

cup

milk

preferably whole

1

egg plus 1 egg yolk

About 3 tablespoons softened unsalted butter

for serving

½

pound

good-quality smoked salmon
Directions
Preheat the oven to 400°F. Line a baking sheet with parchment paper. Lightly flour a clean work surface.

In a large mixing bowl, stir together the flour, sugar, baking powder and salt. Using a pastry cutter, two knives, or your fingers cut the butter into the flour mixture until the mixture resembles coarse cornmeal, with no pieces of butter any larger than a pea. In a small bowl combine the milk and the egg yolk. Stir the milk mixture into the dry ingredients just until the mixture comes together.

Turn the dough onto the floured work surface and roll or pat out the dough 1 ¼-inch thick. Cut out 2 ½-inch circles with a biscuit cutter, as close as possible to one another. Gently pat together the scraps so that they are 1 ¼-inch thick and cut out another two or three circles as possible. Place them on the prepared baking sheet at least 1-inch apart. Beat the egg with 1 teaspoon of water in a small bowl, and use a pastry brush to lightly brush the top of each scone with the egg mixture.

Bake until golden brown, about 15 to 18 minutes. Transfer to a wire rack to cool until barely warm, or at room temperature. Split them in half with a fork, or cut them with a sharp knife, spread the butter evenly between the scones, layer some salmon onto each bottom half, and place the scone tops over the salmon.
Nutrition Information
Calories:
264
kcal
|
Carbohydrates:
27
g
|
Protein:
8
g
|
Fat:
14
g
|
Saturated Fat:
8
g
|
Cholesterol:
51
mg
|
Sodium:
359
mg
|
Potassium:
203
mg
|
Fiber:
1
g
|
Sugar:
3
g
|
Vitamin A:
424
IU
|
Calcium:
79
mg
|
Iron:
2
mg
The nutrition values are provided as an estimate. It is not intended as a substitute for the advice of a qualified healthcare professional.
Made this recipe? Post a photo of your delicious creation on Instagram with our hashtag #dinnersolved