Crispy Chicken Strips with Apricot Mustard Dipping Sauce
These are chicken strips you can be proud of.
Serving Size: 4 to 6
Sometimes a chicken nugget is just a chicken nugget.  And sometimes it's a flavorful panko-crusted strip of real chicken breast with a sweet and tangy dipping sauce.
Mixing the Panko bread crumbs with a bit of olive oil allows them to form a crispy fried-tasting crust in the oven.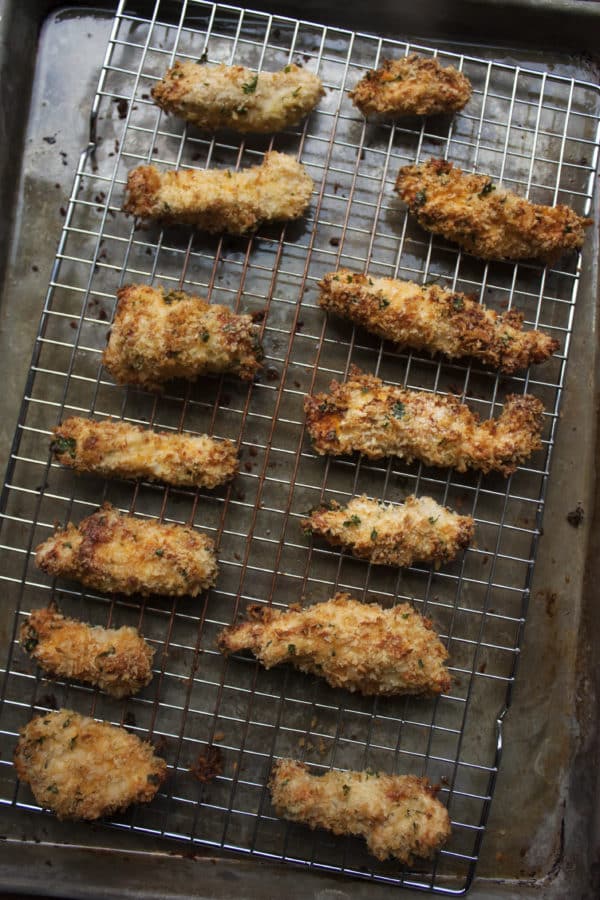 Save
Save
Crispy Chicken Strips with Apricot Mustard Dipping Sauce
Print
½ cup all-purpose flour

Kosher salt and freshly ground pepper to taste

2 large eggs

½ teaspoon Sriracha or other hot sauce, or to taste

1½ cup Panko bread crumbs

2 tablespoons olive oil

1½ pounds boneless, skinless chicken breasts, cut crosswise into 1-inch thick strips

1 cup apricot or orange preserves

3 tablespoons Dijon mustard

½ teaspoon minced fresh thyme leaves
1. Preheat the oven to 400°F. Place a wire cooling rack into a rimmed baking sheet.
2. Place the flour, salt and pepper in a shallow bowl. Whisk together the eggs and Sriracha in a second shallow bowl. Combine the panko and olive oil in a third bowl.
3. Working in small batches, toss the chicken strips in the flour, shake off any excess, dip them in the egg mixture, shake off any extra, and roll them in the panko. Shake off any excess, then place the strips at least 1 inch apart on the wire rack. (It's possible you may need to bake these in two batches.)
4. Bake until the chicken strips are golden brown and cooked through, 15 to 18 minutes.
5. While the chicken is cooking, place the preserves in a small saucepan or skillet. Heat over low heat until melted, then stir in the mustard and thyme. Transfer the sauce to a small bowl, transfer the chicken strips to a serving platter and serve hot.