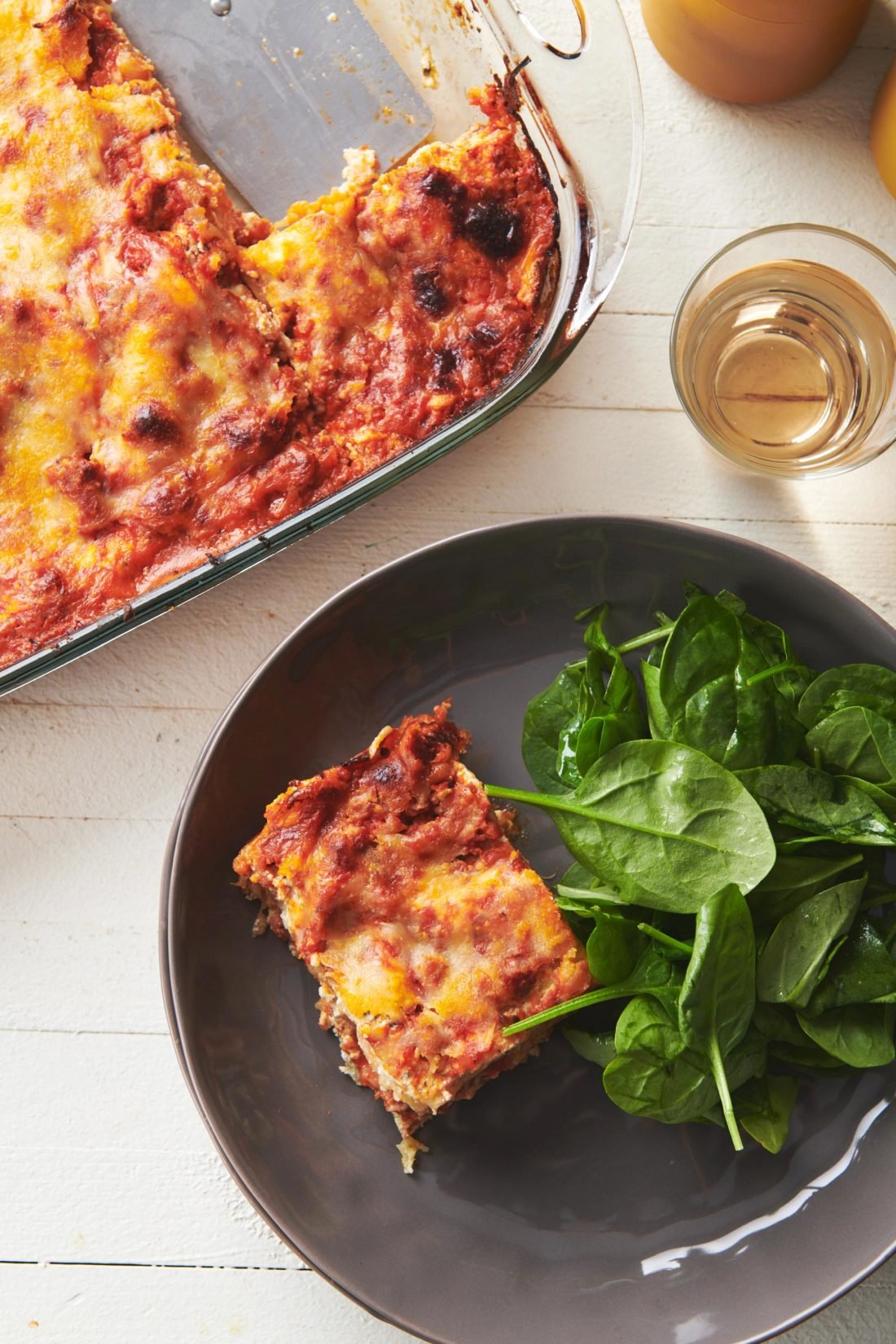 What is it about lasagna? My husband says that when he eats a really good lasagna it tickles the back of his throat (I smile and nod, he's a very nice man). But let's face the reality of lasagna together: it always TAKES MUCH MORE TIME THAN YOU THOUGHT IT WOULD. But it's quite similar to childbirth: the lasagna is so delicious and charming that you forgot all about the pain you subjected yourself to bringing it into the world. You might even make another. Maybe even two.
Meat Sauce for Turkey Lasagna
But here's the thing: it's worth it. Every layered, savory, flavor-melded bite is so good you forget that you were up late the night before muttering to yourself. And there are some good short cuts. The next time you're making a homemade meat sauce, think about this turkey lasagna later in the week, or freeze some of the sauce and pull it out when you're in a lasagna state of mind.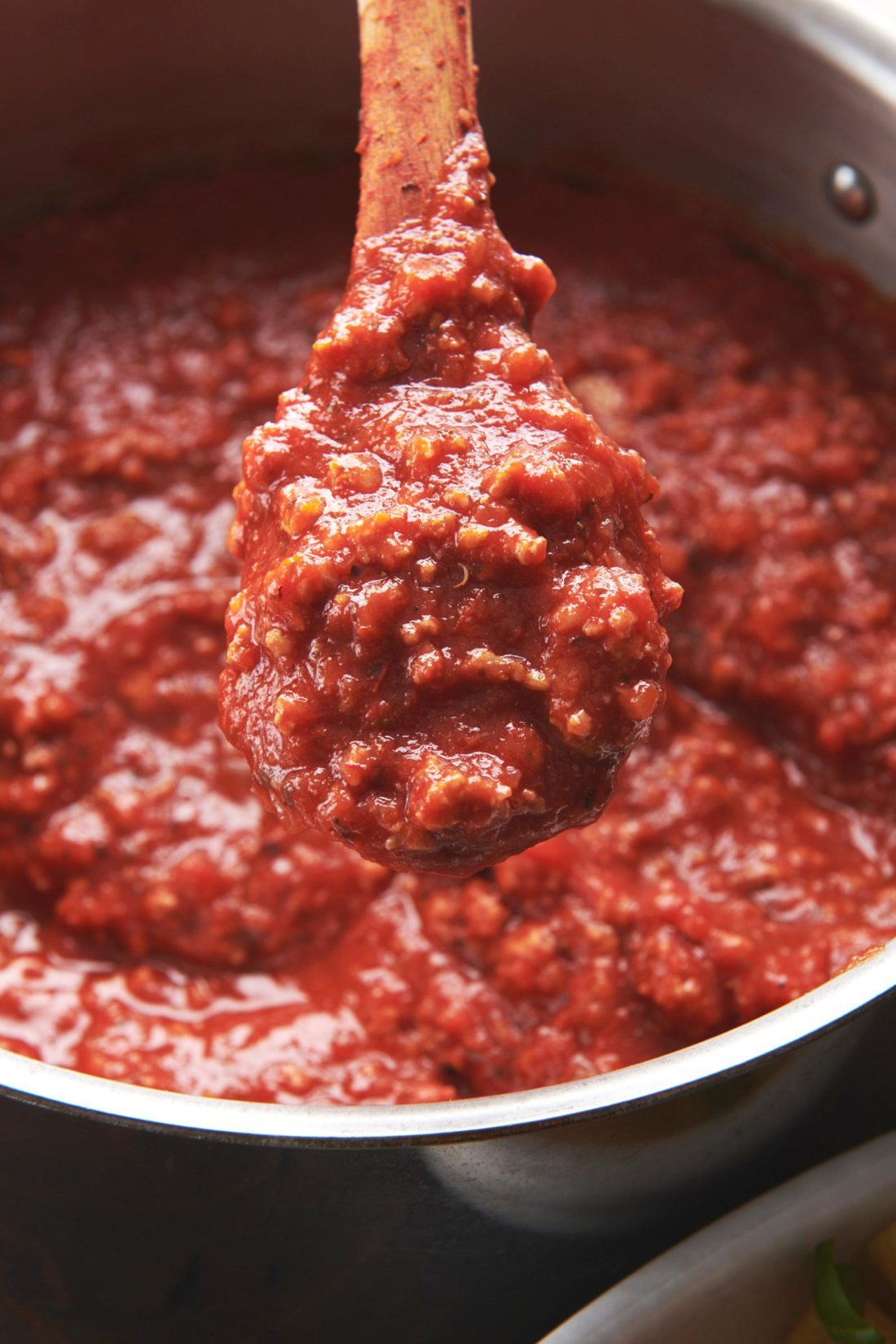 Or just say screw it, and grab a couple of jars of your favorite premade sauce, and add some browned meat – beef, turkey, sausages, your choice – and mix that into the sauce, along with some extra basil, oregano and sautéed minced garlic, if you like.
Using No-Boil Lasagna Noodles
Also, if you haven't discovered the no-boil lasagna noodles in the pasta aisle of the supermarket you will fall in love with this gift of a convenience product. Purists will certainly turn their noses up at them, but you don't have to invite them to dinner.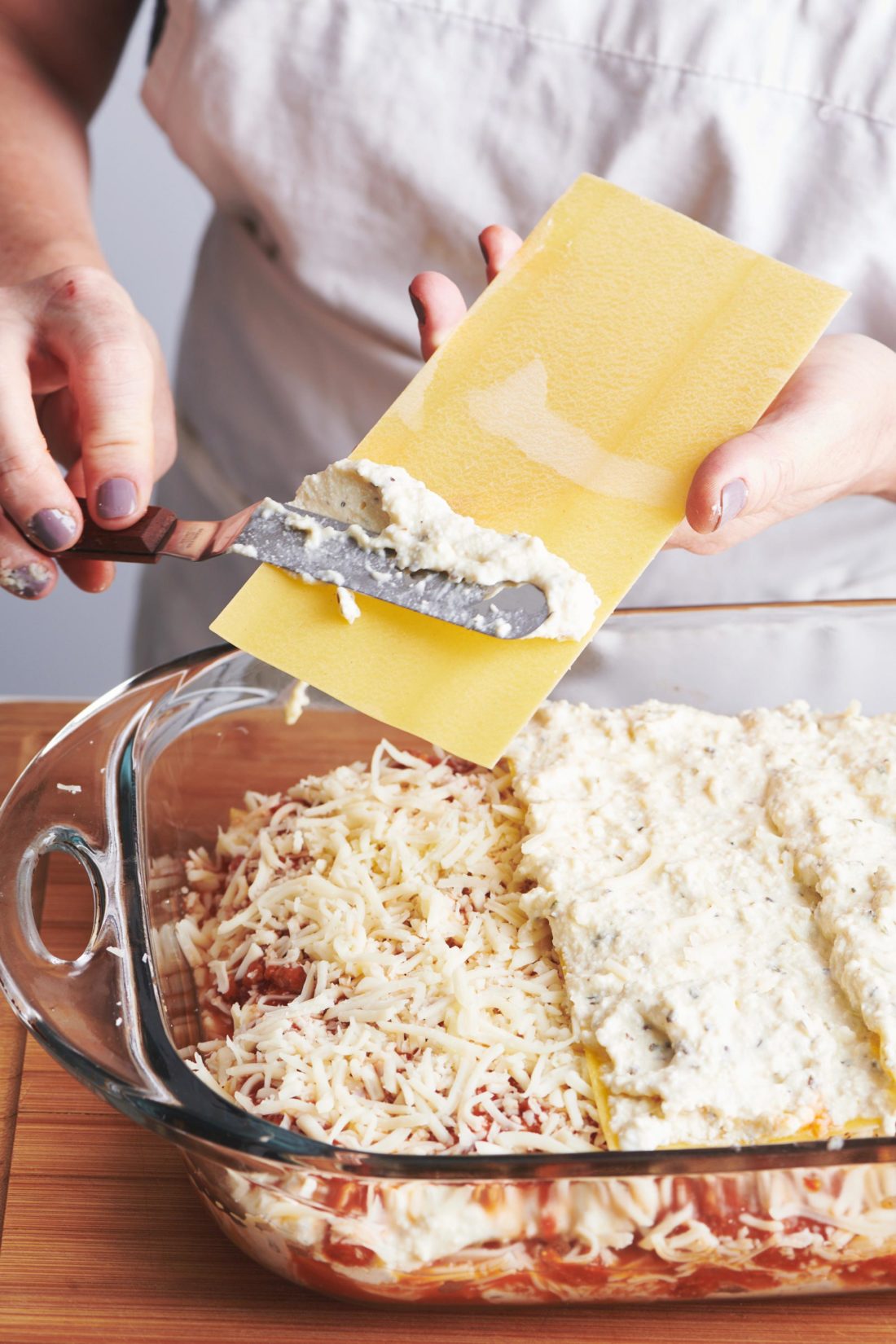 You can certainly cook your own lasagna noodles (toss them in a little olive oil to keep them separate, or leave them in a pot of water and pat them dry before layering them into the casserole), but one of the things that deters me from making lasagna more often is that step of boiling the water, cooking the noodles, taking them out and keeping them from sticking…precooked lasagna noodles are right up their with Post-its as an invention in my book.
This recipe is a very un-snobby lasagna that allow you to make it at the fancy-ness level of your choosing. If you shop for ingredients at an authentic Italian market, you will create something company-worthy-elegant. If you are rummaging through your pantry or making a last minute trip to a run-of-the-mill supermarket you will end up with a darn fine lasagna.
Lasagnas made a day ahead get even more depth of flavor, like most soups and stews. They reheat very nicely.
This is our go-to lasagna, made with a meat sauce that has a combo of ground turkey and turkey sausage in the sauce. It will never let you down.

Tweet This
Canned Tomatoes
Crushed tomatoes have become my go-to canned tomato for most dishes. They have a more interesting consistency than a puree, more body than a sauce, and less work that chopping up whole canned tomatoes, which you can certainly do, and the puree or the juice from the tin back to them.
Sometimes whole tomatoes are in a puree instead of a juice, which obviously has a thicker consistency, and for pasta sauce and lasagna, I try to find them if I can. And not all crushed tomatoes are created equal – some are thinner, some thicker, and of course flavor acidity and saltiness come into play. You'll find your favorite.
Then there's always the I-like-the-one-that's-on-sale method of choosing, which also works.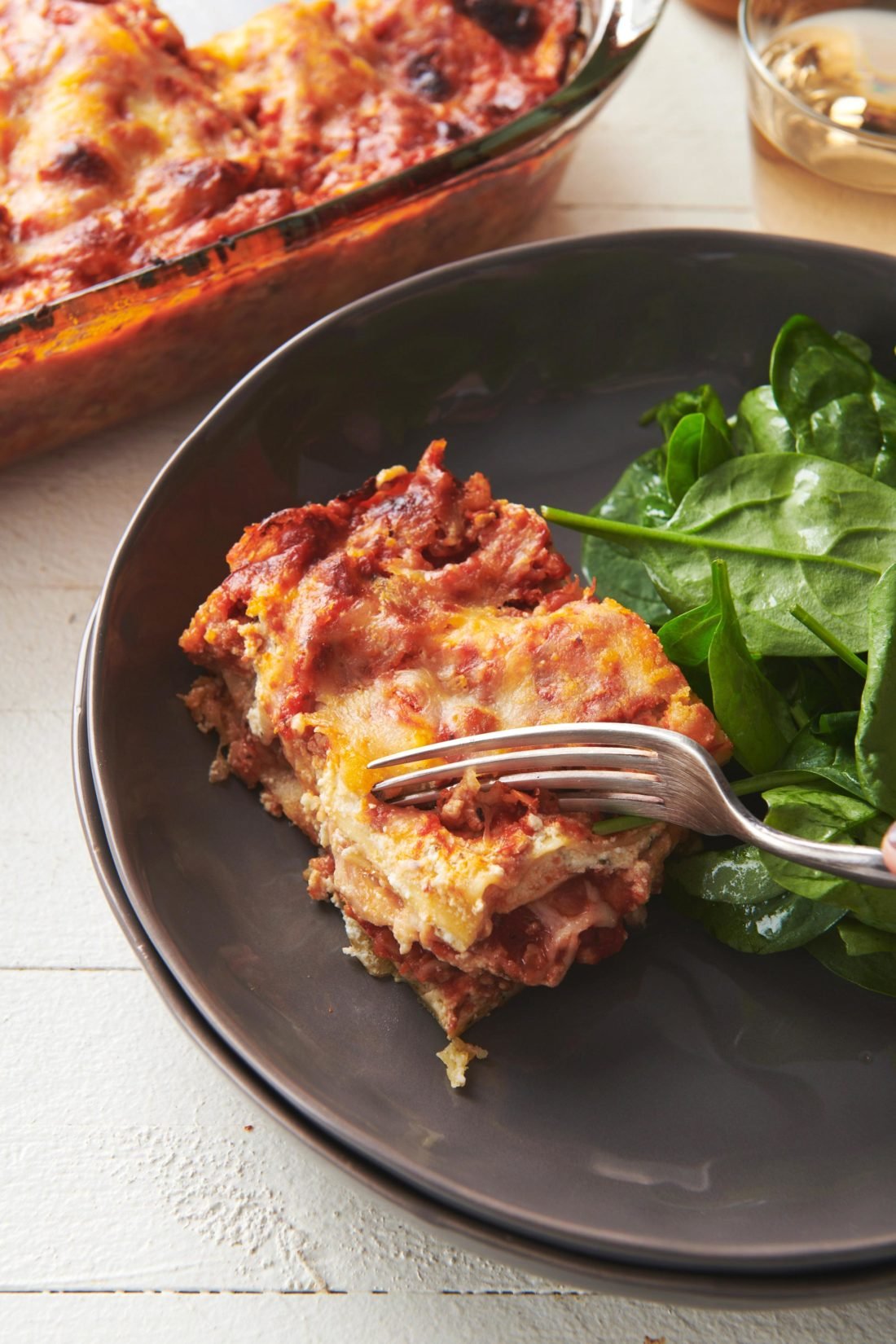 What Kind of Cheese to Use for Lasagna
I use part-skim ricotta, because we all think it tastes just great, and it takes some of the edge off that pesky indulgent feeling of lasagna. If you have the opportunity to find fresh ricotta, skim, whole milk, or otherwise, absolutely buy it, and think about fat another time. The flavor is so light and delicate, as is the texture, it's really another level of ricotta altogether.
Speaking of levels of cheese: you've probably heard all about how fresh mozzarella is head and shoulders better than the stuff in the supermarket dairy case, which the food world regularly snubs as "rubbery bricks," "bouncy cubes of plastic cheese," and other condemning metaphors.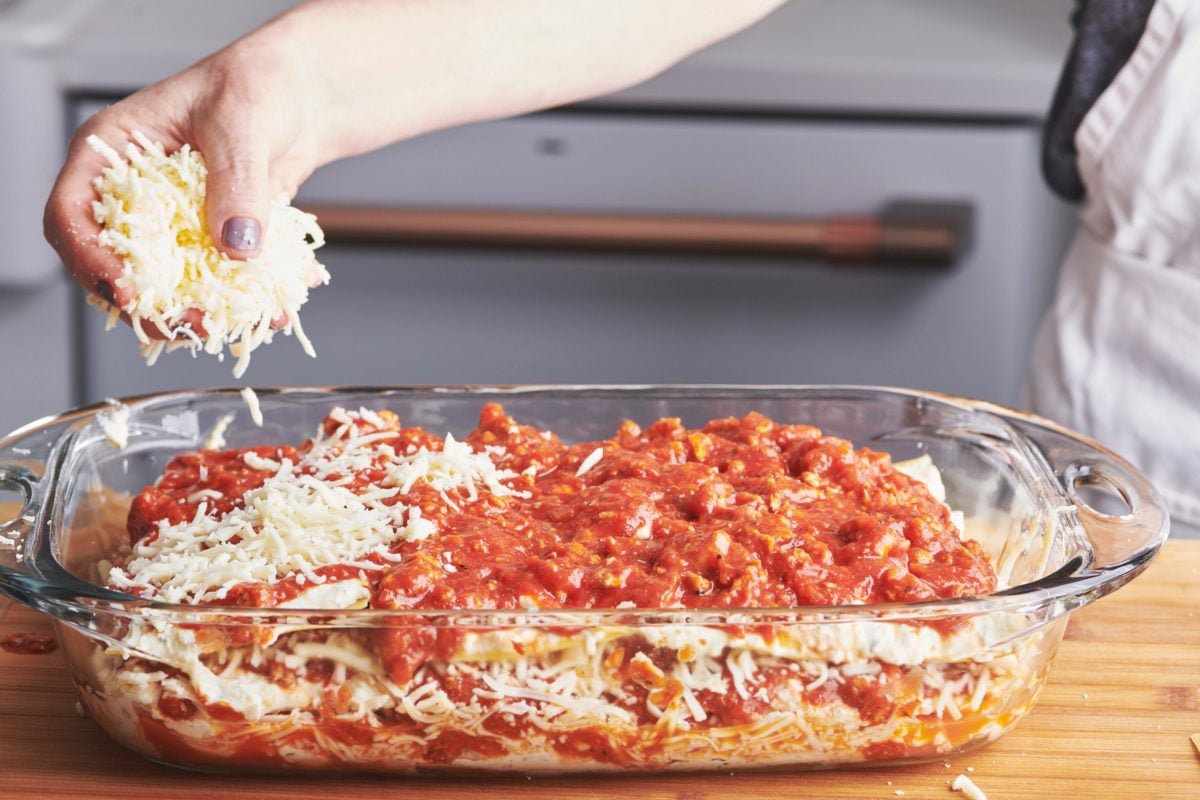 Well, it's true that real fresh mozzarella has absolutely a whole different flavor and texture, and it's miles apart from those factory-sealed cheeses. And even sorta "fresh" mozzarella that comes pre-packaged, often in the fancier cheese sections of the supermarket, sometimes near the deli area is better.
But, life being what it is, sometimes fresh mozzarella is not in the picture for any number of reasons, and you can make a perfectly good, family-friendly turkey lasagna with store-bought mozzarella. And one of the basic mantras of getting a real dinner on the table for your family is this: a pretty good lasagna is a whole lot better than no lasagna. Repeat three times, and dig in.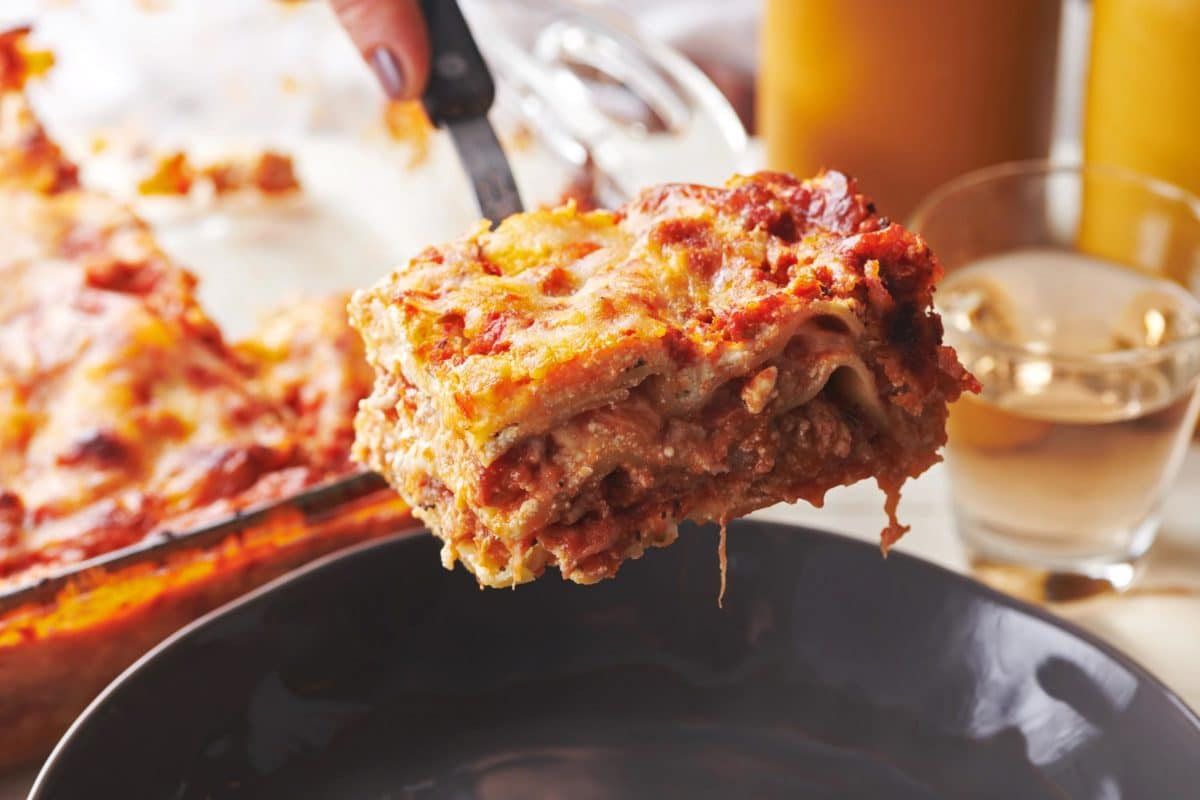 More Family-Friendly Pasta Recipes:
Like this recipe? Pin it to your favorite board on Pinterest.

Pin This
Best Turkey Lasagna
This is our go-to lasagna, made with a meat sauce that has a combo of ground turkey and turkey sausage in the sauce. It will never let you down.
Ingredients
3

large eggs

1

32-ounce container ricotta

1

teaspoon

dried basil

2

teaspoons

dried oregano

1

cup

shredded Parmesan cheese

, divided

Coarse salt and freshly ground black pepper

to taste

5

cups

Turkey Meat Sauce

or 5 cups store-bought meat or pasta sauce

12

no-cook lasagna noodles

1

pound

very thinly slivered or shredded mozzarella

, preferably fresh mozzarella
Directions
Preheat the oven to 375°F.

In a medium bowl, beat the eggs lightly. Add the ricotta, basil, oregano, Parmesan cheese, and salt and pepper, and stir to blend.

Ladle a little of the sauce onto the bottom of a 13×9-inch baking pan. Spread all 12 of the lasagna noodles with even amount of the ricotta mixture, laying them out on a counter. Place 4 ricotta-covered noodles into the pan, covering the bottom. Spoon over about 1 ½ cups of the sauce, covering the ricotta mixture entirely. Evenly sprinkle over ⅓ of the mozzarella mixture. Repeat until you have three layers. Sprinkle the top with the remaining ½ cup Parmesan.

Cover the lasagna with tin foil (hint: spray one side with nonstick cooking spray and place that side down on top of the lasagna – when you remove it, the cheese won't stick to the foil! I know, amazing!). At this point you can tuck in into the fridge for a day or two if you like. Bake for 1 hour, removing the foil halfway through the cooking time so that the top gets bubbly and browned. You may wish to put a baking sheet (with sides) on the rack below the lasagna pan, to catch drips.

Let the lasagna sit for at least 10-15 minutes before cutting it, so that the pieces hold together better.
Nutrition Information
Calories:
678
kcal
|
Carbohydrates:
72
g
|
Protein:
50
g
|
Fat:
22
g
|
Saturated Fat:
8
g
|
Polyunsaturated Fat:
1
g
|
Monounsaturated Fat:
1
g
|
Trans Fat:
1
g
|
Cholesterol:
153
mg
|
Sodium:
1209
mg
|
Potassium:
1311
mg
|
Fiber:
8
g
|
Sugar:
14
g
|
Vitamin A:
1052
IU
|
Vitamin C:
28
mg
|
Calcium:
439
mg
|
Iron:
6
mg
The nutrition values are provided as an estimate. It is not intended as a substitute for the advice of a qualified healthcare professional.
Made this recipe? Post a photo of your delicious creation on Instagram with our hashtag #dinnersolved