This post may contain affiliate links. Please read our privacy policy.
Breakfast Buffet at Home
These days we are all looking for ways to make meals feel special. So imagine waking up your family with a DIY breakfast sandwich buffet…suddenly it might actually feel like a weekend again.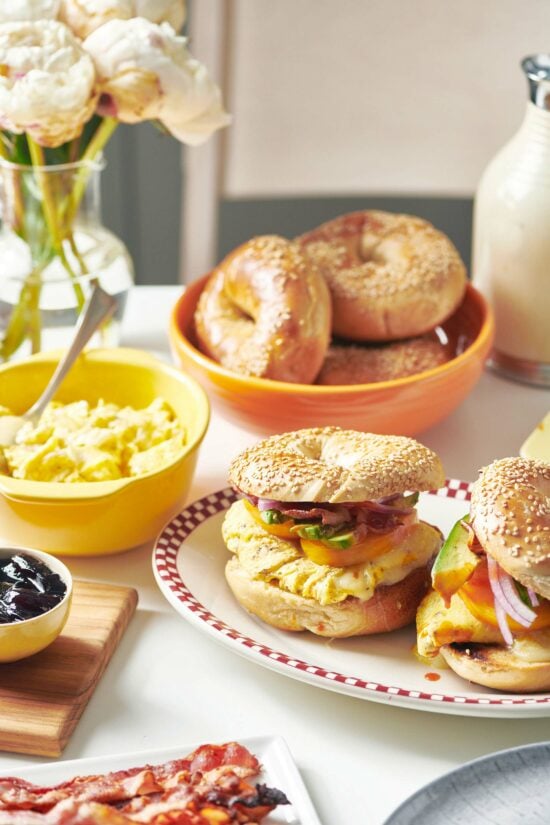 You can go all out, with loads of choices, especially if you happen to have a larger group in your house. Or you can pare it back – even a handful of selections can make this morning meal feel pretty awesome. It takes a lot to get my people out of bed, especially the boys (please tell me you too are sometimes shaking someone awake at 1:00 p.m.), but this little spread is as good a shot as I have of getting everyone downstairs and at the table at the same time.
How to Set Up a Breakfast Sandwich Buffet:
Breads:
You can put out a selection of bread choices, or just stick with one or two. Some of the choices are bagels, country bread, sourdough, pumpernickel, rye, English muffins, pita bread, biscuits, and rolls such as ciabatta.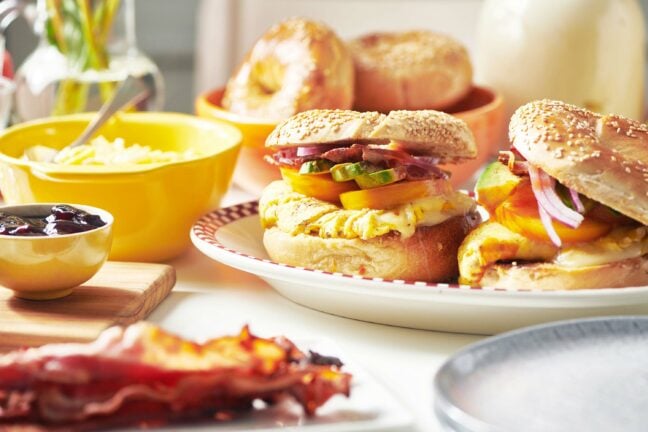 Tuck the breads into a basket or bowl lined with a pretty napkin or dishtowel. If you are offering bagels or other breads that need slicing, you should put out a cutting board and serrated knife, perhaps even a bagel splitter if you have one. You might set up this part near the toaster so your gang can toast their bread if they like.
Then you'll want to lay out topping and filling options in the order people are most likely to use to create their sandwich masterpiece. Start with spreads, then lay out an array of toppings and fillings.
Spreads:
Softened Butter
Cream Cheese (such as plain, scallion, lox spread, chive)
Jelly, Jam, or Other Preserves
Non-Dairy Spreads (if there are vegans or lactose issues)
Boursin or Other Spreadable Cheese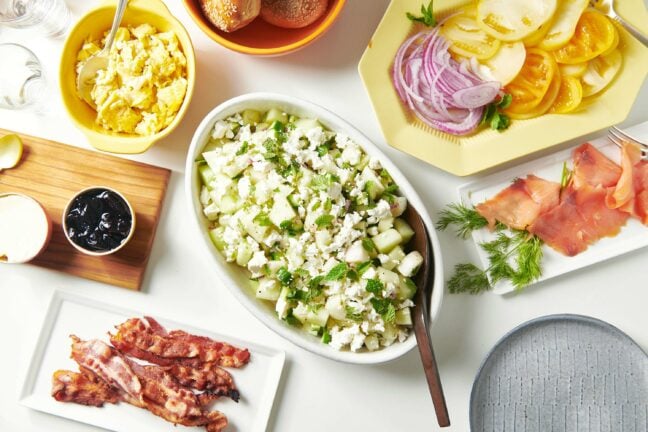 Toppings and Fillings:
Smoked Salmon
Sliced Ham or Smoked Turkey
Sliced cheese (such as Provolone, muenster, cheddar, gruyere, Swiss, Emmental, American)
Sliced Tomatoes
Lettuce Leaves
Sliced Onions
Hot Sauce
Leftover ingredients may well find themselves in a salad later in the day – hold on to any extra tomatoes, onions, lettuce, cheese, bacon, and cold cuts. A Chef's Salad is in the making!
How to Set up a DIY Breakfast Sandwich Buffet: Treat your family and guests to a breakfast buffet…suddenly it might actually feel like a weekend again!

Tweet This
Don't forget to put out plates, forks, knives, napkins, and glasses. If you have the option, choose colorful tabletop items so the whole buffet looks super cheerful. Don't feel the need to be matchy-matchy. This kind of meal is casual from start to finish.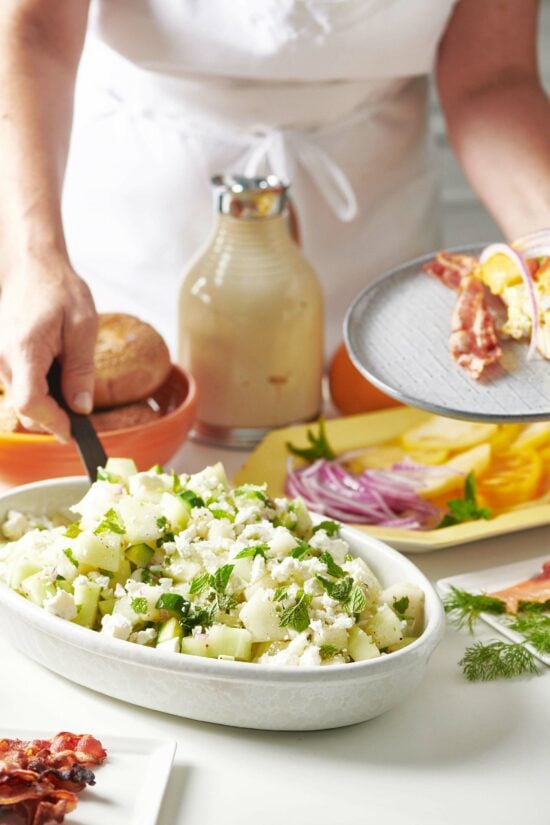 Drinks:
Finish it off with a pitcher of cold orange juice or the juice your family most likes — if you want to turn this into a true brunch, you may want to put out a bottle of sparkling wine and make mimosas an option. Just a thought, especially if brunch has snuck towards the noon hour. And it goes without saying that there should be a pot of hot coffee out with milk, sugar, and mugs at the ready. Plus, tea options.
And then get ready to feel truly loved by anyone lucky enough to be sheltering with you in your home.
---
More Entertaining Ideas:
Also See: