This is not a new recipe, but rather one of the best things to happen to a leftover cocktail since…..oh, I don't know, since I realized I could marinate scallops in leftover margaritas before grilling and get something pretty terrific.
We had a bash for New Year's and I made some pitcher cocktails for the adults, a triple batch. And they got drank. But as things go, wine was a-flowing and the next morning I realized I had a pitcher of the blended up cocktail tucked into the back of the fridge (I also realized there was a small piece of not-quite-cooked filet in the now-cold oven which was much more embarrassing and disappointing).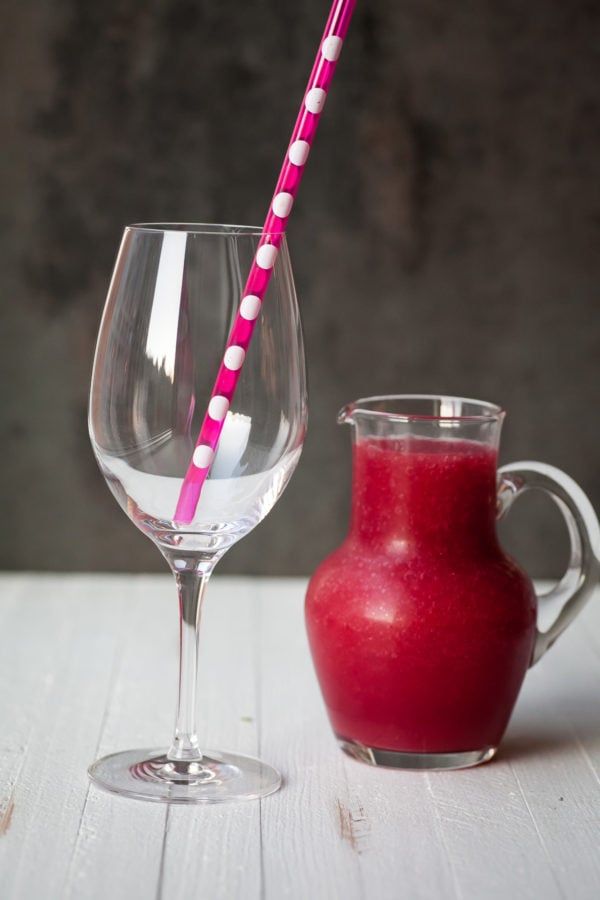 But since it was January 1st and I was all New Year New Me! (for a week), I poured the cocktail into a plastic container and stuck it in the freezer. And I even remembered to label it. (Don't you always think, "Oh, I'll know what that is when I take it out!" And then weeks or probably months later, you staring at a big brown slab thinking…."Brisket? Flank Steak? Sirloin? Not brownies….?"
And then here's what happened—and what I advise you make happen, too. I pulled it out a few months later, and at first imagined I would let it defrost completely and serve it up to a few friends. But then, I thought, maybe….what if….and I just let it defrost until the sides of the mix were pretty soft in the container, and then I THREW THE WHOLE THING INTO A BLENDER AND BLENDED IT UP UNTIL IT WAS A SLUSHY BOOZY FROZEN DRINK.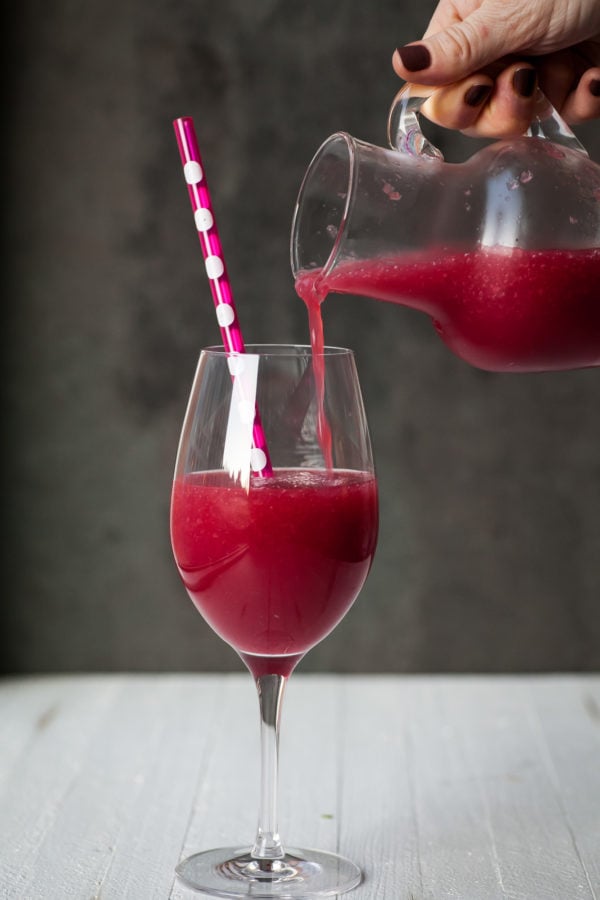 Sorry about the caps. If after you do the same you don't feel the caps were warranted, email me, and I'll take them down.
If you want to drink part of the cocktail in its original form (liquid) and freeze up the rest for another day, that's a very nice way to go.
Other Cocktail Recipes:
Like this recipe? Pin it to your favorite board on Pinterest.

Pin This
Frozen Pomegranate and Citrus Cocktail
Frozen red happiness in a glass.
Total Time:
3
hours
10
minutes
Ingredients
Directions
Make the cocktail according to the recipe directions. Pour into a shallow clean plastic container, seal, and label. Freeze until solid OR freeze until almost solid.

If you've frozen the mixture until it's solid, you will want to let it defrost slightly in the fridge or on the counter, until the middle is still pretty frozen, but the sides around the center are fairly soft. If you've only frozen the mixture until partially frozen, proceed to step three.

Pour that red wonderfulness into a blender and blend that puppy on up. Pour into 8 glasses and serve with straws.
Nutrition Information
Calories:
150
kcal
|
Carbohydrates:
12
g
|
Protein:
1
g
|
Fat:
1
g
|
Saturated Fat:
1
g
|
Sodium:
7
mg
|
Potassium:
130
mg
|
Sugar:
11
g
|
Vitamin A:
31
IU
|
Vitamin C:
14
mg
|
Calcium:
5
mg
|
Iron:
1
mg
The nutrition values are provided as an estimate. It is not intended as a substitute for the advice of a qualified healthcare professional.
Made this recipe? Post a photo of your delicious creation on Instagram with our hashtag #dinnersolved