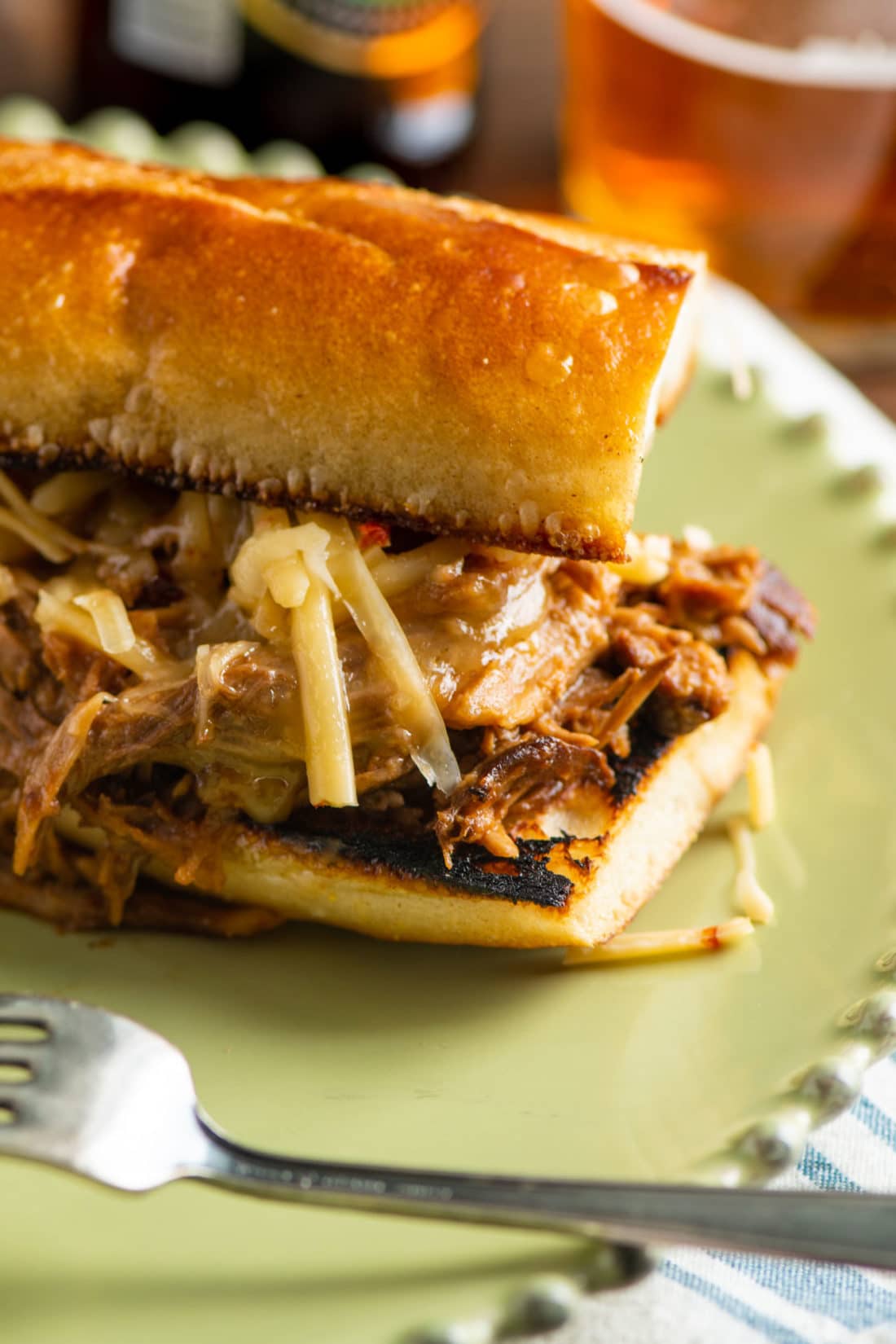 I know one thing for sure: a container of homemade shredded pork in the fridge means that there will be dinner in the form of tacos or enchiladas or sandwiches later in the week. And that also means my future frazzled self will look back on my current frazzled self and be grateful. And uh, two ingredients – I think we can all do that.
The second you scroll down to the recipe, you will see that the second ingredient is barbecue sauce, and that while I am offering you a recipe, I am also endorsing bottles as a-ok. Don't even flinch. And that's what makes this a 2 ingredient recipe. (Guess what the first ingredient is!?) If you can make crock pot pulled pork with 2-ingredients, that is a very winning moment in time.
Having said that, I love making homemade BBQ sauce. There is a recipe for it in The Mom 100 and right here on this blog, and it's highly delicious and reliable, and just the kind of All-American tomato-ey barbecue sauce that most people think of when they think of the words Barbecue Sauce. At least in my area of the country.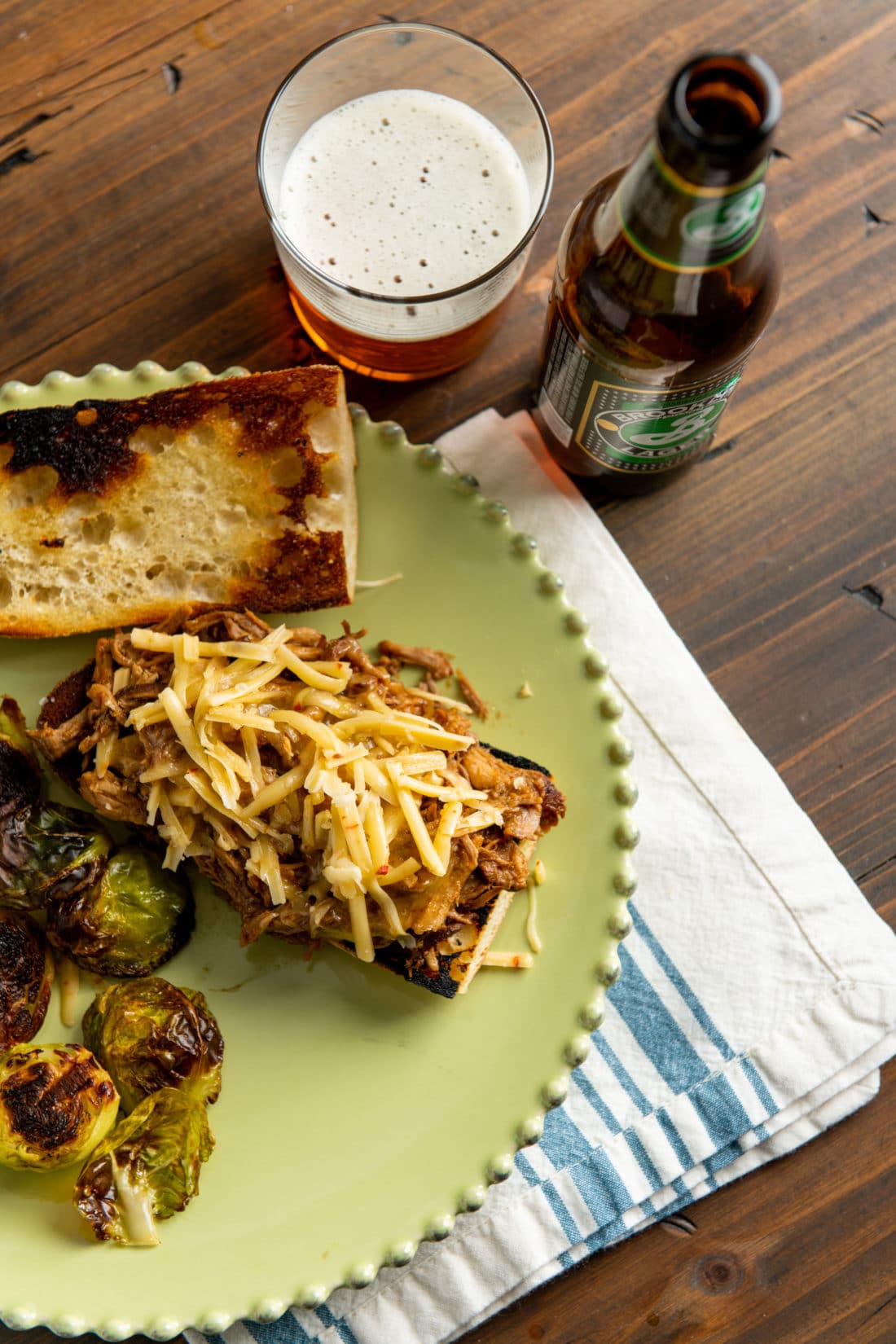 Barbecue Sauce for Ina Garten
I once was going to a party for a friend, a baby shower co-hosted by Ina Garten (uh huh, I know!) and her best friend. I decided to bring them each a small jar of the my Mom 100 barbecue sauce. And then the small jars ended up being cleaned out Dijon mustard jars, which in immediate hindsight was not exactly the most elegant presentation. Which became evident to me as I walked into one of the most elegant art-filled apartments ever, owned by the aforementioned best friend.
But they were both highly gracious, and accepted their repurposed little jars of sauce with appreciation (oh wait, I'm green – that's cool), and I reminded myself that it's the thought that counts, and that homemade gifts are nice, even when they appear in used food containers. The host, Barbara, and I chatted for a while, she told me her daughter had just had kids, and I offered to send over a copy of The Mom 100 Cookbook for the new mom.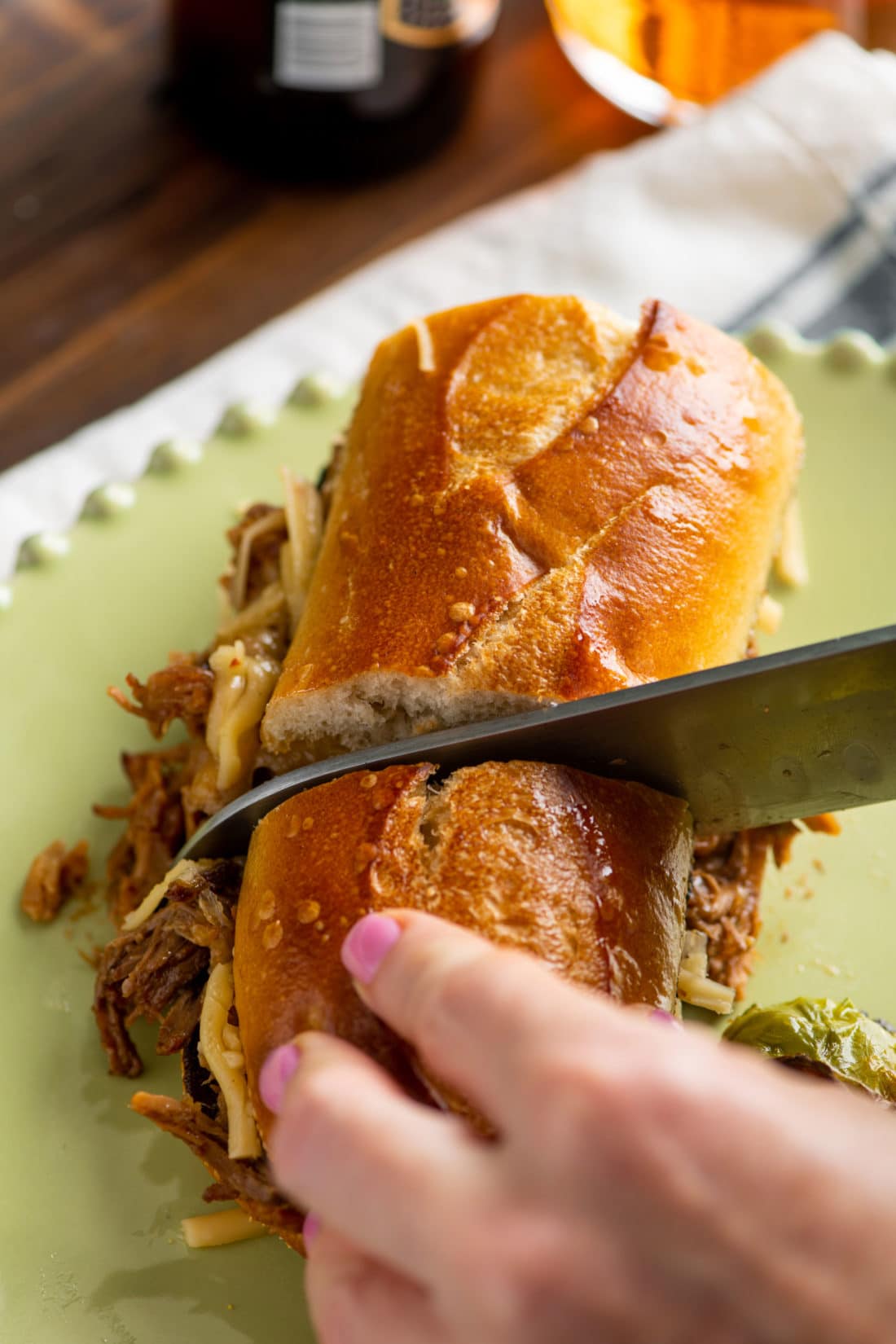 And then several weeks later, I heard from this lovely best friend Barbara, who wrote to say how much she loved my barbecue sauce. I kept the email because I was so tickled by her words. She said: "Btw, your BBQ sauce is among the best we have ever had…actually, it is the best we have ever had!!! It is now my husbands go-to sauce. He wants it to be a permanent in our fridge."
You would keep that email, wouldn't you? Even if it wasn't from Ina's best friend?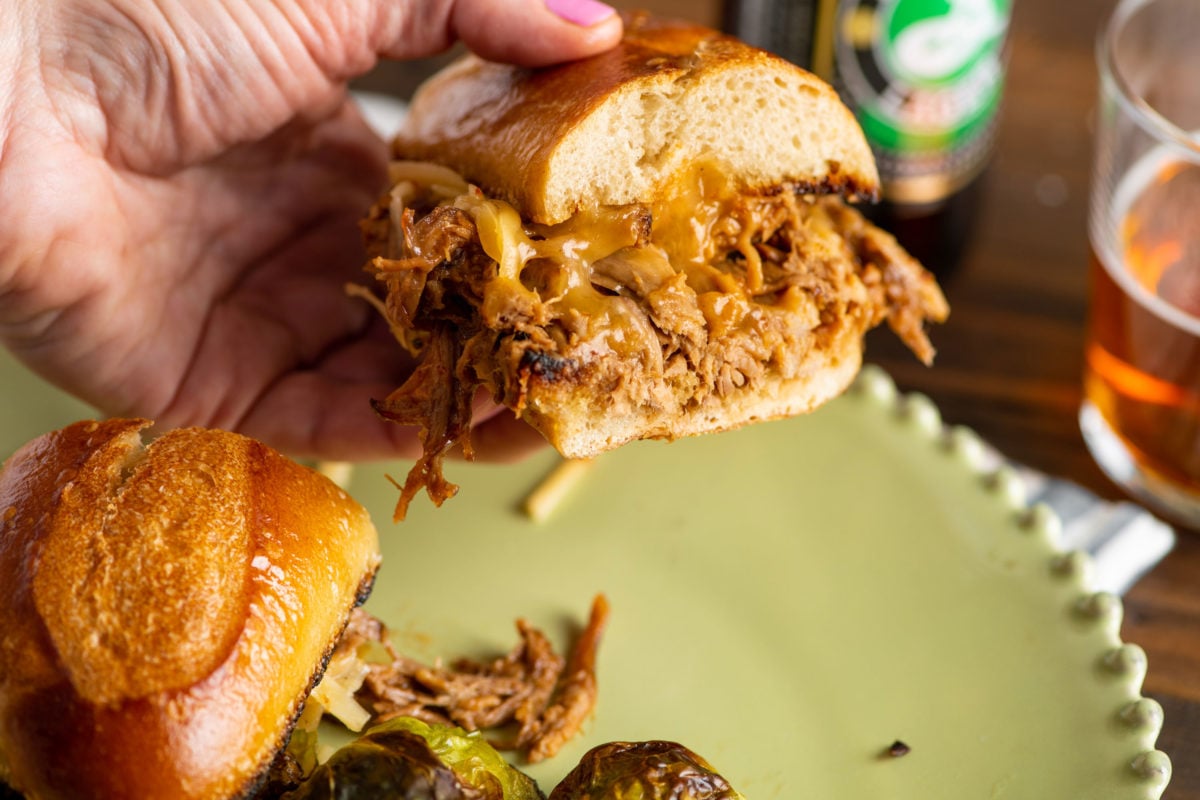 How to Make Slow Cooker Barbecued Pulled Pork
Ok, so, get a bottle or make homemade bbq sauce – my recipe or your favorite recipe – and use it in this recipe to make the pork in the slow cooker. But then after the pork is made, and shredded or "pulled", you have a few different barbecue directions you can choose. You could toss the pork with some more of the same type of barbecue sauce you cooked the meat with, and make yourself a lovely sandwich You could add an additional splash or two of vinegar to the barbecue sauce before tossing with the pork for a bit more of that North Carolina vibe.
Or you could toss the pork with a different kind of barbecue sauce altogether. I cook it in my bbq sauce, or a bottle of traditional tomato-ey sauce, and then if I'm making pulled pork sandwiches I will get another type of bbq sauce for tossing the meat, the more vinegary less tomato-ey North Carolina-style sauce.
2-Ingredient Slow Cooker BBQ Pulled Pork: A bottle of barbecue sauce and a pork shoulder or butt turn into the most tender pulled pork.

Tweet This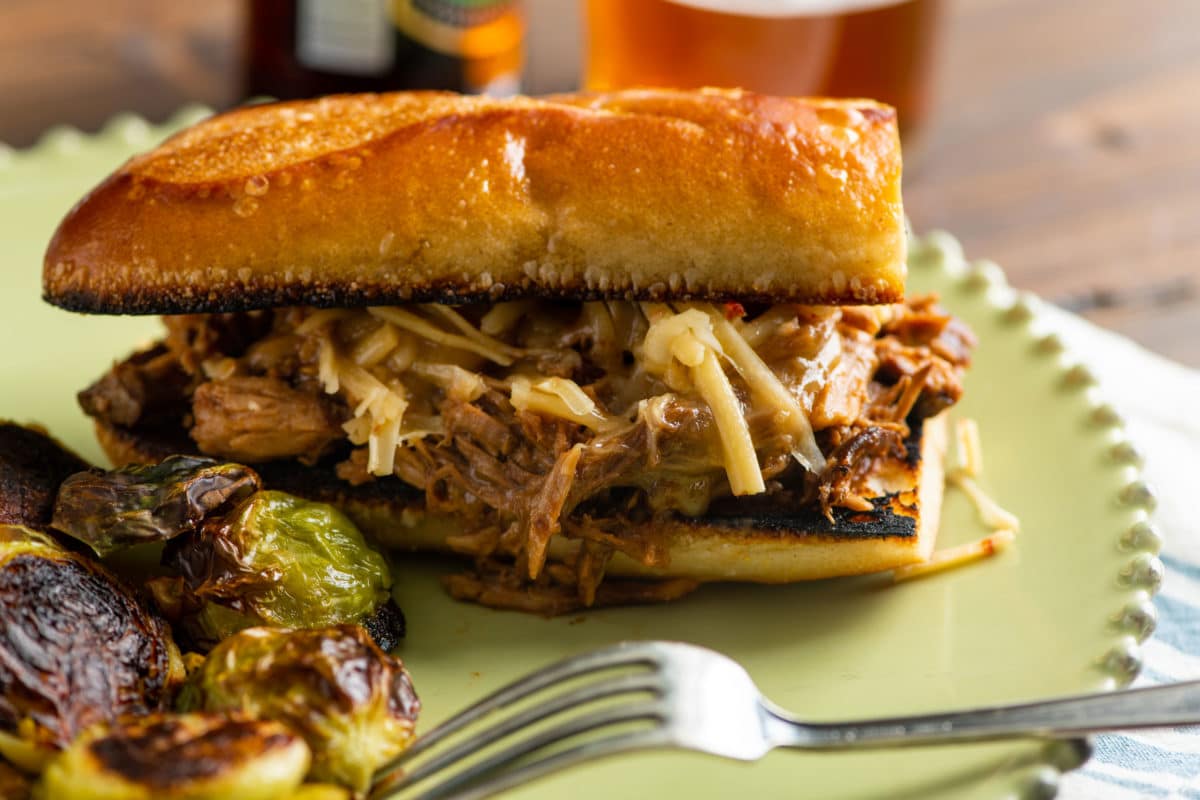 Plain Pulled Pork
So that's the barbecue side of things. You could go stick with the more delicately flavored meat. Just take all of the juices from cooking the meat, put them in the fridge until the fat rises to the top and can be removed, and then warm up the bottom slightly-bbq-ish-cooking-juices sauce and toss that with the meat, to moisten it. This slow cooker BBQ pulled pork is perfect for tacos or burritos or enchiladas or casseroles or adding to salads to make them more substantial. There is only a light barbecue flavor to it, and so it's pretty amenable to additional seasonings.
And this meat is also perfect for giving your dog a pill, if that happens to be as big a part of your life as it was of mine.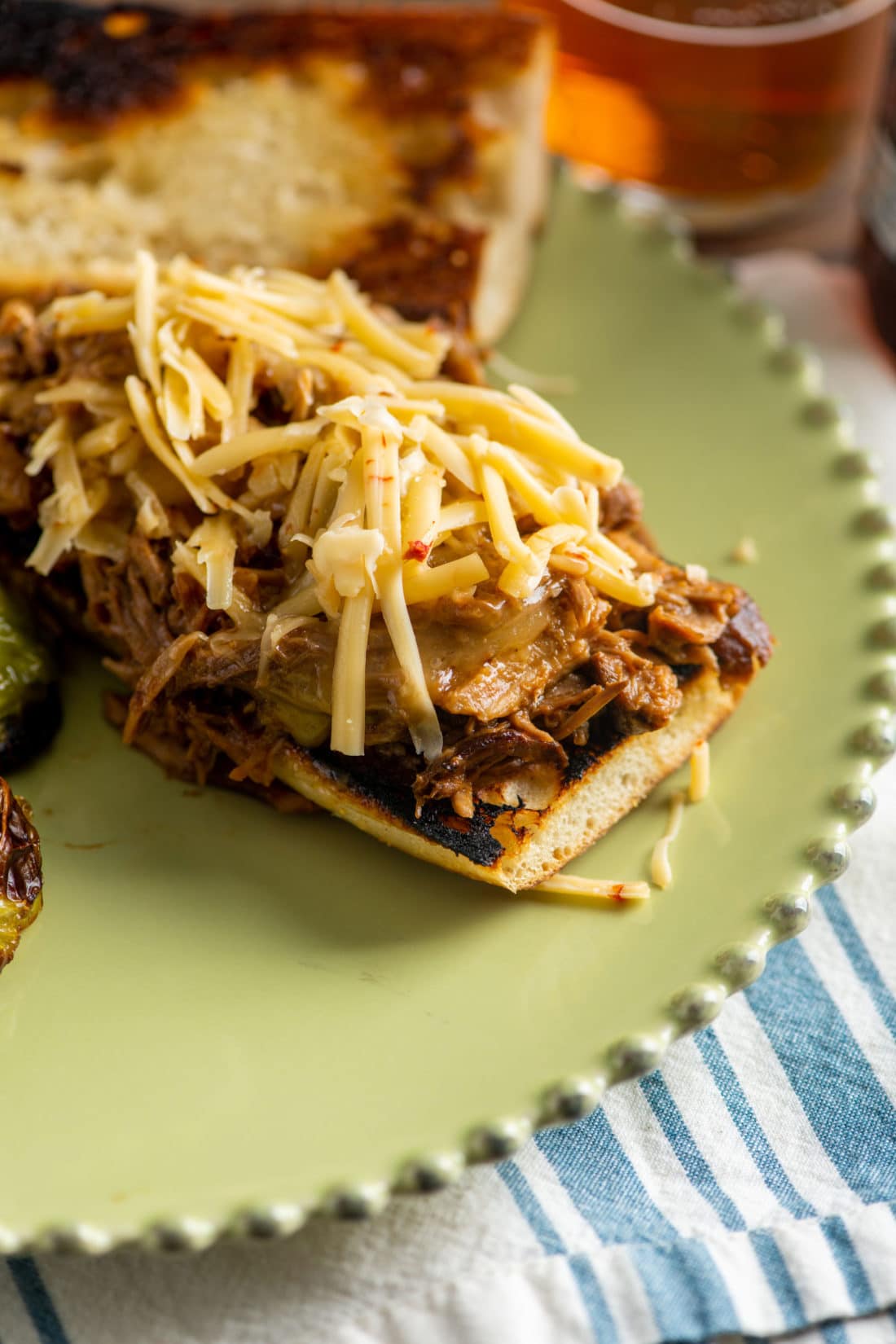 Slow Cooker Barbecued Pulled Pork Sandwich
To make a pulled pork sandwich like the one in these photos, cut 6-inch lengths of a baguette in half lengthwise, then toast them in a hot skillet or on a grill for a few minutes until the cut sides of the bread are lightly browned.  Pile the barbecue-sauced dressed shredded pork onto the sandwich. 
If you want, you can top it with slaw, or in this case I decided to give the pork a hefty sprinkle of shredded cheese and run it under the broiler until it was a bit melty.  Not super traditional, but delicious.  You can use cheddar or any cheese that floats your boat (I used Gruyere which is highly unorthodox but was DELICIOUS.  I realize I would be laughed out of any traditional BBQ contest.).
More Barbecue Recipes:
Like this recipe? Pin it to your favorite board on Pinterest.

Pin This
2-Ingredient Slow Cooker BBQ Pulled Pork
If you use bottled sauce, you literally need to just add pork.
Total Time:
10
hours
10
minutes
Ingredients
1

tablespoon

vegetable or canola oil

1

approximately 6-pound bone-in pork butt or shoulder

2

cups

barbecue sauce

homemade or storebought, plus more for serving if desired
Directions
In a large soup pot or Dutch oven heat the oil over medium high heat. Add the pork and sear on the top and the bottom for about 5 minutes each, until those sides are nicely browned and crusty. Transfer the meat to a slow cooker.

Pour the barbecue sauce over the top, and cook on low for 10 hours.

Remove the meat from the slow cooker, and transfer the cooking liquid to a container. Refrigerate the cooking liquid.

Use two forks to shred the meat into pieces as large or fine as you like. You can also use your hands if you use heavy duty heat proof gloves to protect yourself from the hot meat. Add as much additional barbecue sauce as you like to as much of the meat as you like. You can save most of it plain, and just barbecue sauce up what you are serving at that time.

When the fat has risen to the top of the cooking liquid, after a minimum of 30 minutes, remove the fat from the top, and then reheat and and mix in the cooking juices with the pork as desired. You can use a mixture of cooking juices and barbecue sauce, and you can introduce any new types of barbecue sauces you like (read recipe intro for more on that!)
Nutrition Information
Calories:
470
kcal
|
Carbohydrates:
23
g
|
Protein:
51
g
|
Fat:
17
g
|
Saturated Fat:
7
g
|
Cholesterol:
163
mg
|
Sodium:
764
mg
|
Potassium:
1055
mg
|
Fiber:
1
g
|
Sugar:
19
g
|
Vitamin A:
128
IU
|
Vitamin C:
1
mg
|
Calcium:
57
mg
|
Iron:
4
mg
The nutrition values are provided as an estimate. It is not intended as a substitute for the advice of a qualified healthcare professional.
Made this recipe? Post a photo of your delicious creation on Instagram with our hashtag #dinnersolved