This post may contain affiliate links. Please read our privacy policy.
Canned Bean Recipes
We have the beans, now we need the inspiration. And the inspiration had better be doable on a budget and with what we have on hand. I hear this. I am living it, too. Even if money isn't an issue (and it surely is for a growing number of people), deliveries are hard to come by, and everyone is trying to avoid extra trips to the market. So cooking from what we have on hand is the name of the game, and you, my friend, are going to be a whiz at it by the time this is all done.
Did you know that beans are part of the "pulse" family? Pulses are a healthier subcategory of legumes, that includes dry peas, lentils, chickpeas and beans. Interesting fact: The Latin word "pulse" means thick soup… which of course is one of the many uses for beans and other pulses.
You know pulses are delicious, sustainable and super affordable. But you may be used to using beans, in particular, in a few select ways, and need some fresh ideas to put this superfood to work.
Here are 10 bean, chickpea and lentil recipes that not only take advantage of what you likely have in your home already, but are very adaptable, basically springboard recipes ready to be adjusted as needed.
Average Nutritional Value of 1 Cup Beans:
15 grams protein
45 grams carbs
16 grams fiber (20% Daily Value)
8% Calcium Daily Value
21% Magnesium Daily Value
21% Potassium DV
60% Folate Daily Value
230 Calories
---
10 Super Flexible Pantry Bean Recipes
There's plenty going on in this chickpea salad recipe, so feel free to leave out anything you don't have or don't like.  If the olives are not your jam, or if roasted red peppers aren't in the cards jettison them, or you don't have tomatoes or avocados, just make this without. 
Use any vinegar you have in the dressing, or use a different dressing recipe, or use bottled vinaigrette if that's what's available.  You can also add other items in, like diced young zucchini or summer squash, or celery.
---
This is a household favorite.  You can use either chipotles in adobo, or chili powder (and if you have the chili powder blend which is the most common, great, and if you happen to have a single type of chili powder, like ancho, use that, and maybe add a bit more oregano or cumin.  Conversely if you don't have oregano or cumin, think about adding a bit more chili powder blend). 
The bell peppers and carrots are nice-to-haves, but not critical to the dish, and you can leave out both or one, and bump up the amount of the other.  Garlic powder and onion powder are possibilities instead of fresh – use about 2 tablespoons onion powder, and 2 teaspoon garlic powder and add those with the other dry spices.
Use whatever cheese you have, if you even want to use cheese at all (no cheese, and this is a vegan dish).   You can top the beans with crumbly white Mexican cheeses like cojita or queso fresco or you could use any kind of shredded cheese from cheddar to Monterey Jack, to Pepper Jack.  Also a bloop of Greek yogurt or sour cream if you have it in the fridge.
---
Tahini and lemons and cumin and garlic are the basic ingredients in hummus, other than canned or cooked chickpeas.  But you can make yourself a perfectly fine chickpea dip even if all of these ingredients aren't at your disposal.  
If you have no tahini, but you have sesame oil, use a couple of tablespoons of that instead (see this sesame oil tahini recipe for proportions).  No cumin, fine, maybe a bit of paprika or a pinch of cayenne or both.  Maybe even allspice or ground coriander.  Any citrus juice will add sparkle, whether it's bottled or fresh, or add a splash of vinegar for acidity if you don't have lemons or limes.  Garlic powder or onion powder instead of fresh garlic will work in a pinch. 
---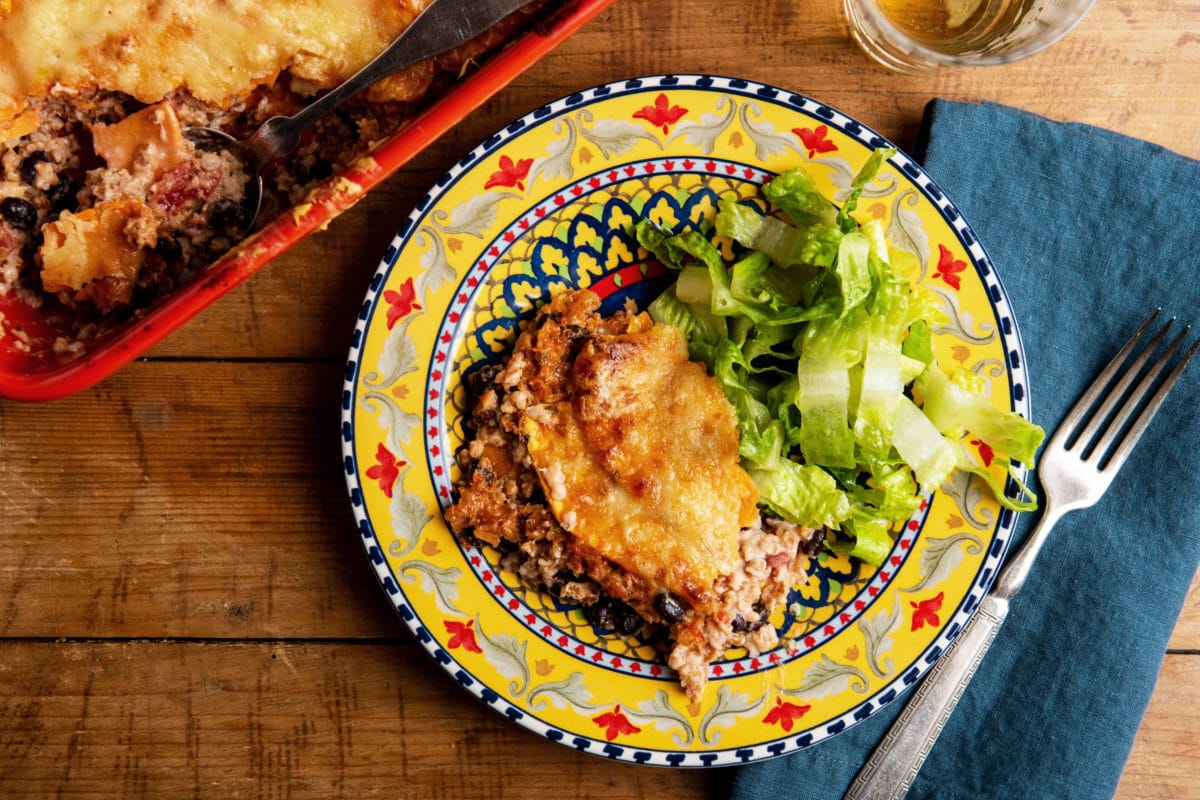 Cooked bulgur wheat is layered into a casserole with sweet potatoes, lightly spicy black beans, and melty cheese, then baked. You could really use any cooked whole grain you like here: brown rice, quinoa, or couscous, for instance. If it's not tomato season, you can substitute diced canned tomatoes – I've done both, and both work just fine.  
And I've used all kinds of cheeses here from Munster to gruyere, and they also work fine, and give the casserole a different personality every time you make it.  You could use butternut squash instead of the sweet potatoes as well, and use the hot sauce of your choice in place of the chipotles in adobo.
---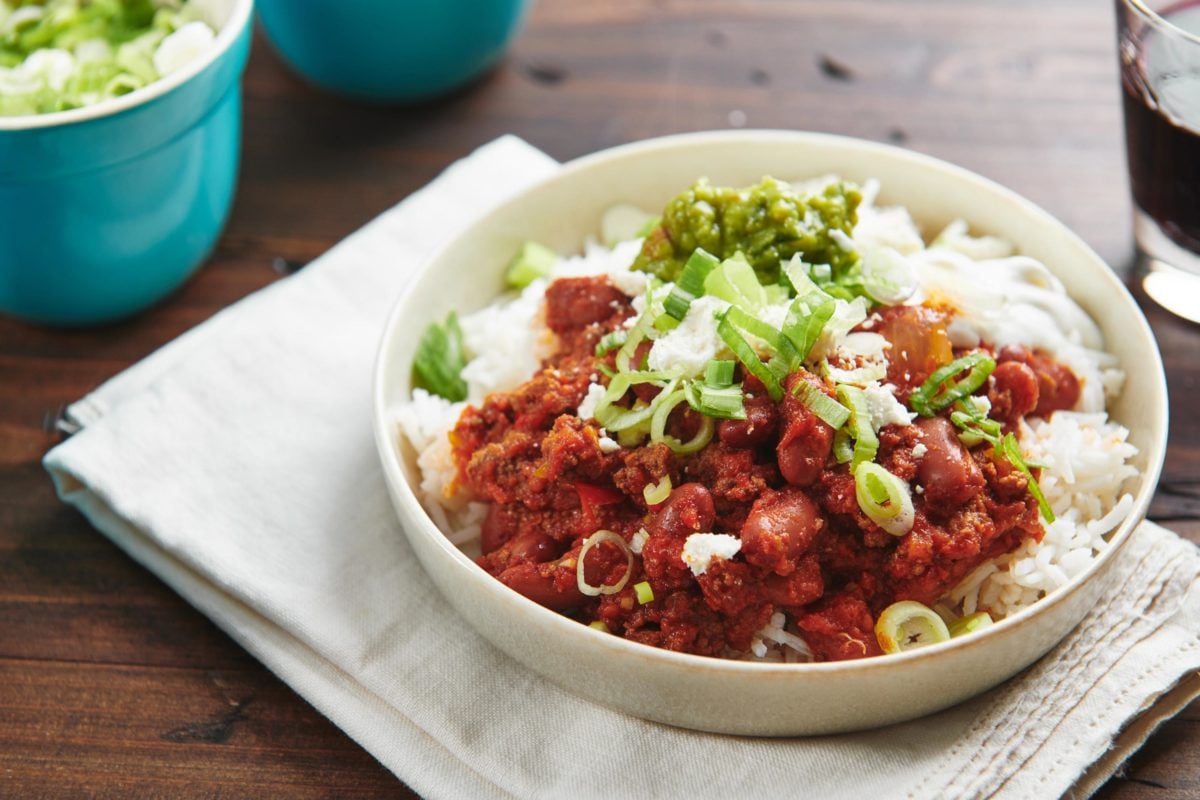 Chili is imminently flexible. I used kidney beans (classic) in this chili, but you can use any beans you like, such as chickpeas, cannellini beans, black beans, pinto beans, or a combination. 
Use any color bell pepper you like, use any type of onion you have (or shallots), leave out the meat and add two more cans of beans for a vegetarian chili. Again, if you don't have fresh garlic, use garlic powder.
This is not a very spicy chili, just moderately spicy, so if you are interested in more heat you can add a shake or two of cayenne or a squirt of hot sauce. Maybe some minced jalapenos (leave some or all of the seeds in, the more seeds, the more heat), and/or bump up the amount of chili powder and garlic in the recipe.  You can also offer sliced fresh or jarred jalapeno peppers as a topping choice for those looking for more spiciness.
---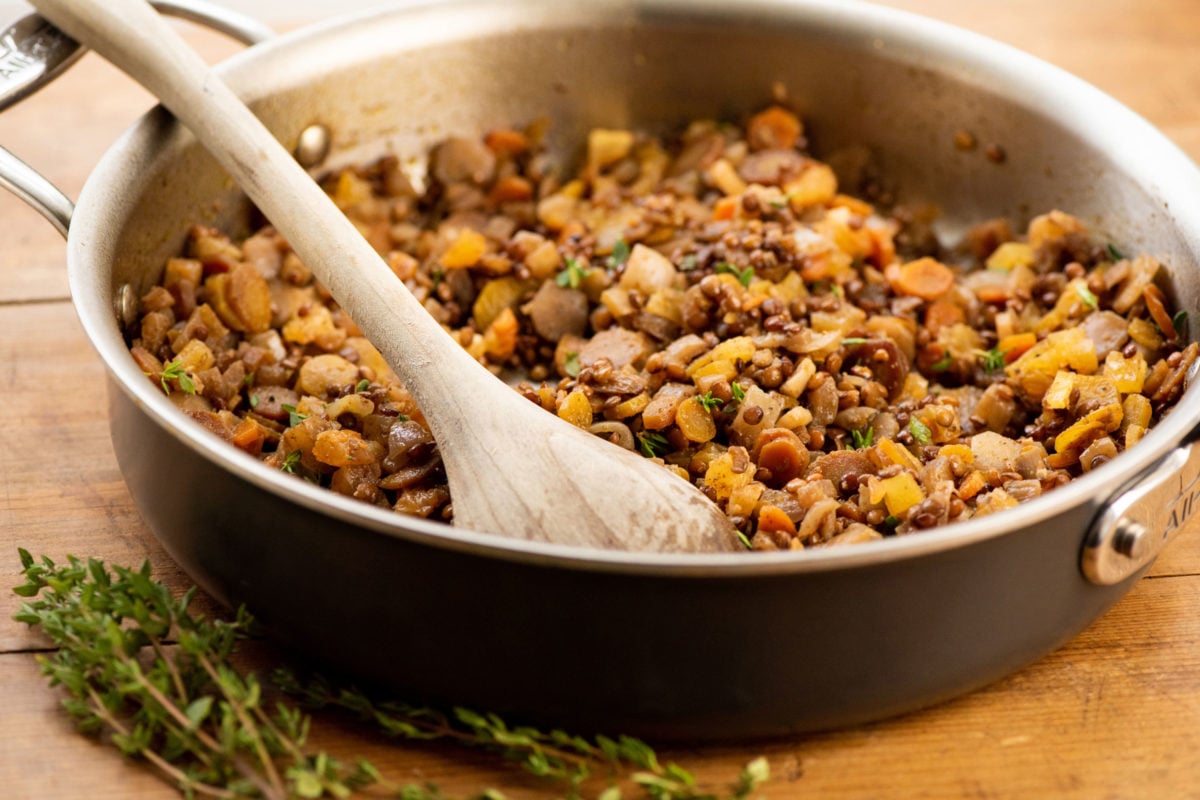 Lentils are a terrific dry pulse to have on hand because they require no soaking before cooking, and they cook up relatively quickly.  You can also use canned lentils if you prefer, just skip the part where you cook the lentils in the vegetable broth and add the rinsed canned lentils at that point.  
Dried apricots are just a suggestion; any dried fruit you have around from raisins to cranberries would be excellent.  If you don't have dried fruit, maybe go in a different direction, and add a handful of chopped nuts or sunflower or hulled pumpkin seeds to the mix.  Change up the spice profile as you like with whatever spices you have in the pantry.  
---
You can make a three bean salad made with simply three beans and the addition of some bottled vinaigrette and nothing else, and mission will be accomplished.  But adding in some extras makes the salad feels more texturally interesting and lighter as well.   Use any three beans you have, and hey, if you only have two types of beans, or even one, that's ok.  Add a couple of handfuls of any cooked whole grains you have, from spelt to farro to barley to plain old rice.   
Change up the fresh herbs, leave them out, or add ½ to 1 teaspoon of the dried herbs of your choice to the dressing (you can just add herbs to bottled dressing, or make your own with whatever vinegars and oils you have at home).   
Canned hearts of palm are optional, and any member of the onion family (scallions, onions, garlic, shallots) would be a-ok.  Throw in any leftover vegetables you want to use up.
---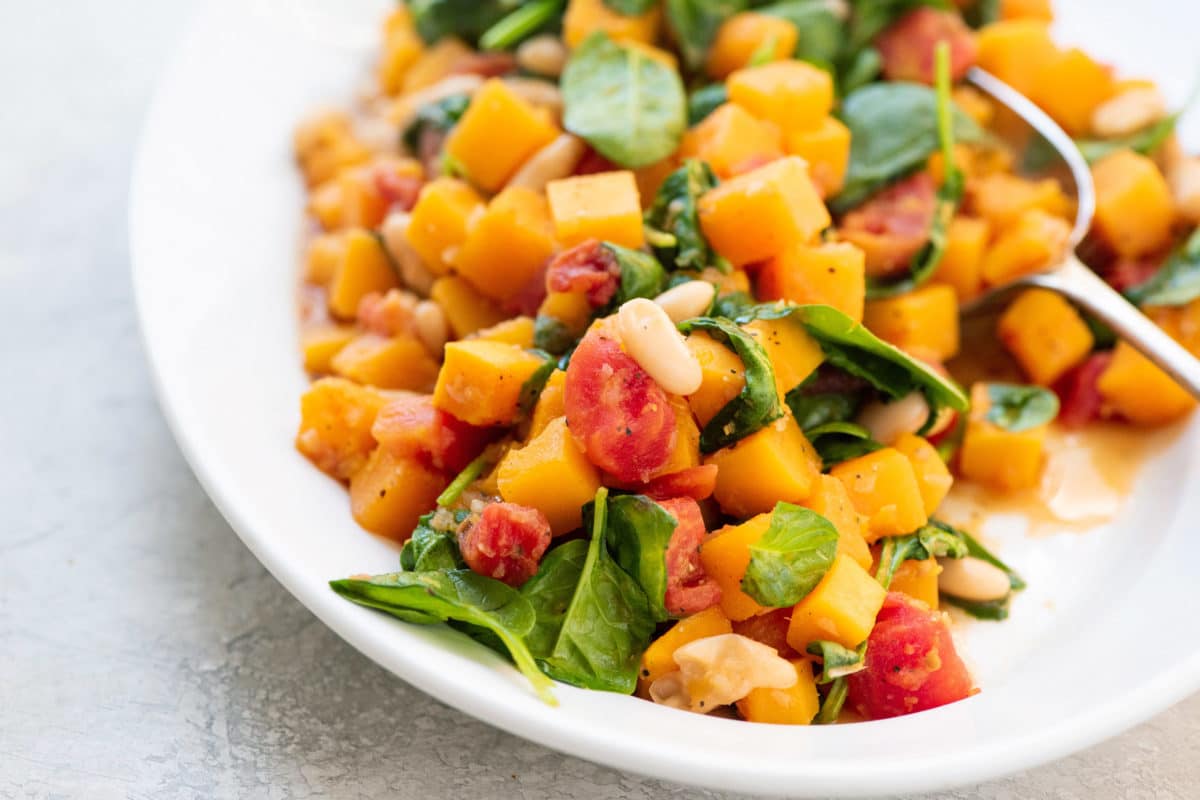 This is a medley of canned beans, canned tomatoes, sturdy winter squash, and spinach, and it's very easy to play with.  Use any greens instead of the spinach, or leave it out.  You can used other winter squashes in place of the butternut, or perhaps sweet potatoes instead.  If you don't have diced tomatoes, use crushed, or shop up some whole canned tomatoes.  Use onions instead of shallots if you like.
---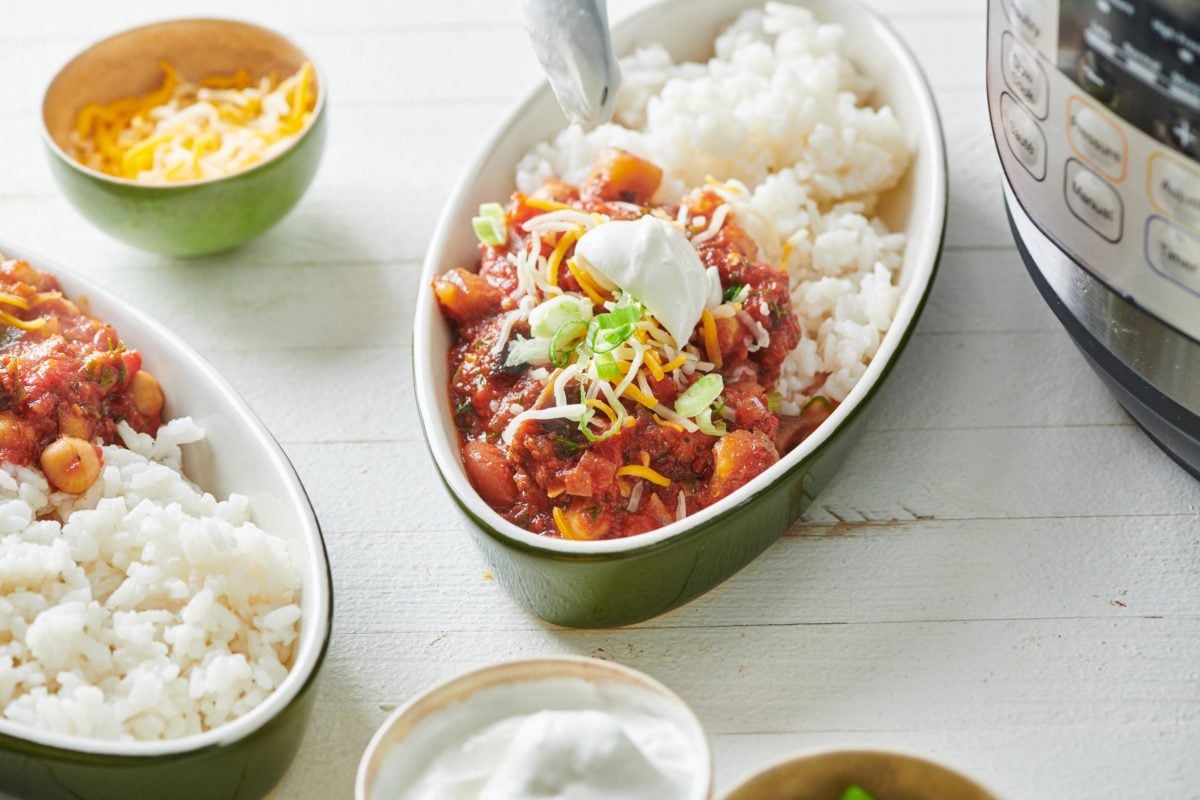 Another chili, but this one takes advantage of the Instant Pot.  Again, whatever beans you have will work, and you can play around with the vegetables.  The chili powder is the only spice truly needed to make it chili, the others can be left out if you don't have them around.  And if you have dried dill, add 1 teaspoon of that along with the other dried seasonings – dried dill packs serious flavor, so you don't need too much.  
Skip the fresh tomatoes if they aren't in season or available, and add an extra 35-ounce can of tomatoes to the mix.  
Use other bell peppers if you don't have green, or leave them out, or replace with 1 cup chopped carrots.  1 teaspoon of garlic powder can be subbed in for the fresh garlic.  And even better – make this on the stovetop if you don't have an instant pot, just simmer away for about an hour until it smells and tastes like chili.
---
High in fiber, full of protein, low in fat, a little chewy, a little crispy. This is a snack that we can all love and feel good about.  All you need is olive oil, salt, and your oven.  But if you want to season this up in various ways, it's a fun place to explore all of those spices in the pantry that haven't been used in a while.
---
If you're interested in more pulse recipes and tips, head over to Pulses.org for cooking guides, unique meal ideas and more.