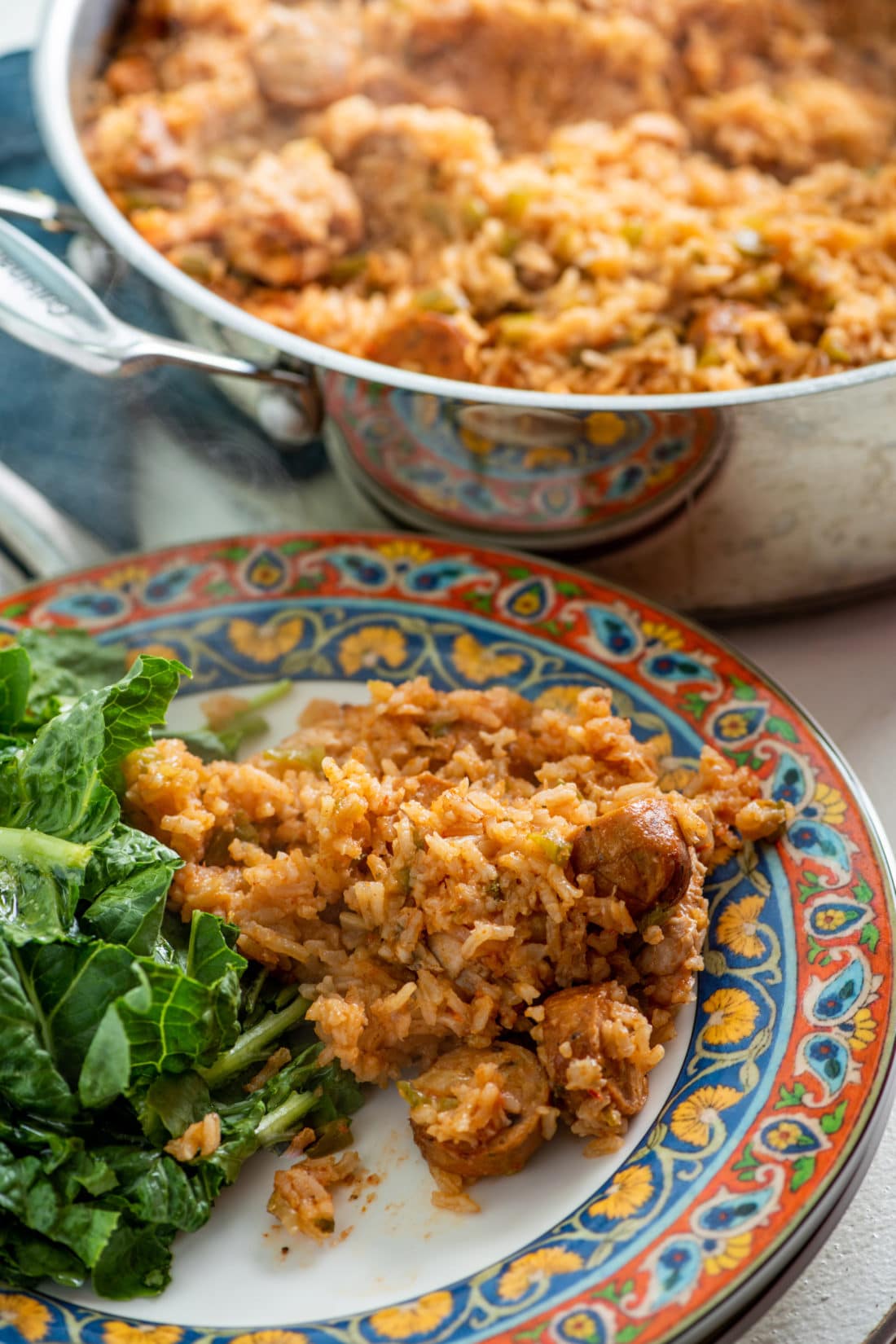 What is Jambalaya?
One of the most classic dishes of Louisiana, and of New Orleans, Jambalaya is a wonderful, irrepressible medley of rice, sausage, chicken, sometimes pork or seafood, and vegetables (including the "trinity" – onions, green peppers, and celery). It is one of the most loved dishes of the region and for very good reason.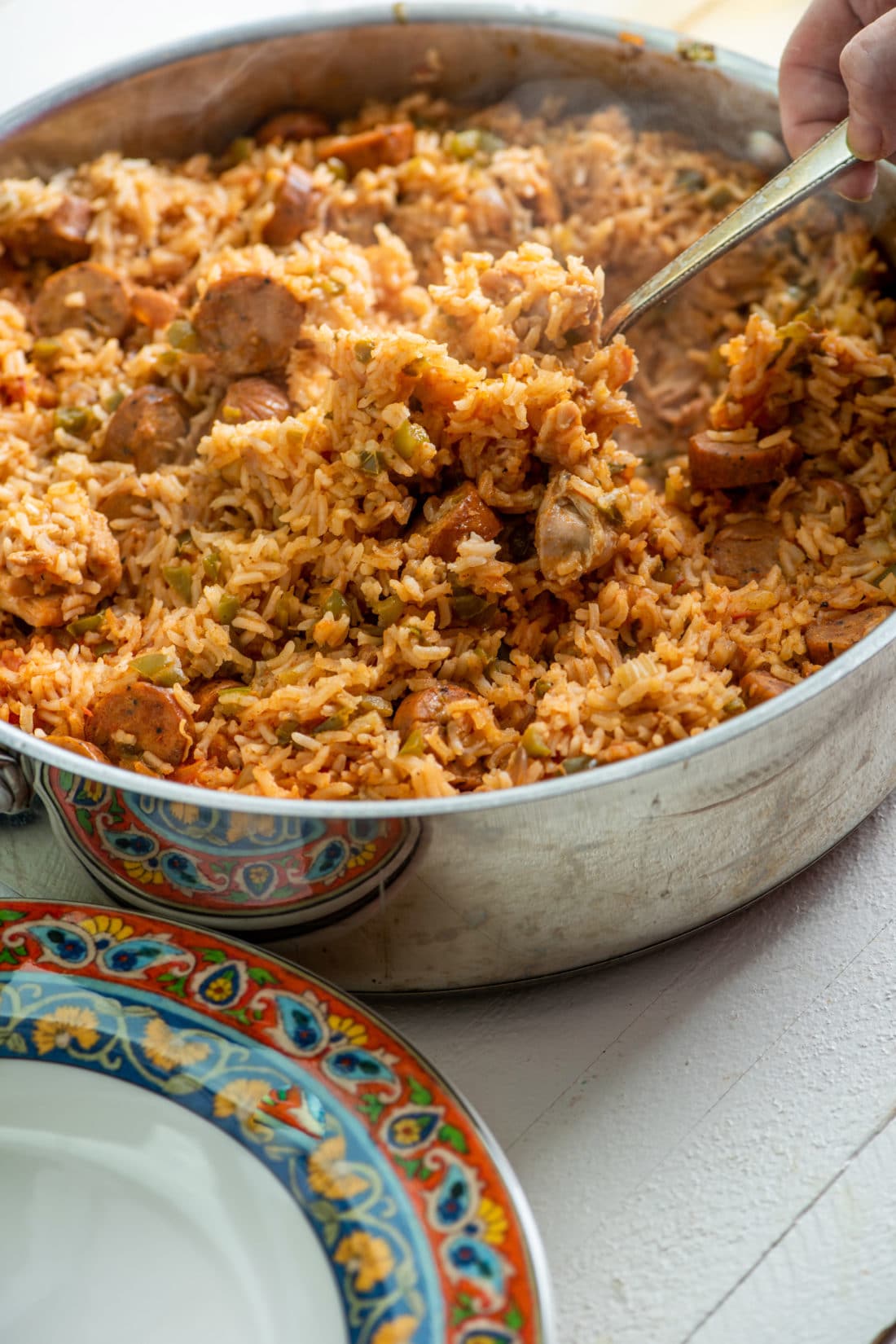 A Brief History of Jambalaya
The folks at Zatarain's, who know a thing or two about all things Creole and Cajun food, explain the history of jambalaya: Saffron was virtually impossible to come by in New Orleans in the 1780s, which meant Spanish colonists were unable to make their beloved paella. A mix of local seasonings was created, Andouille sausage evolved from sausages introduced to South Louisiana by German immigrants, chickens and seafood abounded, and so, jambalaya was created.
What is the Difference Between Jambalaya and Gumbo?
Jambalaya has rice mixed right into the dish, whereas Gumbo is served over rice. Both dishes might include sausage, chicken, and/or shrimp, not to mention a base of onions, peppers and celery. There are as many similarities as there are differences, and this — like all regional dishes with deep and varied roots — is but one take on jambalaya. And admittedly a shortcut take by a Northerner — but boy, it's good.
Is Jambalaya Creole or Cajun?
Jambalaya can be either Creole or Cajun in its roots, and sometimes the lines get blurred. This one is a bit more Creole, with its reddish color coming from crushed tomatoes, and other Creole jambalayas often feature shrimp. Cajun versions of jambalaya trend to be browner in appearance, with no tomatoes.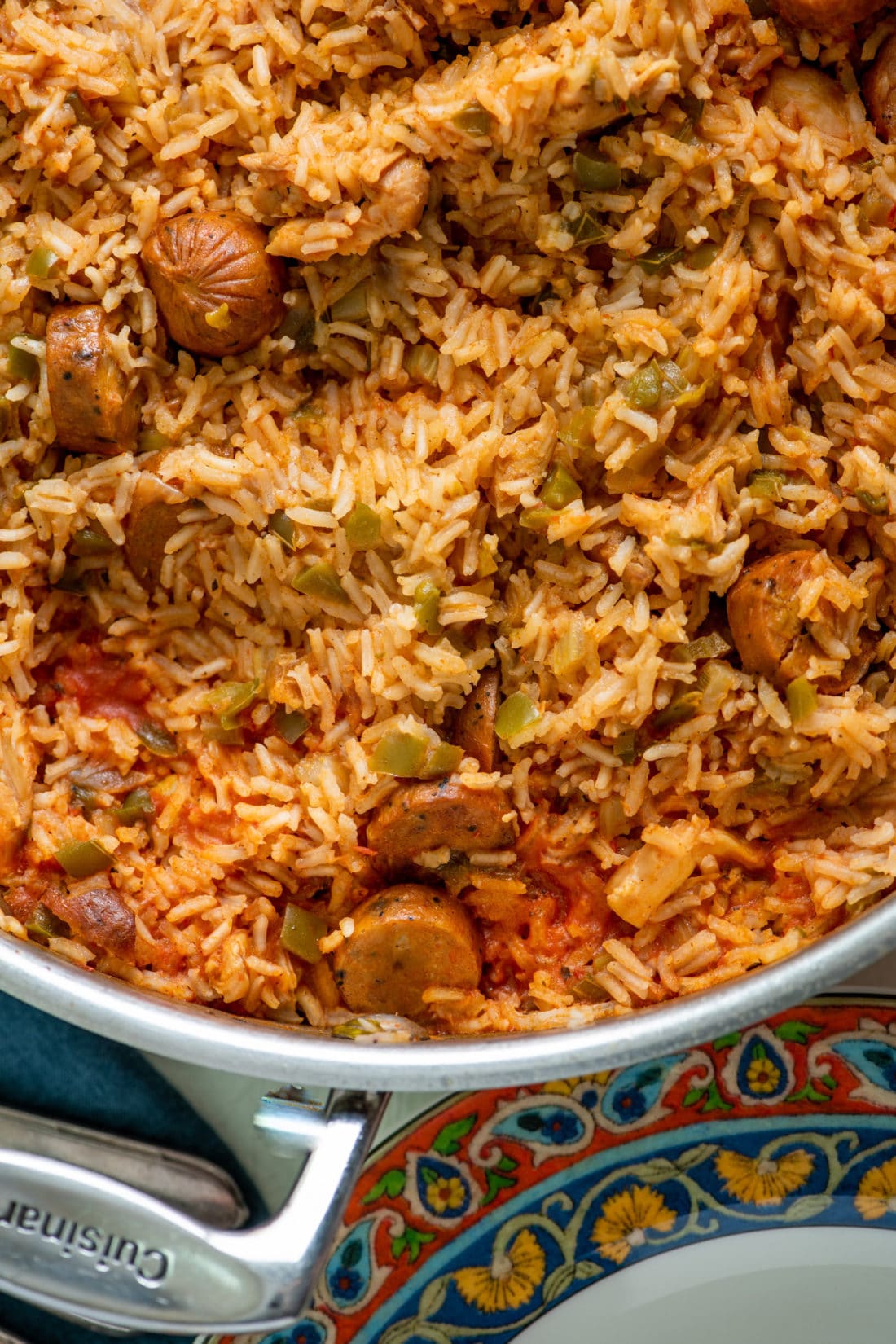 The name comes from the Provencal word "jambalaia" meaning a mix or mashup, and reflects its unique blend of flavors. Creole seasoning and a healthy dose of cayenne pepper make this a dish that sits up front and center in your mouth, but you can tone down the seasonings as you wish.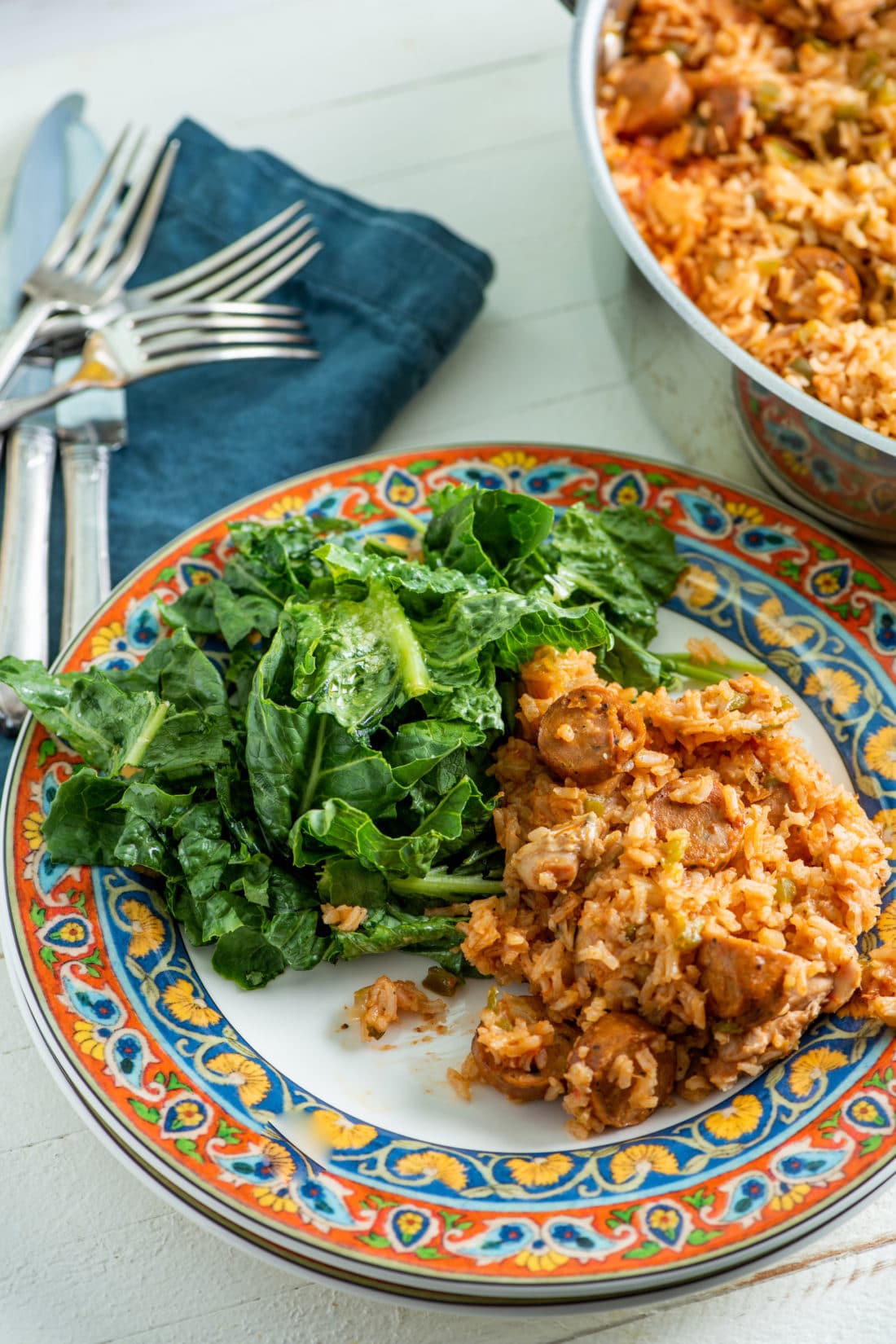 Easy Chicken and Sausage Jambalaya
Chicken and sausage are very classic meats used to make jambalaya. Sometimes the meats are browned and then removed from the pan, and added back into the mix later after the vegetables are sautéed and the rice and liquid have been added. This is a nice step when you have the time, but in this shortcut version we skip it, and no one will be the wiser.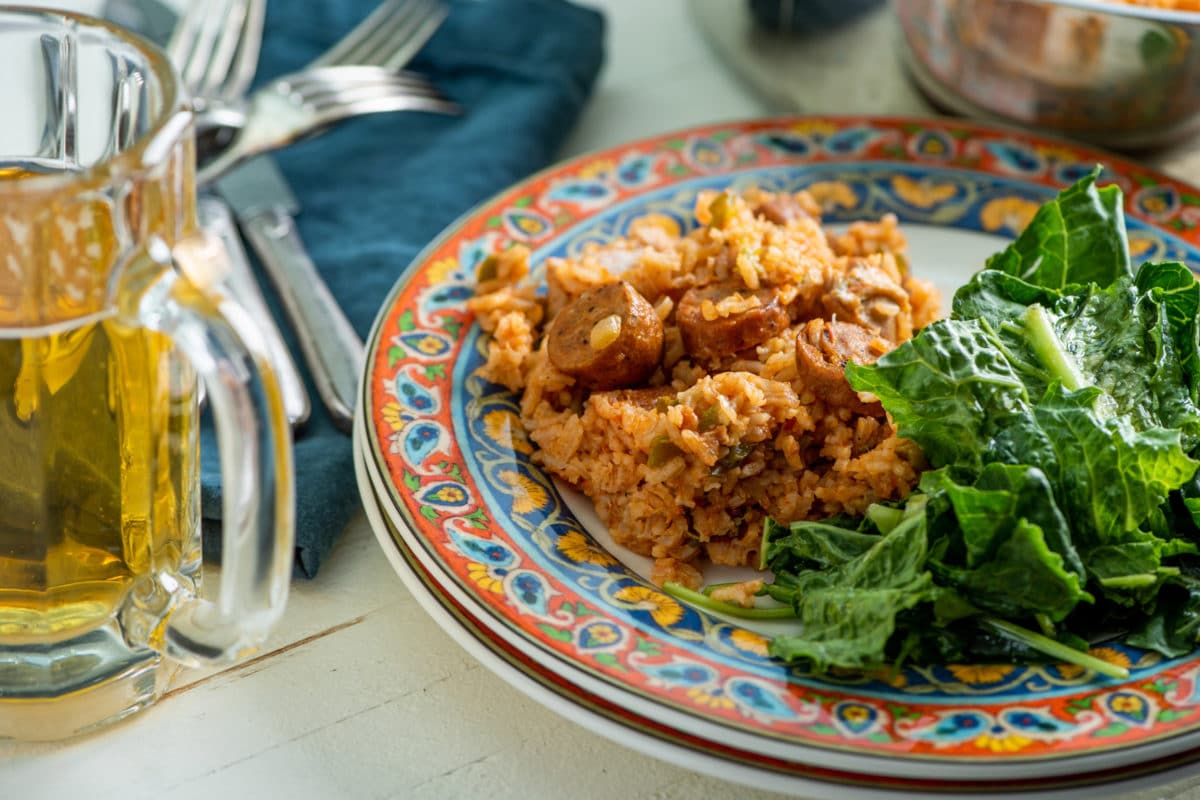 Shortcut Chicken and Andouille Jambalaya: The classic Louisiana dish, but simple enough to make on a weeknight.

Tweet This
Andouille Sausage in Jambalaya
Andouille sausage is the classic sausage used to make jambalaya. Even though the sausage is cooked, it still get browned in the pan.  This helps release it's flavors into the pan, and therefore flavor the entire dish more fully.  Some andouille sausages are quite spicy so know your audience as you make your selection, and adjust the amount of Creole seasoning and cayenne accordingly.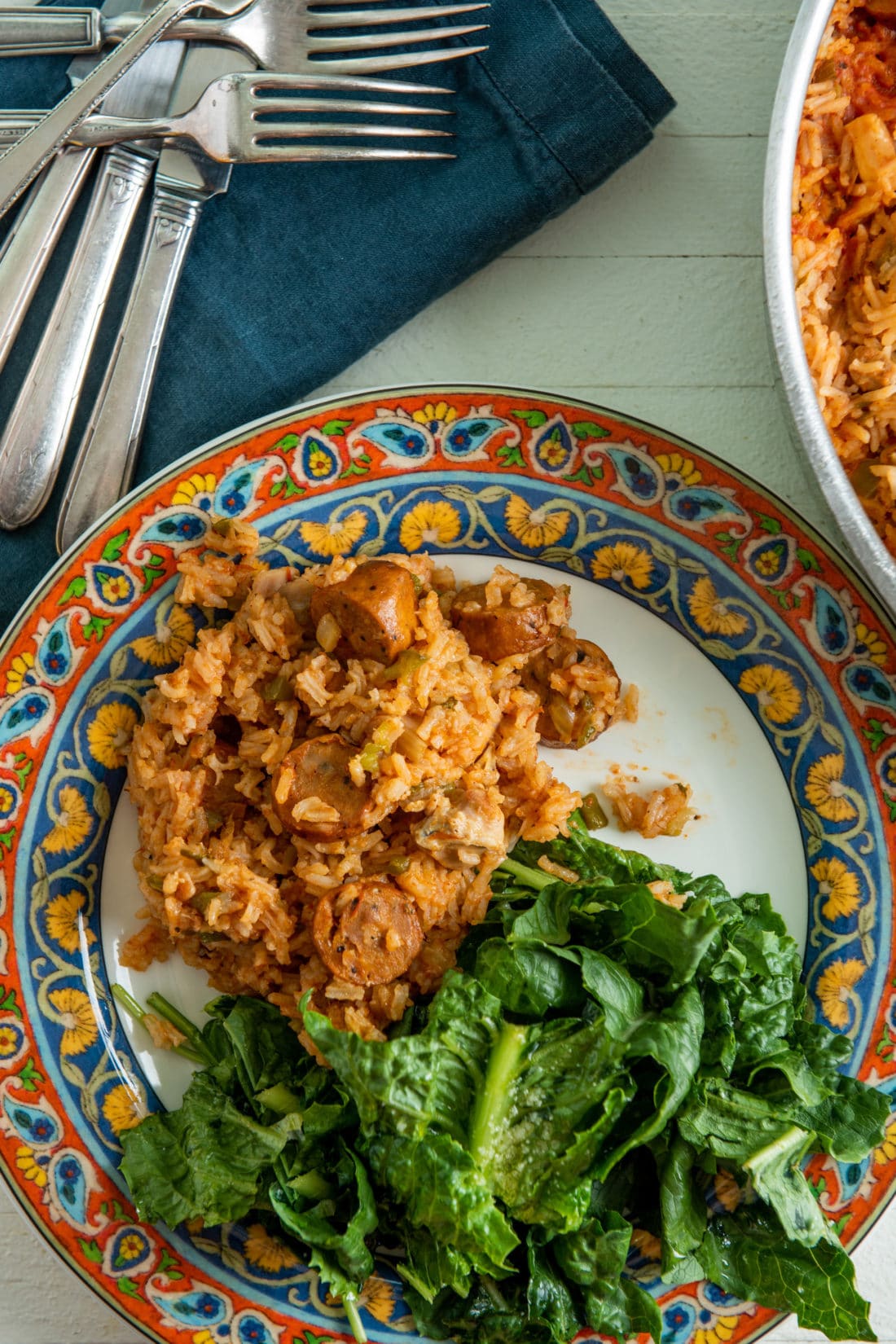 What to Serve with Jamabalaya:
You can absolutely serve the Jambalaya on its own – it's good protein, vegetables and starch all built right in, but these side dishes would pair up perfectly.
More One Dish Recipes:
Like this recipe? Pin it to your favorite board on Pinterest.

Pin This
Shortcut Chicken and Andouille Jambalaya
The classic Louisiana dish, but simple enough to make on a weeknight.
Ingredients
1

tablespoon

vegetable oil

1 ½

pounds

Zatarain's Andouille Smoked Sausage

cut into 1/4-inch slices

1 ½

pounds

boneless

skinless chicken thighs, trimmed and cut into 1-inch cubes

2

onions

chopped

2

green peppers

cored, seeded and diced

4

ribs celery

diced

½

cup

sliced scallions

or green onions, white and green parts

2

tablespoons

minced garlic

2 ½

cups

long grain rice

1

tablespoon

plus 2 teaspoons Zatarain's Creole Seasoning

½

teaspoon

cayenne pepper

or to taste (start with less if you are not into hot!)

1

14-ounce can crushed tomatoes

3 ½

cups

chicken broth
Directions
Heat the oil in a very large deep saucepan over medium high heat. Cook the sausage for about 5 minutes until browned. Add the chicken and continue to cook until the chicken is lightly browned, but not cooked through, about 5 more minutes. Add the onions, peppers, celery, scallions, and garlic and sauté for another 5 minutes, until the vegetables have started to soften.

Stir in the rice,

, and cayenne pepper and stir until the rice is well coated with the mixture. Add the crushed tomatoes and broth and stir well. Bring the mixture to a simmer, then lower the heat to low, cover the pan, and keep at a gentle simmer for about 25 minutes until the rice is tender and the liquid has been absorbed.
Nutrition Information
Calories:
537.87
kcal
|
Carbohydrates:
44.67
g
|
Protein:
33.48
g
|
Fat:
24.23
g
|
Saturated Fat:
8.39
g
|
Cholesterol:
100.02
mg
|
Sodium:
1002.15
mg
|
Potassium:
797.99
mg
|
Fiber:
2.49
g
|
Sugar:
3.53
g
|
Vitamin A:
507.98
IU
|
Vitamin C:
32.47
mg
|
Calcium:
57.56
mg
|
Iron:
2.61
mg
The nutrition values are provided as an estimate. It is not intended as a substitute for the advice of a qualified healthcare professional.
Made this recipe? Post a photo of your delicious creation on Instagram with our hashtag #dinnersolved