This post may contain affiliate links. Please read our privacy policy.
I do not want to oversell this sandwich, because I want you to bite into it, and close your eyes, and have that moment where time stands still, and you realize that true beauty exists in the world.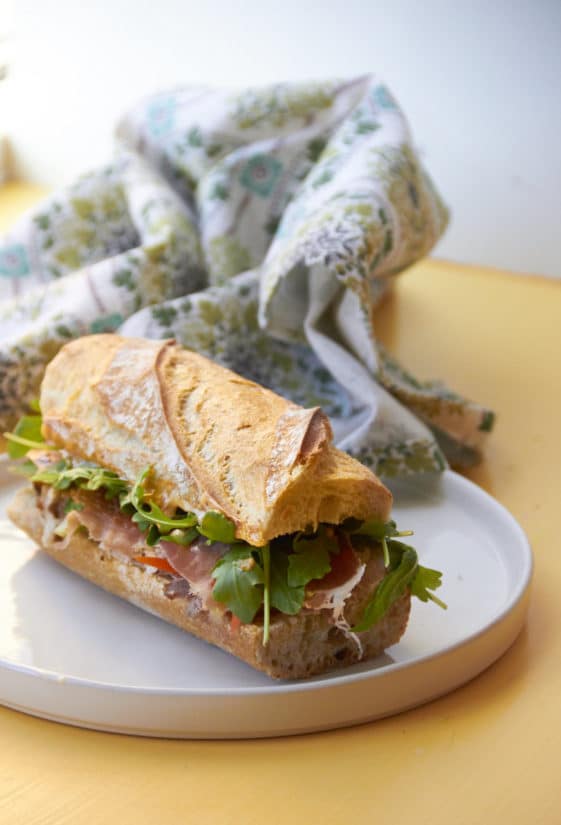 How did I do on the not overselling thing?
The very minute you think that you might make a pork roast of any kind, make very sure to make extra, for these sandwiches. And then make very sure to go out and buy some Parma Prosciutto (this is a sponsored blog post by the Prosciutto di Parma Consorzio; they asked, and the word yes could not come out of my mouth fast enough).
What is Prosciutto?
What is so great about this ham, which by law can only be made in the beautiful countryside surround Parma Italy? The ham is made from selected legs of pork, slow cured with sea salt, and the process is very carefully controlled so the end product is always sweet and delicious, with a wonderful texture.
The flavor and texture will range depending on how long the prosciutto has been aged, ranging from a more delicately flavored and softer 12-month prosciutto (the minimum time the pork needs to be aged according to the strict rules of the Consorzio) to 36 months.
In short, look for the crown on the label, which lets you know you are buying the king of hams, authentic Prosciutto di Parma. If possible, buy it sliced to order, though pre-sliced is an option in many supermarkets around the country.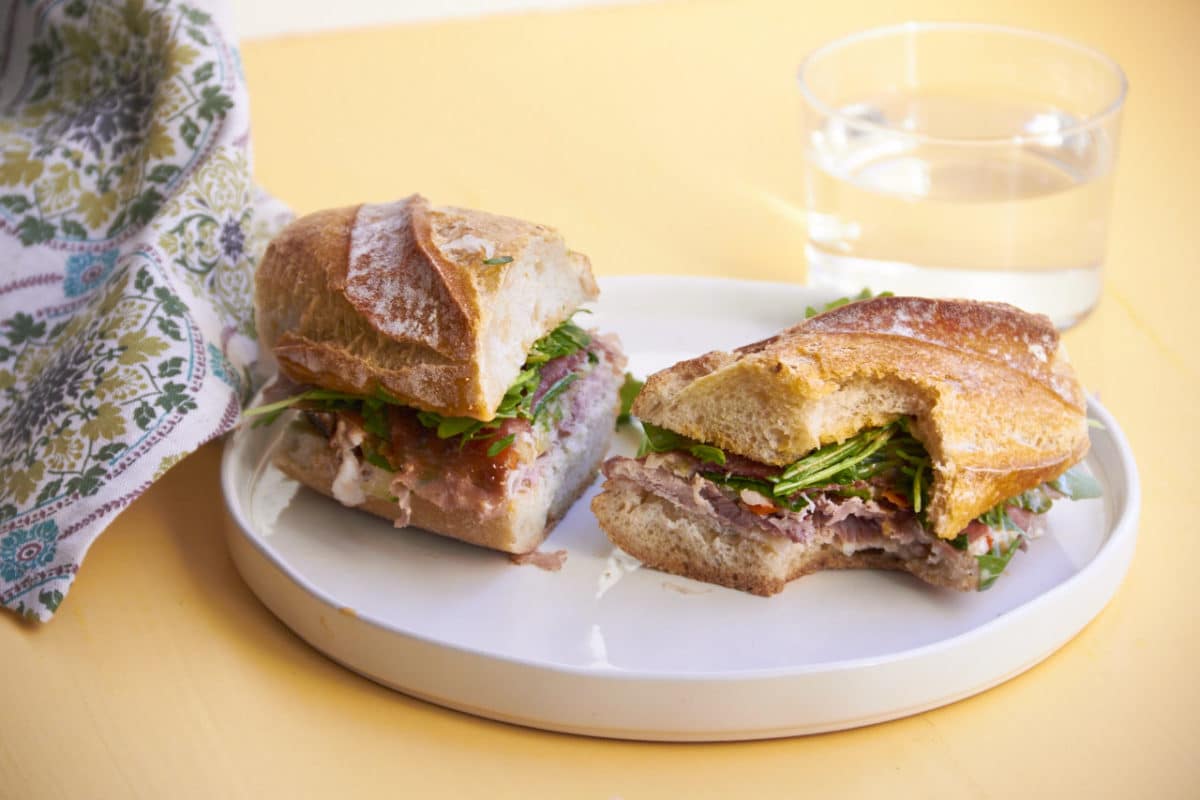 Now, back to the magical, delicious, texturally amazing, balanced, intriguing sandwich. Which, you know, I hope you like.
Prosciutto in Banh Mi
It's a take on a banh mi, which is a French Colonial Vietnamese sandwich built on a baguette, with some sort of cold cuts or roasted meat, often pork, a variety of vegetables, perhaps a mayo-based slather of time sort. Anyway, I decided to take the leftovers from a fall-apart-cooked pork shoulder, make up a quick pickle of shredded veggies, and build a version of banh mi with Parma Prosciutto and a hefty handful or arugula.
Then the next week, I roasted another 6-pound pork shoulder and bought some more prosciutto. Just so I could make this sandwich again. All hail the king of ham.
Other Delicious Sandwich Recipes:
Like this recipe? Pin it to your favorite board on Pinterest.

Pin This
Prosciutto and Pork Banh Mi
Prosciutto, slow roasted pork, and a pile of pickley vegetables makes this sandwich something to daydream about.
Ingredients
For the Slaw
½

cup

shredded carrot

½

cup

halved and very thinly sliced seeded cucumber

¼

cup

shredded daikon radish

¼

cup

slivered or chopped scallions

2

tablespoon

unseasoned rice vinegar

1

tablespoon

fish sauce

Kosher salt and freshly ground pepper

to taste

2

tablespoons

torn fresh mint leaves

2

tablespoons

fresh cilantro leaves

optional
For the Spicy Mayo
⅓

cup

mayonnaise

1

tablespoon

gochujang

Sriracha or other hot chili sauce (or to taste)

½

teaspoon

fresh lime juice
For the Sandwiches
4

6-inch pieces baguette

8

thin slices cooked pork roast or loin

warm or at room temperature (about 3/4 pound total)

4

large thin slices Prosciutto di Parma

1

cup

baby arugula
Instructions
In a large bowl combine the carrot, cucumber, daikon, scallions, vinegar, fish sauce, and salt and pepper. Stir to combine. Then (ideally) refrigerate for 1 to 2 hours to let the vegetables pickle slightly. Stir in the mint and cilantro.

In a small bowl combine the mayonnaise with the hot chili sauce, and the lime juice. Season with a bit of salt.

When you are ready to assemble and serve the sandwiches, halve the baguette lengthwise. Place ¼ of the pork on the bottom of the baguette, cutting the pork to fit the baguette. Layer on some of the slaw, then drape a pieces of prosciutto over the slaw. Top with ¼ of the arugula. Swipe the top of the baguette with the spicy mayo and place the bread on top.
Notes
Note:
The cilantro is, as it always is, optional, since there are lovers (me and Charlie) and haters (Gary and Jack) in every crowd. Play around with the herbs, too – chervil is great, so is basil.
Nutrition
Calories:
972
kcal
,
Carbohydrates:
130
g
,
Protein:
43
g
,
Fat:
30
g
,
Saturated Fat:
6
g
,
Cholesterol:
67
mg
,
Sodium:
2116
mg
,
Potassium:
777
mg
,
Fiber:
8
g
,
Sugar:
4
g
,
Vitamin A:
2974
IU
,
Vitamin C:
6
mg
,
Calcium:
223
mg
,
Iron:
8
mg
Nutrition information is automatically calculated, so should only be used as an approximation.
Like this? Leave a comment below!