Plain old mashed potatoes are always brilliant, and it's hard to imagine a Thanksgiving table without them. Still and all, every once in a while we like to change things up. But not too much. Here, a small amount of Parmesan cheese adds earthiness and nuttiness to smooth, creamy potatoes, and turns a traditional side into something inspired with no extra work. Go easy on the salt, and taste at the end. Parmesan also adds a bit of saltiness to this dish.
Note to the cook: when you add the milk mixture to the potatoes and stir, you will think "wait, that's too much liquid!" Don't worry: I promise it's the right amount. As the potatoes cook and sit they will thicken up.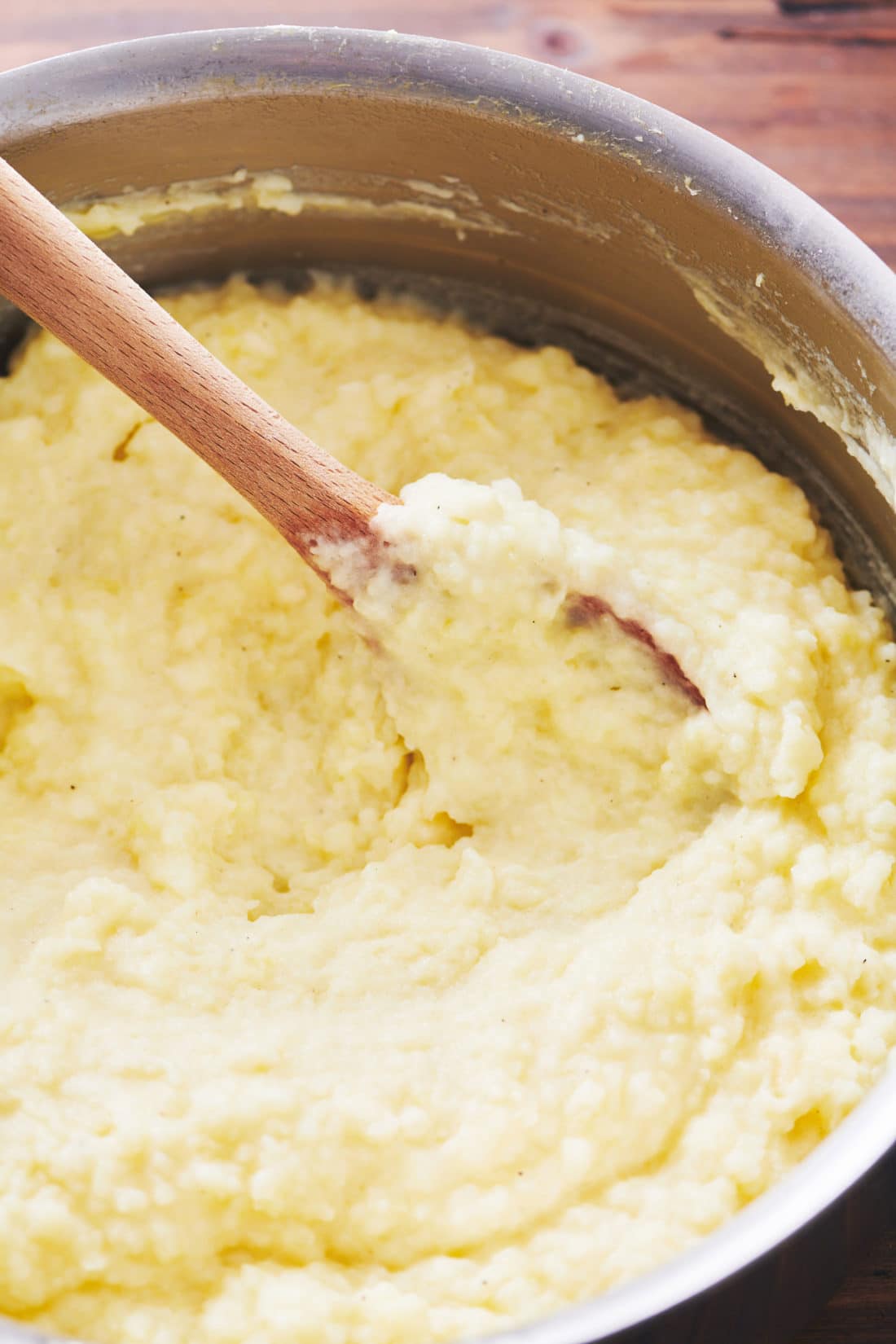 How to Mash Potatoes
There are several options for mashing the potatoes. You can use an old-fashioned potato masher, which will probably yield some lumps, which some of us like.
Another possibility is a potato ricer, which looks kind of like an oversized garlic press (see above). You put the potatoes in, press them through the fine-holed disk at the bottom, and the potatoes come out the bottom like a bit like grains of rice. Ricers often come with a couple of disks to insert in the bottom, one with finer holes, one with slightly larger holes. See which disk you prefer. Once one blend these little bits of potato with the milk and the butter and other ingredients they quickly turn into creamy mashed potatoes.
Classic mashed potatoes get a little more personality and flavor with the addition of a little Parmesan cheese. This is the ultimate comfort food.

Tweet This
There is also a food mill, which works similarly, only you crank the potatoes through the holes on the bottom disk with a handle. This tool is also good for pureeing things like cooked tomatoes or berries. It strains out the seeds and skin, only allowing the smooth fruit mixture to pass through.
How to Reheat Parmesan Mashed Potatoes:
You can make these ahead of time you can hold them, covered in the pot, for up to 3 hours, then reheat them gently over low heat, adding some more hot milk as necessary and stirring frequently. They can also be reheated in the microwave, just give them a stir every couple of minutes until they are hot throughout. the amount of time will depend on whether you are starting them from room temperature or from the fridge. It will also depend, of course, on your microwave.
What to Serve Parmesan Mashed Potatoes with:
Like this recipe? Pin it to your favorite board on Pinterest.

Pin This
Parmesan Mashed Potatoes
Classic mashed potatoes get a little more personality and flavor with the addition of a little Parmesan cheese. This is the ultimate comfort food.
Ingredients
Kosher salt for cooking the potatoes

plus more to season the potatoes to taste

3 to 3 ½

pounds

about 8 large Idaho or Yukon Gold potatoes, peeled and halved

1

cup

whole milk

½

cup

light or heavy cream or half and half

see Note

4

tablespoons

unsalted butter

cut into pieces, at room temperature

¼

cup

finely grated Parmesan cheese

Freshly ground black pepper

to taste
Directions
Fill a large stockpot with water and bring to a boil over high heat. Add a generous amount of salt, return to a boil, then add the potatoes (the water should cover the potatoes by at least 2 inches). Bring to a simmer, reduce the heat to medium and continue to simmer for 15 or so minutes, partially covered, until the potatoes are very tender when pierced with a knife.

Drain the potatoes and return them to the pot, and place them back over medium-low heat. Toss the potatoes in the hot pan occasionally for 3 minutes or so until the moisture is all gone and they have begun to dry out (but not to brown). Remove the pan from the stove, and put the potatoes through a ricer or a food mill, or mash with a potato masher until they are smooth, or as smooth as you like them. Return them to the pot. Meanwhile, heat the milk and the cream together in a microwave safe bowl or pitcher for about one minute, or in a small saucepan on the stovetop, until hot.

Add the hot milk and cream mixture to the potatoes along with the butter and stir with a wooden spoon or a whisk until well combined. Blend in the Parmesan. Add salt and black pepper to taste, and stir over medium low heat until everything is hot and well blended.
Nutrition Information
Calories:
292.35
kcal
|
Carbohydrates:
35.34
g
|
Protein:
9.98
g
|
Fat:
13.44
g
|
Saturated Fat:
8.28
g
|
Cholesterol:
38.9
mg
|
Sodium:
112.08
mg
|
Potassium:
1156.16
mg
|
Fiber:
6.61
g
|
Sugar:
2.11
g
|
Vitamin A:
436.46
IU
|
Vitamin C:
30.16
mg
|
Calcium:
180.68
mg
|
Iron:
8.61
mg
The nutrition values are provided as an estimate. It is not intended as a substitute for the advice of a qualified healthcare professional.
Made this recipe? Post a photo of your delicious creation on Instagram with our hashtag #dinnersolved