Pad Thai is one of the most popular dishes in Thailand and in Thai restaurants throughout the world, for excellent reason. It's amazing. It's a quintessential example of the homerun that is Southeast Asian food—a blend of hot and sour, salty and sweet. It provides your taste buds with plenty to keep them busy, and it's addictive.
The rice noodles are an interesting change of pace from traditional wheat pasta, springy and a little slippery. And the gentle tang of lime juice with a hint of sweetness from the sugar balances out the brininess fish sauce. If you have a squirmy eater at the table, perhaps avoid the words "fish sauce" which may not elicit cheers from your peanut gallery. Speaking of peanuts, of course skip them altogether if there are an allergies in your household.
Cubes of sautéed tofu are innocently tucked in amidst pink bites of shrimp.  Then in go chewy bits of dried shrimp (if you have them, if not skip it), a generous portion of scallions and carrots, and red pepper flakes.
If you are looking for a Vegetarian Pad Thai click here!
Key Ingredients in Pad Thai
Rice Noodles
These noodles are made with rice flour, instead of wheat flour, and very popular in all kids of dishes throughout Southeast Asia. Rice noodles need to be soaked versus cooked. They go from just cooked to mushy fairly quickly. They can be either soaked in warm water for some time, up to an hour, depending on the thickness of the noodle, or you stir them into boiling water for a few minutes until just barely soft.
Follow package directions for best results. Make sure to them drain and rinse under cold water to stop the cooking. They have a pleasant slightly chewy consistency.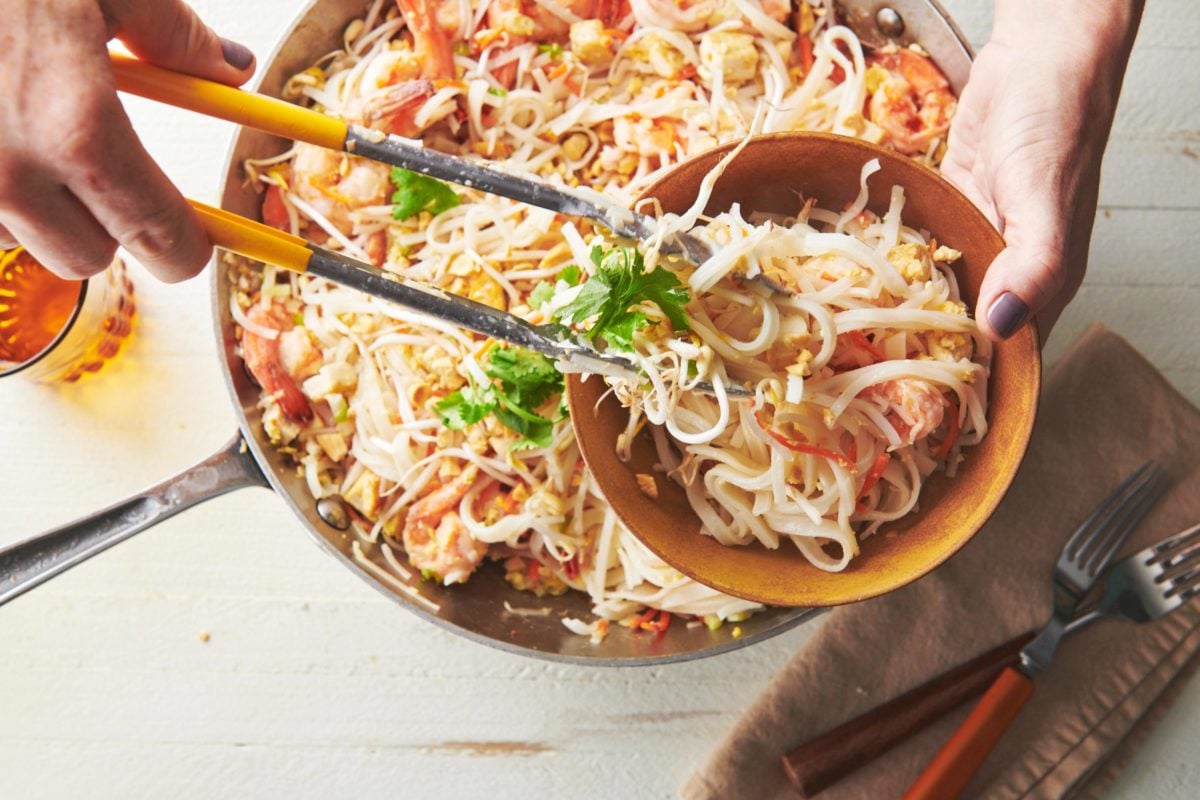 Fish Sauce
Fish sauce is usually made from just anchovies fermented in salt, and the initial fragrance can be intimidating. But the strong aroma fades during cooking, and a little bit adds fantastic, deep savory flavor with some saltiness. It's like soy sauce meets Worcestershire sauce, and it's a great key ingredient in Southeast Asian cooking.
Dried Shrimp
These are optional in this recipe! Dried shrimp are simply small shrimp that have been sun-dried and shrunk to a less-then-thumbnail size. They are used in lots of Asian cuisines, imparting a unique, deep umami taste. A small amount goes a long way, and only when the dried shrimp are heated do they release their flavor.
You absolutely can make Pad Thai at home that is every bit as delicious and flavorful as the Pad Thai you've had in Asian restaurants!

Tweet This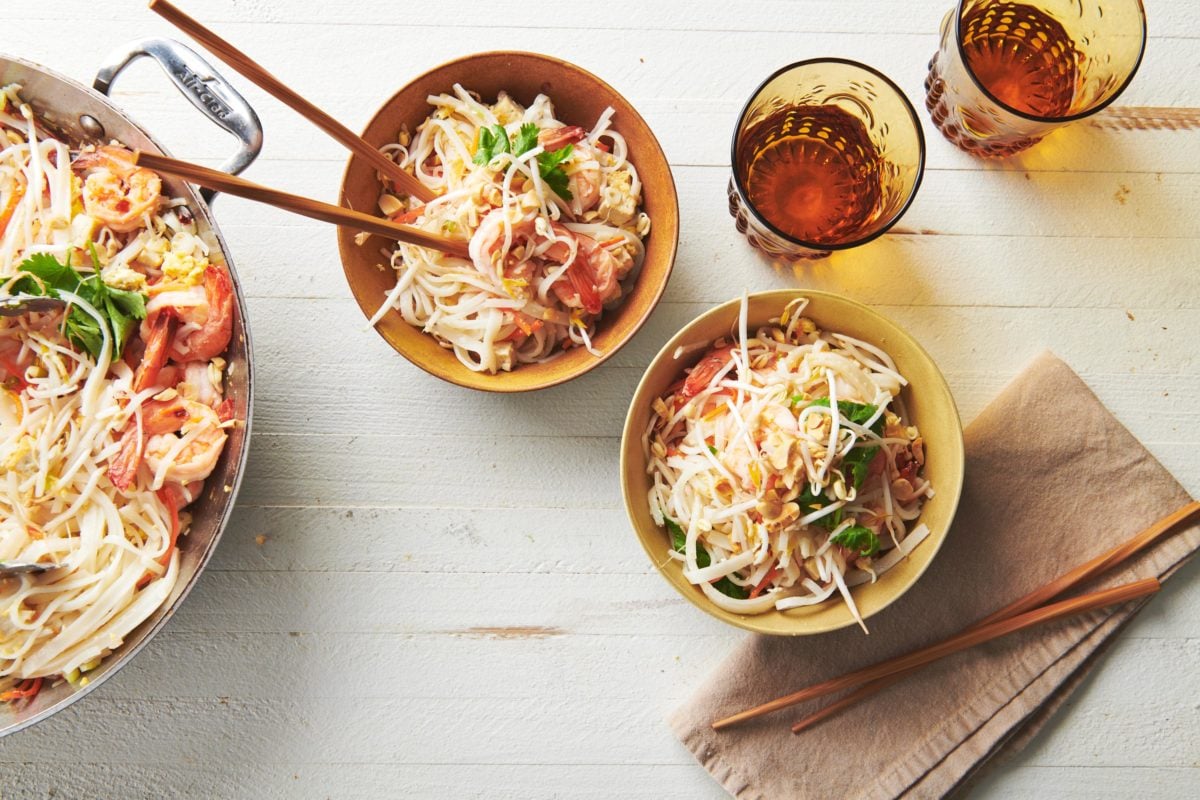 Tofu
Tofu is sold packed in water, so it's hard to get it really brown in the skillet. Pressing it helps. Place the block of tofu on a large flat plate, place a paper towel on top, then place a second plate on the paper towel. Place a heavy book or some cans of beans on the top of the plate, and let it drain for about 45 minutes. Pour off the liquid, and cut the tofu into 1/3-inch squares. Don't move them around too much when they are in the pan—you want to give the side that touching the pan a real chance to get golden brown.
Other Thai Recipes:
Like this recipe? Pin it to your favorite board on Pinterest.

Pin This
Pad Thai
You absolutely can make Pad Thai at home that is every bit as delicious and flavorful as the Pad Thai you've had in Asian restaurants! It's a simple noodle stir fry, made with accessible ingredients.
Ingredients
16

ounces

rice noodles

fettucine-like cut

4

tablespoons

canola or vegetable oil

divided

1

pound

firm or extra-firm tofu

pressed (see Note) and cut into 1/3-inch cubes

1 ½

pounds

medium shrimp

shelled and deveined

2

shallots

chopped

1

cup

shredded carrots

1

tablespoon

granulated sugar

3

tablespoons

fish sauce

3

tablespoons

lime juice

3

large eggs

lightly beaten

¾

cup

sliced scallions

both white and green parts

3

tablespoons

chopped dried shrimp

optional; available at Asian specialty markets

Red pepper flakes to taste

plus more to serve if desired

3

tablespoons

finely chopped roasted peanuts

plus more to serve, if desired

1

cup

bean sprouts

plus more to serve, if desired
Directions
Soak the noodles in a bowl of hot or warm water to cover until they are soft (follow package directions). Drain the noodles.

Meanwhile, heat 2 tablespoons of the oil in a wok or a large skillet over medium high heat. Add the tofu cubes and sauté until they are golden brown on all sides, about 5 minutes. Transfer them with a slotted spoon to a paper-towel lined plate to drain, set them aside, and wipe out the skillet.

Heat another tablespoon of oil in the skillet over medium-high heat, and sauté the shrimp until they are just turning pink, about 2 minutes. Transfer them to a paper-towel lined plate to drain, set them aside, and wipe out the skillet. In a small bowl, combine the sugar, fish sauce, and the lime juice, and set the sauce aside.

When the noodles have been drained, add the remaining tablespoon of oil to the pan, and heat over medium high heat. Add the shallots, and sauté until tender, about 3 minutes. Add the carrots and cook, stirring, for one more minute. Add the beaten eggs, and stir until cooked, about 2 minutes. Add the noodles and tofu, and stir to combine and heat through. Stir in the sautéed shrimp, sauce, scallions, dried shrimp, and red pepper flakes. Toss over the heat for a minute, then transfer the Pad Thai to a serving dish.

Sprinkle the Pad Thai with the peanuts and bean sprouts, and pass small bowls of additional peanuts, sprouts, and red pepper flakes at the table if you'd like.
Nutrition Information
Calories:
633
kcal
|
Carbohydrates:
74
g
|
Protein:
43
g
|
Fat:
18
g
|
Saturated Fat:
2
g
|
Cholesterol:
452
mg
|
Sodium:
2105
mg
|
Potassium:
490
mg
|
Fiber:
3
g
|
Sugar:
6
g
|
Vitamin A:
3807
IU
|
Vitamin C:
13
mg
|
Calcium:
274
mg
|
Iron:
5
mg
The nutrition values are provided as an estimate. It is not intended as a substitute for the advice of a qualified healthcare professional.
Made this recipe? Post a photo of your delicious creation on Instagram with our hashtag #dinnersolved