Chicken, Bacon and Corn Chowder
A hearty summer soup that deserves main course status.
Serving Size: 6

At the risk of sounding like a princess, it doesn't feel like summer without at least one lobster (or lobster roll – preferably both), a few perfect tomatoes, and a bowl of corn chowder.  And a s'more.
(Yes, yes, of course swimming and picnic-ing and grilling and all of that.  I do occasionally do things besides cook and eat.).
This is one of the more robust bowls of chowder I have made so far this summer, with a nice little twist from the cumin.  I love the little technique of pureeing some of the corn chowder base to create a thick creaminess, and leave some of the corn chowder as is, which provides that great corn kernel texture.  The combo is pretty terrific (says the person who is suggesting the technique).
Also, like many soups, this offers up some good alternatives for topping each bowl as the person wishes.  Bacon, scallions, cilantro, parsley…all of the above, none of the above, some of the above, your choice.  Put out little bowls of everything and let each diner make their own decisions.
The addition of chicken means that this could be a main dish soup.   It also is no slouch in the looks department, so there's another reason to let it take center stage.  Add a salad and you have a perfect summer meal.
For the soup's Plus One, choose from: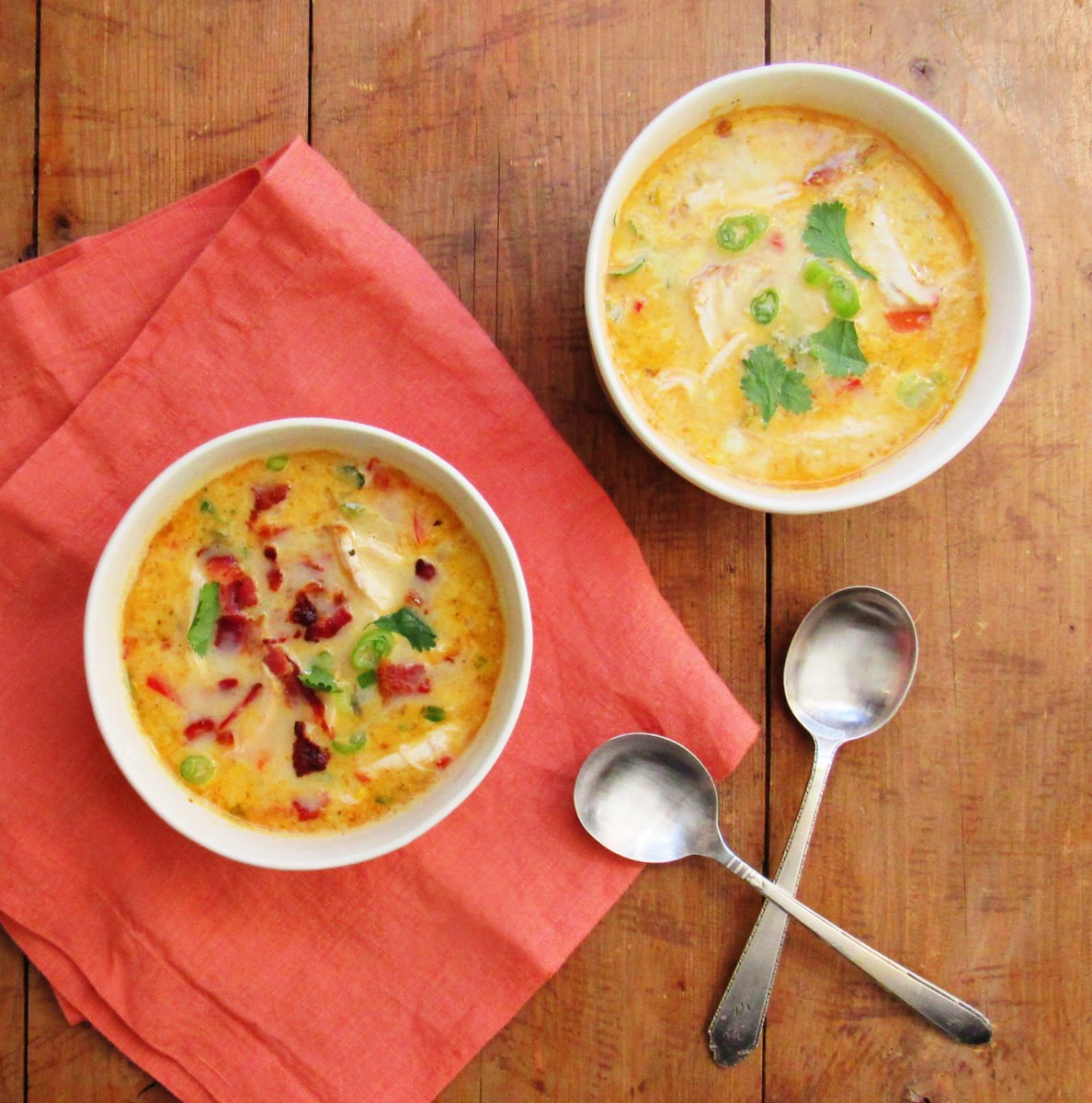 Chicken, Bacon and Corn Chowder
Print
1 tablespoon olive oil

2 carrots, peeled and finely diced

1 red pepper, cored seeded and finely diced

2 stalks celery, thinly sliced

2 shallots, minced

Kosher or coarse salt and freshly ground black pepper to taste

1 teaspoon ground cumin

¼ teaspoon cayenne pepper

8 ears corn

⅔ cup heavy cream

3 cups chicken broth

2 to 2½ cups shredded cooked chicken

2 tablespoons minced fresh thyme leaves

¼ cup crumbled cooked bacon

Minced scallions or cilantro or parsley to serve (optional)
1. In a large soup pot or Dutch oven, heat the olive oil over medium high heat. Add the carrots, pepper, celery and shallots, season with salt and pepper, and sauté for about 5 minutes until everything is fairly tender.
2. Meanwhile, remove the kernels from the corn, puree about 1 ½ cups of the kernels in a food processor or blender with the cream. Add the chicken broth to the pot and bring to a simmer. Stir in the remaining corn kernels, the pureed corn and cream mixture, shredded chicken, and thyme, return the mixture to a simmer, adjust the heat, and simmer for a few minutes until the corn is crisp tender and just cooked. Taste and adjust seasonings as needed.
3. Ladle the soup into bowls and top with the bacon, scallion, cilantro and/or parsley as desired.