This post may contain affiliate links. Please read our privacy policy.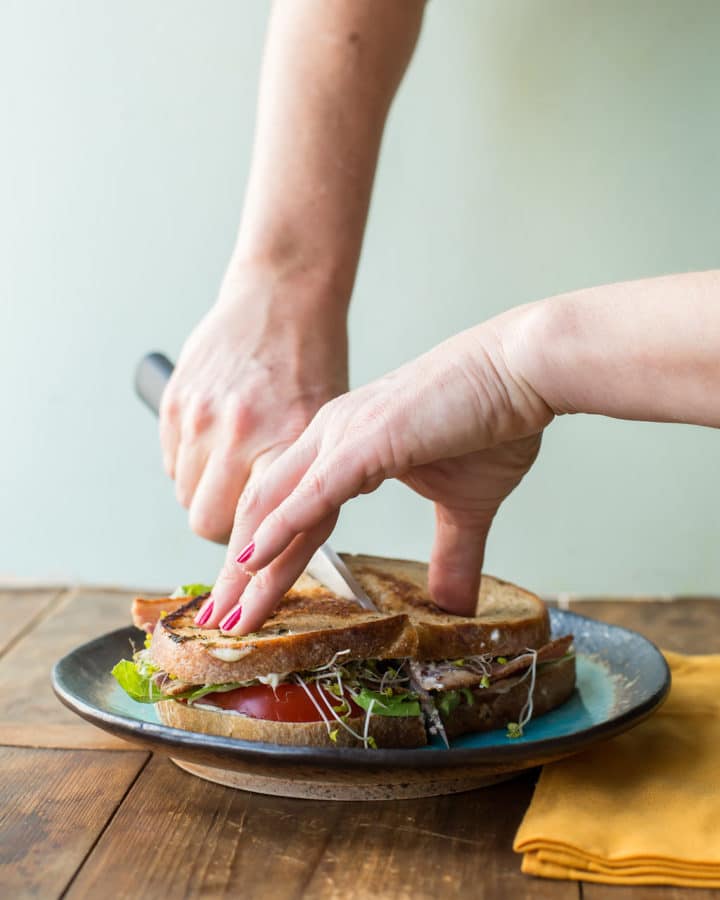 Hello, can you hear me?
I'm in California dreaming about who we used to be
When we were younger and free
I've forgotten how it felt before the world fell at our feet
Do you guys have Sonos? It's this music system that you operate from your iphone, and as with many other systems you can create channels that play music around a certain artist or theme or genre or even decade.
I'm not embarrassed to say that I have an Adele channel, and it's usually my first pick when I just want music that I can work to, to genially fill the room. My old assistant Tiffany either loved the Adele channel, too, or else was polite enough to pretend that she did, so we listened to a lot of Adele when she was working from my apartment. And then we went to see an Adele cover band live in concert at B.B. Kings, so she either really, really loves Adele, or she's a good actor and/or a very patient human (I think she really likes Adele).
So, I came up with this version of a BLT sandwich, in the hopes that her uber-classic song "Hello" (see lyrics above) would come on while we were eating these. Ok, fine, that's not quite true, but I was thinking about these lyrics while I was writing the recipe, and did occur to me that a more perfect moment would be hard to come by.
Geez, I'm even judging me.
As summer nears, and the promise of perfect tomatoes peeks up over the horizon, the prospect of an excellent BLT becomes all-consuming. What is interesting to me about a BLT is the dueling dynamics of how the ingredients join up into this sandwich. One the one hand, the bread, bacon, lettuce, and tomatoes all become one better-than-the-sum-of-its parts whole. One the other, the ingredients somehow still manage to remain distinct. You are well aware of the crisp-tender bread, the juicy lush tomatoes, the crunchy lettuce, the salty frizzled up bacon, and the mayonnaise pulling the components together. E pluribus unum.
I've ratcheted up the classic BLT a notch or two here, with the addition of tarragon to the mayo, and not only inside the sandwich, but also on the outside of the bread before its griddled to give extra flavor and caramelization. And what truly makes it a California BLT recipe is the addition of avocado and sprouts, which, admittedly, is an easy was to make anything "California." But it really works here, you'll see.
Buy good bacon. Use good mayo. Find a great tomato. Make sure your avocado is ripe. After that, all you have to do is assemble, and you will have a fantastic sandwich.
For the record, Charlie pronounced this possibly the best BLT he's ever had, and possibly the best sandwich I've ever made. Grilling up bread with a bit of butter or mayo never did a sandwich any harm.
Other Delicious Sandwich Recipes:
California BLT
The West Coast version of a classic BLT (with a little hack for the perfect toasted bread).
Ingredients
8

slices

thick cut bacon

halved crosswise

½

cup

mayonnaise

2

teaspoons

minced tarragon

2

teaspoons

fresh lemon juice

Kosher salt and freshly ground pepper

to taste

8

slices

good bread

country white, sourdough, multigrain, your choice

½

teaspoon

finely minced garlic

1

medium tomato

sliced

1

avocado

peeled, pit removed, and sliced

4

slices

romaine heart lettuce

sliced crosswise

⅓

cup

sprouts

such as broccoli sprouts
Instructions
Preheat the oven to 400°F, and place a wire cooling rack in a rimmed baking sheet.

Lay the bacon on the wire rack, and bake for 15 to 20 minutes, until the bacon is crisp (it will crisp up a bit more as it cools, so take it out when it still has some pliability). Alternately you can cooke the bacon in a skillet.

In a small bowl, combine the mayonnaise, tarragon, lemon juice, and salt and pepper. Spread a thin layer of the mayonnaise mixture on one side of each of the slices of bread. (you should use less than half the mayo mixture). Heat a large skillet over medium heat. Place as many of the bread slices in the skillet as will fit, mayo side down. Allow to cook until very lightly brown, about 2 minutes, then remove from the skillet and repeat with the remaining slices. Set aside.

Stir the minced garlic into the rest of the mayo mixture. Divide the remaining mayo mixture over the bread slices, on the untoasted side. Layer the tomato, avocado, 2 romaine lettuce halves, bacon, and a generous pinch of sprouts on top of the bread. Top with the remaining slices of bread, toasted side up. Cut in half, and serve.
Notes
Buy good bacon. Use good mayo. Find a great tomato. Make sure your avocado is ripe. After that, all you have to do is assemble, and you will have a fantastic sandwich.
Nutrition
Calories:
733
kcal
,
Carbohydrates:
35
g
,
Protein:
17
g
,
Fat:
59
g
,
Saturated Fat:
14
g
,
Cholesterol:
59
mg
,
Sodium:
951
mg
,
Potassium:
591
mg
,
Fiber:
6
g
,
Sugar:
5
g
,
Vitamin A:
503
IU
,
Vitamin C:
11
mg
,
Calcium:
101
mg
,
Iron:
3
mg
Nutrition information is automatically calculated, so should only be used as an approximation.
Like this? Leave a comment below!