This post may contain affiliate links. Please read our privacy policy.
My pantry was a total disaster. A black hole. A closet of chaos.
Despite periodic efforts to reclaim the area, my pantry closet looked like an eclectic and confusing supermarket had exploded, and someone swept up a large portion of the miscellaneous goods and thrown them onto shelves with no rhyme or reason. Yes, the flour and sugar shared a shelf (most of the time), but they were nestled next to Halloween sprinkles, lentils, and spelt. Tuna fish sat next to blackberry jam. A jar of truffled mushroom spread from a trip to Italy in 2016 nestled up near ramen noodles.
And there were clipped-closed bags of farro, whole wheat pastry flour, white chocolate chips, and wheat berries scrunched up in various nooks and crannies. Not to mention boxes of cereal and pasta in process, kind of just hanging out, waiting to be rediscovered.
Exactly the way you'd picture the pantry of a food writer right?
No, not so much.
I mostly knew where things were. Kind of. Mostly. But while I am not a resolution person (kiss of death, right?) I did know that it would be such a nice little gift to myself to get this ingredeint chasm in order once and for all.
But then I got a kick in the pants and a little help from some friends. Ok, a lot of help from some friends. My buddies at OXO (without making one mean, snarky comment, for which I am grateful) offered to send me a plethora of their highly functional and highly adorable POP containers to let me turn my closet of shame into something . . . highly functional and fairly adorable. Stackable, clear (so you can always see just where you are in terms of needing to replenish), so easy to open and close and scoop from—these containers are game changers.
(And just because I am not good at waiting, I will tell you that there is a sweepstakes afoot, and a chance for you to win a huge selection of these POP containers for your very own self—why should I be the only one OXO showers their love on? Plus a copy of The Mom 100 Cookbook and Dinner Solved! because I love you, too.)
Here's where we started . . .
Pretty embarrassing, right? But aren't you glad I'm not showing you, oh, I don't know, stretch marks from pregnancy? But seriously, the After makes the Before worth suffering though . . .
Making headway . . .(and check out how I finally figured out how to store my oversized spices, below)
I could not decide which version of the POP containers I liked better, the steel-toned or the white, so I ended up using a combo. Also, check out how many different shapes and sizes the POP containers come in—there seemed to be just the right size for all kinds of different ingredients, big canisters for things like flour, small cute cubes for things like dried cherries.
At this point I can see the beautiful white light shining at the end of the tunnel. And then I started the gratifying task of putting it all back into the closet (yes I wiped the shelves).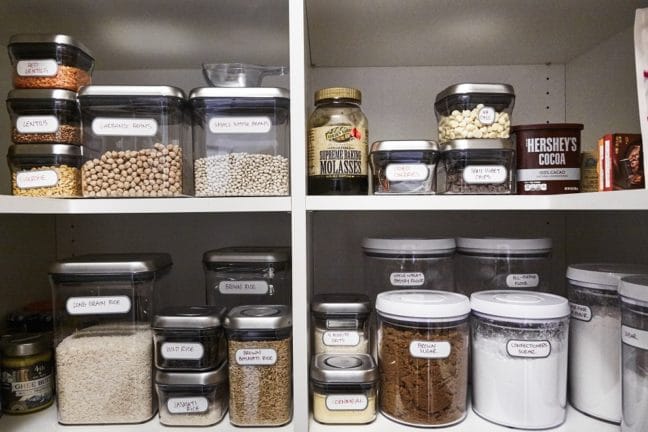 And then it was done . . . and it was BEAUTIFUL!
After: If you've read this far, then it won't surprise you to know that I have spent quite a number of minutes just standing in this closet, smiling stupidly. And you're probably not even judging me for it. Because you get it.
Speaking of getting it, back to that Sweepstakes I mentioned earlier. We know this is organizer porn—we know that the joy of a everything-in-its place pantry pulls at the hearts of many. We're sharers. So, click here to enter to win $250 (!) of OXO's amazing POP containers! And then you and I can be pen pals, and send each other photos of our bulgur wheat and pretzels in their shiny new homes.
(Ok, now I am starting to judge myself).