Not being able to see our friends while we are all in quarantine feels like a pinch. We Zoom, we Facetime, we wish each other well on social media, but obviously these are somewhat anemic ways to connect, not to mention to celebrate anything worth celebrating. And now the weather is warming up, and while the rules for social distancing are changing every day, we want to be smart about getting together.
We're not going to be able to see all of our friends right now, whether due to distance or illness or precautions (remember early on when the phrase "an abundance of precaution" was tossed around like it was actually an abundance, and not just reasonable precaution?). But if we are lucky enough to live within driving distance, we can try and make some in-person connections. If the weather cooperates, make a plan to have a safe socially distanced picnic and finally get to look at some of the people you love.
Please note – everything in this post includes you following CDC guidelines! Socially distancing! Masks! Gloves! Disinfectant! No touching things that your friends touch!
Tips for a Socially Distanced Picnic
My husband, sons and I have been able to have outdoor meals with my mom on a few occasions. And now we're practiced and ready to have an open-air get togethers with some friends. Here's how to do it.
Determine an outdoor spot to have your picnic.
Pick a place that you don't think many others will choose. If any of you live someplace with a backyard, that's perfect. If you are worried about other people being there, maybe pick a less-popular time of day. An alfresco breakfast might get you the seclusion you need.
Have a plain-talk conversation beforehand.
Everyone involved has to understand that a minimum of 6 (or better yet 10) feet between each person at all times is non-negotiable. This may need repeating to young children, and frankly may need repeating to some adults who might have a hard time resisting reaching out for a much-wanted hug. Remind everyone that something is better than nothing, and safety is the utmost priority.
Plan a menu.
Keep the food very simple. You are there to see each other in person, and that's the most essential thing. Having said that, think about spring picnic food: portable, sturdy, and supremely un-fancy. Some of my favorite things to prepare are bean salads; grain salads; green salads; sandwiches; quiches; pasta salads; slaws; chicken, egg, or salmon salads, and mixed vegetable salads.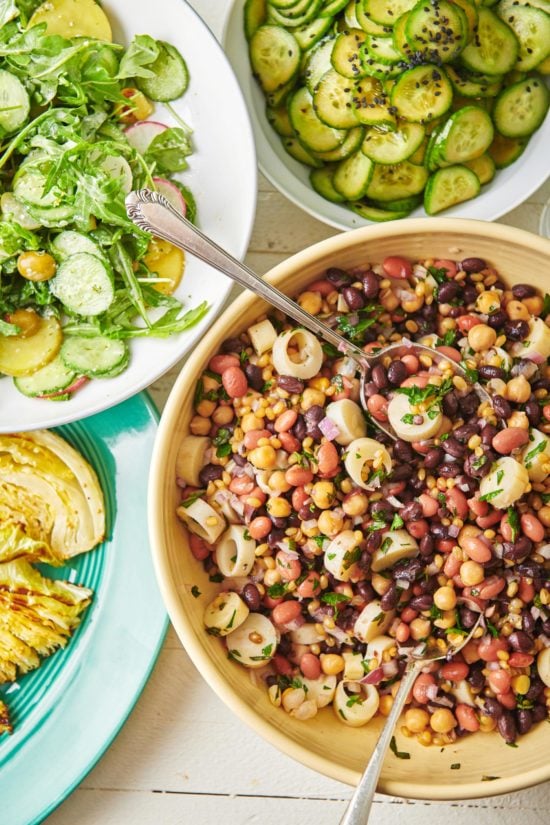 This is super important: if you are cooking for everyone involved, make sure to be extremely careful when preparing the food.
Wash hands thoroughly and often, wear a mask and gloves when handling the food.
Pack the food that the people in your home will be eating in one set of containers, and if you are packing some food for your friends, pack that in another set of containers. Place the containers in separate picnic baskets or bags (wipe down all of the containers and bags, and then use fresh gloves to carry it to the picnic). Place the appropriate amount of disposable plates, utensils, serving utensils, napkins, beverages, cups, etc. in each bag, all sealed in another plastic bag.
Or, you can decide to bring food just for the people who live in your house, and ask your friends to prepare their own meal. Less festive and communal, but super safe.
Bring a garbage bag and put on a fresh pair of gloves to clean everything up.
Let your everyone clean up their own stuff!
Wear masks, wear gloves, and don't go inside!
Without being graphic, figure out how you are going to handle bathroom needs, and bring lots of hand sanitizer. Make sure your picnic mates have the proper protection on as well.
Picnic Seating
Be considerate when arranging seating. If you are a family group having a picnic with a single person, try not to sit in a group of four with your friend 6 feet off to the side; then everyone should sit six plus feet apart, so it feels like you're on an even playing field of sorts.
Think about some socially distanced games.
Scattegories is one that we play often, sometimes on Zoom, and during our together-apart get-togethers. You can simply text a photo of the card with the list of categories. Charades is another good one for social distancing.
All of this would have sounded like crazy overkill just months ago, but now it's the price of safe gathering, and keeping everyone safe. Worth it? Worth it.
Some Recipes to Consider for Your Picnic: