This post may contain affiliate links. Please read our privacy policy.
Newspapers, magazines, and websites are currently stuffed to the gills with extravagant appetizers, centerpiece-worthy main courses, lush sides, and practically immoral desserts to make for the holidays. If an alien who couldn't read fell onto our planet and just looked at all the pictures, he/she might get the impression that we ate nothing but jumbo shrimp, standing rib roasts, leg of lamb, spoonbread, and chocolate cake.
Just writing this, I can feel the button of my jeans pop. And the reality is that in between these lavish meals and parties, we kind of need to, you know, make dinner. At night. For our families. Who still need to eat in between the rack of lamb and roast turkey.
So, while I certainly do my part to add recipes and photos to the ever-expanding holiday arsenal, I'm pausing to tell you what I am going to make to keep life moving in between parties.
Happy holidays and stretchy waistbands to all, each and every one of you!
---
5 Weeknight Dinners to Make in Between the Big Holiday Meals
Sauteed fennel and onions add lovely layers of flavor to this cold-weather soup. I am always a proponent of soup and salad for dinner.
---
The flavor of buffalo chicken wings translated into a healthy white chicken chili. Because it's hard to justify a huge pile of Buffalo wings for dinner, but it's not hard to justify this.
---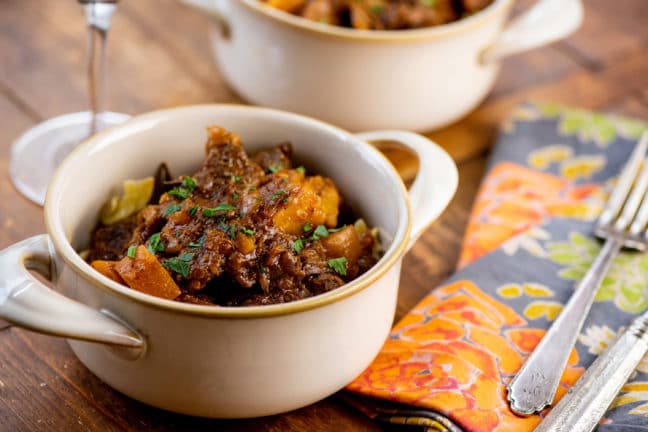 Let's just say the words "beef," "barbecue" and "beer" in the same sentence don't make Gary sad. And let's just say that the words slow cooker don't make me sad.
---
The salad for anyone who can't get enough of that great peanutty chicken satay dressing. A serious salad meal. This is a true all-in-one salad, one that my kids love as much as Gary and I do.
---
A possibly unorthodox version of a wonderful Latin American dish. This spicy, nicely seasoned hash-like dish is truly comforting. A friend recently used it as the filling for stuffed peppers, clever girl.
---