This post may contain affiliate links. Please read our privacy policy.
It's not the complicated recipe creations that makes me feel happy and proud so much….it's the easy ones. The shortcuts that make me say, "Man, why didn't I think of that sooner?"
There is a recipe for a Pretzel Cheese Snack in Dinner Solved! that is a perfect example. I was trying to figure out some good snack thoughts for the kids, and trying to figure out how to make pretzels – one of the most popular and truly least nutritionally exciting snacks on the planet — into something a little more substantial.
I decided to layer in a small piece of cheese between two pretzels, and then heat the little stacks in the oven so that the cheese would melt, and the whole thing would stick together into the mini pretzel "sandwiches".
It worked, the kids loved them, and it ended up in the book. My editor, Suzanne, who has edited everything from The Silver Palate Cookbook to little old me, though this was one of the cleverest things ever. This is a woman who helped launch Chicken Marbella into the world. I'd say that is a sound endorsement for the celebration of simple ideas.
So, I have been making shortcut chicken soups forever—enhancing boxed broth with chicken, using rotisserie chickens, using matzoh ball mix, etc.—but this time I pulled together every single one of my shortcuts, and added one more: ramen noodles.
You simply simmer the bones and skin of a rotisserie chicken (everything but the meat, which you shred and save for the soup itself) in some broth, all on their own, or with the addition of a few chunks of carrot, celery and onion if you feel like taking one extra step. Then you strain the broth and add cooked ramen noodles, boiled in water without the salty little packets of chicken flavored powder.
Add some sliced carrots and celery to the strained broth for color and flavor and texture and a nod to the fact that it's nice to have produce in your chicken noodle soup. Then in go the cooked noodles and the shredded chicken. The dill is optional though it does make chicken noodle soup taste like chicken noodle soup to folks who grew up with the Jewish version of this soup.
The Easiest Shortcut Chicken Ramen Noodle Soup pulls together a slew of clever shortcuts for a perfect chicken noodle soup.

Tweet This
When everything comes together there will be nothing to hear at your house but the sound of people slurping up one of the easiest chicken noodle soups you've ever made (or kind of assembled).
And guess what? If you wanted to murder this shortcut idea, and skip the carrots and celery you could go right ahead.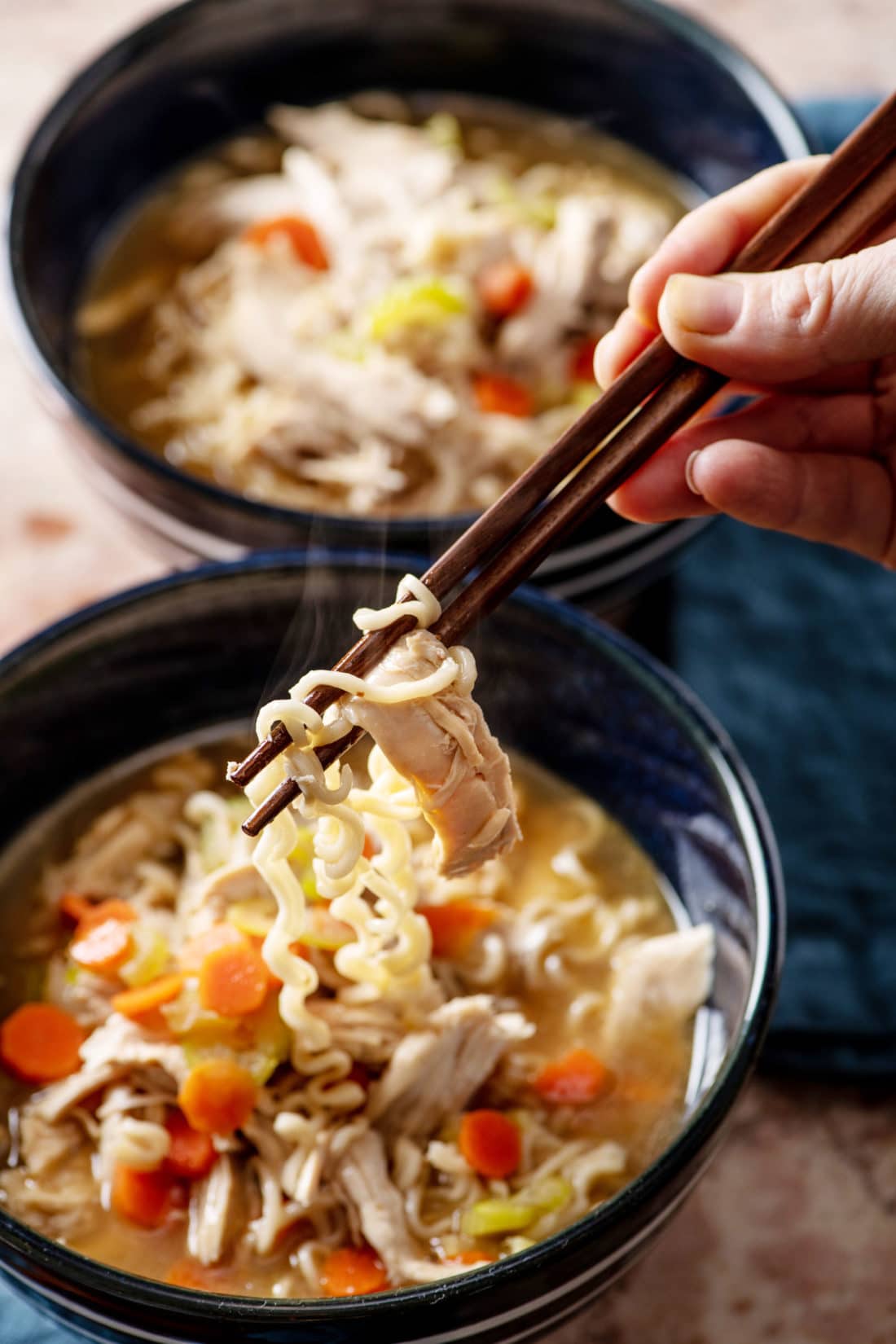 More Chicken Soup Recipes:
Like this recipe? Pin it to your favorite board on Pinterest.

Pin This
The Easiest Shortcut Chicken Ramen Noodle Soup
It's not the complicated recipe creation that makes me feel happy and proud so much….it's the easy ones.
Ingredients
1

rotisserie chicken

8

cups

less-sodium chicken broth or stock

2

large carrots

peeled and sliced

3

stalks celery

sliced

2

packets ramen noodles

any flavor – the flavor packet gets tossed

1

teaspoon

minced fresh dill

1/2 teaspoon dried or more to taste (optional)

Coarse or kosher salt and freshly ground pepper

to taste
Instructions
Remove all of the meat from the rotisserie chicken. Place the skin and bones and every other little bit left from the chicken into a pot.

Add the chicken broth to the pot. Bring to a simmer, partially covered. Simmer for about 20 minutes.

Meanwhile, fill another large pot with water, salt it lightly, and bring to a boil on another burner. Cook the ramen noodles (discard the flavoring packet) just until barely tender, stirring so that they separate. Drain and leave in the colander for a moment. Shred the chicken meat.

After 20 to 30 minutes, however much time you have, strain the broth through a sieve into the pot you cooked the noodles in, and discard all of the chicken solids. Add the dill and the carrots and celery and return to a simmer. Simmer for 5 minutes or so, until the vegetables are tender. Add the shredded chicken and the cooked noodles, season with salt and pepper as needed and serve hot in bowls.
Notes
The dill is optional though it does make chicken noodle soup taste like chicken noodle soup to folks who grew up with the Jewish version of this soup.
Nutrition
Calories:
532.29
kcal
,
Carbohydrates:
9
g
,
Protein:
75.75
g
,
Fat:
22.62
g
,
Saturated Fat:
5.97
g
,
Cholesterol:
230.4
mg
,
Sodium:
1008.04
mg
,
Potassium:
1197.12
mg
,
Fiber:
0.85
g
,
Sugar:
2.17
g
,
Vitamin A:
5207.2
IU
,
Vitamin C:
1.8
mg
,
Calcium:
64.94
mg
,
Iron:
2.4
mg
Nutrition information is automatically calculated, so should only be used as an approximation.
Like this? Leave a comment below!