Recently my husband started a new job. There were a series of interviews leading up to the offer. One of the meetings took place in the office of an older gentleman around lunchtime – when Gary arrived, the man asked, "Did you have lunch yet?" "Um, no, I haven't," said Gary. "Well, I took the liberty of ordering you a tuna wrap," said this clearly well-raised man. "I thought 'everyone likes tuna.'"
(Pause to marvel at the adorableness factor of this 70-something man thinking to order Gary lunch.)
And Gary does like tuna. He loves tuna in fact. As do I, as do my kids, and as do most (true, not all) people. And when I am thinking about making sandwiches for lunch, tuna is often in the top 5 thoughts.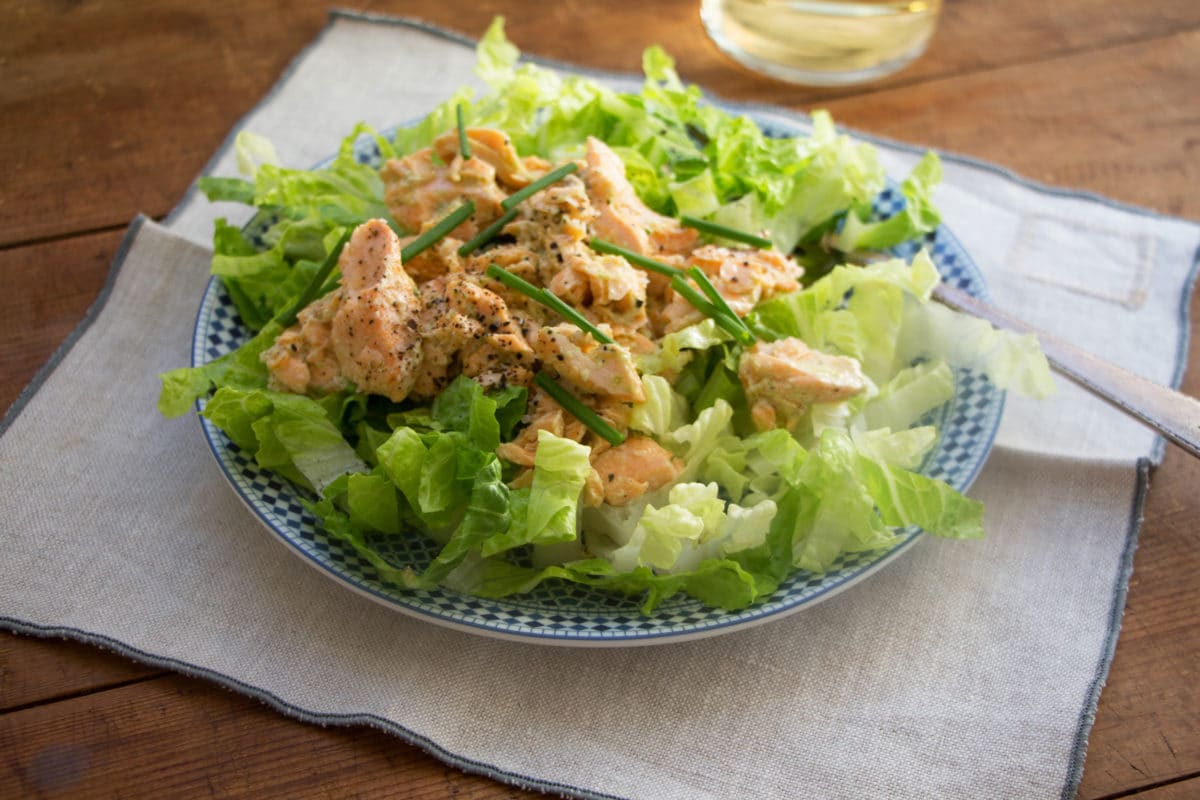 I forget about salmon salad most of the time.
But then I remember! And I love it. You know what reminds me of salmon salad? A nice deli/prepared foods counter. While I am waiting for my prosciutto or turkey to be sliced, or my bagels to be toasted, I gaze along the prepared salads, thinking things like, "Potato and egg salad! How have I forgotten about that for so long! Salmon salad! I have got to make that! Coleslaw! I need to get some cabbage!"
Anyway, salmon salad is amazing. And this one is so pretty. But while I will (and always do) use canned tuna for my tuna salad (and there is a rock solid tuna salad recipe in The Mom 100 Cookbook – if you like tuna, please, please make it), I am not such a fan of canned salmon in my salmon salad. Freshly cooked salmon is the way to go for this.
Pretty and delicious, with a nice little kick. If you forget about salmon salad, as I do, please let this be a delicious reminder.

Tweet This
This recipe has instructions for poaching salmon, but if you have leftover grilled or roasted salmon, you should feel to use that – it will have a bit more firmness and variance in texture than the poached, which is pretty soft and silky.
If you want to double the dressing, which is spiked with both jalapeños and scallions, you can use the leftover dressing with some cooked rice or other grain and become a sensational side dish, served hot or at room temperature.
Other Salad Recipes:
Like this recipe? Pin it to your favorite board on Pinterest.

Pin This
Salmon Salad with Jalapeno Scallion Dressing
Pretty and delicious, with a nice little kick.
Ingredients
Jalapeno Scallion Dressing
1

jalapeno

seeded and cut into quarters (see Note)

2

scallions

trimmed and minced (white and green parts)

3

tablespoons

extra virgin olive oil

3

tablespoons

mayonnaise

Coarse salt and freshly ground pepper

to taste
Directions
Flake the cooked salmon into small bite-sized chunks, and place in a medium sized bowl.

Place the jalapeno, scallions, and olive oil in the food processor and process until the vegetables are finely chopped. Add the mayonnaise and salt and pepper and process again until well combined.

Add half of the dressing to the salmon and toss to combine. Taste and adjust seasonings as desired.
Nutrition Information
Calories:
326
kcal
|
Carbohydrates:
1
g
|
Protein:
30
g
|
Fat:
22
g
|
Saturated Fat:
3
g
|
Cholesterol:
86
mg
|
Sodium:
112
mg
|
Potassium:
752
mg
|
Fiber:
1
g
|
Sugar:
1
g
|
Vitamin A:
126
IU
|
Vitamin C:
4
mg
|
Calcium:
21
mg
|
Iron:
1
mg
The nutrition values are provided as an estimate. It is not intended as a substitute for the advice of a qualified healthcare professional.
Made this recipe? Post a photo of your delicious creation on Instagram with our hashtag #dinnersolved