This post may contain affiliate links. Please read our privacy policy.
I am imagining you have arrived on this page because you saw the photos and went "OH!" And that is an appropriate response to such a dazzling dish.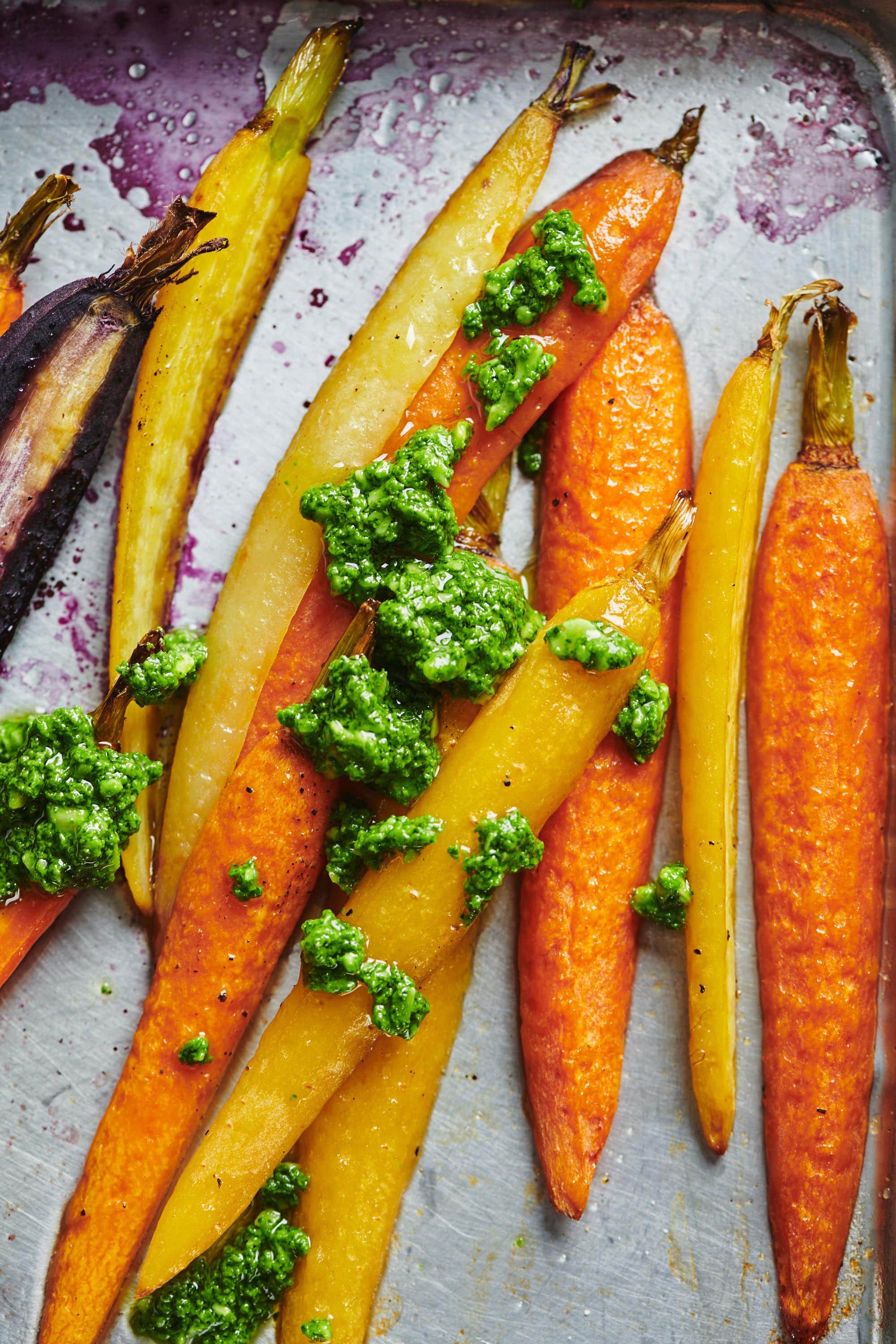 But lest this sound boastful, nuh uh. Not only did I not invent multi-colored carrots, I didn't even grow these. I did roast them, but that is not really a brag worthy event. And I did make the spinach parsley pesto that got dolloped over them, but even that isn't all that much to boast about. I mean, it's not like I don't have a food processor.
Here's the scoop on how to get this gorgeousness in your kitchen. Procure some carrots. And try to make sure you get more than one color, though if you don't, eh, you're still going to have something beautiful and delicious. Cut them in half lengthwise.
Place them on a baking sheet.
Drizzle with some olive oil, and sprinkle them with salt and pepper. Toss to coat, and spread them out in a single layer. Roast them in a hot oven until they are a bit browned and tender and smell like the platonic ideal of carrots.
You can just serve them as is.
Or if you want to go one step further. Add something dollopy or drizzly to go with them. In this case I added spoonfuls of Spinach Parsley Pesto, and it was so colorful and delicious that I may have this be my cold weather side dish of the season.
Carrots get roasted up with some olive oil and salt for a spectacular side – or add some Spinach-Parsley pesto for even more flavor and drama.

Tweet This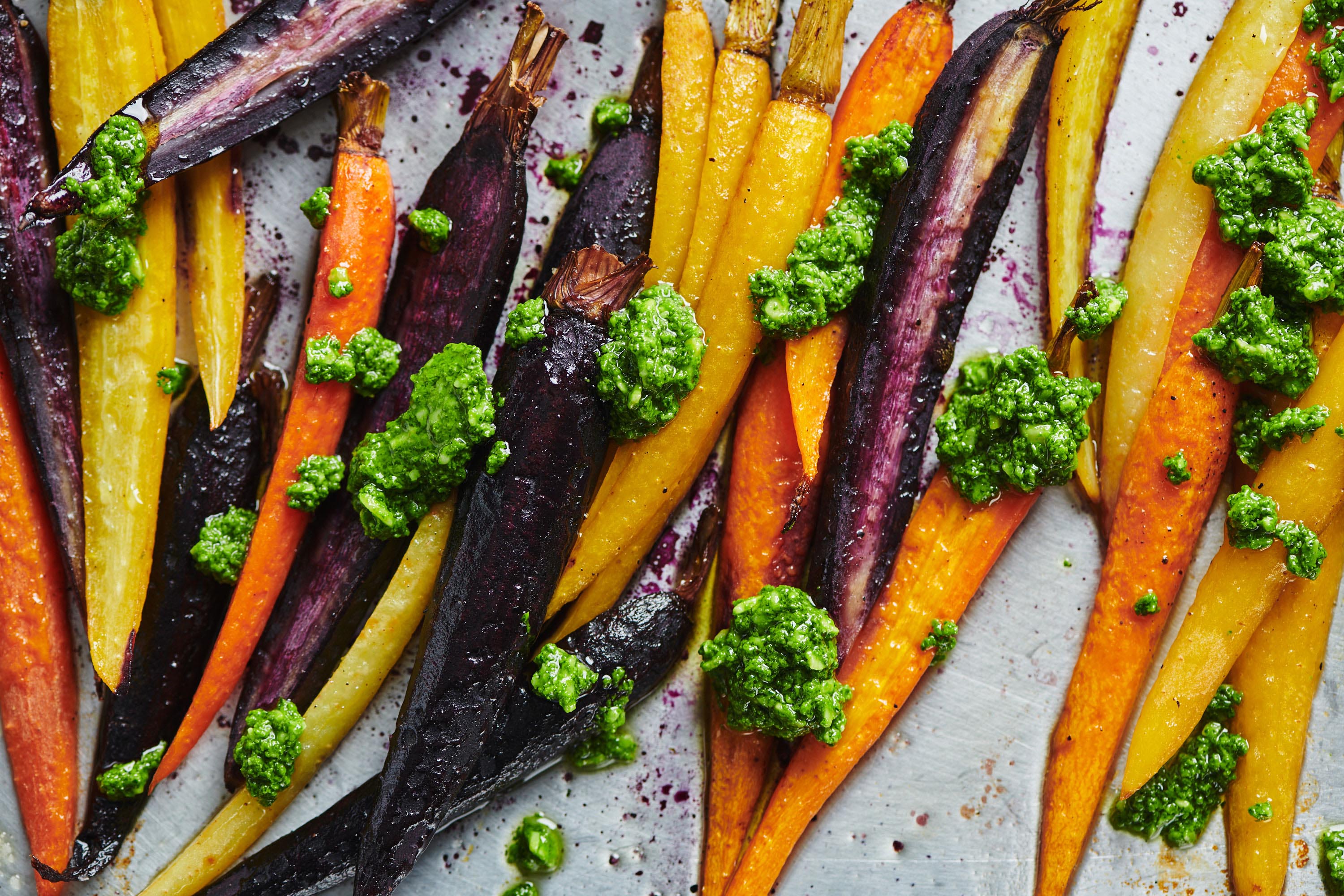 You could also try dolloping and drizzling items from these recipes:
Like this recipe? Pin it to your favorite board on Pinterest.

Pin This
Roasted Carrots with Spinach Parsley Pesto
A veritable rainbow on the plate.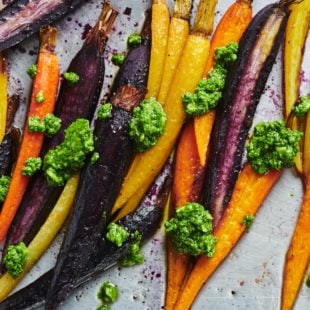 Instructions
Preheat the oven to 425°F.

Slice the carrots in half lengthwise. Place them on a rimmed baking sheet. Drizzle over the olive oil, sprinkle them with salt and pepper, and toss the carrots so they are well coated with the oil. Spread them out in a single layer. Roast for about 20 minutes until they are tender but not soft, and browned along the edges.

Either serve as is, or drizzle over the

Spinach Parsley Pesto

or another sauce of your choice (see recipe intro for suggestions) and serve hot, warm, or room temperature.
Notes
Look for rainbow carrots at the store. They lose a bit of the vibrancy when roasted but still look amazing! Lots more visual interest than using just orange.
Nutrition
Calories:
152.23
kcal
,
Carbohydrates:
8.9
g
,
Protein:
1.7
g
,
Fat:
12.49
g
,
Saturated Fat:
2
g
,
Cholesterol:
1.65
mg
,
Sodium:
245.49
mg
,
Potassium:
241.91
mg
,
Fiber:
2.45
g
,
Sugar:
4.25
g
,
Vitamin A:
13046.15
IU
,
Vitamin C:
4.46
mg
,
Calcium:
58.22
mg
,
Iron:
0.35
mg
Nutrition information is automatically calculated, so should only be used as an approximation.
Like this? Leave a comment below!