Tomatillos look like light green tomatoes, about the size of a ping pong ball give or take. They grow, and are sold, encased in a papery husk, which you should leave on until you are ready to use them.  They are an everyday staple of Mexican and Tex-Mex cooking, though they definitely have that foreign-intimidating thing going on when you first encounter them at the market.  Persevere!
The flavor of tomatillos ranges from mild and on the sweeter side to a bit bitter or quite tart, so it's a bit of a crapshoot to know what the result of the dish will be. Taste as you go, and see how to compensate with other ingredients until you get the flavor you're looking for – a little sugar helps with an overly tangy tomatillo sauce. Tomatillos might be roasted, grilled, stewed or sautéed. They can also be eaten raw.
Tomatillos need to be husked before using, and the husk needs to be discarded. The tomatillos will be slightly sticky after you husk them, so give them a quick rinse under running water.
Over to this sauce, or salsa (which actually is Spanish for "sauce", and this recipe is a good illustration of that). If you want the mixture very spicy, leave the seeds in both jalapeno peppers. If you want it mild, take the seeds out of both the peppers. And if you want it in the middle, leave the seeds in one of the jalapenos, and toss them from the other. Don't forget to wash your hands after handling the jalapenos; this can't be repeated enough.
Roasting the vegetables gives them a deeper, sweeter flavor. And roasting the limes is a great little trick. The flavor of the juice gets a bit more intense, and then so does your salsa.
This makes a lot of tomatillo sauce, more than you'll need for this recipe. And so, you can feel free to cut the ingredients in half, if you don't think you will want to play around with leftovers, OR (and perhaps you can tell by the fact that I made such a large amount of the sauce, and the fact that I just yelled OR at you), you can find other ways to use it all week long.
Here are some of the other ways I've thought of, and you know I am always open to your suggestions:
As a dip for tortilla chips (duh)
Drizzled over simply grilled fish, steak, shellfish.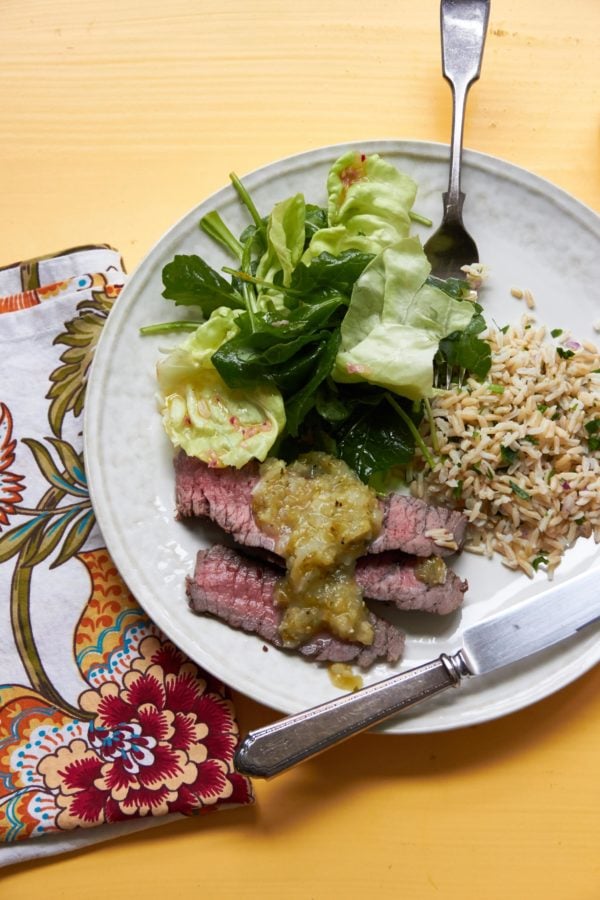 Spooned over nachos
Dolloped on fried green tomatoes
Sloshed onto eggs – scrambled, fried, however you like them cooked
With quesadillas, burritos, tacos, enchiladas
I just made a weirdly unseasonable batch of black beans and rice, which is what Charlie always requests right before he leaves for camp, and right when he gets home, no matter how hot is is. He was inhaling a bowl of the mix, topped with a bit of shredded cheese and sour cream. I approached him as holding a jar of this sauce and offered it to him (this is my polite way of describing what I spend a lot of time doing – wheedling "PLEASE try this, PLEASE, I-want-to-know-what-you-think-I-need-to-know-what-you-think-its-for-the-blog-I-need-your-opinion") He curled his body around his bowl protectively snarling "No-I-am-happy-with-it-the-way-it-is."
I flung a spoonful in his general direction and some landed in the bowl. He very, very grudgingly took a bit. And then asked for more.
Truly, it ain't all sunshine and roses over here all the time.
And by the way this is lovely served over quinoa.
Other Easy Chicken Recipes:
Pan-Seared Chicken Breasts with Roasted Tomatillo Salsa
A bright and magical sauce with all kinds of delicious uses.
Ingredients
1

pound

tomatillos

2

jalapenos

tops trimmed off, and halved lengthwise

1

sweet onion

sliced crosswise into three slices

5

tablespoons

extra virgin olive oil

divided, plus more for brushing the onions

2

limes

halved lengthwise

6

boneless skinless chicken breasts

about 2 pounds

1

garlic clove

chopped

¼

cup

roughly chopped cilantro
Directions
Preheat the broiler. Place a rack from 6 to 8 inches from the heat source. Line a rimmed

baking sheet

with aluminum foil, then oil the foil or spray with nonstick cooking spray.

Husk the tomatillos, and rinse them, then cut them in half. Place them cut side down on the baking sheet. Remove the seeds from one of the jalapenos, and place all four halves on the baking sheet, cut side down. Place the onion slices on the baking sheet, and brush them with a bit of olive oil. Place the limes, cut side UP on the baking sheet.

Place the baking sheet under the broiler and broil for 8 to 10 minutes until the vegetables and lime turn golden brown. Allow to cool on the baking sheet.

While the vegetables are cooling, heat 1 tablespoon of the olive oil in a large skillet over medium high heat. Season the chicken breasts on both sides with salt and pepper. Cook the chicken for about 5 minutes on each side until the outside is golden brown and the inside is cooked through, in batches if necessary. Set the chicken on a cutting board to rest for 5 minutes.

While the chicken is cooling, transfer the cooked tomatillos, jalapenos, and onions to a

food processor

. Squeeze the juice from the lime halves into the food processor, toss the lime rinds, and add the garlic, ¼ cup olive oil and cilantro. Pulse to chop and combine, then process until the mixture is well incorporated and fairly smooth.

Slice the chicken breasts on the diagonal, and place each on a plate (or place them all on a large serving platter). Spoon the tomatillo sauce down the center of each sliced chicken breast.
Nutrition Information
Calories:
424
kcal
|
Carbohydrates:
17
g
|
Protein:
38
g
|
Fat:
23
g
|
Saturated Fat:
4
g
|
Cholesterol:
108
mg
|
Sodium:
206
mg
|
Potassium:
1081
mg
|
Fiber:
4
g
|
Sugar:
9
g
|
Vitamin A:
340
IU
|
Vitamin C:
38
mg
|
Calcium:
44
mg
|
Iron:
2
mg
The nutrition values are provided as an estimate. It is not intended as a substitute for the advice of a qualified healthcare professional.
Made this recipe? Post a photo of your delicious creation on Instagram with our hashtag #dinnersolved