Does the word brunch make you happy? Clearly you're in solid company.
I am not alone in thinking that a well-executed brunch dish is one of the most special meals of the week. There is something about it that feels gorgeously indulgent—such a far cry from the breakfasts most of us experience on a day-to-day basis: a couple of scrambled eggs, a bowl of cereal, maybe a power bar eaten on the way to work. The opposite of indulgence, a more fueling-up-for-the-day kind of eating.
So when I have a moment to take my time in making breakfast or brunch for my family, I'm very happy. And then I'm also thinking about the visuals as well as the taste, and also making something truly satisfying, and memorable (as opposed to what I had for breakfast yesterday, which I literally cannot remember because it was probably something along the lines of two leftover meatballs or a hard-boiled egg—fine, but memorable, no.)
Breakfast Flatbread
This open-faced flatbread breakfast sandwich checks ALL the boxes: pretty, generous, sustaining, colorful. And I think, memorable.
You start with one of my favorite shortcut cooking products of all time, refrigerated dough. You've probably had a flatbread sandwich at some nice eatery, but maybe not assumed you could make something like this at home.
Find a refrigerated flatbread or pizza dough, prefrerably thin curst. You can also use a premade flatbread or pizza crust for this, just gauge the cooking time accordingly. These make the perfect base for this open faced sandwich and any number of beautiful flatbread creations.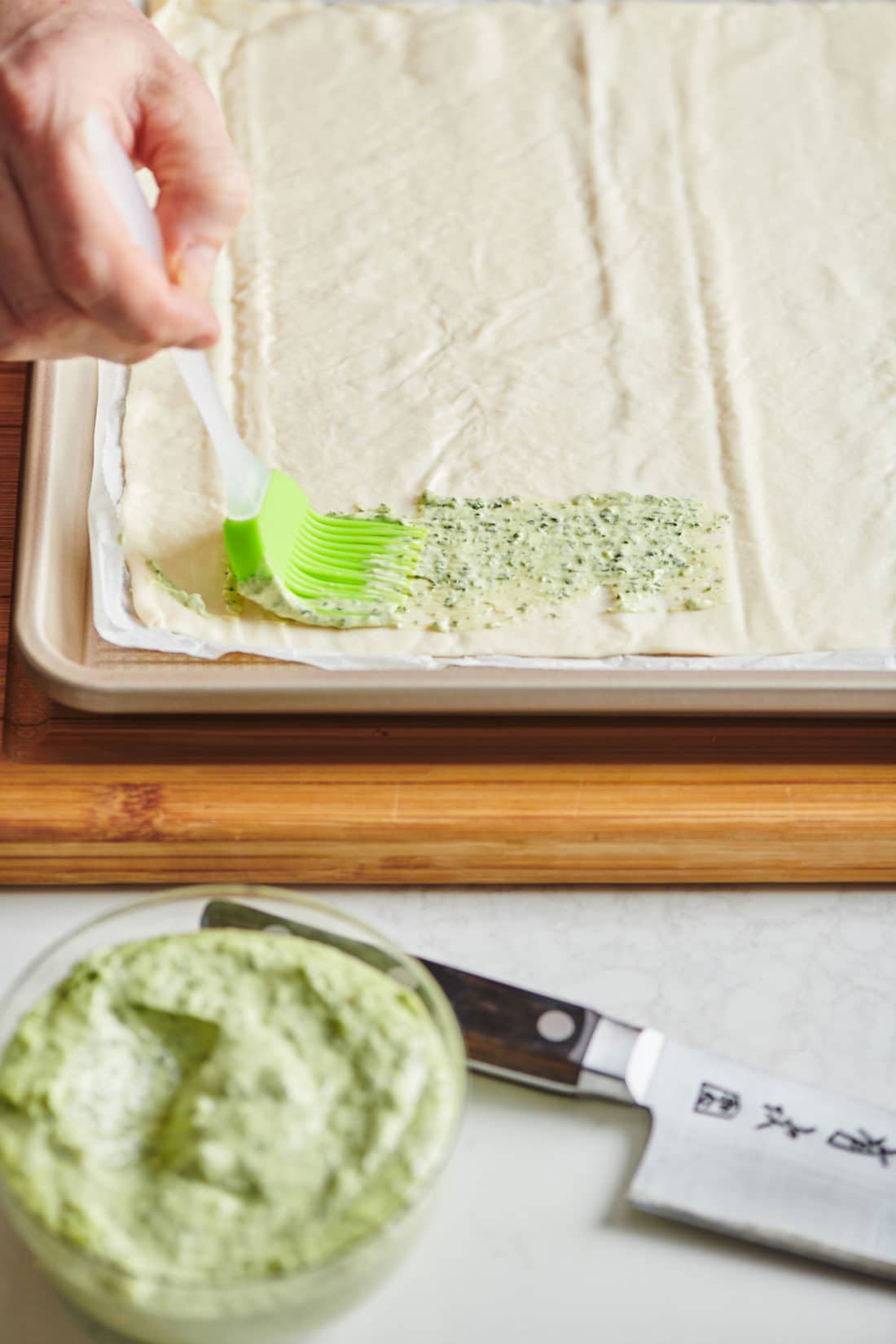 Pretty, generous, sustaining, colorful.

Tweet This
How to Make Open Faced Flatbread Breakfast Sandwiches
You simply unroll the flatbread right on its parchment, directly onto a baking sheet. Brush lightly with mayonnaise (and if you can take the extra few minutes to blend up this Herbed Mayonnaise you will have kicked the whole thing up yet another notch) and bake.
A few minutes before the flatbread is ready to come out of the oven, scramble up some eggs with onions and chopped spinach.
Just before taking it off the heat, add in some crumbled feta or queso cheese.
When the flatbread comes out of the oven, cut the flatbread into 6 pieces while still warm. Give each piece another light brush with the Herbed Mayonnaise.
Then mound on your prettily green-speckled scrambled eggs. Top each sandwich with whatever you like: chopped tomatoes, diced avocado, fresh cilantro, crumbled cooked bacon.
Really—is this not something you would be delighted to start your day with? Little slabs of crackling flatbread with a flavorful mayo spread supporting a pile of fluffy eggs with all kinds of Mexican/Tex Mex-ish toppings? And hey, nice going for all of us in terms of starting the day with a hefty dose of protein and loads of veggies. But that's not what your family will be thinking when they bite into these little beauties.
Have all of your ingredients ready to go before you start the eggs. If you can time it so the eggs and the flatbread are still warm, the rewards seem to multiply.
More Breakfast and Brunch Ideas:
Like this recipe? Pin it to your favorite board on Pinterest.

Pin This
Open Faced Flatbread Breakfast Sandwiches
Pretty, generous, sustaining, colorful.
Ingredients
4

tablespoons

Herbed Mayonnaise

or regular mayonnaise, divided

Kosher salt and freshly ground pepper

to taste

8

large eggs

¼

cup

chopped spinach

kale, or other greens

1

tablespoon

unsalted butter

¼

cup

chopped red or yellow onion

½

cup

crumbled queso or feta cheese

1

avocado

diced

1

plum tomato

cored, seeded and diced

Cooked sliced or crumbled bacon

to taste

Cilantro leaves

optional
Directions
Preheat the oven to 400°F. Unroll the flatbread on a rimmed baking sheet and brush the top with about 2 tablespoons of the mayonnaise. Sprinkle the flatbread with salt and a bit of pepper. Bake the flatbread for 14 to 16 minutes until the top is golden brown and the flatbread is cooked, but still pliable. Cut the flatbread in half crosswise, then cut each half into three rectangles, for a total of six pieces. Brush each piece with a bit more mayonnaise, using about 1 teaspoon per piece. Place each flatbread on a plate.

Just before the flatbread is ready to come out of the oven, beat the eggs in a bowl and season with salt and pepper. Stir in the spinach or other greens. Melt the butter in a large skillet over medium heat. Add the onions and sauté for 2 minutes until slightly soft. Add the eggs and cook, stirring occasionally, until the eggs are just barely cooked, but still soft. During the last few seconds of cooking, stir in the cheese until it's evenly distributed.

Use a spoon to place 1/6 of the egg mixture on one half of each of the flatbread rectangles. Sprinkle the eggs with the avocado, tomato, and bacon, and add cilantro leaves if desired. Serve warm.
Nutrition Information
Calories:
271.24
kcal
|
Carbohydrates:
8.42
g
|
Protein:
10.79
g
|
Fat:
21.91
g
|
Saturated Fat:
6.17
g
|
Cholesterol:
234.19
mg
|
Sodium:
259.03
mg
|
Potassium:
305.75
mg
|
Fiber:
2.63
g
|
Sugar:
1.41
g
|
Vitamin A:
709.25
IU
|
Vitamin C:
5.61
mg
|
Calcium:
100.15
mg
|
Iron:
1.34
mg
The nutrition values are provided as an estimate. It is not intended as a substitute for the advice of a qualified healthcare professional.
Made this recipe? Post a photo of your delicious creation on Instagram with our hashtag #dinnersolved