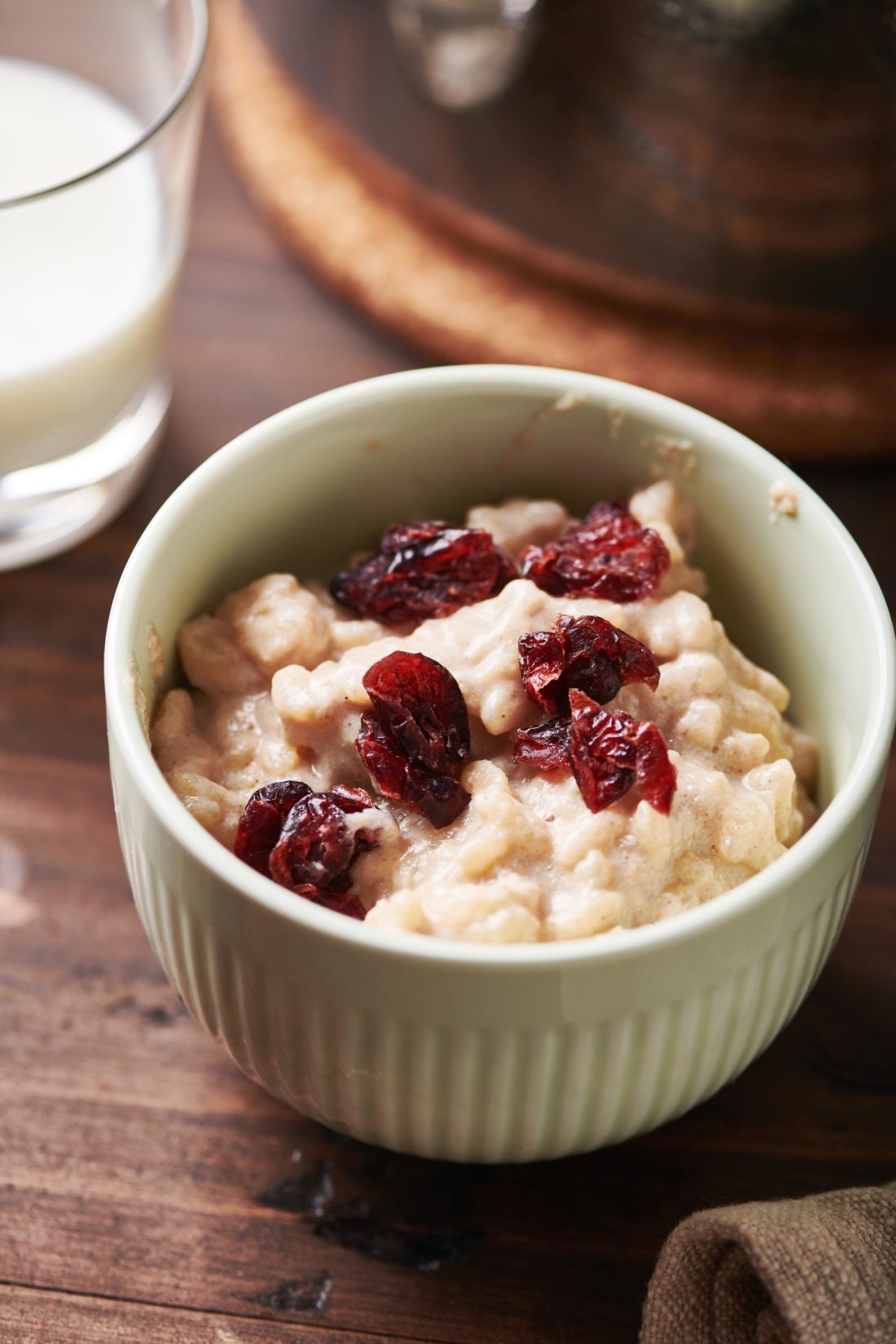 This post is in partnership with Milk. Love What's Real – all opinions are my own.
When Charlie was very young, I remember him looking up from a book he was reading and asking, "What's tapioca pudding?"
"It's kind of like rice pudding," I said.
"What's rice pudding?"
What's rice pudding? Oh, wow, I realized immediately that I had been terribly neglectful in my basic-desserts-you-need-to-know responsibilities. This is like not knowing where eggs come from.
But it was easily remedied, and creamy rice pudding instantly cemented itself into one of the fan favorites in our house, especially with the boys. It's so simple to make; the hands on-prep time is minimal, though it does take a bit of simmering on the stovetop. But it smells so fantastic while it's cooking that the cooking process is thoroughly pleasurable as well, and I find something very soothing about the way the rice plumps up and softens as it absorbs the milk and turns super creamy.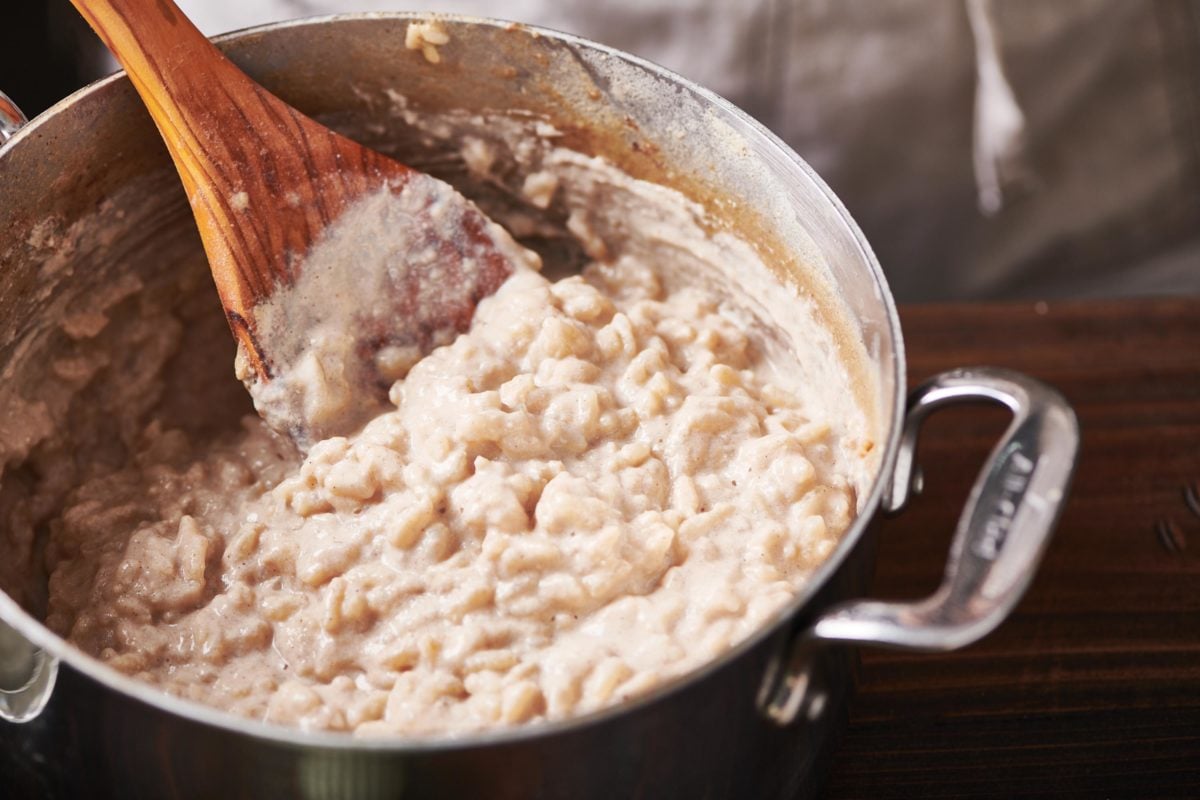 Any time someone has something that needs bettering in our house, this is one of the first dishes I turn to. It might be a plain old cold, it might be a painful dental moment with tightened braces, it might be a disappointing test grade – but there is pretty much nothing that a small bowl of rice pudding cannot solve.
Choosing Milk
I am happily partnered up with Milk. Love What's Real, the organization that represents America's dairy milk companies, which is probably the number one food/ingredient in our house at all times. Running out of real milk is as rare as a lunar eclipse for us – mornings couldn't start without it.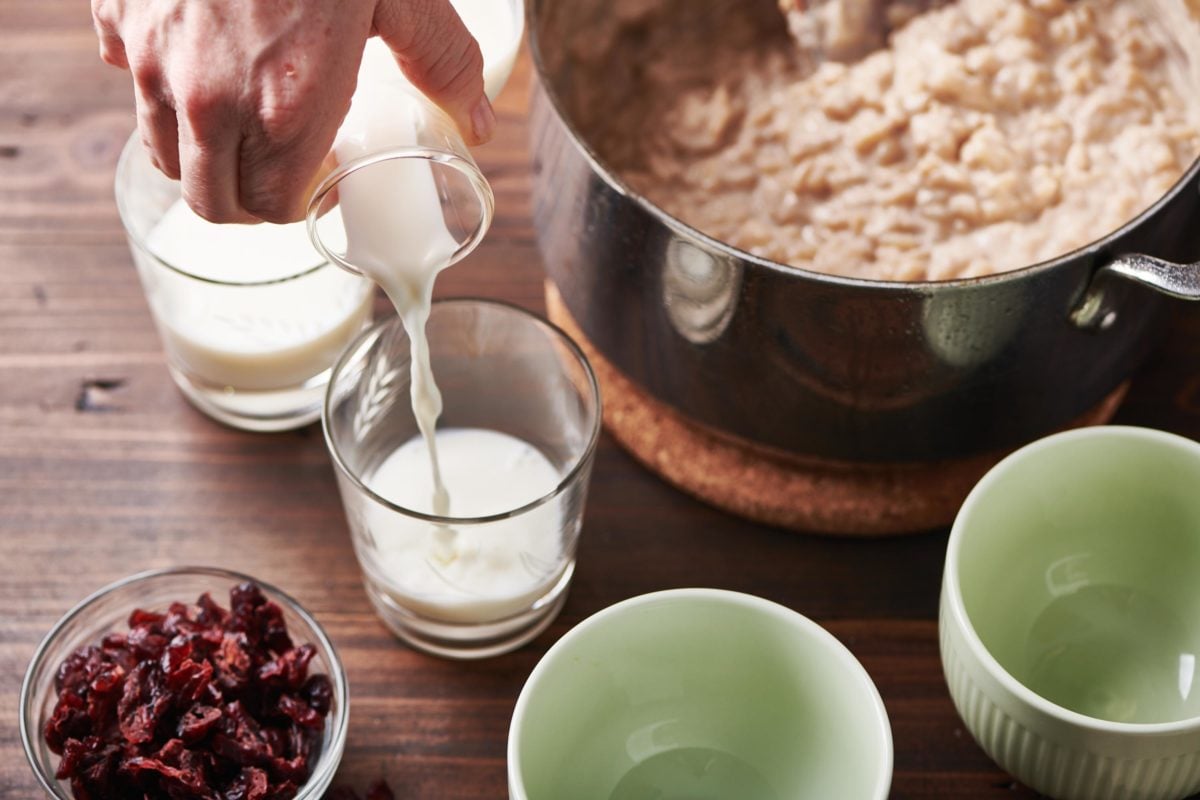 Other than rice, milk is the primary ingredient, and the reason this is such a soul-satisfying dessert. So, which kind to use? 1%, 2%, whole milk…? It's pretty straightforward; the higher the fat content, the richer the final dish will be. But for this dish, and for any other dish where milk is uses in large quantities, I like to get the best of both worlds by choosing something in the middle. 2% is my go to milk for rice pudding, just lush enough to give the pudding some depth of flavor and richness, but with a restrained fat content, so I can justify a bigger serving.
Make Ahead
This can be served warm or cold. You can either let it simmer away while you eat dinner (jump up and stir every once in a while), and enjoy it warm fresh from the pot, or you can make it ahead of time, and serve it chilled. It's great both ways.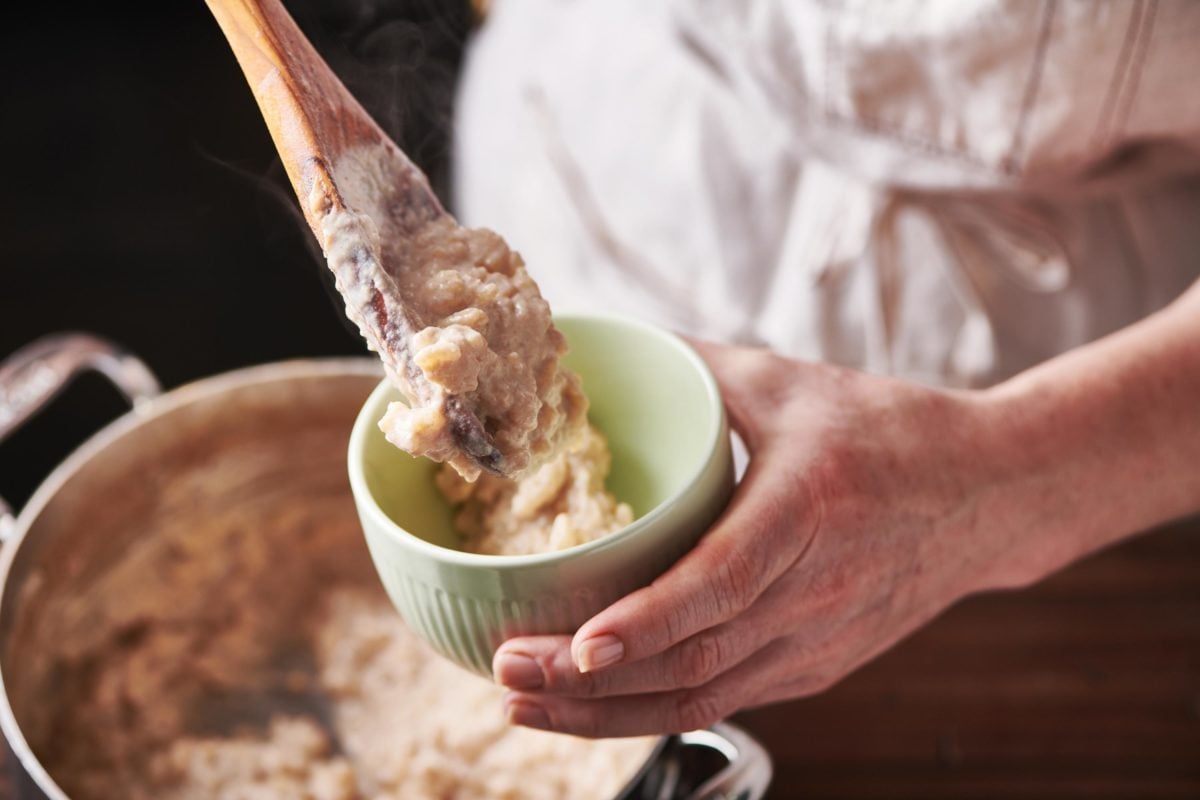 Cooking Tip
The brown sugar gives it a slightly caramelly note, but you could also use granulated sugar if you prefer a whiter pudding, or that's what you have on hand.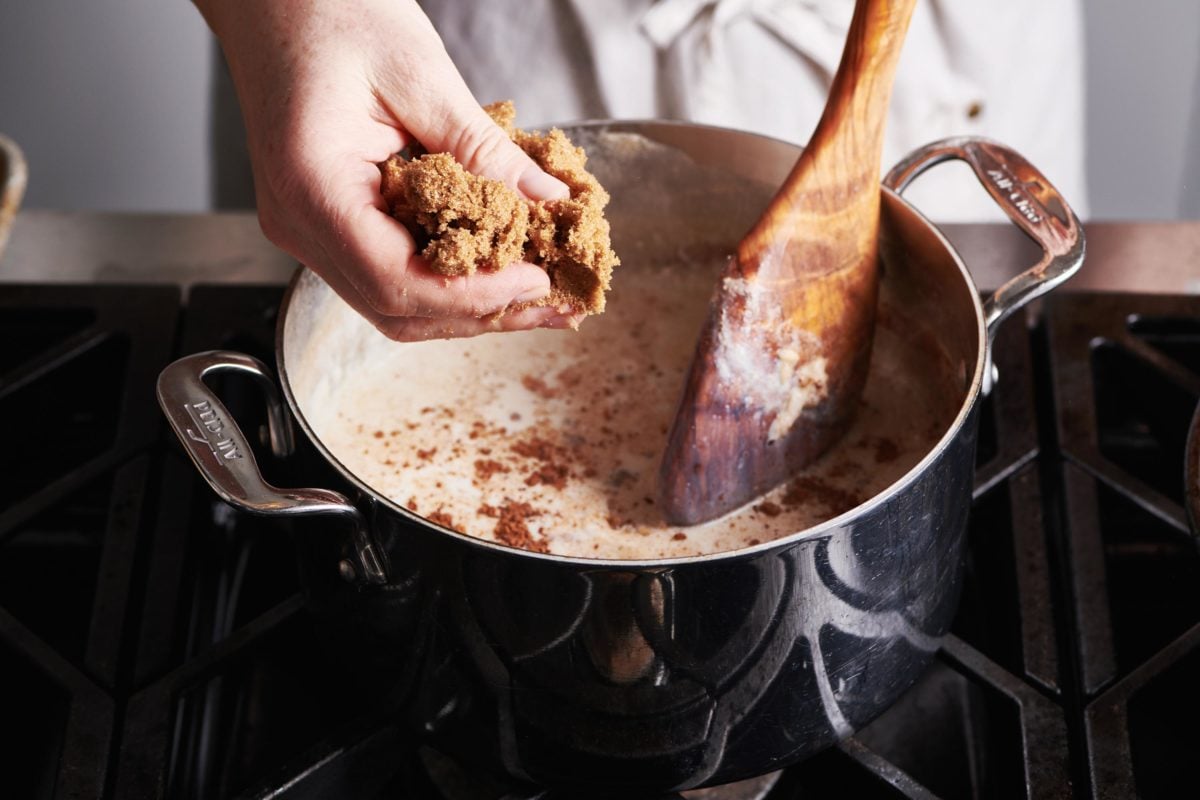 Rice Pudding Add-Ins
While my boys like it best unadulterated, raisins are a very common addition to rice pudding. Sometimes instead of raisins I like to play around with other dried fruit like raisins, dried cranberries or dried cherries. You can also just stir them in or sprinkle them on at the end into individual bowls; they just won't plump up as much as if you cooked them in the pudding)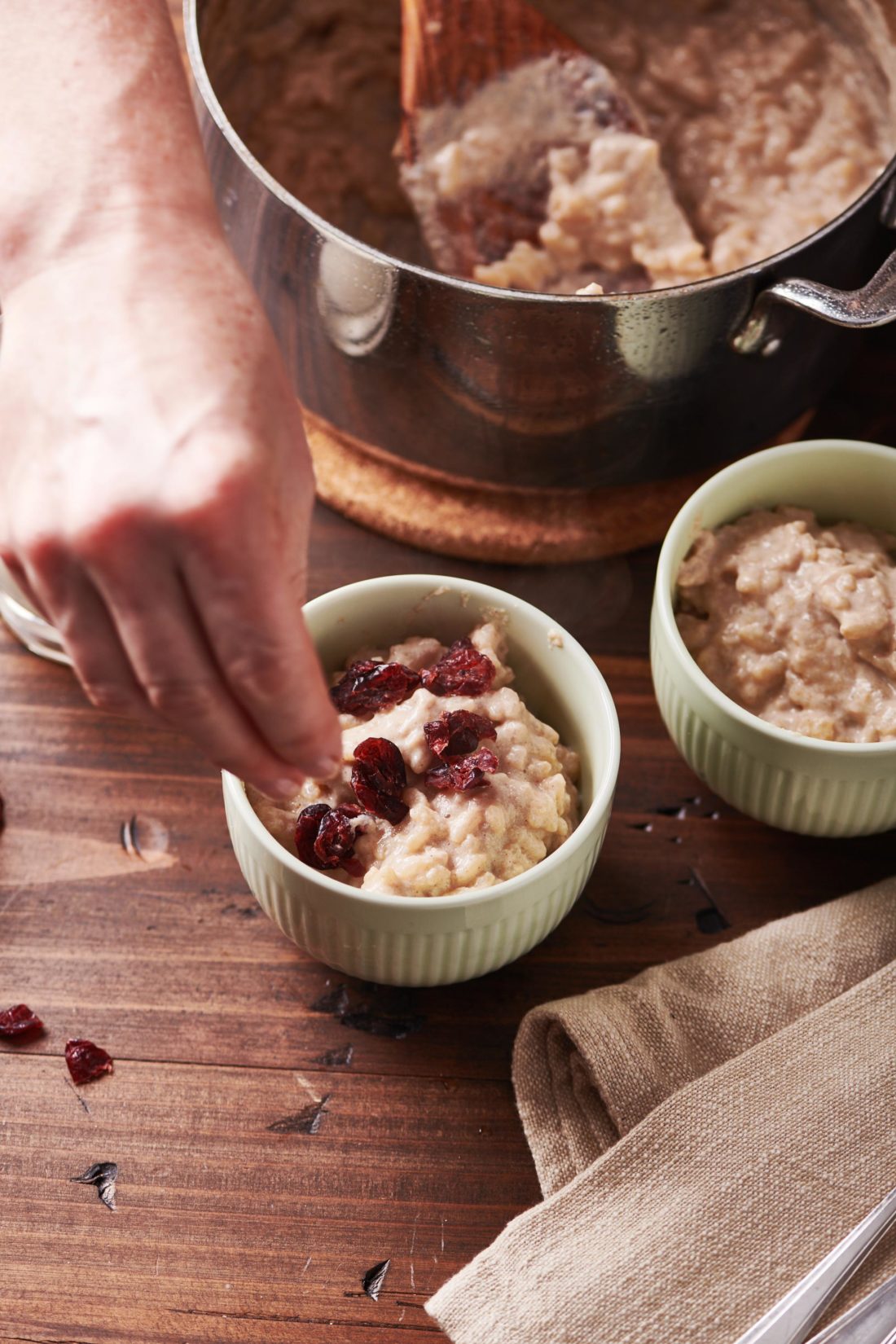 Other Creamy Desserts:
Creamy Rice Pudding
One of the ultimate comfort foods in our house—the creamy, cinnamon-ey, milk-rich dessert just makes us feel better no matter what is going on.
Ingredients
4 ½

cups

2% or whole milk

1

tablespoon

butter

¼

teaspoon

kosher or coarse salt

¾

cup

medium or long grain rice

1

teaspoon

pure vanilla extract

Grated zest of 1 orange

optional

⅓

cup

packed brown sugar

see Cooking Tip

½

teaspoon

ground cinnamon

plus additional for sprinkling, if desired

1

cup

raisins or dried cranberries

optional
Directions
In a medium-sized saucepan bring the milk, butter, salt, and orange zest, if using, to a simmer over medium heat. Add the rice and bring to a simmer, then cover, lower the heat to medium-low and simmer for 15 minutes.

Uncover, stir in the vanilla, brown sugar, cinnamon, and raisins or dried cranberries, if using, and simmer, stirring frequently to prevent burning, for another 20 minutes or so until most of the liquid is absorbed, and the rice is creamy.

Let cool slightly and serve warm in bowls, with a final sprinkle of cinnamon if desired. Or you can transfer to a larger bowl or individual ramekins, cover with plastic wrap, refrigerate, and serve chilled.
Nutrition Information
Calories:
310
kcal
|
Carbohydrates:
58
g
|
Protein:
8
g
|
Fat:
6
g
|
Saturated Fat:
4
g
|
Cholesterol:
19
mg
|
Sodium:
208
mg
|
Potassium:
490
mg
|
Fiber:
2
g
|
Sugar:
21
g
|
Vitamin A:
239
IU
|
Vitamin C:
2
mg
|
Calcium:
236
mg
|
Iron:
1
mg
The nutrition values are provided as an estimate. It is not intended as a substitute for the advice of a qualified healthcare professional.
Made this recipe? Post a photo of your delicious creation on Instagram with our hashtag #dinnersolved
Head to MilkLife.com/milk-love-whats-real to learn more about the different types of milk for you and your family.