Healthy Taco Salad
There are certain areas of the country where the cooking and the flavors and the dishes captivate people far beyond the confines of their borders. (This of course is true for places outside of the U.S. – perhaps we've all sampled and enjoyed some Italian cooking, yes?) But within the U.S., I think it's safe to say that Southwestern food has a fan base far beyond its region.
Southwestern Flavors
The lines between Southwestern and Tex-Mex cuisines are a little blurry. There are beans and chilis and tomatoes and corn and similar spices in both. And there is a lot to say about the chilies of the Southwest (see here for loads of good info on that). When I was a kid and budding cook, Jane Butel's books made a big impact on me, and that was my intro to the flavors of the Southwest.
In college I went to Sante Fe a couple of times and feel deeply in love with these flavors. I think one trip we went to Cafe Pasqual's twice, because of the salsa alone. And then after graduating from college, I remember making a little joint in NYC called the Miracle Grill a regular spot, being impressed at how easily these flavors could make the leap from the Southwest up North. Does anyone remember that restaurant? The kitchen was run by a young unknown chef named (I hate to say wait for it, it's so tired, but….) Bobby Flay.
Anyway! This salad is not authentic, it's not fancy, it's not anything other than a satisfying chicken salad inspired by the flavors of this much-loved culinary style. I feel a little bad now, having built up this cuisine so much, and then apologizing for my salad, but I will do a deeper dive into some of these dishes in the future, and meanwhile, we really, really, really loved this salad.
Chicken Taco Salad Ingredients
This taco salad contains cubed sauteed chicken, black beans, onions, bell peppers, radishes, cucumber, crunchy lettuce and corn chips. You also have the option of adding avocado (which is always a god option) and fresh cilantro leaves at the end.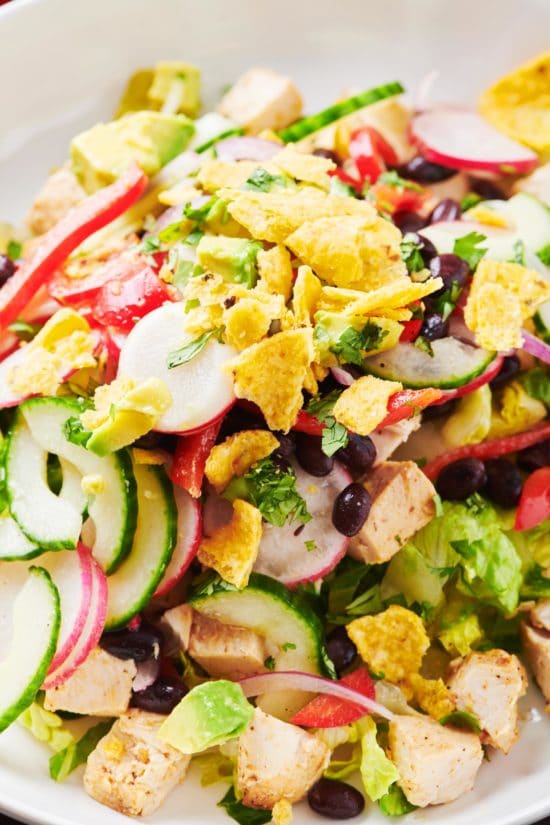 Taco Salad Dressing
The dressing for this salad is simply oil and vinegar, plus salt and pepper. However, the seasoning that you use to cook the chicken, chili powder, cumin, and garlic, blend into the dressing, coating all of the ingredients with tons of flavor. Also, the vegetable are tossed with a bit of lime juice, which also adds some citrusy zing to the salad. Once everything is combined into one taco bowl the flavors all meld together and turn a simple dressing into a flavor bomb.
Chicken Taco Salad: This salad is a full-on festival of color and texture and flavor — a joy to look at and a joy to eat.

Tweet This
How to Make Chicken Taco Salad
To assemble the salad, layer the dressed lettuce in individual shallow bowls, and divide the seasoned cooked chicken between the bowls.
Spoon the colorful vegetable and bean mixture over the chicken.
Then top with avocado and cilantro, if desired.
Serve with tortilla chips or Fritos on the side or crumbled on top. As you can see I went for the Fritos and they were so divine I can't even tell you.
Other Chicken Salad Recipes You Should Try:
You Might Also Like:
Like this recipe? Pin it to your favorite board on Pinterest.

Pin This
Chicken Taco Salad
This salad is a full-on festival of color and texture and flavor — a joy to look at and a joy to eat.
Ingredients
1

cup

black beans

drained and rinsed

8

radishes

thinly sliced

½

cucumber

halved lengthwise, seeded, and cut into thin half moons

½

red onion

cut into wedges, then slivered

½

cup

thinly sliced red or yellow pepper

2

tablespoons

fresh lime juice

divided

4

tablespoons

canola or vegetable oil

divided

1

teaspoon

ground cumin

1

teaspoon

chili powder

Kosher salt and freshly ground pepper

to taste

1 ½

pounds

thin chicken cutlets

1

clove garlic

finely minced

8

cups

thinly shredded romaine hearts

2

tablespoons

cider or rice wine vinegar
To Serve (Pick and Choose)
Directions
In a medium bowl combine the black beans, radishes, cucumbers, red onion, peppers, 1 tablespoon of the lime juice and 1 tablespoon of the oil. Season with salt and pepper.

Mix together the cumin, chili powder, and salt and pepper. Sprinkle it over the chicken.

Heat 1 tablespoon of the oil in a large skillet over medium high heat.   Add the garlic, swish it around, then add the chicken without crowding (in batches if necessary), and sauté until cooked through, about 4 minutes on each side. Remove the cutlets to a cutting board and cut them into bite-sized pieces. Sprinkle them with the remaining tablespoon lime juice.

Meanwhile toss the lettuce with the vinegar and remaining 2 tablespoons oil, and season generously with salt and pepper.

Pile the lettuce into 4 individual shallow bowls. Divide the chicken evenly between the bowls, piling it onto the lettuce. Spoon the vegetable mixture in equal amounts over the chicken, then top with avocado and cilantro, if desired, and serve with tortilla chips or fritos on the side or crumbled on top
Nutrition Information
Calories:
424
kcal
|
Carbohydrates:
20
g
|
Protein:
43
g
|
Fat:
19
g
|
Saturated Fat:
2
g
|
Trans Fat:
1
g
|
Cholesterol:
109
mg
|
Sodium:
224
mg
|
Potassium:
1303
mg
|
Fiber:
8
g
|
Sugar:
4
g
|
Vitamin A:
13365
IU
|
Vitamin C:
38
mg
|
Calcium:
89
mg
|
Iron:
4
mg
The nutrition values are provided as an estimate. It is not intended as a substitute for the advice of a qualified healthcare professional.
Made this recipe? Post a photo of your delicious creation on Instagram with our hashtag #dinnersolved