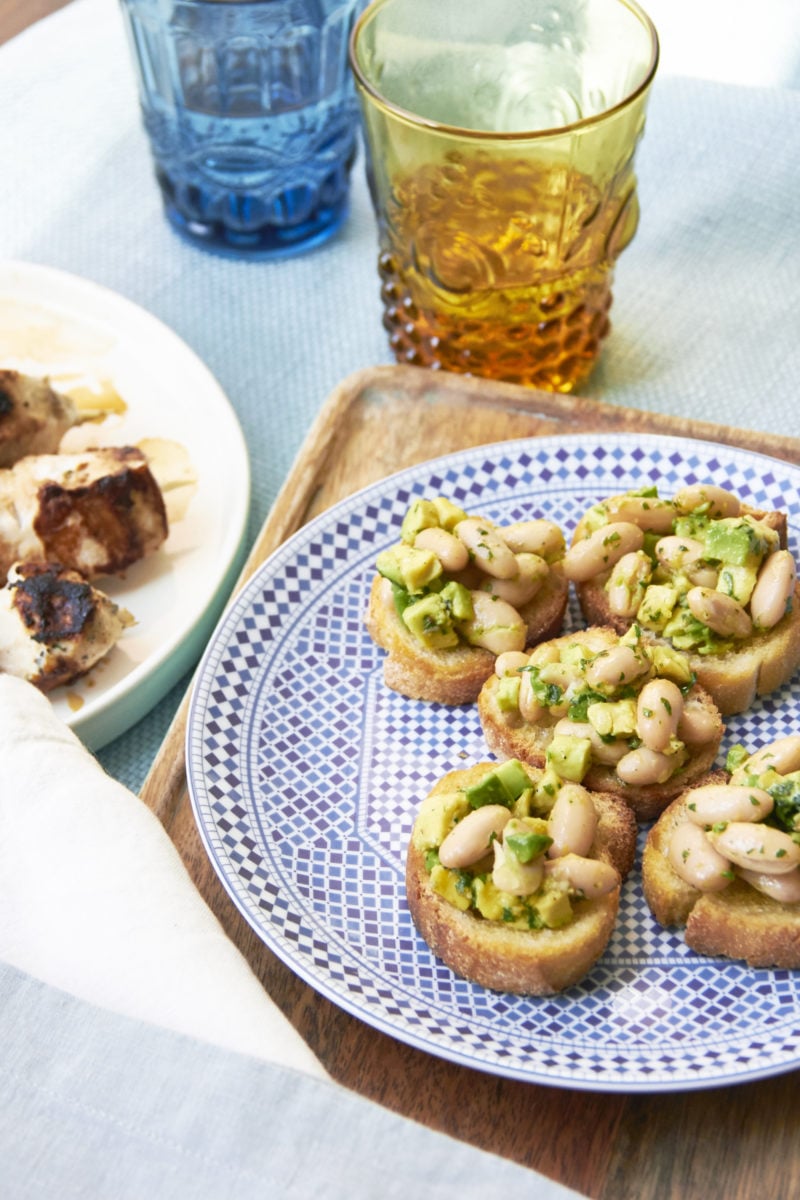 Crostini are a pretty brilliant way to use up odds and ends that you might have in your fridge, and it doesn't take much to transform them into an elegant little appetizer. An avocado that's begging to be used (like TODAY) becomes a perfect partner for firm cannellini beans, and looks beautiful heaped on a sturdy little toast.
And I have found that putting things on small pieces of lovely bread, swiped somewhat generously with olive oil, sprinkled somewhat generously with kosher salt, and toasted in the oven works amazingly well in terms of getting folks to try new things.
Committing to a crostini is not exactly hard, nor is it a chore. And this is not just about my kids either – it seems to work on just about everyone. I just cooked for a party for my 8th grade home ec teacher, the nicest person, a great story about how we reconnected several years ago WAYYYY after she taught me home ec (oh if you haven't read it, please, just do), and there were quite a few crostini, because i know she loves them, generally speaking.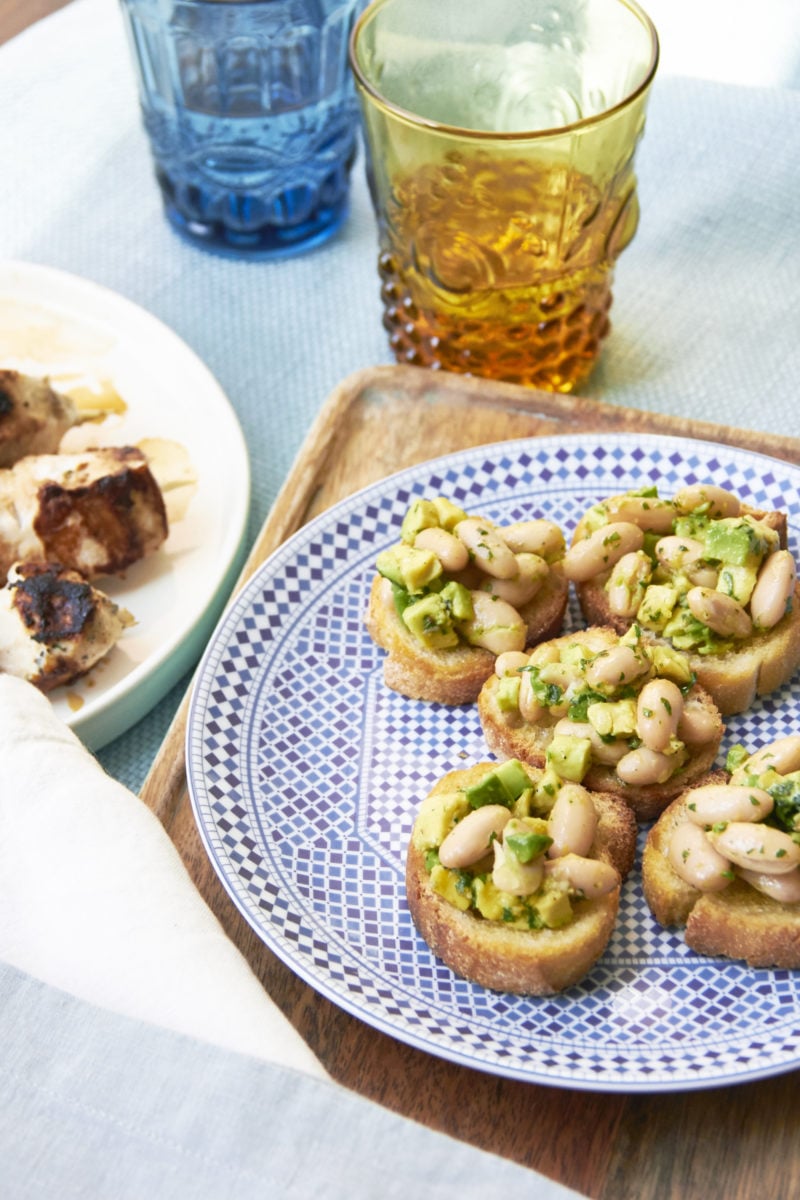 Anyway, I made some topped with this salmon and white bean salad, and some topped with a few versions of whipped ricotta and then roasted peppers…and they were a hit. As they often are. But the point here is that the three teenagers she hired to help serve and do dishes (did I mention this party was for 80 people?) had not tried any of the things I had made to top the crostini. But because they were on top of cute little olive oil-slicked pieces of toast….
Not just the teenagers! A lot of the guests came up to me and said "Hey, I've never had (fill in the blank) but I tried it on one of those little toasts and I really liked it!"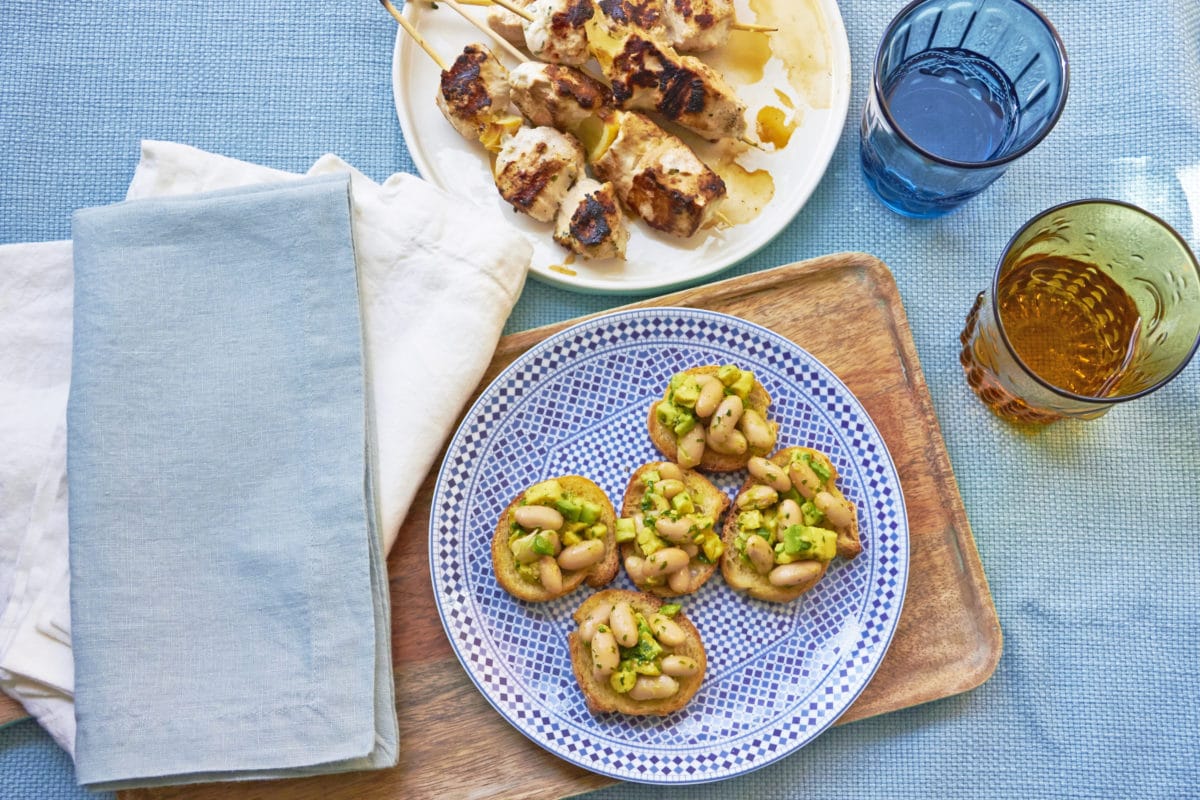 Crostini are definitely a lovely little gateway vehicle for presenting something new to your gang. And as for these, the beans can be left whole, and the avocado in in little cubes OR smashed up a little. Your choice.
For a lovely opening to a summer evening serve thee up with A Peach Cocktail and a Mocktail for Mixed Company.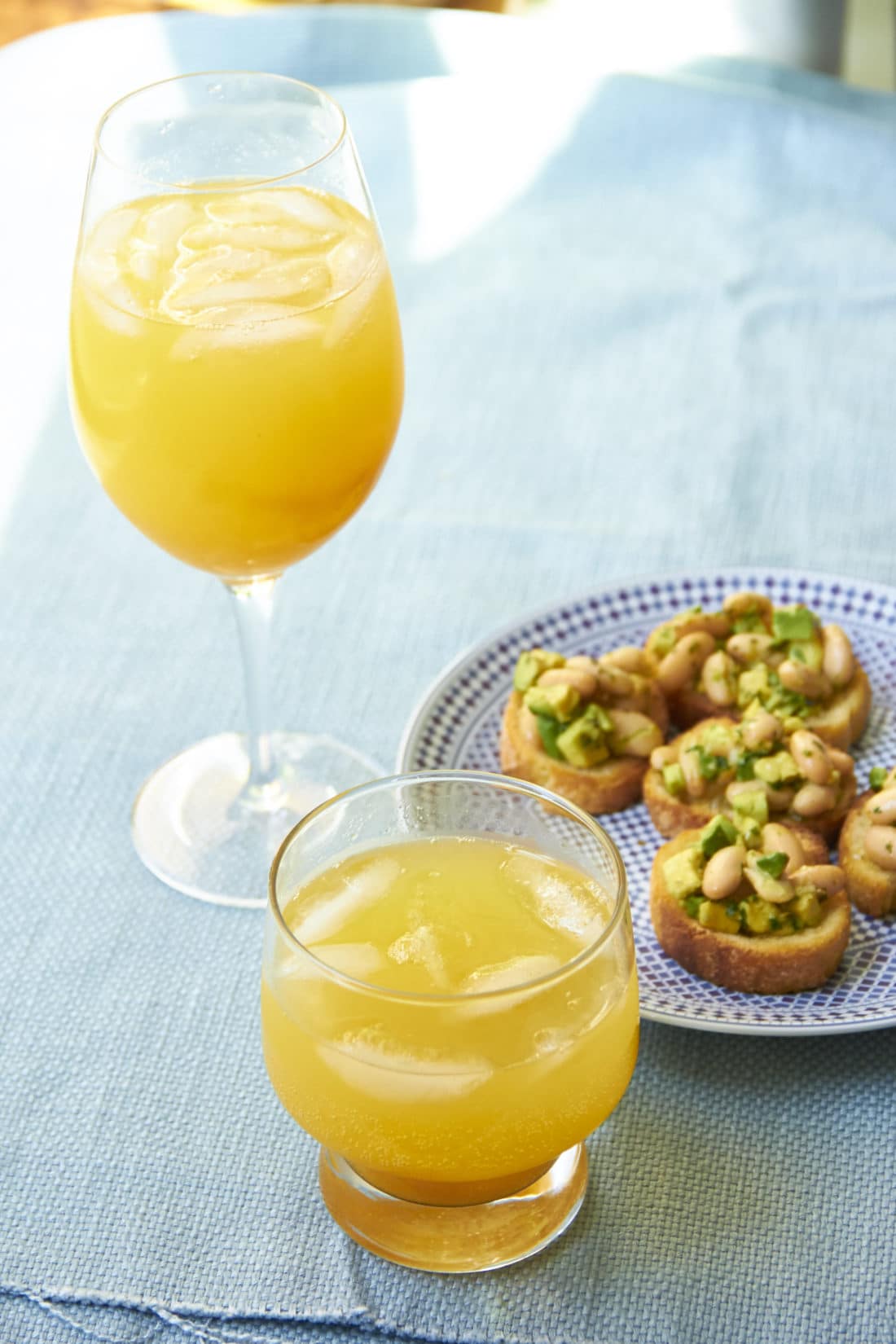 More Delicious Bruschetta and Crostini Recipes:
Avocado And Cannellini Bean Crostini With Gremolata
A ripe avocado and a can of beans turn into an elegant little appetizer.
Ingredients
For the Gremolata
2

tablespoons

minced fresh parsley

1

teaspoons

grated lemon zest

1

clove

finely minced garlic

Kosher salt and freshly ground pepper

to taste
For the Crostini
1

baguette

½

good olive oil

approximately

Kosher salt to taste

1

ripe Hass avocado

1

15-ounce can cannellini

or small white beans, drained and rinsed
Directions
Preheat the oven to 350°F.

To make the gremolata, in a small bowl (or a mini food processor) combine the parsley, lemon zest, garlic, salt and pepper.

Slice the baguette on the diagonal into about 24 to 30 ½-inch slices, so that you get more surface area for each slice. Brush olive oil on one side of each slice of bread, arrange them on a baking sheet, and sprinkle them with salt. Bake for 6 to 8 minutes, until the bread is lightly toasted. The crostini will firm up a bit as they cool, so don't over bake them.

While the crostini bake, slice the avocados in half lengthwise, and remove the pit. Use a knife to cross-hatch cut the avocado into small dice right in its skin. Gently scoop the small cubes of avocado into a medium-sized bowl. Add the beans, 2 tablespoons olive oil, gremolata, and season with salt and pepper. Stir to blend. Top the crostini with the avocado-bean mixture, heaping it onto the toasts.
Notes
Fork-in-the-Road
The fork in the road part come in the form of a bright parsley gremolata, which may even be appealing to younger or more timid palates. If not, the pared down combination of the creamy topping and the crunchy toast makes for a good rustic chomp. If you want all of the crostini to be seasoned up, double the amount of the gremolata.
Originally published on The Huffington Post.
Nutrition Information
Calories:
132
kcal
|
Carbohydrates:
21
g
|
Protein:
5
g
|
Fat:
4
g
|
Saturated Fat:
1
g
|
Sodium:
247
mg
|
Potassium:
129
mg
|
Fiber:
4
g
|
Sugar:
1
g
|
Vitamin A:
97
IU
|
Vitamin C:
3
mg
|
Calcium:
49
mg
|
Iron:
2
mg
The nutrition values are provided as an estimate. It is not intended as a substitute for the advice of a qualified healthcare professional.
Made this recipe? Post a photo of your delicious creation on Instagram with our hashtag #dinnersolved