This post may contain affiliate links. Please read our privacy policy.
It's not like peaches and nectarines are exactly a mystery fruits to most of us. The pleasure of eating a ripe summer peach out of hand can't be overstated. But when they are in season you want to make the most of them, and figure out how to include them in every meal, in every course.
Here is some info on how to make the most of two of the best stone fruits of the summer season.
What Exactly is a Peach or Nectarine?
Most of us (at least me, and I'm guessing some of you) don't know that the peach was first cultivated in China, and came to Europe by way of Persia. They are still very popular throughout Asia, as well as in Europe and of course there in North America.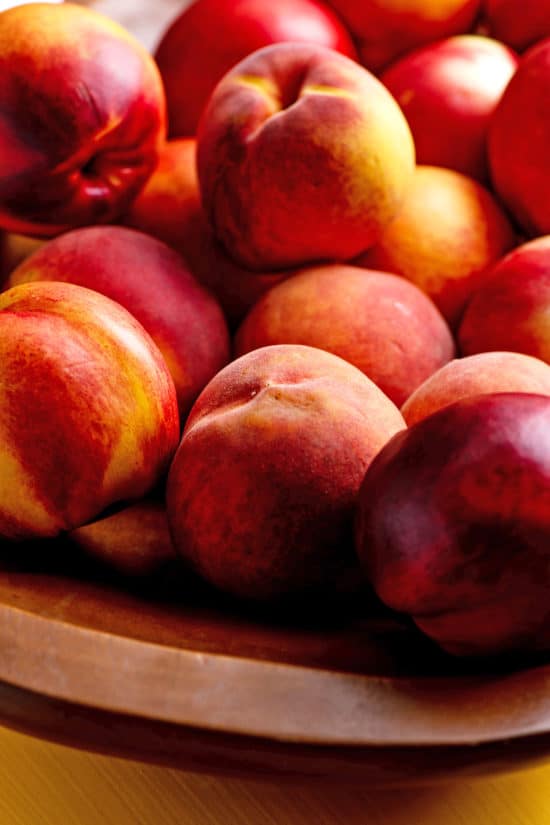 Peaches are part of the rose family, cousins with apricots, cherries, plums, and almonds. The nectarine and the peach are actually the same species, two different strains, one with a fuzzy skin (peach) and one with a smooth skin (nectarine).
What Are the Different Types of Peaches and Nectarines?
You might see the label "clingstone" or "freestone" which indicates whether the flesh clings to the pit, or comes away easily; the freestones are easier to handle for cooking, but the clingstone are often sweeter. The flesh of either fruit can be white or yellow, both sweet, though the yellow varieties of both peaches and nectarines often have a bit tartness playing in there with the sweetness.
And then within those categories, there are literally thousands of varieties of peaches and nectarines available throughout the world.
How Do You Ripen and Store Peaches and Nectarines?
Peaches should be ripened on the counter, and in warm months they ripen fairly quickly. A ripe peach or nectarine will have a taut skin (meaning no buckling or wrinkling), but a bit of give when pressed, and a wonderful peachy aroma.
Transfer ripe peaches to the fridge to store for up to a few days if you're not ready to use them, but return them to room temperature before eating.
How Do You Cook with Peaches and Nectarines?
So, other than eating one with its fragrant juice dripping down your hand, how else to use them? In pies, tarts, jams, cobblers, crisps, clafoutis, drinks, salads, and salsas, sautéed on the side of grilled meat, grilled, in ice cream, and in compotes. Just for a few ideas.
How Do You Peel a Peach or Nectarine?
Sometimes a recipe will call for peeled peaches or nectarines. Here's how to do that easily:
Bring a pot of water to a boil, big enough so that the peaches will be submerged when they are dropped in. Have a large bowl of ice water ready on the side.
Make a small x with a sharp knife on the bottom of each piece of fruit (this is called scoring the peaches).
Drop them into the boiling water and allow to cook for 15 to 30 seconds, then remove them with a spoon (preferably slotted), and drop them into the ice water bath.
Remove them after about 15 seconds; their skins should be able to be peeled or slipped right off.
A recipe will indicate if you should peel them, but in the end it's really up to you. There is no harm in having the skins in a dish, but sometimes it might add an unwelcome texture.
You can also do this with a vegetable peeler, though it can be a bit messy.
When Are Peaches and Nectarines in Season?
Depending on where they are grown, peaches and nectarines might be freshly available all summer long, but June through the beginning of September are the most robust months for these fruits to be in season.
Are Peaches and Nectarines Nutritious?
Peaches and nectarines offer a nice dose of various vitamins and minerals, and like pretty much all fruits and vegetables an unthreatening amount of calories.
(The old saying "No one ever got fat eating (fill in the blank) definitely applies to all fruits and vegetables.)
---
Try Peaches and Nectarines in These Recipes!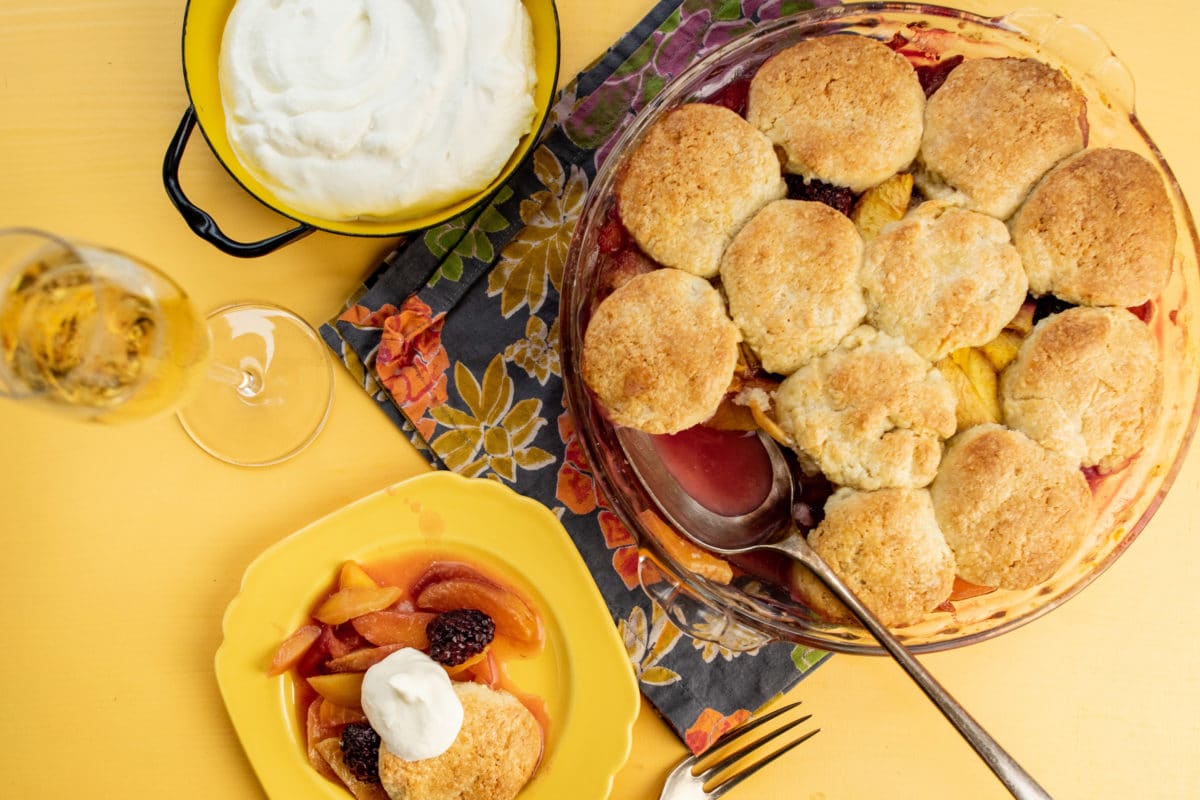 Served warm with ice cream and whipped cream, is one of the best summer desserts ever.
---
Delicious with sparkling wine, or substitute with sparkling water to make it kid-friendly.
---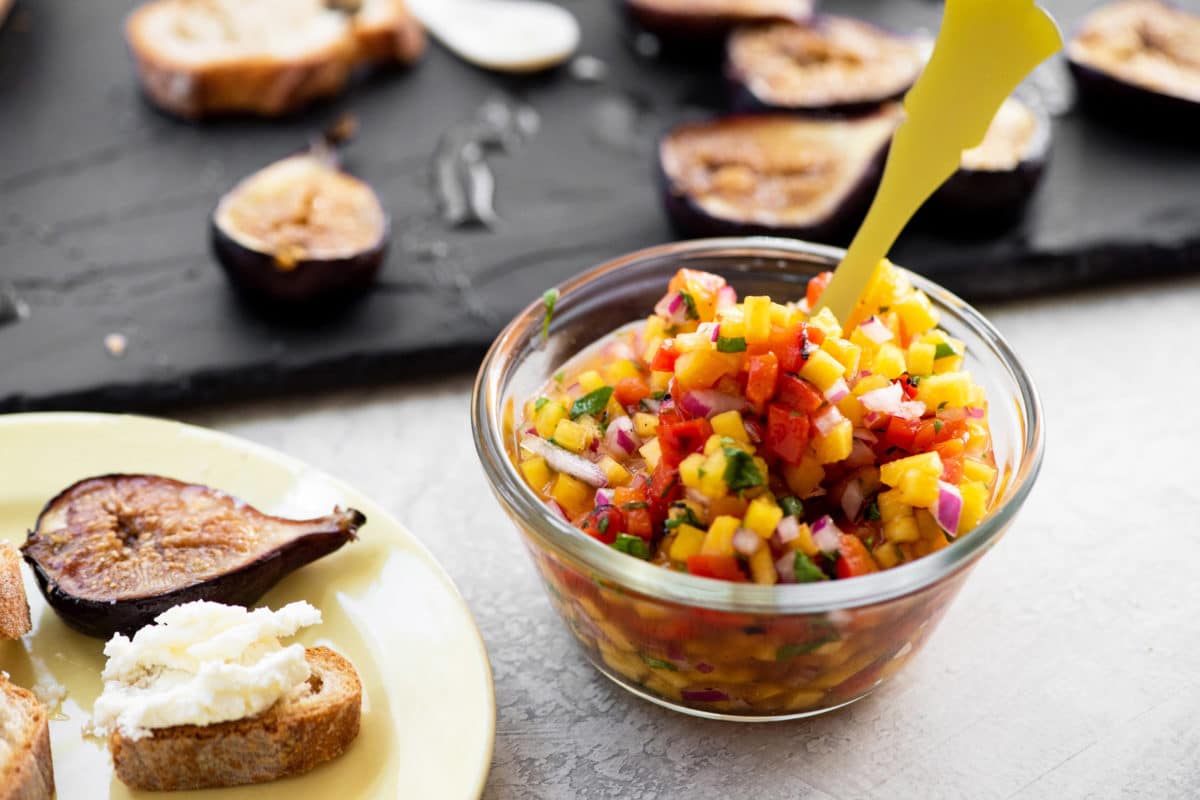 A dazzler of a salsa, savory and sweet all at the same time.
---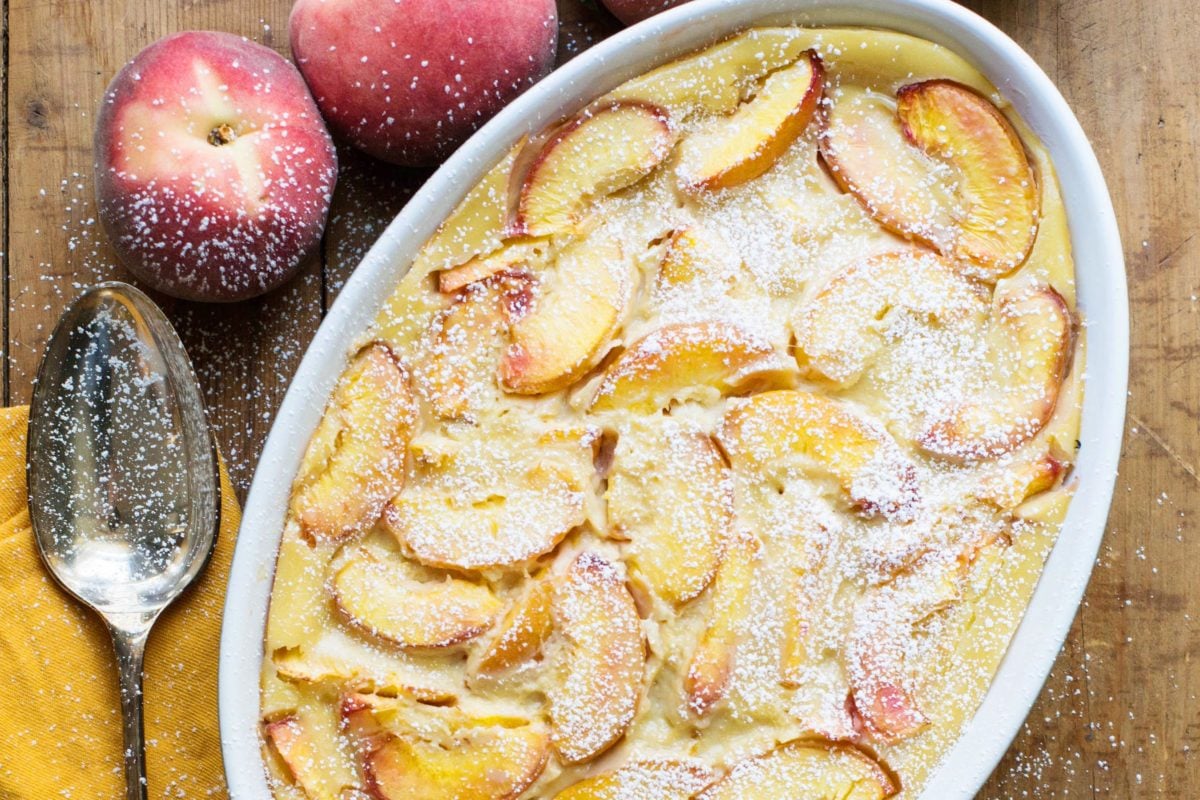 A custardy batter forms a moist cake surrounding fresh peaches.
---
This summery fruit crisp makes the most of those gorgeous ripe peaches.
---