This post may contain affiliate links. Please read our privacy policy.
Chayote, pronounced "chai-oh-tay," is a squash that originated in Mexico. Although it is actually a fruit, chayote is eaten as a vegetable. Chayote is common in the Southwestern U.S. states but is rare in most other places in North America. They were first domesticated in Central America only about a few hundred years ago. Now, they are commonly used in both Mexican and Guatemalan cuisines.
Chayotes are also called mirlitons or chokos or custard marrow in other parts of the world. You may also hear it referred to as a cucumber pear or vegetable pear, even though it is not a member of the pear family. And down below, there is an easy recipe for Stewed Chayote with Tomatoes to get you started.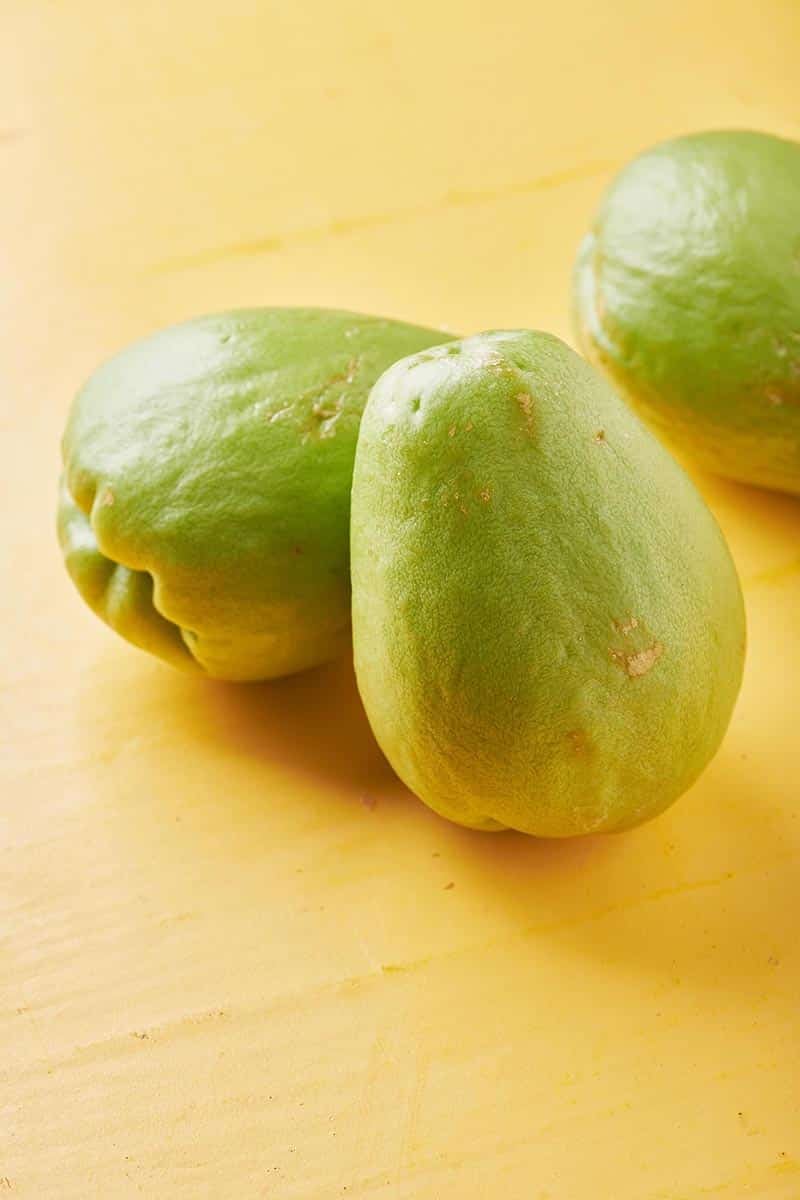 What Does Chayote Look Like?
Chayote is a green, thin-skinned squash that averages about 5 inches long, and 8 ounces in weight. Its shape slightly resembles a pear but is a more vibrant green in color. Its outer skin is bumpy and can be a bit hairy/prickly. The chayote in the U.S. tends to be smoother and more pear-shaped than those grown in other places around the world. Inside the chayote, there is a layer of light green fruit that surrounds the seed — which is actually edible, but not to everyone's liking!
When buying chayote, avoid those with blemishes or an uneven green exterior. The shape of the chayote is irregular and can vary quite a bit.
How to Cook Chayote: Chayote is a squash that originated in Mexico. Here's everything you need to know about how to buy, store, and cook with chayote squash.

Tweet This
What Does Chayote Taste Like?
Chayote has a notably mild flavor compared to most fruits and vegetables. Its flavor tends to be described as a cross of an apple and a cucumber but not as flavorful as those two fruits. Its texture is crispy, similar to a fresh piece of jicama. Because of its mild neutral flavor, it is easy to add to any dish.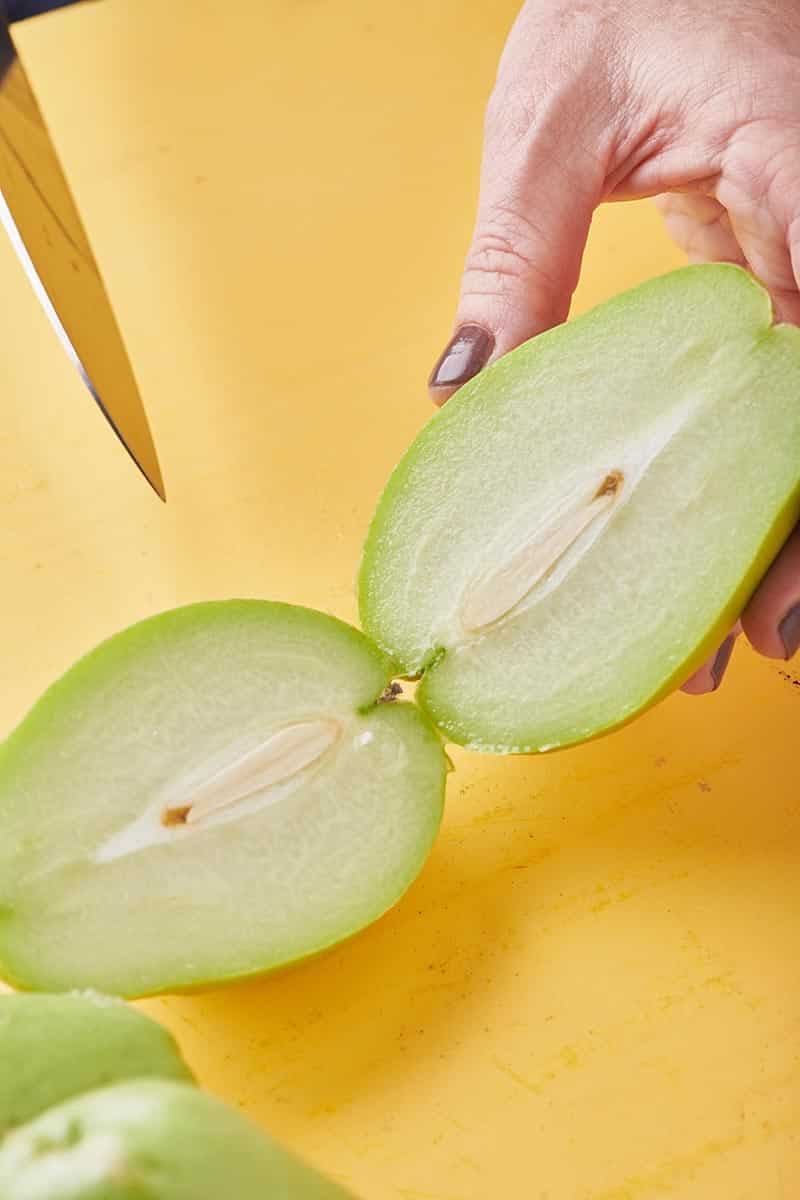 Where to Find Chayote
Chayote will be found more abundantly in the states where they are grown, especially the southwest United States. However, most grocery stores will carry chayote in their produce section. Some farmers markets may also feature chayote, obviously depending on location and season. October through March is peak chayote season, but most grocery stores carry it year-round.
Chayote Substitutes
Zucchini or summer squash is the best and most easily available substitute for chayote. It also has a mild flavor, like chayote, though sometimes slightly more bitter than chayote. Even though zucchinis can be eaten raw, they are usually cooked, as the vegetable can then absorb other seasonings in the cooking process and become sweeter and richer in taste. Like chayote, zucchinis are also adaptable because they are quite bland in flavor and can absorb a lot of other flavors.
Green papaya, which is less readily available than zucchini, can also be used as an alternative to chayote. Green papaya are papayas that have not ripened.
Sometimes chayote is used in place of apples, kind of like a mock apple pie.
How to Eat Chayote
Chayote does not need to be cooked to be enjoyed. You can eat it raw, just like how you would eat celery or cucumber. Chayote is a great addition to stews, salads, casseroles, or sautés. Although the skin is edible, it's not very tasty or appealing texturally, so peeling the skin is usually a good idea. This is done quite easily with a peeler or paring knife.
Chayote can be eaten and cooked like any other squash. Chayote can be roasted like many other vegetables, getting sweeter and more flavorful in the caramelization process. They can also be fried, steamed, and boiled. And stewed chayote with tomatoes (recipe below) is the easiest and most simple side dish ever.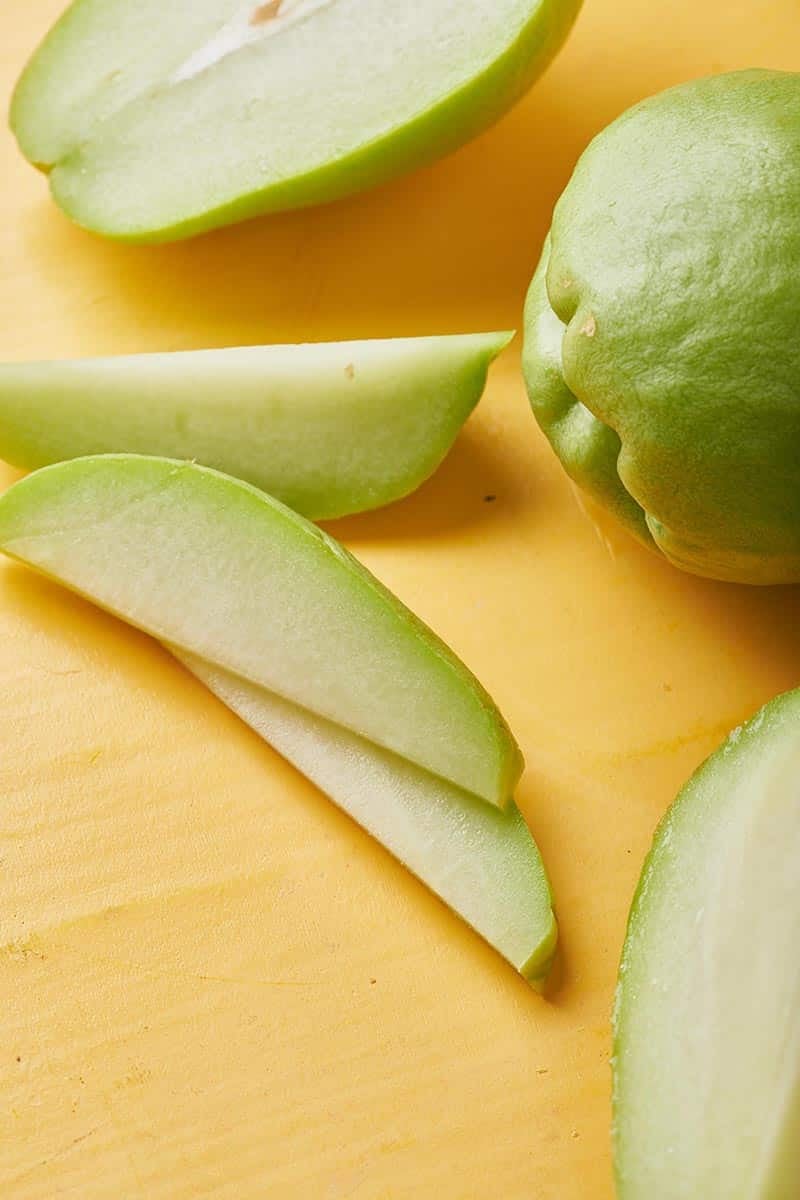 Storing
Chayote will last for up to a month when it is stored in an air-tight container in the fridge to prevent drying out. A plastic bag or sealable container will work great.
Chayote freezes nicely, as long as you blanch it first. Wash, peel, and slice the chayote, then blanch it in salted boiling water for 2 minutes. Then drain the chayote, and plunge it into an ice water bath to stop the cooking. Freeze in a freezer-proof sealable bag with the air pressed out for a few months until you are ready to use.
---
Stewed Chayote with Tomatoes Recipe
This is a simple preparation of chayote, a very mild and versatile squash with a nice firm texture. It takes about 15 minutes to make and is very nutritious while also very low in fat and calories. It's a really healthy vegetable side dish that can be pulled together quickly with ingredients you probably have at home. And it's even vegan!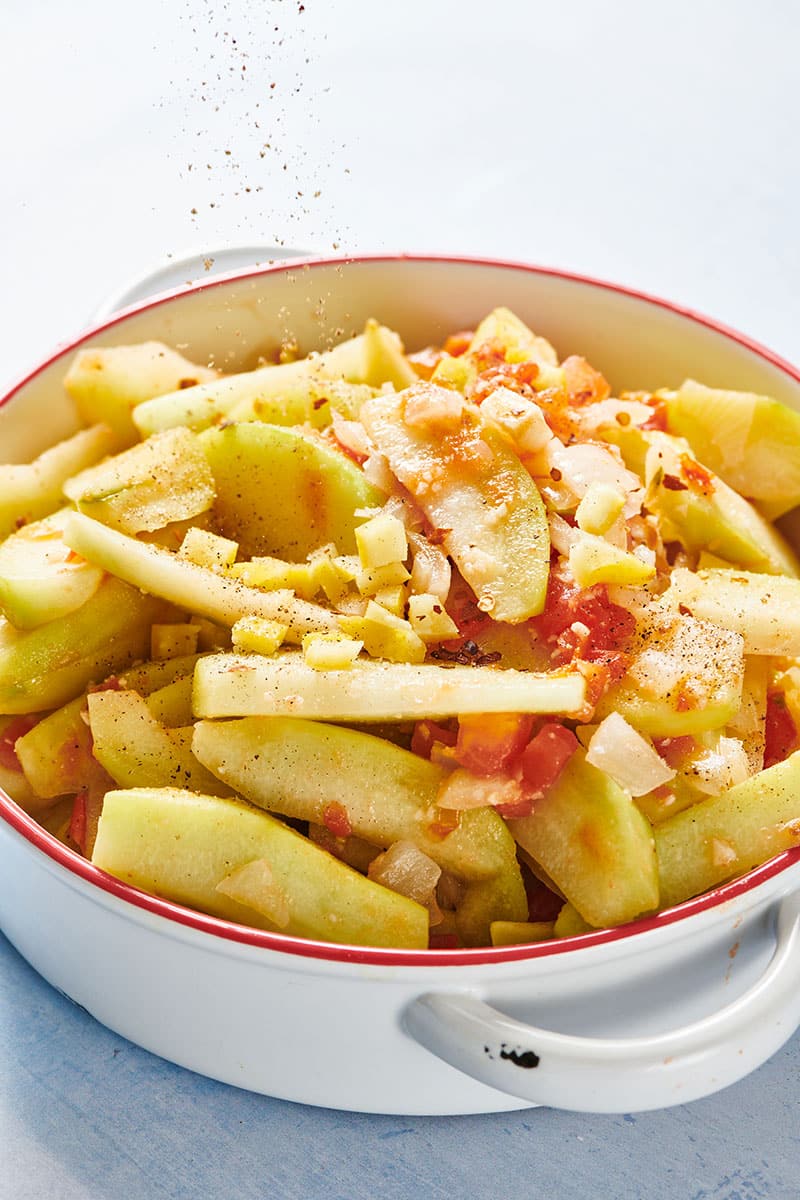 This recipe was inspired by a chayote recipe in Mesa Mexicana by Mary Sue Milliken and Susan Feniger. Chayote is very popular in Mexican cooking, often prepared this way, stewed with onion, garlic, and tomato. This easy recipe features very simple flavors and ingredients, and so it goes with not only other Mexican dishes but really just about anything. I actually ate half of the batch over 2 days for lunch, with a side of Quinoa Salad!
Milliken and Feniger advise that adding salt to the boiling water is crucial when cooking chayote, which is very subtle in flavor. In this recipe, the chayote is first briefly boiled in the salted water. Then it's sautéed in some onions and garlic, and finished with the tomatoes and a bit of water which form a simple sauce.
Make sure not to overcook the chayote — it's really nice when it retains its crisp-tender texture. I like it best warm, but I've also eaten it at room temperature.
Chayote (also called vegetable pears or mirliton) becomes a very simple side when stewed with tomatoes in this four-ingredient vegan recipe.

Tweet This
Ingredients
The super short ingredient list (4 ingredients, not including olive oil, salt, and pepper) makes this a side dish you can pull together quickly and easily. See below for variations, or stick to this simple collection of pantry staples.
Kosher salt – Important for seasoning the water and also for amping up the flavor of the final dish.
Chayote – Choose chayote that are light to dark green in color, without any softness or bruising. Make sure to peel the chayote before slicing it.
Olive oil – Required when sautéeing the aromatics.
Onion – Sautéed onion adds a rich flavor.
Garlic – A generous amount of garlic adds a lot of flavor to an otherwise mild dish.
Tomatoes – Use any ripe tomatoes that you have, large or small.
Freshly ground pepper – Add to taste; I like quite a bit of pepper in this recipe.
Variations
Because chayote is such a mild vegetable, you can really explore all kinds of different seasonings when you prepare it. Below are just a few suggestions, but you should feel free to explore your spice cabinet and also think about using various condiments you might have open in the fridge.
Add 1 teaspoon of chili powder with the onions.
Finish with a few tablespoons of diced preserved lemons on top (not very authentic, but so delicious! Pictured below.)
Use white wine instead of water to finish cooking the chayote.
Add a chopped Anaheim chile with the onions.
Stir in a tablespoon of pureed chipotles in adobo.
Finish the dish with a hefty sprinkle of chopped fresh cilantro.
Sprinkle some gremolata over the finished dish.
Sprinkle some lemon zest over the finished dish.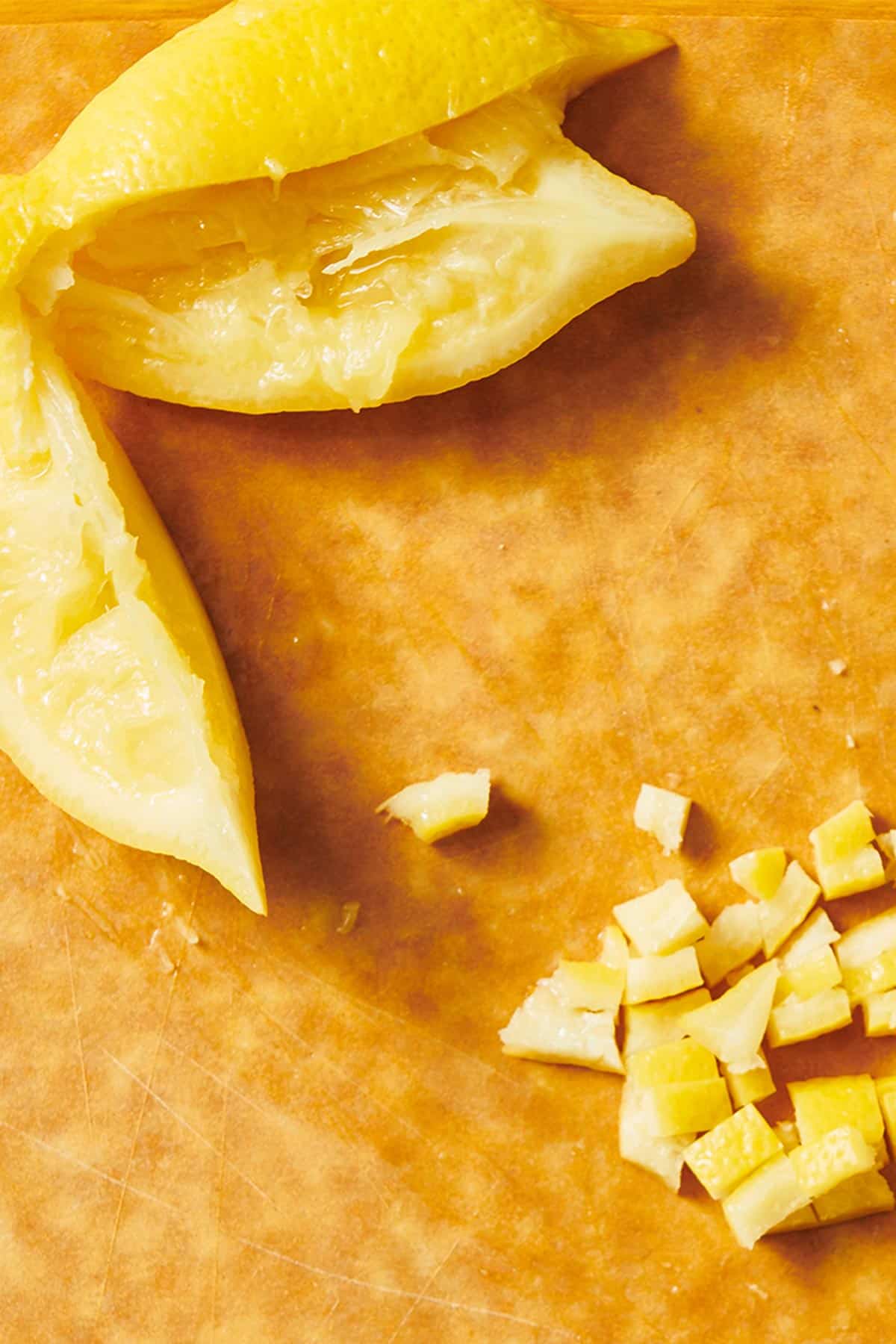 What Goes With Stewed Chayote with Tomatoes?
If you stick to the simple flavors in the basic recipe, you'll find this dish goes with all kinds of foods. Here are some Mexican-themed recipes, but it's really a very versatile side.
Like this recipe? Pin it to your favorite board on Pinterest.

Pin This
Stewed Chayote with Tomatoes
Chayote (also called vegetable pears or mirliton) becomes a very simple side when stewed with tomatoes in a 4-ingredient vegan recipe.
Ingredients
Kosher salt

(to taste)

6

chayote

¼

cup

olive oil

1

large onion

(diced)

1

tablespoon

minced garlic

2

tomatoes

(cored, seeded, and diced)

½

cup

water

Freshly ground pepper

(to taste)

Chopped fresh parsley

(to garnish, optional)
Instructions
Bring a large pot of salted boil to a boil. Meanwhile, peel the cayote, then quarter them and remove the center sore with the seeds. Cut the chayote into ¼-inch slices. Add them to the boiling water and boil for 5 minutes, then drain.

While the chayote is boiling, heat the olive oil in a large skillet over medium heat. Add the onions and cook, stirring, for about 5 minutes until the start to soften. Add the garlic and cook, stirring, for another minute until the garlic blends in and turns golden. Add the drained chayote, tomatoes, and ½ cup water. Bring to a simmer, then cover the pot and continue to cook over low heat for about 10 minutes until the chayote is just barely tender. Taste and add salt and pepper to taste. Serve immediately.
Notes
Chayote will last for up to a month when it is stored in an air-tight container in the fridge to prevent drying out.  A plastic bag or sealable container will work great.
Nutrition
Calories:
122
kcal
,
Carbohydrates:
10
g
,
Protein:
2
g
,
Fat:
9
g
,
Saturated Fat:
1
g
,
Polyunsaturated Fat:
1
g
,
Monounsaturated Fat:
7
g
,
Sodium:
104
mg
,
Potassium:
297
mg
,
Fiber:
3
g
,
Sugar:
4
g
,
Vitamin A:
343
IU
,
Vitamin C:
18
mg
,
Calcium:
35
mg
,
Iron:
1
mg
Nutrition information is automatically calculated, so should only be used as an approximation.
Like this? Leave a comment below!