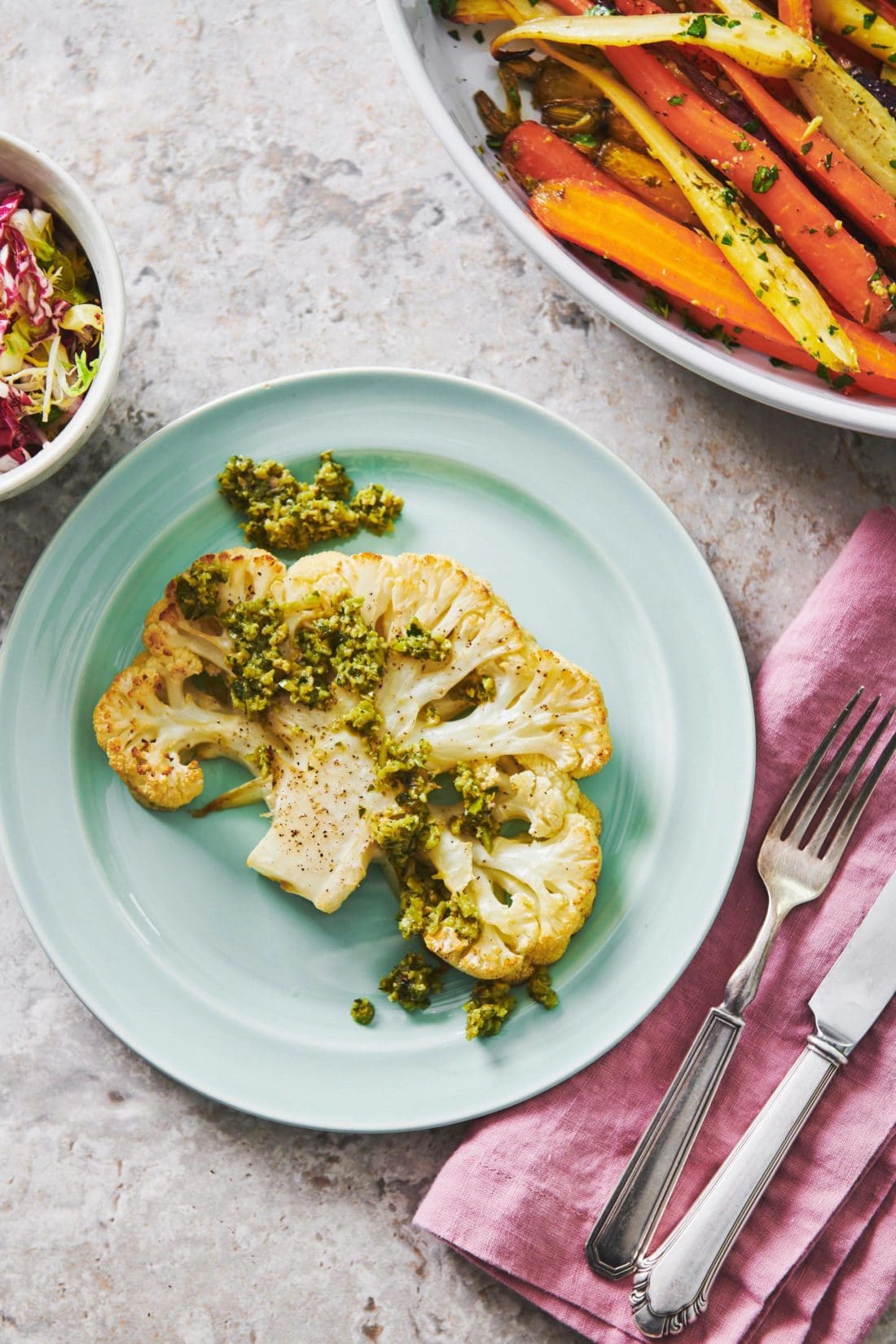 Many, many years ago (I think 25 in fact) we were celebrating my grandfather's 90th birthday. The celebration was held at the Great Neck, Long Island outpost of the old and venerable steakhouse Peter Luger's, near my grandpa's apartment. He thought we were just going out for a family dinner, my parents, my sister and myself, at one of his favorite restaurants. But in fact, it was a surprise party. Who the hell throws a surprise party for a 90 year old man, you ask? Why, we do! How do you throw a surprise party for a 90 year old man, you ask? Very carefully.
So carefully in fact, there was no actual "surprise!" moment. We just invited essentially everyone he knew that was still living, and other family members, and asked them to come to the restaurant at the appointed time. Then we brought him into the dining room.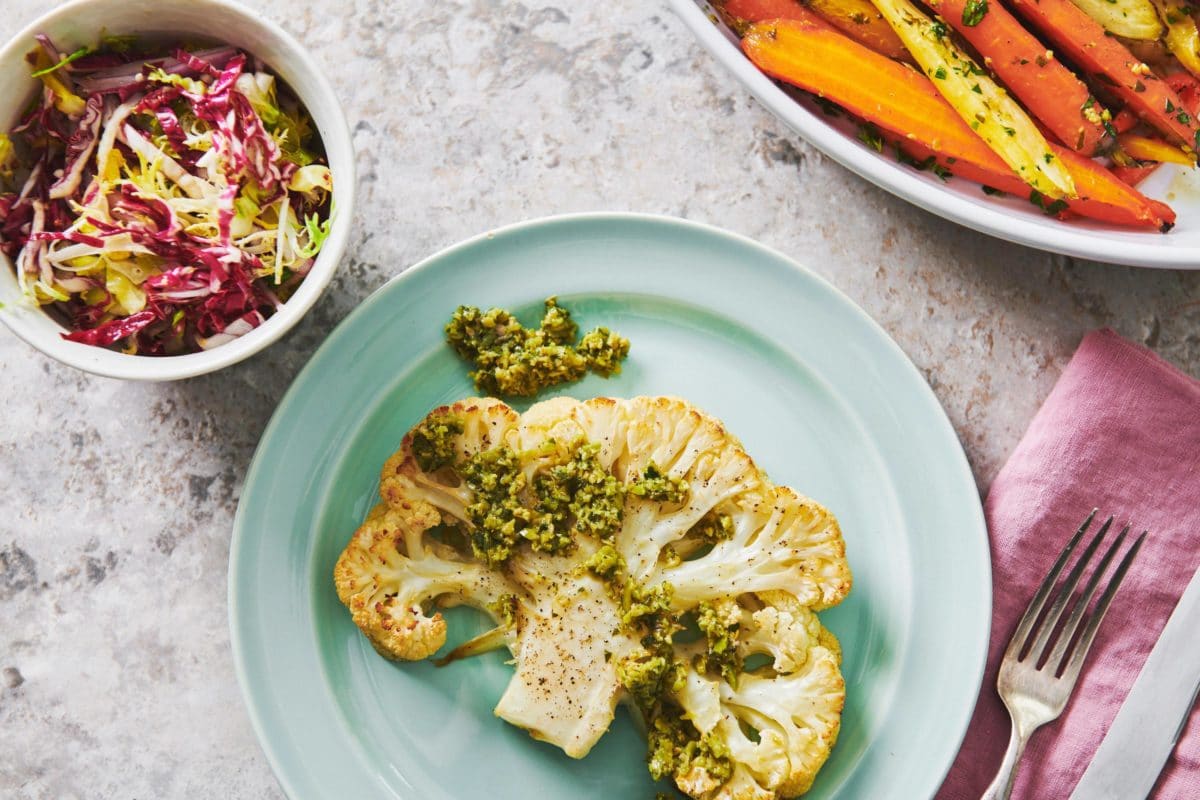 "Why, there's Alan, from the club!" my grandfather said. Why yes, there was Alan from the club. "And there's Morty!" Why yes, Morty was there, too! "And my cousin Benny!" Well, would you look at that! "Oh my word, there's my old neighbor Brenda!" Wow, what are the odds??? After about ….oh, maybe 5 minutes of this, the clouds parted. "Wait a minute…." And in my memory, we all kind of whispered, "…surprise….."
What does this have to do with the price of tea in China, or more relevantly, Cauliflower Steaks? After everyone hugged and took their seats and ordered drinks, dinner was served. If you know anything about Peter Luger's (or really, if you've ever been to an old-school steakhouse) you know that the menu is pretty narrow, and 90% of people order the same few foods. Obviously the main course is steak, and Peter Luger's is famous for their USDA prime beef aged Porterhouse steak. And fleets of those were being brought out from the kitchen, along with creamed spinach, sliced tomatoes and onions, potatoes, and their special sauce.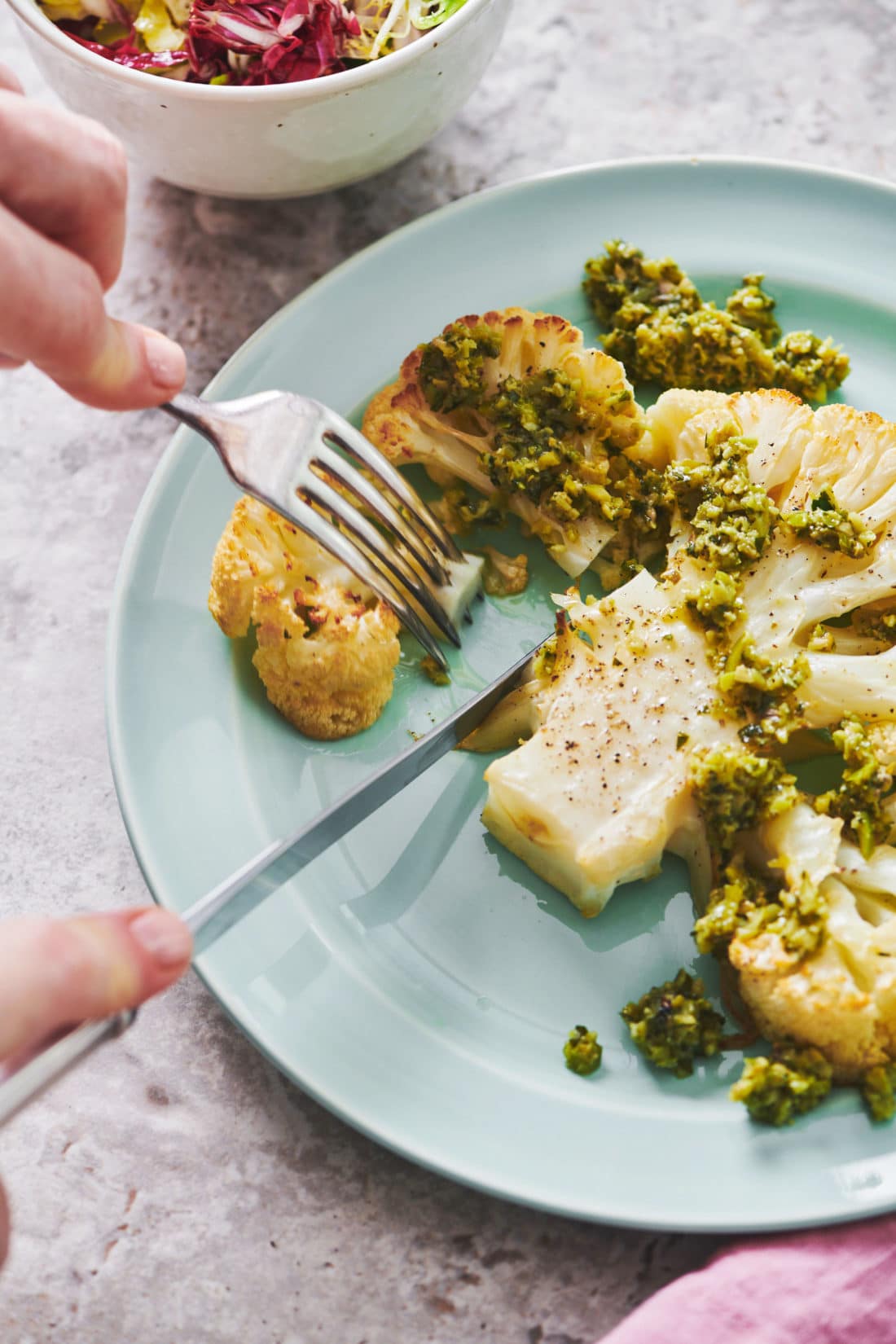 And for me and the few other non red meat eaters, there was a choice of salmon (yum) and lobster (choice made).
But my sister had already become a full-fledged vegetarian. And back in 1994 (the very olden days) Peter Luger's had probably not had to serve all that many non-carnivores at their establishment, and hadn't gotten their vegetarian offerings game on. So as the platters of meat were brought out, an unapologetic waiter brought out a plate and plunked it in front of my sister. On which was a full head of cauliflower.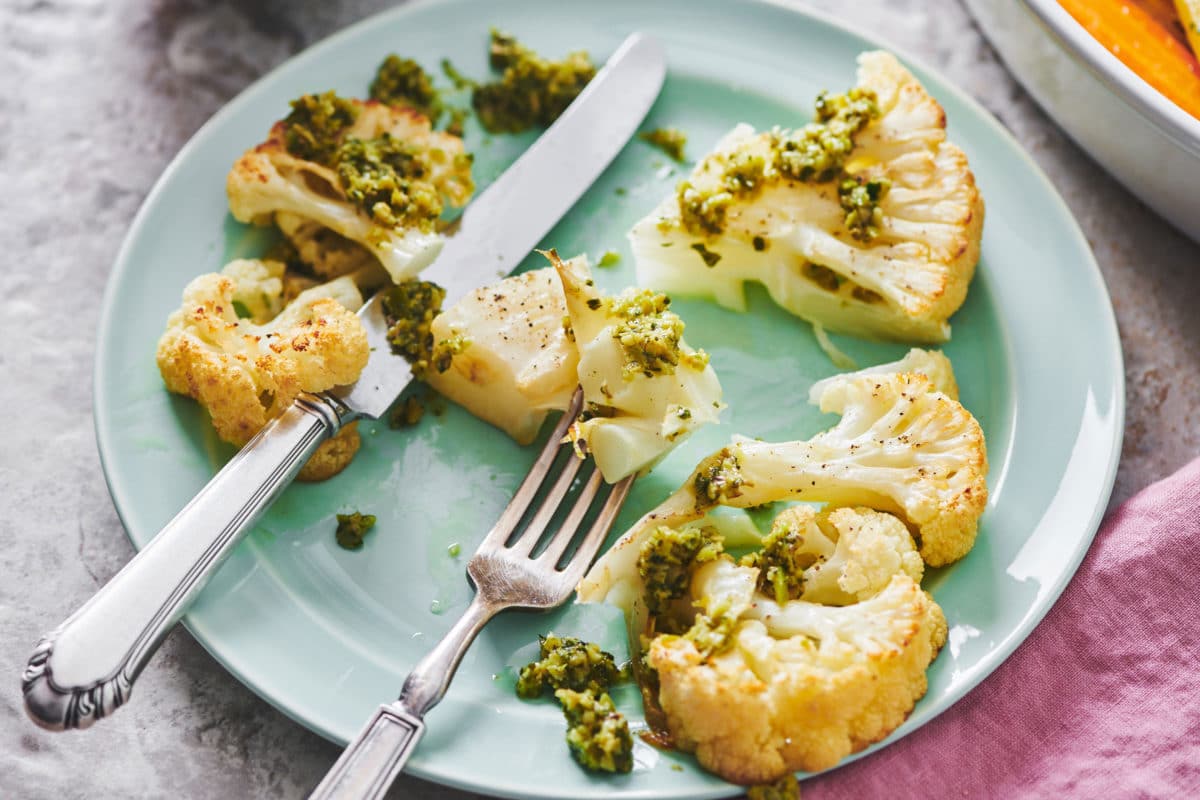 Now, I know that now full heads of roasted cauliflower are all the rage, but this was not roasted, nor brushed with olive oil, nor rubbed with garlic and herbs, nor sprinkled lovingly with Maladon salt. As we remember if it was a Medusa-like, unseasoned, steamed head of plain white cauliflower, which she then had to dissemble with a knife.
Oh, vegetarians, how far we've all come!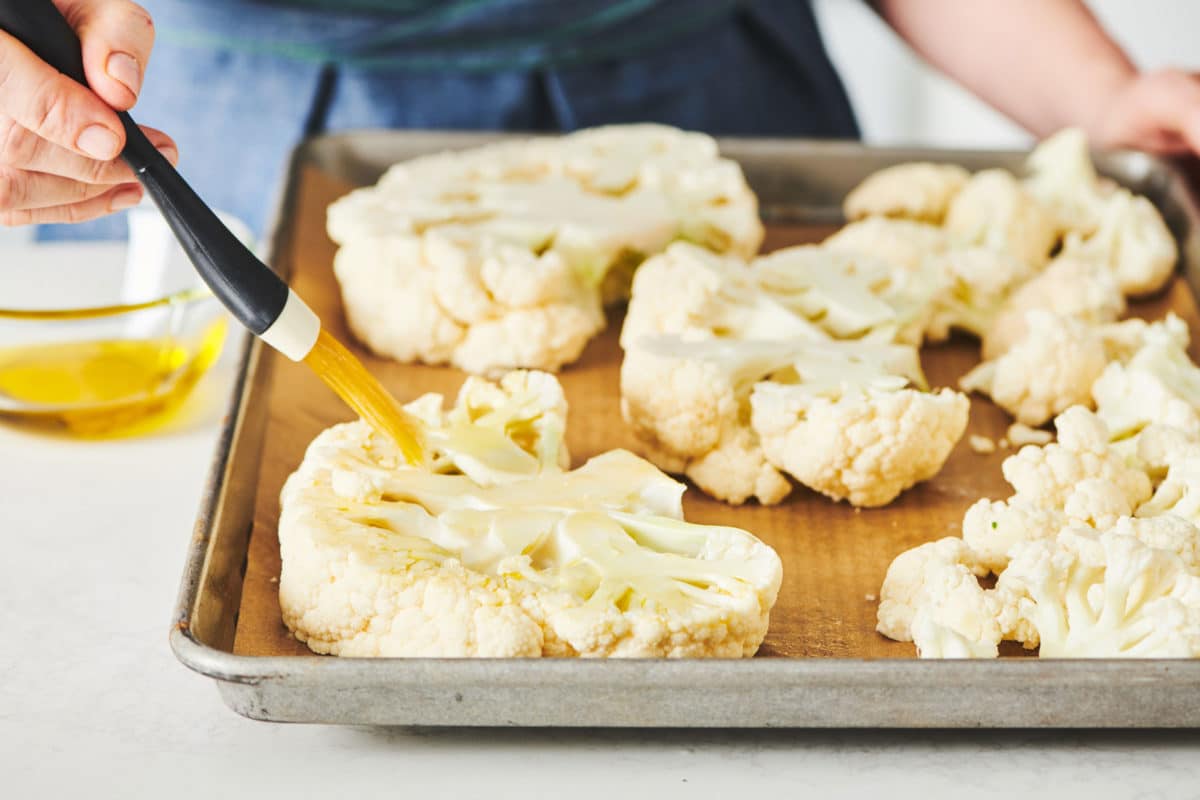 And now, the segue…. cauliflower steaks are the in-between version of roasted cauliflower florets (love them, make them at least weekly) and a slightly intimidating and melodramatic whole head of roasted cauliflower. They also, because of their thickness and density, earn the moniker "steak" because they do take up a nice slab of space on the plate and need to be cut with a fork and knife.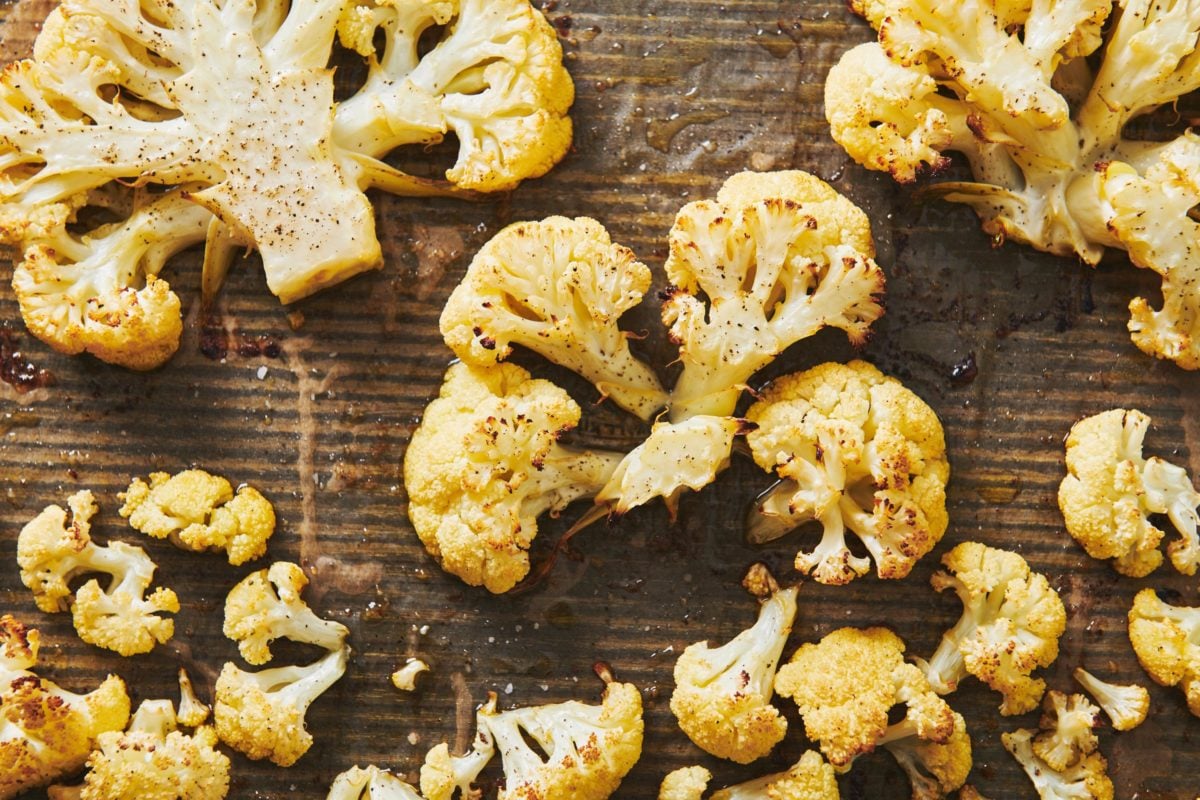 Brushed with olive oil and sprinkled with salt and pepper, they are delicious (though dopily overpriced in many restaurants). And here, topped with a beautiful green olive tapenade, they are like something you might in fact want to order (hastening to add that the tapenade has anchovies in it, so if you are looking for a vegetarian meal, leave those out).
These cauliflower steaks are tender and caramelized and so satisfying—dolloped with an irresistible salty-savory olive tapenade.

Tweet This
The extra florets should just be roasted alongside the steaks, and make a great pre-dinner nibble, or something to add to a lunch container the next day.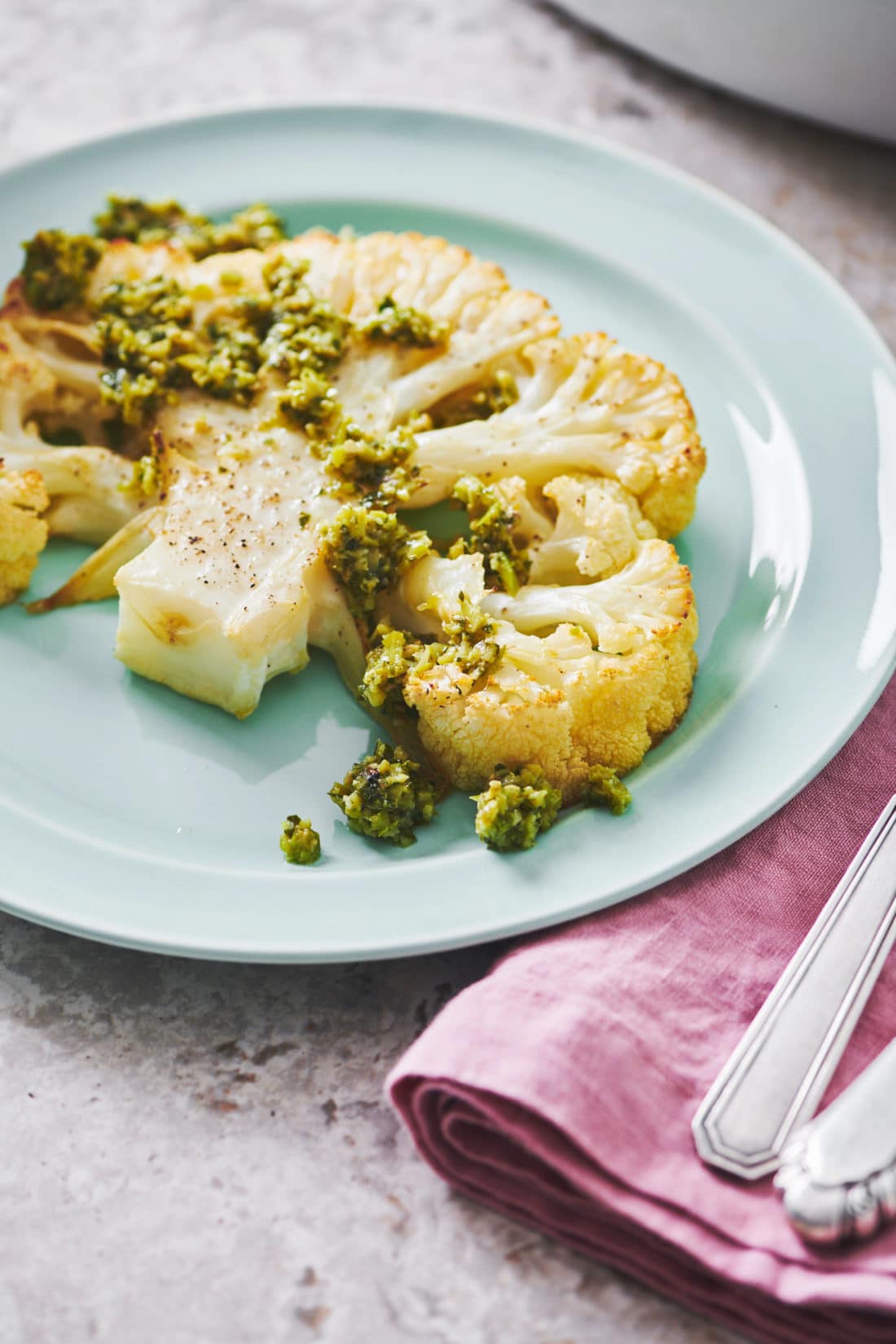 Other Cauliflower Recipes:
Like this recipe? Pin it to your favorite board on Pinterest.

Pin This
Roasted Cauliflower Steaks with Tapenade
These cauliflower steaks are tender and caramelized and so satisfying – dolloped with an irresistible salty-savory olive tapenade.
Ingredients
1

large head cauliflower

trimmed and cut from top to bottom into probably 4 1-inch slices or "steaks"

3

tablespoons

olive oil

Kosher salt to taste

½

cup

Green Olive Tapenade
Directions
Preheat the oven to 425°F. Line a rimmed baking sheet with foil or parchment paper, or spray it with nonstick spray.

Brush both sides of each cauliflower steak with the olive oil, and place them on the prepared baking sheet. Lightly salt the steaks. Toss the extra florets with some olive oil, sprinkle them with salt, and distribute them alongside the steaks. Roast for about 25 minutes, until the steaks are just tender, and browned in spots.
Nutrition Information
Calories:
128.76
kcal
|
Carbohydrates:
7.14
g
|
Protein:
2.76
g
|
Fat:
10.9
g
|
Saturated Fat:
1.54
g
|
Sodium:
43.34
mg
|
Potassium:
429.81
mg
|
Fiber:
2.88
g
|
Sugar:
2.75
g
|
Vitamin C:
69.29
mg
|
Calcium:
31.63
mg
|
Iron:
0.67
mg
The nutrition values are provided as an estimate. It is not intended as a substitute for the advice of a qualified healthcare professional.
Made this recipe? Post a photo of your delicious creation on Instagram with our hashtag #dinnersolved