This post may contain affiliate links. Please read our privacy policy.
Vanilla Cake with Espresso Buttercream
My older son is 17.
My older son is 17.
My older son is freaking 17.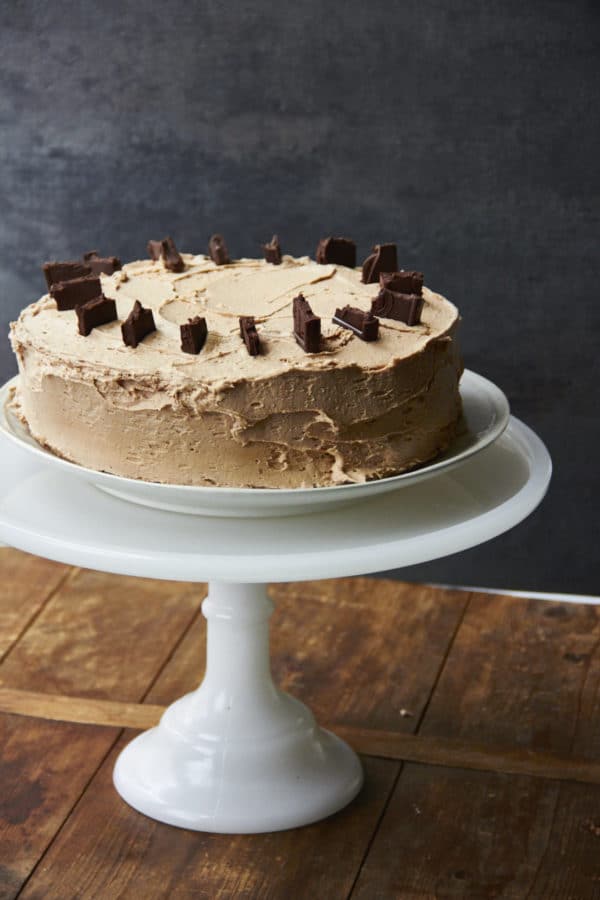 I can type these words, I can say the words, but it's very hard to believe these words. I can't think of much to say that isn't horribly cliché. I have jeans older than him? It feels like yesterday that I was congratulating him for making a poop in the potty, that we were replacing a tooth from under his pillow with a funny note and a dollar, that our biggest argument was over two more bites of broccoli? I would love to have an argument that simple now. I would love to haggle in the form of the tooth fairy over the price of a molar. I am, however, not that sorry to not be discussing poop.
I'm proud of the young man my son is becoming. But I really miss my little boy. And I miss him needing me in the cleanly overt ways that little boys need their moms. Buried in all of the child-rearing reflections and advice that have been shared with me over the years from well-meaning friends and relatives (that I absorbed fully, partially, or not well at all), buried somewhere in there was the warning that there would be a time when I needed to be closer to him more than he needed or wanted to be closer to me.
Well, of course it happened. As it should. And while it's a good, normal, appropriate thing, sometimes it kind of sucks, to tell you the truth. And I probably am not going to get any medals for handling this part of parenthood with any noteworthy amount of grace, I can tell you that.
I'll bet you're thrilled you clicked on this particular cake recipe. If you can put aside a middle-aged mom's wistful ramblings, I promise you that this cake won't disappoint. I guess one good thing about Jack getting older is that I'm not slaving away over a piping bag filled with blue icing trying to replicated Thomas the Tank Engine's quizzical expressions. I'm making this instead, and there's espresso powder involved.
Happy birthday, Jack.
Other Cake Recipes:
Like this recipe? Pin it to your favorite board on Pinterest.

Pin This
Rich Vanilla Cake with Chocolate Espresso Buttercream
This is the vanilla cake we all want for our birthdays, with a chocolatey frosting with a hint of coffee.
Ingredients
For the Rich Vanilla Cake
½

cup

plus 2 tablespoons (1 ¼ sticks) unsalted butter

softened, plus more for greasing the pan

2

cups

cake flour

plus more for dusting the pan

2 ½

teaspoons

baking powder

½

teaspoon

kosher salt

1 ¼

cups

sugar

4

large egg yolks

2

large whole eggs

2

tablespoons

pure vanilla extract

¾

cup

whole milk
For the Frosting
Instructions
Preheat the oven to 350°F. Grease 2 9-inch cake pans. Cut out two pieces of parchment paper just the right size to fit in the bottoms of the pans. Insert the paper rounds and grease them as well.

In a medium bowl, stir together the flour, baking powder and salt. In another medium bowl beat the butter with an electric mixer until creamy, then add the sugar and continue to beat for 3 minutes until fluffy. Beat in the yolks one at a time, then beat in the whole eggs one at a time. Beat in the vanilla. Using a spoon or a rubber spatula add the flour mixture and the milk, in thirds, alternating between the milk and the dry ingredients. Stir just until well combined.

Divide the batter evenly between the pans and bake until a toothpick inserted in the middle of the cakes comes out clean, 22 to 27 minutes. Let the cakes cool in their pans on wire racks for 5 to 10 minutes, then flip them out of the pans and finish cooling them, right side up, on the wire racks.

When the cakes have cooled, spread the buttercream over the top of one of the cakes, place the second cake on top, and frost the whole cake with a very thin layer of frosting. Place the cake in the refrigerator for 15 minutes. Remove from the fridge (the buttercream should be hard – this is called the crumb layer, named because it seals in the crumb, and then when you add the next layer of frosting you won't have little crumby flecks dotting the frosting. It will soften again when the cake comes to room temperature), and then spread the rest of the frosting over the top and sides of the cake.
Notes
Note:
If you are not frosting the cakes right away, you can wrap the two layers well with plastic wrap and keep them at room temperature for two to three days.
This cake was adapted from Mark Bittman's new book, How to Bake Everything. The man knows his way around a kitchen. And his daughter is in her 30s, so I can only assume he's baked quite a few nostalgia-creamed cakes over the years. I wonder if he got as teary as me. I doubt it.
Nutrition
Calories:
270
kcal
,
Carbohydrates:
38
g
,
Protein:
5
g
,
Fat:
11
g
,
Saturated Fat:
6
g
,
Cholesterol:
114
mg
,
Sodium:
119
mg
,
Potassium:
145
mg
,
Fiber:
1
g
,
Sugar:
22
g
,
Vitamin A:
387
IU
,
Calcium:
71
mg
,
Iron:
1
mg
Nutrition information is automatically calculated, so should only be used as an approximation.
Like this? Leave a comment below!