When I was applying for jobs straight out of college, hoping to find a spot as an editorial assistant to a cookbook editor (spoiler alert: I did), I decided that it would be a nice touch to drop off some scones with my application letters.
I trekked around New York City with my little boxes of chocolate chip scones and my earnest letter, and my "resume" (good god, what a short piece of literature that must have been) and waited for the phone to ring. And it worked! I got some calls (ok, reality check, my father was a publisher and my last name didn't hurt), and I went on some interviews. And I got a job working for a woman names Pam Krauss who is still one of the best cookbook editors and overall culinary smarties in the business, and also one of my best friends.
And here's the kicker. Many, many months after I started working I found a copy of my original letter to her. Where I spelled her name Krause. I can only feel lucky that she was able to overlook such a dopey mistake.
Moral: Bring baked goods. Check the spelling of your intended's name.
Ok, over to these scones. The batter is wet. Very wet. This makes it just slightly hard to handle, and it also makes the chilling process pretty necessary. I hate giving you any kind of extra work, as I hope you know, but these scones were SO good, that I need to share both the recipe, and the little things you need to do to get them just so.
There is nothing like a homemade scone. These are sweet and super tender, with a sweet tart little chew from the dried cherries (or dried fruit of your choice).

Tweet This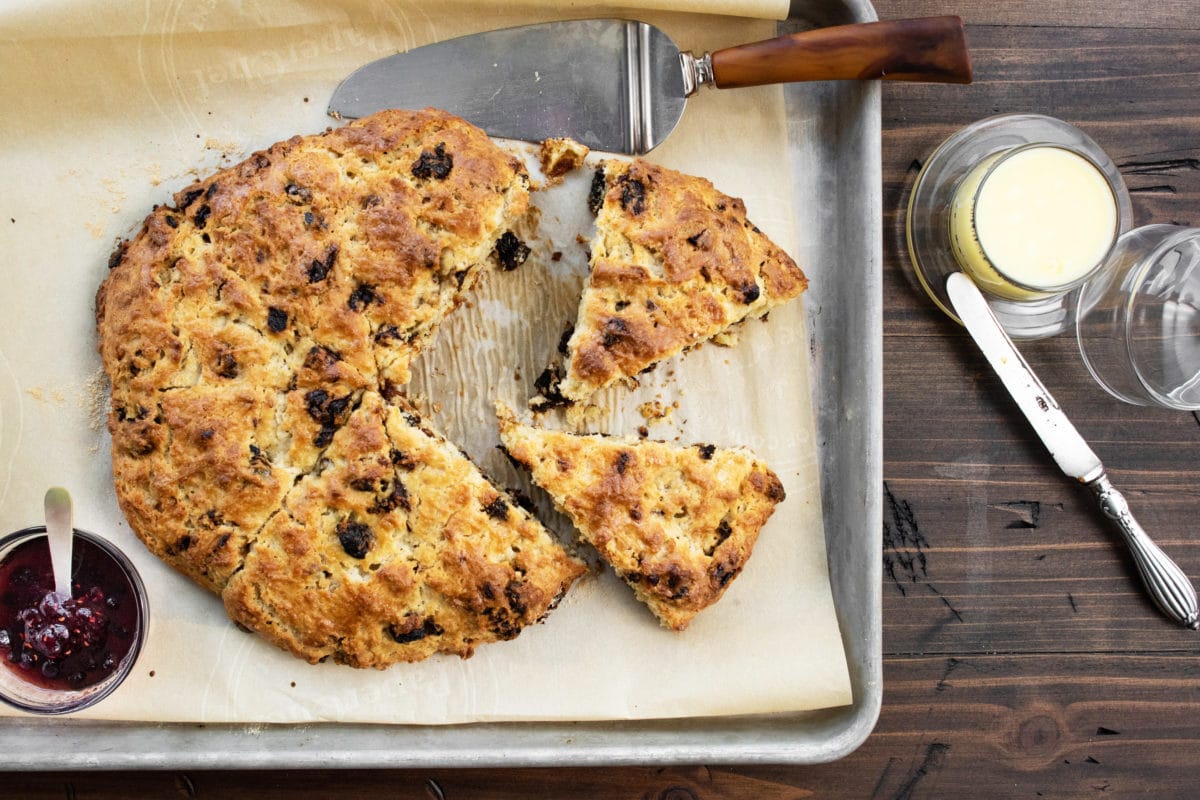 You have to chill the dough after forming it in a circle on the parchment lined baking sheet. Actually, for the sake of freezer space you could shape it into a circle on the a parchment-lined plate for the chilling portion, since baking sheets are annoying to get into the fridge or freezer (you have two choices for chilling).
Make sure your butter is cold. If you don't have a food processor, or just want to do this by hand, you can also cut the butter into the flour mixture using two knives, a pastry cutter, or your fingers if you work quickly.
I love dried cherries and use them often in dishes both savory and sweet. They can be pricey though, so feel free to substitute other chopped or tiny dried fruit. I want to make these with cranberries over the holiday, and chopped dried apricots just because.
Like this recipe? Pin it to your favorite board on Pinterest.

Pin This
Moist Dried Cherry Scones
A morning that starts with one of these is a very good morning.
Total Time:
1
hour
20
minutes
Ingredients
2 ¼

cups

all-purpose flour

plus more for flouring the work surface

⅓

cup

sugar

1

tablespoon

baking powder

½

teaspoon

kosher salt

10

tablespoons

(1 stick) plus 2 tablespoons chilled unsalted butter

cut into small pieces

¾

cup

roughly chopped dried cherries

1

cup

half and half

plus more for brushing the scones

1

large egg yolk

1

teaspoon

pure vanilla extract
Directions
Preheat the oven to 400°F. Line a baking sheet with parchment paper.

In the bowl of a food processor, mix the flour, sugar, baking powder and salt together. Add the butter, and pulse to blend in the butter until the biggest pieces of butter are pea-sized, but the mixture is not blended – you want it to be unevenly crumbly, with some little bits of butter throughout. Transfer to a large bowl and stir in the dried cherries.

Mix together the half and half, egg yolk, and vanilla in a small bowl until well blended. Slowly add the liquid to the dry ingredients, stirring with a fork just until it comes together into a very soft, very sticky dough.

Very lightly flour a piece of parchment paper at least 12 x12 inches and place it on a baking sheet or a flat plate. This will be going into your refrigerator so choose whatever will fit. Turn the dough onto the floured surface, getting all of it out of the bowl. Lightly flour your hands and pat the dough into a 1-inch thick round. Chill the unbaked scone round in the refrigerator for at least 2 hours, or up to 12, or place in the freezer for 30 minutes. (This makes them a bit more tender as the butter will be able to rechill, and also allows you to score the top; unchilled the dough is too soft).

Use a sharp knife to score the top of the circle (this means cut into it only about 1/4-inch deep in create 8 wedges….so slice across, then from top to bottom to make a cross, then two more times to divide each quarter into halves, resulting in 8 triangles. Brush the tops of the scones lightly with half and half. Bake for about 24 to 28 minutes until the top is golden brown.

Cool the scones on the baking sheet until warm or room temperature. Split and serve with the condiment of your choice.
Nutrition Information
Calories:
371.3
kcal
|
Carbohydrates:
45.61
g
|
Protein:
5.83
g
|
Fat:
18.62
g
|
Saturated Fat:
11.43
g
|
Cholesterol:
73.23
mg
|
Sodium:
164.75
mg
|
Potassium:
228.44
mg
|
Fiber:
2.05
g
|
Sugar:
14.43
g
|
Vitamin A:
980.26
IU
|
Vitamin C:
0.27
mg
|
Calcium:
119.35
mg
|
Iron:
2
mg
The nutrition values are provided as an estimate. It is not intended as a substitute for the advice of a qualified healthcare professional.
Made this recipe? Post a photo of your delicious creation on Instagram with our hashtag #dinnersolved