Inspiration strikes from many places. I will readily admit that inspiration strikes for me in the form of something needing to be used before it crosses over to the unusable side. I hate throwing out food—whether it be an ingredient or a leftover. I'm a little compulsive about it.
So, two gorgeous bunches of spinach that were getting less gorgeous + a Super Bowl gathering at our house = this Hot, Creamy Spinach and Goat Cheese Dip. This was last year, but I have not stopped making this dip since. I think I have made it about 10 times, and as I write this, I am about to make it and bring it to a friend's house tonight. (Happy birthday, Alan!)
Hot dips are a great thing to offer to bring to a dinner, when the host is actually excited to get the question, "What can I bring?" and an appetizer is the answer. Just make sure to check that you can use a small part of the oven to warm it when you get there. It's annoying for a host to have someone show up with anything that needs oven space and time and not be warned in advance, and can throw off their well-crafted cooking plans.
(Side note – if you are bringing something that calls for refrigeration, like an icebox cake, make sure to mention that as well – fridge space can be very tight.)
On that original dip day, this Hot, Creamy Spinach and Goat Cheese Dip was served with crackers and carrots and tortillas, and it was gone, gone, gone in a flash. Luckily it was followed by Meyer Lemon Pork Carnita Tacos and Spicy Cole Slaw. And Fudgy One-Pot Brownies. No one was sad or hungry.
This has a lot of spinach in it, and when you are looking at the mound of fresh spinach you will likely think, "whoa, that is a LOT of spinach for a dip that is supposed to fit into a relatively small baking dish. The spinach will cook down and blend right into the other creamy ingredients, so just know that that huge pile will reduce dramatically as it cooks. Having said that, you do get a lot of spinach in this dip.
I will not go so far as to say it is health food, but I do like the balance of introducing a bonky amount of fresh spinach into this indulgent dip.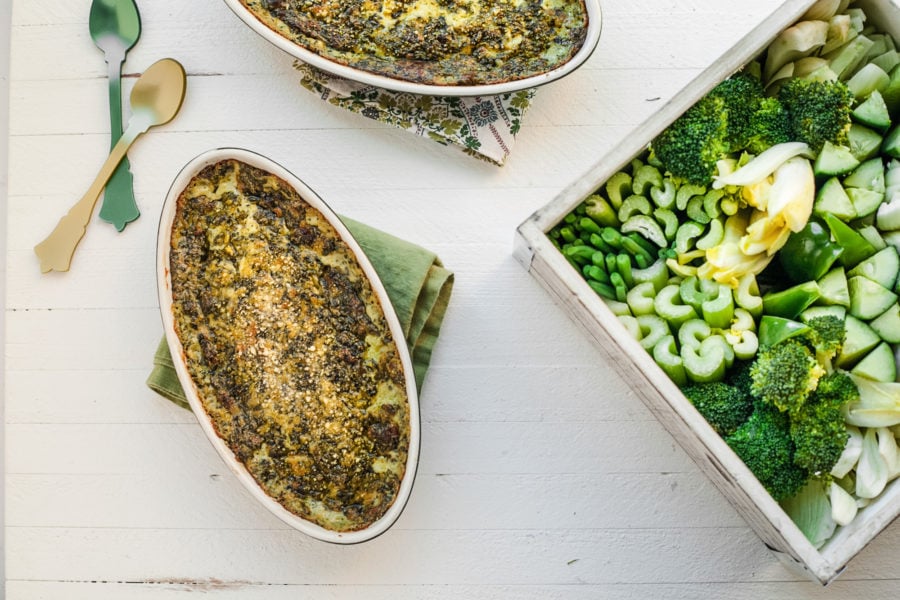 Other Hot Dip Recipes:
And if you want to see how to make that pretty all-green crudite platter, click here (little video, too!)
Hot, Creamy Spinach and Goat Cheese Dip
I made this dip 7 times in 3 months – that's how good it is. It's also great to bring to someone's house when you want to be loved.
Ingredients
1

tablespoon

olive oil

1

cup

chopped onion

1

teaspoon

minced garlic

10

ounces

fresh spinach

trimmed, and coarsely chopped

½

cup

milk

1

8-ounce block cream cheese

regular or low fat, cut into cubes

⅔

cup

crumbled goat cheese

½

cup

shredded Parmesan cheese

½

teaspoon

Worcestershire sauce

Sriracha or other hot sauce

to taste

Kosher or coarse salt and freshly ground pepper

to taste

Crackers

slices of baguette, or vegetables for serving
Directions
Preheat the oven to 425°F.

Heat the olive oil in a large skillet over medium heat. Add the onion and garlic and sauté for 5 minutes, until golden. Add the spinach by handfuls as it shrinks down until it is all added and very wilted, about 5 minutes in all. If there looks to be significant excess liquid in the pan, transfer it to a strainer or colander and gently press it to extract any extra liquid.

Return the skillet to the heat and add the milk, cream cheese, goat cheese and about half the Parmesan and whisk occasionally over medium heat until the cheese is melted and everything is smooth, about 3 minutes. Add the Worcestershire, hot sauce and salt and pepper, and whisk to combine.

Transfer it to a three or four cup baking dish, sprinkle over the rest of the Parm,and bake until bubbly and golden brown, 20 to 25 minutes. Serve hot.
Nutrition Information
Calories:
142
kcal
|
Carbohydrates:
4
g
|
Protein:
6
g
|
Fat:
12
g
|
Saturated Fat:
7
g
|
Cholesterol:
30
mg
|
Sodium:
200
mg
|
Potassium:
198
mg
|
Fiber:
1
g
|
Sugar:
2
g
|
Vitamin A:
2648
IU
|
Vitamin C:
8
mg
|
Calcium:
123
mg
|
Iron:
1
mg
The nutrition values are provided as an estimate. It is not intended as a substitute for the advice of a qualified healthcare professional.
Made this recipe? Post a photo of your delicious creation on Instagram with our hashtag #dinnersolved