Chewy Sugar Cookies
Simple, unshow-offy sugar cookies are not to be understimated.
Makes about 3 dozen (3-inch) cookies
The perfect thank-you gift for your child's teacher! To learn more about the Bake Your Teacher a Thank You program, click here.
The baking time for these Chewy Sugar Cookies is important, because it's a key factor in producing a chewier cookie vs. a crunchier one. You may have to play around a bit to determine what amount of time results in your perfect cookie. This is a pleasant chore.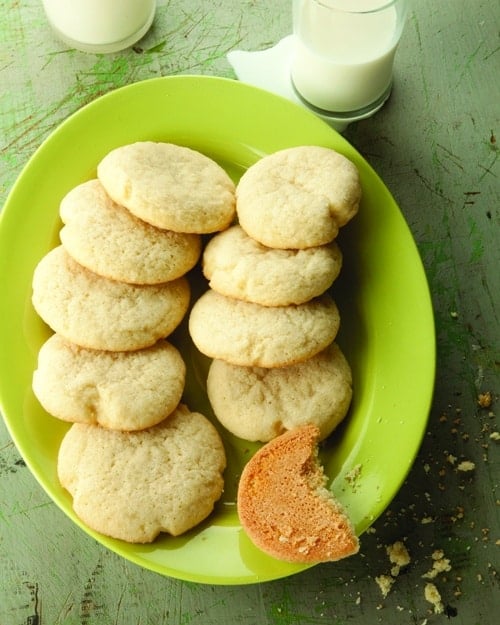 Chewy Sugar Cookies
Print
2 1/4 cups all-purpose flour

1 teaspoons baking soda

3⁄4 teaspoons baking powder

1⁄2 teaspoons salt

1 cups (2 sticks) unsalted butter, at room temperature

3⁄4 cups granulated sugar, plus 1⁄2 cup for rolling out the cookies (optional)

1⁄2 cups confectioners' sugar (see Note)

2 large eggs

2 teaspoons pure vanilla extract
1. Position two oven racks so that they divide the oven into thirds and preheat the oven to 375°F.
2. Place the flour, baking soda, baking powder, and salt in a medium-size mixing bowl and whisk to mix. Set the flour mixture aside.
3. Place the butter, 3⁄4 cup of the granulated sugar, and the confectioners' sugar in a large mixing bowl and, using an electric mixer, beat them on medium speed until light and fluffy, about 2 minutes. Scrape down the side of the bowl and add the eggs one at a time, beating until each is incorporated. Add the vanilla and mix until the batter is very light and smooth, about 2 minutes longer. Gradually add the flour mixture, mixing each addition until blended.
4. Place the remaining 1⁄2 cup of granulated sugar, if using, in a shallow bowl. Roll pieces of dough into 11⁄2-inch balls; they'll be sticky and soft and don't have to be perfectly round at all (see Cooking Tip #1). Roll each ball of dough in the sugar (see Cooking Tip #2), then arrange them about 3 inches apart on ungreased baking sheets. You'll probably fit 12 cookies on each baking sheet so it will take at least three baking sheets for all of the cookies. You'll want to bake two sheets at a time, placing one on the top rack and one on the bottom. After you have placed all of the balls on the baking sheets, using your palm, gently press down on each ball until it is about 1⁄3-inch thick (this is enjoyable to do, very satisfying somehow).
5. Bake the cookies for 11 to 14 minutes, depending on how chewy or crisp you like them. I like them chewy, hence the name of the recipe, so I bake them for the shorter time. The cookies will still be very pale when they are done, so don't think you should be waiting for them to turn golden brown.
6. Remove the baking sheets from the oven and let the cookies sit on them for about 1 minute to firm up a bit. Using a spatula, transfer the cookies to wire racks to finish cooling.
What the Kids Can Do:
The kids will enjoy measuring, pouring, cracking eggs—all the usual cookie baking chores, including using the electric mixer if they are old enough. And they can roll the cookie balls, coat them with sugar, and flatten them slightly before baking.
Cooking Tip #1:
If the cookie dough is very soft, you can refrigerate it for 20 to 30 minutes so that it firms up a bit and is easier to handle.
Cooking Tip #2:
You don't have to roll the little balls of dough in granulated sugar. This adds that extra something, and children find it entertaining to do, but if you're not in the mood, just skip it. The balls of dough will be a bit sticky when you press them flat, so instead of using your palm you may want to butter the bottom of a glass and use that to press the cookies down.
Make Ahead:
These will keep in a tightly sealed container for three to four days.
Note:
If you prefer or if you don't have confectioners' sugar on hand, you can use an additional 1⁄2 cup of granulated sugar in place of the confectioners' sugar.