This post may contain affiliate links. Please read our privacy policy.
Cheese Popcorn
If you know me even a little bit, you know I am a popcorn freak. I make a large pot of stovetop popcorn almost every night. When people are over, I happily share it. On the rare occasion I am alone, I might eat the whole thing. It's not just a food I like, it's a bit of an obsession/addiction, and honestly it tips a bit into the compulsive. These things happen.
Stovetop Popcorn
When I am making my regular stovetop popcorn, I use just a bit of vegetable or canola oil, and at the end a bit of kosher salt. Restrained. Elegant almost (other than the eating it by the fistful thing). As far as popcorn making goes, it's on the controlled side. The only thing more controlled would be to use an air popper, which I did as I kid, until I realized that air popped popcorn is fairly pointless. The more you eat, the less satisfied you are. At least that's this zealot's experience.
Cheese Popcorn: 5 minutes to fresh homemade cheddar cheese popcorn

Tweet This
Movie Theater Popcorn
And then there are other—thankfully less common—popcorn eating occurrences. One is movie theater popcorn. I don't go to the movies as often as I wish I did, and probably that's for the best because if you saw how fast I can raze through a bucket of movie theater popcorn (which is essentially like eating a family-sized bag of chips calorie and fat-wise) you would understand that movie theaters must be part of my life in moderation. There is no such thing as a small movie theater popcorn to me.
Gourmet Popcorn
Then sometimes I encounter one of those crazy gourmet popcorn companies like Garrett's or Hampton Popcorn Company, and all bets are once again off. Have you had the Garrett's Mix? The cheddar and caramel? Oh my god. Do not make the mistake of looking at the nutritional breakdown on the side of those packages, it will break your heart.
And then those crap tins of flavored popcorn (usually cheddar, caramel, and butter) that are stacked up at drug stores and supermarkets all December long? Those terrible super salty containers of artificial gunky popcorn? They are pretty gross…. and I love them, too.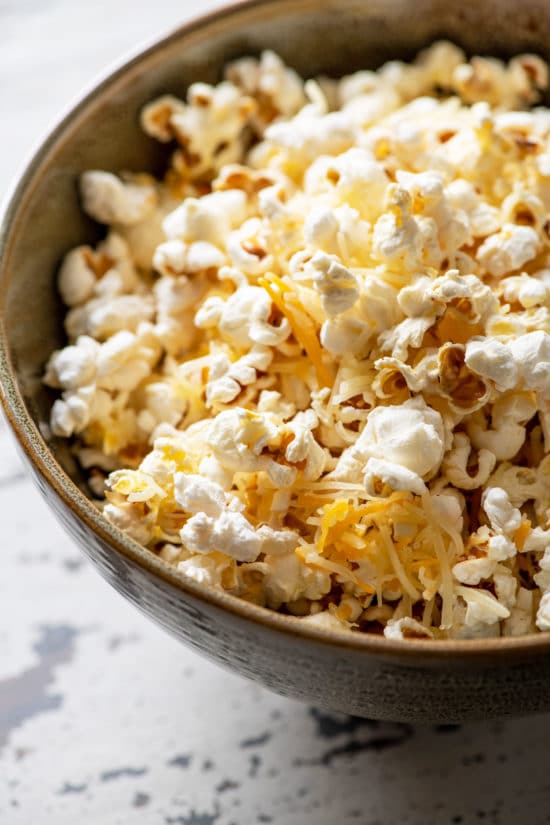 Cheddar Cheese Popcorn
Ok, enough of that. So, this is my happy solution for when I want to go one step above regular stovetop popcorn, get my cheesy savory fix, and actually be satisfied by the popcorn in a this-feels-like-a-little-more-than-a-snack kind of way.It's just stovetop popcorn drizzled with butter and tossed with some shredded cheese and a bit of salt. Toss the popcorn with the cheese while the popcorn is still hot so that the cheese melts a bit – it will not melt completely, but the combo of textures is actually quite nice.
It's indulgent while still being real food, and it doesn't have a load of sugar or artificial anything in it. It's also great party food—have some napkins around because you'll be wanting to wipe your fingers between handfuls.
Other Delicious Snack Recipes:
Like this recipe? Pin it to your favorite board on Pinterest.

Pin This
Cheddar Popcorn
This popcorn made with real cheddar is a far cry from the cheese popcorn you buy in bags.
Ingredients
10

cups

freshly popped popcorn

4

tablespoons

(½ stick) unsalted butter

melted and hot

½

cup

grated cheddar cheese

preferably a sharp variety

Kosher salt

to taste
Instructions
Place the popcorn in a large bowl and drizzle over the warm butter over.

Use your hands or a spoon to toss the popcorn, then sprinkle the cheese over it. Use your hands or a spoon to mix it up.
Notes
Toss the popcorn with the cheese while the popcorn is still hot so that the cheese melts a bit – it will not melt completely, but the combo of textures is actually quite nice.
Nutrition
Calories:
304
kcal
,
Carbohydrates:
15
g
,
Protein:
6
g
,
Fat:
25
g
,
Saturated Fat:
14
g
,
Cholesterol:
45
mg
,
Sodium:
286
mg
,
Potassium:
132
mg
,
Fiber:
3
g
,
Sugar:
1
g
,
Vitamin A:
540
IU
,
Calcium:
112
mg
,
Iron:
1
mg
Nutrition information is automatically calculated, so should only be used as an approximation.
Like this? Leave a comment below!